We have made it! It is with great pleasure that I can say foodservice industry gatherings are back!
Juan Martinez and FE&S editorial director Joe Carbonara pictured at Sucrerie de la Montagne.I had the pleasure of attending the FCSI-The Americas conference in Montreal in April. It was a great event with a very strong turnout. The event even featured FE&S Joe Carbonara leading a panel discussion titled "Our Industry (Looking Ahead)." As with all conferences, there was plenty of time to catch up with old friends and make new connections. Here is a picture of Joe and me at an event held during the conference at a Canadian sugar shack, that goes by the name of Sucrerie de la Montagne. To say that everyone was happy to see each other again is an understatement. Perhaps my biggest surprise was to see snow still on the ground when I landed. Being that I am from Miami, I am always amazed that snow can still be around in late April. The conference was full of opportunities to learn about equipment, marketing, human resources, strategic planning, and many other topics.
I also attended the National Restaurant Association Show in Chicago. When in Chicago, I also attended the FE&S Dealer of The Year & All-Industry Awards Gala. The room was packed, the mood was upbeat, and the stories were inspirational. This gathering reinforced (again) that as an industry we are, indeed, better together!
Indeed, being able to travel once again is liberating and inspiring. My wife and I had the opportunity to celebrate our 40th wedding anniversary with a trip to Peru.
As is typically the case, although on vacation I continue to work, trying to learn from what other parts of the world do in the area of foodservice. Well, Peru is quite a great place for gastronomy experiences. The country is home to a significant number of world-renowned restaurants, including a few we were able to experience such as Central, Astrid & Gaston and Maido. We also ate at Mil, a restaurant, owned by Chef Virgilio Martinez, which is located in the middle of nowhere, next to the ruins of Moray. In other words, there's no real well-populated city near Mil. We must have been really hungry to want to go there since it was quite a trek. Chef Martinez uses this location as a lab. I invite you to look all of these places up and research their menu, especially the "Degustacion" (tasting) menu offering. Interesting way to create food.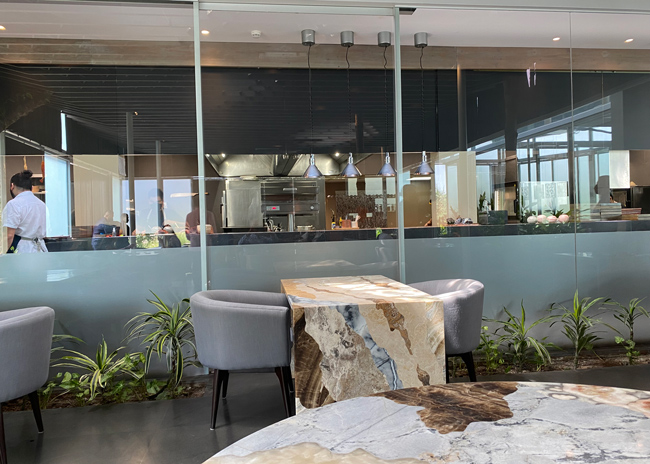 Central features a fully open kitchen.
Chef Martinez is married to a famous world-renowned female chef, Pia Leon. I did not have time to visit her restaurant (Kjolle) located in the same building as Central. If you want to know what makes Chef Martinez and Chef Pia come up with ideas for the world-class locations, you have to watch one of the series documentaries he did on Netflix titled "Chef's Kitchen." It is very interesting how he innovates on the food front.
As I experienced these restaurants, I had to look at the functional aspects of design. This drives my wife crazy at times, but she is almost used to it after 40 years of marriage. I came across contrasting designs. Central, for example, features a fully open kitchen, with enough space in the back to dance. This restaurant has a lot of employees, most of which use tweezers as a key assembly tool. This is not a design that centers on labor efficiency.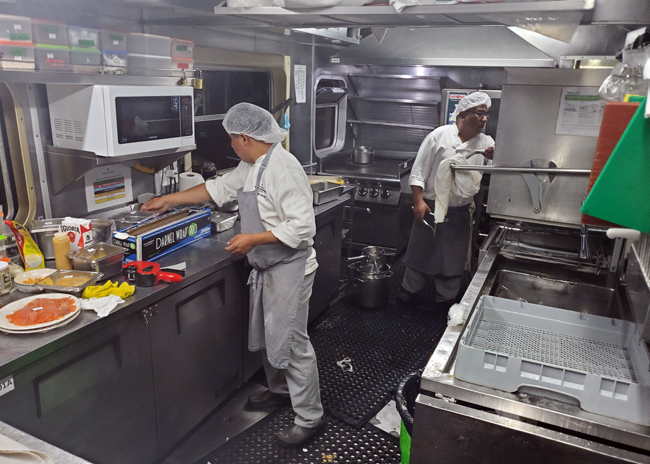 The kitchen inside the Hiram Bingham train.
In contrast, while visiting a market I saw a production unit that was no bigger than 5' x 5'. To say the menu is limited would be an understatement. The third was the kitchen inside the Hiram Bingham train that takes you from Cusco to Machu Picchu. This is a small unit, too. What was most interesting to me is that the dish machine is right behind the kitchen's single-sided workstation. The warewasher and the workstation share an aisle. You don't often see a design where the "slide deployment" can easily happen from the assembly line to the dish space. You can see these three spaces in the accompanying pictures.
We were positively surprised with what Peru has to offer in their hospitable people, its history (Lima, Cusco, Sacred Valley, Machu Picchu) and the gastronomy, both upscale and street level (cevicherias and chifas), among other experiences. Without a doubt, we highly recommend visiting, if you can make the time.
Wishing you all a great 2022 and (as Buzz Lightyear says) beyond!