The Latest
June 02, 2023

Emerson Climate Technologies has changed its name and will now go to market as Copeland.

Read Article

June 01, 2023

Local Kitchens tapped former Veggie Grill co-president Jay Gentile to serve as head of operations. As his title implies, Gentile will oversee kit...

Read Article

June 01, 2023

Tech24 has acquired Total Mechanical Repair Services.

Read Article
Featured Articles
June 05, 2023

A quartet of foodservice consultants share how they see foodservice design and equipment solutions evolving to meet the challenges of the day.

Read Article
Sponsored Content
June 05, 2023

For service companies or facility staff, summer break is a perfect time to conduct planned preventative maintenance in school kitchens. We'll walk you...

Read Article

June 01, 2023

Shannon Solomon refers often to a quote by poet and civil rights advocate Maya Angelou in describing her approach to leadership and to creating a cult...

Read Article
FE&S Awards & Events
Chicago
September 19, 2023
Making its triumphant return on September 19, Foodservice Equipment & Supplies' Tour the Trends will take invited operators, consultants, dealers and designers on a full day of curated front- and back-of-the-house tours of a variety of TBD foodservice operations in Chicago.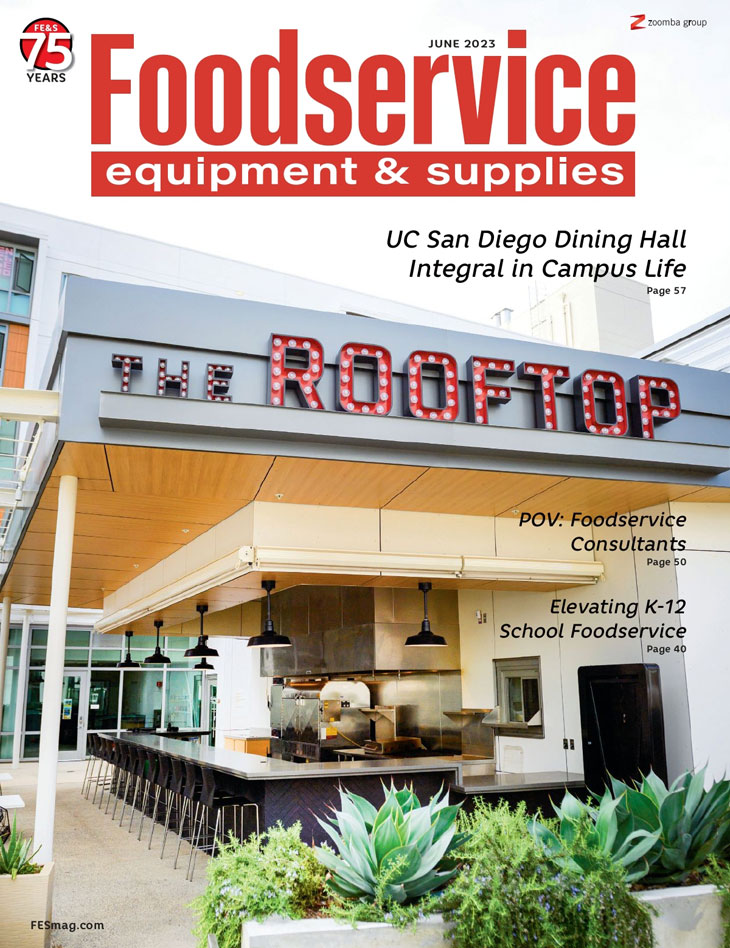 Current Issue
Foodservice Equipment & Supplies is the longest-running publication serving the decision-makers of the nearly $15 billion E&S industry.
View current digital issue
Most Popular Articles
Foodservice Equipment & Supplies named Scott Hall of Florida-based Innovative Foodservice Group its 2023 DSR of the Year.

From AI to robots there's lots of tech to talk about. Burger King prepares to close hundreds of locations while Portillo's may be poised for takeo...

With the National Restaurant Show almost upon us, we expect to see a plethora of new technologies and innovations. One thing we know we'll see is an...

TriMark USA named John Tulaney director of private label equipment. In this role Tulaney's primary focus is the dealer's Kintera brand.

John Metz, the founder of Metz Culinary Management, passed away on May 8, 2023. He was 83 years old.

Larry Cantamessa, president of New York-based rep firm PBAC and Associates has passed away after a battle with cancer. He was 63 years old.
Featured Products
Vollrath

This unit features a pair of sinks separated by a safety guard. Each side also includes a faucet, foot pedal for hands-free use and dispensers for both soap and paper towels. It comes equipped with a 10-gallon fresh-water tank and a 13-gallon wastewater tank.

Vitamix

Vitamix has updated the design of this blender to enhance the aesthetic and make cleaning easier. The blender features four new programs that work with the optional aerating container.

Alto-Shaam

Ventech line of condensation hoods that works with select Combitherm combi ovens made by Alto-Shaam. Ventech PLUS features a HEPA filter along with condensation technology to capture and filter smoke-related vapor, grease and steam generated in the cooking process. These hoods can be factory or field installed.