Page 6 of 6
Restaurants with a Check Average of Less than $75 Per Person
Photos by Matt Harrington, McGuire Moorman Hospitality
Why It Won
This updated American diner features a tabletop that's retro yet still manages to deliver a fresh and new appearance. The use of the logo on the plate is done well and really stands out. The choice of dishes fits the food well. Overall, it's a fun tabletop that's very comfortable and fits the concept.
Specifying Team
Rachel Ehrlich, operations project manager, McGuire Moorman Hospitality; Belinda Greene, DSR, Edward Don & Company; Buddy Greene, consultant, EPI2; Alex Holder, assistant beverage director, McGuire Moorman Hospitality; Larry McGuire, CEO, McGuire Moorman Hospitality; Jacquelyn Mangione, manufacturer sales representative, Preferred Source; Tom Moorman, manager partner, McGuire Moorman Hospitality; and Mishka Westell, designer, Bunkhouse
China: Homer Laughlin and Steelite
Flatware: Ginkgo
Glassware: Libbey, Rosenthal and Steelite
Accessories: Homer Laughlin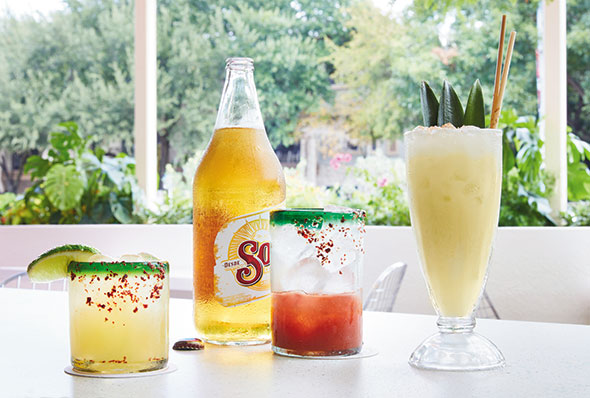 ---
Photos by Violet Krebs
Worth Mentioning
The goal of this tabletop was to capture the essence of Denver — from the city to the mountains — and this installation does that, which makes the setup special. The attention to detail, including the sea glass look on the plates, made this much more than your typical hotel restaurant.
Specifying Team
Stephen Federocko, DSR, Edward Don & Company; Todd Levick, food and beverage director, DoubleTree Denver; Shaemus O'Brien, executive chef, DoubleTree Denver; Chastin Travis, hospitality specialist, Desert Peak Marketing
China: Cardinal, Cheforward and Churchill
Flatware: Cardinal
Glassware: Cardinal
Accessories: American Metalcraft and Marko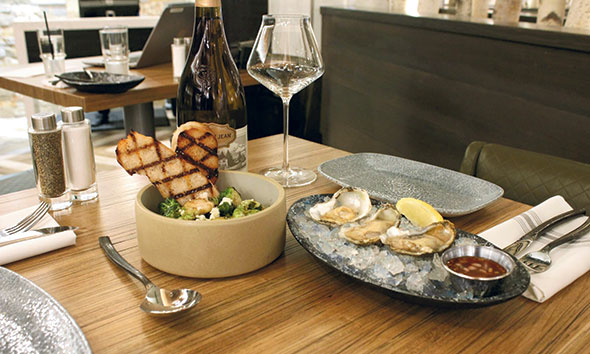 ---
Honorable Mention:

FARM Provisions, Prescott, Ariz.

Photos by Nicky Hedayatzadeh, Mint Design Studio
Worth Mentioning
This installation is very down to earth. The items work together to create an elegant yet clean tabletop that does a good job of showcasing the food. Overall, the tabletop setup blends well with the table creating a simple yet refined installation.
Specifying Team
Pam Bernardi, DSR, The Wasserstrom Company; Brittany Peters, owner, FARM Provisions; and Ryan Peters, chef and owner, FARM Provisions
China: Syracuse
Flatware: Cardinal and World Tableware
Glassware: Cardinal and Libbey
Accessories: American Metalcraft, Innova Products and Olde Thompson