Page 2 of 6
Catering/Banquets
Photos by Brandon L. Jones, Brandon L. Jones Photography
Why It Won
To adhere to kosher dining standards, this tabletop requires two sets of plates: one for meat and one for dairy. Understated yet beautiful, both types of plateware are high end and distinctly different from one another. Overall, everything on the tabletop fits well together. A lot of thought and detail went into this tabletop, and it showed.
Specifying Team
Richard Arnoldi, director food & beverage, Cleveland Ritz-Carlton; Candice Hartong, food & beverage coordinator, Cleveland Ritz-Carlton; Chuck Kiley, VP sales, Greenwald Sales & Marketing; Kevin Koehler, DSR, The Wasserstrom Company; and Yael Ron, general manager, Cleveland Ritz-Carlton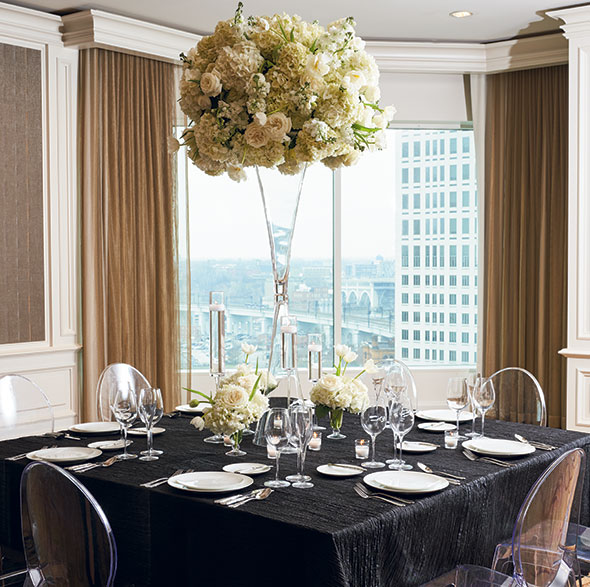 ---
Photos by Stella Lorens, Edward Don & Company
Worth Mentioning
This is exactly what a tabletop in this environment should be. The colors and textures are excellent. Nice choice of flatware. It lends a rustic yet upscale aesthetic to the space.
Specifying Team
Andrew Gollin, sales & marketing manager, Cardinal; Dylan Koehneman, director of operations, Sunflower Hill Farm; Karen Koehneman, owner and master farmer, Sunflower Hill Farm; Rob Koehneman, general manager, Sunflower Hill Farm; and David Reynolds, DSR, Edward Don & Company
China: Cardinal
Flatware: Cardinal
Glassware: Cardinal
Accessories: Cardinal
---
Photos courtesy of Chris Quintos
Worth Mentioning
In upgrading its tabletop presentation, this hotel sought to create a more dramatic aesthetic — this installation accomplishes that goal and then some. The flatware and glassware contribute to a very clean and elegant design. Plus, the dinnerware reflects the lights from the chandeliers above.
Specifying Team
Melanie Claret, DSR, Edward Don & Company; Jeff Haseltine, PReps; Melissa Howard, Cuffari Marketing Group; and Stacey Kauhaahaa, director of catering and events, Commerce Casino; Erick Romero, executive chef, Commerce Casino; and Yadira Serrano, executive sous chef, Commerce Casino