From COVID-19 to foodservice design to food safety, FE&S' readers interests ran the gamut in 2020. The editors carefully curated a list of the top 10 stories from FESmag.com for the past year.
Given the dynamic and unprecedented nature of 2020, the readers of FE&S were anxious to get an idea as to what 2021 has in store for the industry. This piece features input from industry experts as well as data from FE&S' proprietary research.
---
Even before government-mandated closures aimed to stop the spread of the coronavirus piqued wider interest in the topic, FE&S' readers were drawn to the mystical nature of ghost kitchens as described in this February piece. This article explores how ghost kitchens can deliver when it comes to speed, accuracy and efficiency.
---
John Gavin founded Seat Peeps to help restaurants and bars enforce social distancing while still serving customers.
Necessity is the mother of invention. And when COVID-19 hit, operators needed creative ways to help promote social distancing for on-premises diners. A Pennsylvania-based foodservice equipment and supplies dealer with a unique insight into the industry hatched the idea for Seat Peeps.
---
Even prior to the pandemic, off-premises dining was on the rise in the foodservice industry. A key way to provide food safely and efficiently to fast-moving consumers, grab and go will undoubtedly play a key role in foodservice for the foreseeable future.
---
When it became apparent there would be a shortage of personal protection equipment, specifically masks, an Indiana-based foodservice equipment manufacturer quickly pivoted to help fill the void.
---
Image courtesy of Krowne
Leveraging a compact design and ventless equipment, Jon Taffer's latest restaurant and bar, Taffer's Tavern, is set to roll out in various markets and provides a glimpse into what may come for restaurant and design.
---
The future of the foodservice industry is always on the minds of FE&S' readers. Here they had a chance to hear from a variety of foodservice industry leaders representing both operators and the supply chain alike. Despite being written prior to the pandemic, many of these thoughts remain relevant.
---
As the coronavirus grew in prominence, operators and members of the supply chain sought guidance on how to continue to function in a food-safe manner given the new circumstances. Written in February, this piece led to a four-part series on food safety that ran in September.
---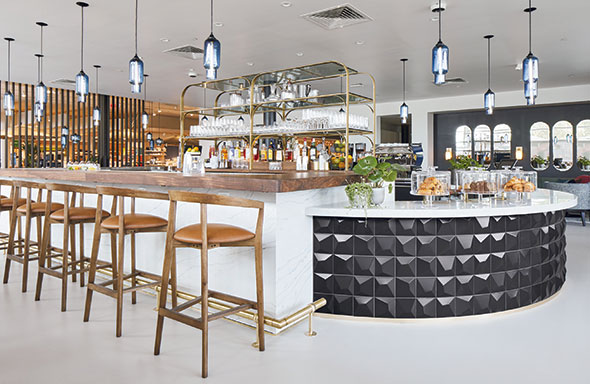 Crate & Barrel's in-store restaurant, The Table at Crate.
The way consumers use restaurants was changing long before the pandemic, which meant that restaurants had to evolve to remain relevant. This first installment of the 2020 Vision Series shows how the consumer mindset had changed and how it affects restaurants.
---
As operators prepare for an uncertain future, a consultant outlines what questions to ask to ensure foodservice designs remain flexible and efficient.