With roughly 97% of restaurants facing restrictions of some sort to help stop the spread of coronavirus, operators have shifted their focus to off-premises sales to feed hungry customers and keep their businesses viable. Now foodservice equipment manufacturers are following suit, shifting parts of their operations to support their local communities.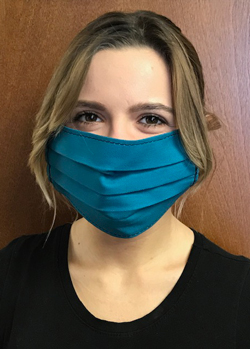 To help stop the spread of COVID-19, Sterno is making cloth masks from its Indiana manufacturing facility.Take, for example, Sterno Products.
In 2017, Sterno acquired sevenOKs, a manufacturer of insulated food carriers used in delivery operations and to support school foodservice. The company now goes to market as Sterno Delivery and it's from that factory in LaPorte, Ind., that it entered the fight against the spread of COVID-19. LaPorte Mayor Tom Dermody knew this factory well, given that he sold it to Sterno. With this insider information, so to speak, Dermody thought the factory's sewers could also make cotton masks that patients and clinicians, among others, can wear.
"Everything we make will go directly into the market to medical centers and other places that need these masks. There's only so much we can handle at one time, though, so we are focusing on the local Indiana market," said Craig Carnes president of Sterno Products. "It has been a very challenging and unprecedented time for our business. We've been severely and quickly impacted, like so many companies in the foodservice and hospitality industry."
Transitioning from sewing insulated bags to cotton masks took roughly a week's worth of internal coordination. Sterno had to source the cotton material from a local fabric shop. After sewing the masks, Sterno steams them to make them safe to use and then seals them in proper packaging. "Sewing an insulated bag is not easy," said David Amirault, vice president of marketing and product development. "There was a learning curve that took about a week and required a real team effort from the sewers to the sales managers and everyone else to learn how to sew these masks and then convert back to making the bags, which remain in demand. But when the masks go to the local effort there's an even greater sense of urgency."
The first shipment went to a local medical center. "Some of our people take the masks directly to the customers," Amirault added. "Demand is growing, and the real challenge is getting the materials. We are trying to get more cotton fabric because you need to use a specific material. So, we are trying to increase our production capacity."
And now the Northwest Indiana plant is set to make both masks and bags, as demand for the later remains steady due to the industry's focus on food delivery. But masks are not the only item in high demand. Hand sanitizer remains a hot commodity, too. As a result, Sterno Products will soon begin making hand sanitizer from its Memphis factory, which typically makes the company's gel-based fuel that operators use to heat chafing dishes, etc.
At its LaPorte, Ind., factory, Sterno employs workers who can sew as part of its production of insulated food carriers. These workers now also put these skills to use in making cloth masks that can help prevent the spread of the coronavirus.
"It's a pretty easy transition for us but it will take some time to ramp it up," Carnes said. "We are focusing on demand for our existing customers on the medical side. A group is working to secure all of the necessary government agency approvals. This won't be a short-term product line for us. We are bringing it out in gallons and doing it quickly to support our customers who are looking for it."
While Sterno's ability to be nimble will help support its customers and keep its business going, the company also keeps a mindful eye on employee safety. "We are absolutely following CDC guidelines for social distancing, cleaning the facilities and more. We are an essential business and we still bring people to work and we want to keep our employees safe," Carnes said. "That's our number one priority."
What makes these transitions easier and more rewarding is the fact that Sterno's employees jumped on board from the beginning. "Everyone wants to participate and help where they can. The morale is very high because it creates work for our people," Carnes said. "While we are concerned about the safety of our employees we are also concerned about the long-term viability of our company. So, this is a great chance to support the company, our employees and our long-term customers. The pride that comes back from our employees, no matter their department, becomes very high. They are happy to help fight the coronavirus."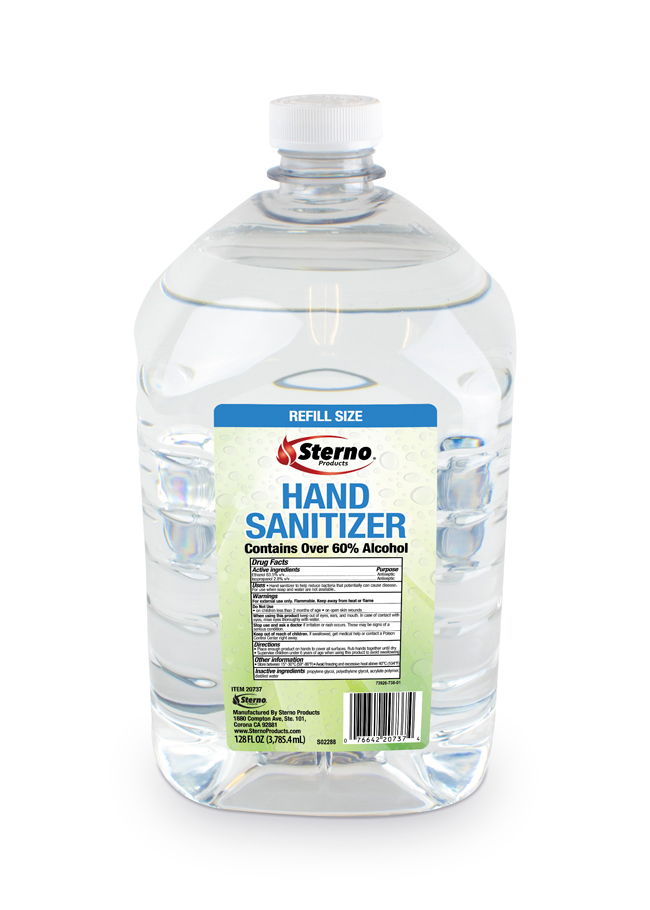 Given that hand sanitizer is in short supply, Sterno will soon manufacture it from the company's Memphis factory. Company officials believe this product will become a long-term offering.The manufacture of cloth masks and hand sanitizer may be just the beginning for Sterno. "We've seen the demand for other forms of PPE, and we are exploring what we can do, just like so many other companies across the country," Amirault said. "We will start locally and expand where we can."
For any other companies looking to get into the game, Amirault offers some simple advice. "Having a good, diverse supply chain is important," he said. "You are moving so fast. Start with a good, capable team because it's a lot of moving parts in a very short period of time."
Carnes also encourages business leaders to take a step back to look at the bigger picture. "Don't dwell on the negative. Think outside of the box to leverage your capabilities to make things happen," he said. "It's easy to focus on the negative because there's a lot of difficult things happening. But this is something you can do to make a positive impact and build morale."