Page 1 of 3
Food halls cannot open as fast as food trucks, but they do share common threads in amping up local fare, focusing on authenticity and being the concept of the moment.
For up-and-coming chefs and restaurateurs looking to expand or test new concepts, food halls offer a low barrier to entry, a built-in facility and branding support. On top of all that, food hall locations tend to provide a customer-grabbing catch-all from surrounding business districts or urban areas with high traffic, especially during the lunch hour. Hmm, sound familiar? The food hall story mirrors the biography of food trucks in many ways, albeit on a much grander scale.
Legacy Food Hall
Food halls — much like the food truck phenomenon — continue to bedazzle not only the foodie patrons of today but also the designers, equipment suppliers and operators they attract.
Spurred by the early pioneers of the food hall concept, like Eataly in New York and, later, Latinicity and Revival Food Hall in Chicago, countless food halls continue to open around the country. Expect more this year. High-traffic barometers and a food-is-everything approach form the basis for the modern-day food hall success story.
"Food halls are becoming the new anchor tenants of malls, retail spaces and downtown districts because of the number of people they attract," says Jack Gibbons, president of The Food Hall Co., which opened Legacy Hall in Plano, Texas. The 55,000-square-foot property features 22 stalls and 7 bars. Two years of planning and development went into Legacy Hall before the doors officially opened in December 2017.
Chicago continues to see new food hall concepts emerge. The lineup includes Forum 55, which opened in late 2017; Wells St. Market, set to open in 2018; and Lakeview Market, scheduled to open in the summer of 2018. Investors seem willing to continue to back these types of places. Wells St. Market, for example, is a project from Alvarez & Marsal Property Investments and Ameritus Real Estate Investment Management. Traditional business and industry (B&I) operators are also in the game, like Compass Group's Eurest division, which funded the transformation of a food court in a Chicago skyscraper into Forum 55.
"Food halls are absolutely becoming a growing segment, gaining popularity amongst operators and consumers," says Kevin Corsello, founder and CEO, Pork & Mindy's at Forum 55, and Elevate Food Hall in Minneapolis. "With so many restaurants opening and closing, food halls offer a low-risk investment, as they typically have a consistent footprint and operators don't have to cover the largest expenses, like seating and bathrooms. They are an extremely cost-efficient way to gain exposure to new customers, especially for young companies like ourselves."
Some might also call these food halls the new food courts, helping breathe new life into lifestyle centers and corporate office buildings. Covering all dayparts, food halls tend to bring fresher, more fun and flavorful offerings and take consumers far beyond the basic burger or heat lamp pizza slices of food courts in years past. These concepts also — you guessed it — cater to younger Millennial and Gen Z crowds, although diners of all ages will line up to try them.
George Chen, creator, co-founder, and executive chef for China Live in San Francisco, describes today's food halls as the antithesis of yesterday's food courts, where cheap, fast food dominated. Food halls, he believes, elevate cuisine instead of cheapening it.
"Developers know that consumers — especially Millennials — are more about the overall experience than simply about buying commoditized products and services," says Chen. "Food halls show people where the food comes from and how it's made. At China Live, we're showing real Chinese cooking in so many ways that really entice people and offer a better understanding of a popular and great cuisine."
Newer versions of food halls swap out old-school fast-food chains for new concepts that position top chefs and restaurants at the forefront. Some allow consumers to purchase food at different stalls or stations, while other halls, like Latinicity, follow a more classic cafeteria-style method of service, allowing patrons to pick out different foods at different stations and pay for them at a central cashier station.
Naturally, food halls introduce a unique set of equipment and design considerations, often forcing stall
operators to whittle down their menu and work with limited space and ventilation.
Concept Collaboration
Not just anyone can set up shop in a food hall, point blank. In some cases, the food hall operator will reach out to existing independent restaurants, food trucks or other up-and-coming businesses to create a dynamic portfolio. In other cases, the operator might call on local chefs to develop menus for stalls unique to that food hall. Finally, some food halls, like Eataly and Latinicity, use a team of chefs to create multiple points for food offerings under one roof.
"Since food halls are relatively new, operational expertise is critical for success as it is a lot more complicated than operating just a restaurant," says Chen. "Established developers who try to just fit a bunch of disparate concepts will likely fail."
In many cases, operators pare down the menu to just a couple popular items to maintain speed of service, throughput and profitability.
Construction Considerations
What makes a facility right for a food hall? Is it the nature of the physical space, location, proximity to public transportation or a combination of all the above?
"Physical planning is critical," says Chen. "It must showcase cuisine in authentic, real ways in designed surroundings that capture the emotion of the customer. In my opinion, the space has to be an Instagrammable kind of place."
The building for Revival Food Hall was chosen in part because of its easy-access entry points on each of the building's four sides. All doors feed in and out of Chicago's busy office district. Latinicity backs up to one of the city's elevated train stations. And in Denver, the food hall at Zeppelin Station rests at the foot of a light rail station; designers even built in a bar modeled after European rail stations for patrons to grab a drink before the ride.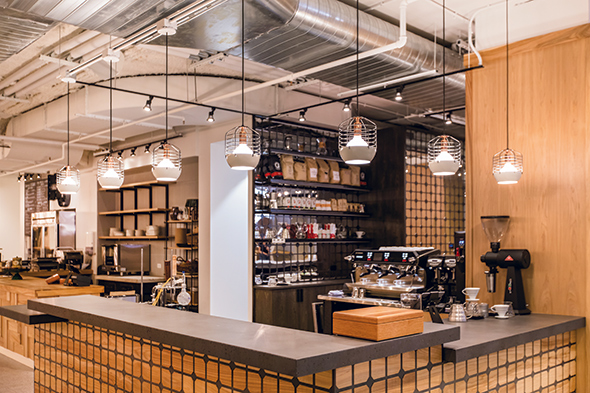 Revival Food Hall owners made a point to consider how the facility could accommodate both weekday business crowds and weekend brunch-goers. As a result, flattops that cook burgers on a Monday may transform into an egg station on Sunday.
Many food halls capitalize on additional restaurants or other outlets attached to the main food hall as a way to drive even more traffic throughout the day and night. China Live features a separate fine-dining restaurant, Eight Tables, in addition to the main food hall. At Legacy Hall, The Box Garden will open this spring as a connected music venue and entertainment space with bars and restaurants made entirely out of shipping containers that span 18,000 square feet. The food hall also includes an attached brewery.
The decision to position the Legacy Hall brewery on the third floor of the building, given its heavy beer-making equipment, posed obvious challenges. Engineers had to ensure the ceilings could handle the weight, and then all the equipment and furnishings had to ascend to the third floor via a crane. Legacy Hall's owners felt it was worth the hassle to keep the food hall — the highest-traffic portion of the business —positioned near the entry to the facility. The brewery then complements the main revenue driver.
Fast Flow
Most food halls capitalize on the workweek lunch rush first, followed by breakfast and happy hour/early evening.
"You figure people have 45 minutes or less to get something to eat during their lunch hour, and then they'll want to linger longer after work, so we had to think about how the food hall would transition from day to night," says Bruce Finkelman, co-owner of Revival Food Hall.
Chen and his team also focused on flow. "We even took down an adjacent building because the flow in the space didn't work as just a simple box structure," he says.
Each restaurant's position, sometimes called a station or stall, within a food hall must include efficiencies in design, Gibbons says. "You have to think about the limited range of motions, fixed amount of storage and cooler space, and understand the menu and then build the kitchen around that," he says.
Some food halls avoid a lot of shared space and opt to have each station run as its own concept to avoid potential bottlenecks, crowding and other confusion. "We like to have control over every station, bar and space so we don't have those problems," Chen says. "In that case, we operate more like Eataly than Gotham West Market."
The idea is to look for synergies — or create them — among operators through central ventilation, trash pickup and maintenance, shared office/prep space and other systems. The goal is to accommodate the needs of many, regardless if each stall or station is a separately run business or just a separate concept under the same umbrella.
Equipment Selection
At both China Live and Legacy Hall, each station is built as an open kitchen and meant for food theater, says
Gibbons. "You want to see the cooking happening everywhere." Therefore, design and equipment selection at each station or stall remains critical.
At Legacy Hall, each local chef or startup business has 400 square feet or less of space. Given those tight quarters, design, flow and efficiencies are everything. Naturally, equipment selection might need to be pared down or at least chosen with flexibility — and certainly durability — in mind.
Each local chef at Legacy Hall in Plano, Texas, operates an open-kitchen concept in a mere 400 square feet, or less. Designers organized the stalls into quadrants to balance heavy cooking and HVAC needs.
"We did incorporate live wood cooking, so we had to install special ventilation and look at the impact of 20 stalls cooking at one time and how that impacts the whole building," Gibbons says.
Designers organized the stalls into quadrants, balancing operators' heavy cooking and HVAC needs with bars or other low-level HVAC operations to keep the airflow even throughout the space. The team also added more daily deliveries for food and wood to accommodate the shortage of storage space. All the prep work happens at each individual stall, which all include their own prep tables and sinks.
Stations tend to focus on one or two main pieces of equipment. At Revival, Smoque uses one powerhouse smoker for its barbecue items; Union Squared uses a couple of double-deck, durable pizza ovens for its Detroit-style pizza, and Fat Shallot had to nix its fryers to make room for a better flattop and less ventilation.
Equipment selections can also pave the way for food halls to capitalize on multiple dayparts and different types of revenue streams. For example, a morning coffee program can double as a bar later at night. That means considering flexible equipment, rotating storage or shelving components, and other plug-and-play adaptations.
At Revival, weekend brunch service forced some vendors to develop their menus around the equipment they had in place. Flattops normally used for burgers and sandwiches, for instance, might transform into an egg station.
Technology plays a key role in execution. Most food halls use a one-size-fits-all centrally operated ordering, POS and data-mining program. That means each stall uses the same system to take and process orders or record them on plastic cards, much like a credit card, provided to customers who want to shop around before paying all at once.
Legacy Hall worked with a third-party delivery program in Texas to process online orders. "It's great for both of us because they can pick up multiple orders at a time," says Gibbons. "In our business and in our thinking, third-party vendors and the ease of people being able to order from home is the way of the future."
As the food hall trend continues to sweep through the nation, it's all hands on deck. And those hands need to work together to produce what remains a complex, multitiered type of project.