Page 2 of 3
Case Study: B&I Servery Goes Food Hall
The transformation from cafeteria to Forum 55.
In a marked departure from the typical B&I servery of the past decade, Eurest transformed its former cafeteria on the concourse level of the 50-story Mid-Continental Plaza into a 7,000-square-foot, chef-driven food hall showcasing popular independent concepts from around the city. Open to the public, Forum 55 not only draws office workers from the building but also those from nearby hotels, locals, and visitors perusing Millennium Park and the Art Institute of Chicago across the street.
"We wanted to offer downtown workers and visitors more delicious and convenient options for lunch," says Jim Kallas, Eurest division president. "This is an opportunity to partner with some great restaurants in the city, offering them a central location in downtown Chicago." To recruit vendors, Eurest reached out to some independents in the city and was approached directly by others.
"Surprisingly minimal changes were needed to redesign the space," Kallas says. "A lot of changes were more cosmetic in nature, such as Edison bulbs throughout to give it a soft glow. Designers also brightened up the space with white subway tiling, a lighter-colored ceiling and bright wood floors."
With 10 different vendors, patrons can choose between ramen, sushi and poke bowls from Friends Ramen; barbecue from Pork & Mindy's; grass-fed burgers and sandwiches layered with craft meats from Butcher & Larder Grill; tacos from Mercadito Taqueria; pizzas and pierogis from Flo & Santos; and more. A mixture of high-top and traditional seating make up the 270 seats throughout the space. Silver, red and black chairs add pops of color to the space.
During the a.m. rush, the Prelude station offers build-your-own omelets, breakfast sandwiches, hash and sides as well as locally roasted coffee from Sparrow.
Forum 55 also houses The Apron Exchange, a business incubator for minority-owned start-ups; a rotating pop-up restaurant concept; a marketplace; and what Eurest claims to be one of Chicago's largest salad bars, called The Community Garden. The 24-foot-by-7-foot serving island features fresh produce, composed salads, soups, hummus and more made with seasonal foods sourced directly from Midwestern farmers. The salad bar's wood and stone accents help create a natural, earthy appearance.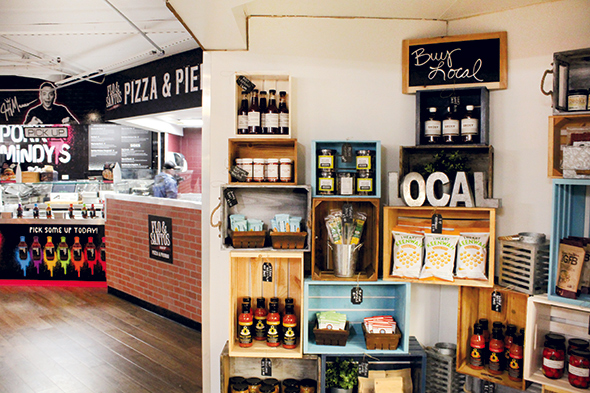 Located inside a Chicago skyscraper, Forum 55 transformed the former cafeteria space into a unique food hall that draws both office workers from the building and locals. The operation features 10 different vendors, including Pork and Mindy's, which features celebrity chef Jeff Mauro's slow-smoked meats.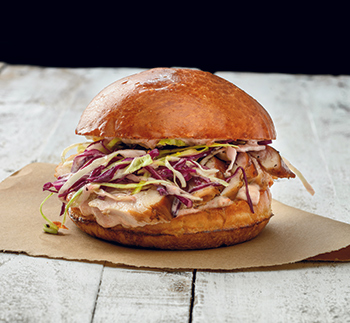 Butcher and Larder ChickenSandwichAt the Monroe Street Market, patrons can choose among grab-and-go items like fresh pastries and donuts in the morning, sandwiches and salads in the afternoon, and all-day snacks, again featuring locally sourced foods. There are also items from restaurant partners, like pickles from Local Foods and barbecue sauce from Pork & Mindy's.
In a concept unique to Forum 55, a pop-up restaurant stall showcases a different global menu each week. Eurest Regional Executive Chef Joel Cooper creates items like build-your-own masala rice bowls, bibimbap, superfood-packed Earth bowls, pasta and noodle creations.
Patrons use a high-tech ordering system to place their orders online or at various kiosks located throughout the space, which sends the order to the individual stations. By opting in via text messaging, customers can sit with friends until their food is ready, rather than stand in line.
"Not only does this system cut down on crowding around the various stalls, it also allows busy office workers, who may only have a half an hour to eat, more free time to relax and socialize," says Kallas. "In fact, through the online ordering system, customers can order up to three days in advance for their food."