Advertisement

December 1, 2021
---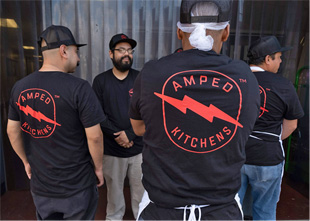 Amped's Shared Kitchen Concept
Amped provides companies the opportunity to rent kitchen space. But unlike other shared kitchen concepts where the customer may have to reserve time in the kitchen, the operators renting from Amped have access to their spaces 24/7.
Rep Roundup
The team at Greenwald Sales & Marketing continues to grow, while manufacturers Federal Industries, LTI and Wood Stone update their rep networks.
This Week in Foodservice
Boston Market was forced to cancel holiday orders at one restaurant. Meet Denny's newest "associate" Janet. Panera opens a dual drive-thru unit. These stories and more This Week in Foodservice.
How to Maximize Foodservice Labor
How can restaurants maximize the labor they have to drive the most sales possible? Consultant Juan Martinez offers some best practices.
Subscribe to more e-newsletters!
You received this e-mail as a subscriber to Foodservice Equipment & Supplies or one of its e-newsletters.

View past editions of Flash News in our online archive.

Please direct advertising questions to:


This email address is being protected from spambots. You need JavaScript enabled to view it.

, Vice President.

Please direct editorial questions to:


This email address is being protected from spambots. You need JavaScript enabled to view it.

, Editorial Director.

Subscription Support:
630-739-0900 (ext. 53) or e-mail

This email address is being protected from spambots. You need JavaScript enabled to view it.