Foodservice Equipment & Supplies named the Yale Schwarzman Center the recipient of its 2023 Facility Design Project of the Year Award.
"The judges were blown away with the way this renovation project overcame a variety of structural challenges without compromising the building's original design intent," says Joe Carbonara, FE&S editorial director. "The design walked that delicate balance of making efficient use of labor while not compromising flexibility or limiting the menu, both now and in the future."
Photos courtesy of Yale University Taken in July 2021 in accordance with Yale University's COVID-19 guidelines.
"The transformation of our bicentennial Commons into the Schwarzman Center was a once-in-a-lifetime opportunity. A project that brought students, faculty, artists, thought leaders, operators, and community members under Yale President Peter Salovey's charge to 'inspire engagement, we can only begin to imagine!' ignited a fire within us to make a difference," says Rafi Taherian, associate vice president, Yale Hospitality. "We extend our sincerest thanks to the FE&S 2023 Facility Design Project of the Year competition team and judges for their dedication and support to our industry. This moment is truly priceless."
Key members of the Yale Schwarzman Center project team include:
Associate vice president, Yale Hospitality: Rafi Taherian
Senior director, auxiliary operations, Yale Hospitality: Adam Millman
Director of asset renewal and special projects: Daniel Flynn
Director of culinary inspiration: James Benson
Senior director of residential dining, Yale Hospitality: Robert Sullivan
Managing director, Schwarzman Center Hospitality: Stacey Hepburn-James
Executive chef: David Kuzma
Director of capital program, Yale University Office of Facilities: Keith Fordsman
Associate director of construction, Yale University Office of Facilities: Mike Douyard
Architect: Robert A.M. Stern Architects (RAMSA), New York: Graham S. Wyatt, partner; Melissa DelVecchio, FAIA, LEED AP, partner/architect; Jennifer L. Stone, AIA, partner/manager; Kurt Glauber, associate partner/manager; Ken Frank, senior associate/architect
Interior design: Robert A. M. Stern interiors, New York: Lawrence Chabra; interior design director; Shawn McCormick, interior design project manager
Foodservice consultants: Ricca Design Studios, Englewood, Colo.: David Chislett, executive principal, developments; Derek Sisson, project director (Michigan); Jim DiTrapani, project manager (Michigan)
Equipment dealer: Kittredge Equipment Co., Agawam, Mass. (now a part of Singer Equipment Co.): John Roche, project manager, sales
Structural engineer: Robert Silman Associates: Rebecca Buntrock, PE, associate/manager
MEP engineer, energy modeling, fire protection, CFD modeling: AKF Group LLC, New York
Civil engineer: Langan, energy modeling, fire protection, CFD modeling, Parsippany, N.J.
Construction manager: Dimeo Construction Co., New Haven, Conn.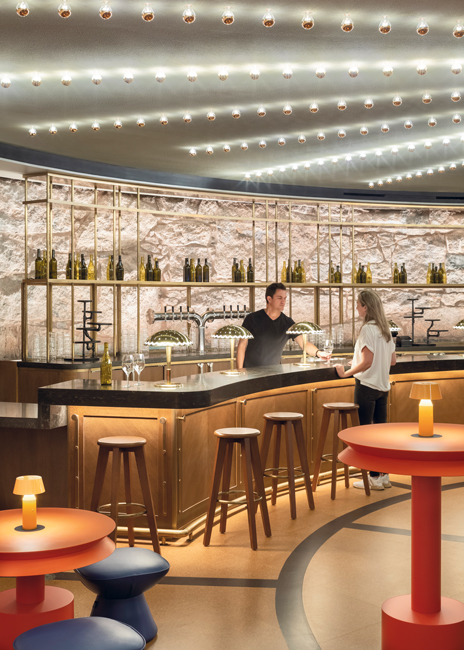 The Well, a student pub, sits in a location formerly used as a storage room. Photo courtesy of Francis Dzikowski/OTTO
In addition, FE&S judges recognized the efforts of the team from Cornell University's Morrison Dining with an honorable mention in this year's competition. "The judges were impressed by the size and scope of this project and its overall ability to raise the bar for college and university foodservice. The menu variety is impressive and the fact that the facility includes a kitchen in the dining area is eye-catching," Carbonara adds.
The 2023 Facility Design Project of the Year Award was selected by a panel of judges including Bill Davis of Edward Don & Company, Armand Iaia of Cini-Little International, Beth Kuczera of Equipment Dynamics and Kristin Sedej, FCSI, of S2O Consultants Inc.
FE&S will present the project team from Yale with their award on Saturday, May 20, 2023, as part of its 2023 Dealer of the Year & All-Industry Awards Gala at the Four Seasons Hotel Chicago.
FE&S is able to present its 2023 Dealer of the Year & All-Industry Awards Gala thanks to the support of its platinum sponsors: Ali Group, Alto-Shaam and Middleby. FE&S Dealer of the Year & All-Industry Awards Gala recognizes the foodservice community's brightest stars by presenting them with some of the industry's most time-honored awards, including the FE&S Dealer of the Year Award, Hall of Fame Award, Top Achievers and DSR of the Year.
Anyone interested in learning more about the 2023 Dealer of the Year & All-Industry Awards Gala should contact Maureen Slocum at This email address is being protected from spambots. You need JavaScript enabled to view it..