Cornell University's North Campus Residential Expansion project features a 776,000-square-foot student life residential complex for first-year students and sophomores.
The expansion emerged from a housing master planning process in January 2016 that called for Cornell to provide an environment to foster more mentorship and interaction between first-year and sophomore students outside the classroom. The expansion also provides affordable student housing, which was part of the plan too.
The project includes one site with two residential buildings containing 891 new student beds for sophomores, as well as Toni Morrison Hall with the all-you-care-to-eat Morrison Dining with Discovery Kitchen, Crossings Café, a central student lounge/social spaces and a fitness space. The second site contains a trio of residential buildings with 1,244 new student beds for first-year students, Novick's Café and an artificial turf recreation field. The project's phasing included the first site from April 2019 to May 2021 and the second site from September 2019 to May 2022.
Morrison Dining in Toni Morrison Hall, named for the Pulitzer– and Nobel Prize–winning alumna, features a 58,230-square-foot food hall-style complex containing 11 platforms, including dedicated kosher and halal stations and four hydration stations. "Through creative floorplans, Toni Morrison Hall provides living spaces with a modern aesthetic that enhances the residential experience and encourages interaction and collaboration among students," says Dustin Cutler, executive director, Cornell Dining. "The hall aims to draw students out of their individual rooms and into ample common areas that support group study, social interaction and programs in spacious lounges and nearby cafes."
"Our design for Morrison Dining combines Cornell's educational, social and culinary missions in a dynamic open setting," says design lead Ed Bakos, AIA, IIDA, partner and CEO, of Champalimaud Design in New York City. "The different food concepts, a series of microrestaurants, are dispersed throughout the center of the hall and create unique social spaces clustered around each food experience. Concepts provide real transparency while celebrating the rituals of fresh food prepared to order. Students are invited to interact with the culinary staff by selecting ingredients and seasonings as their meal comes together in front of them. The focus is on freshness, nutrition and choice."
Dining areas nestled within and around the concepts accommodate approximately 1,000 students. "A sense of choice and openness carries over throughout the dining areas," Bakos says. Both high and low seating and a variety of table types craft pockets of social space that respond to the different needs of the student body: the fast diner, the studier, the lingerer and groups of friends enjoying a meal together. Larger areas outside Discovery Kitchen give students more space to complete classwork or conduct club meetings.
The south end of the dining hall looks out at a residence hall. South End Sweets sits at right.
"Our design is ultimately intended to maximize the visibility, transparency and functionality of the open kitchen," Bakos says. "The materials themselves are unpretentious: stained concrete floors, quartz counters and decorative tile." Large skylights and floor-to-ceiling glass windows bathe the room in natural light during the day. In the evening, lighting integrated into the food stations and custom lighting among the seating areas establish distinct and intimate zones.
The furniture selection separates out seating areas by using a variety of high- and low-top tables, as well as community dining space. "The hall is organized so portions of the facility can be opened or closed depending on the meal period," says Bakos. "There is a sophisticated lighting package timed for all parts of the day and customizable for special events. Everything from the seating to the decor to the lighting can be adjusted and reflects the flexibility of the food platforms and menu design."
Acoustics received concerted attention given the size of the facility. Perforated acoustic decks on the high ceilings look simple and raw yet sophisticated to match the design of the facility and temper the noise from the hundreds of guests utilizing the facility. Select areas of the facility contain carpeting or are set back into wall spaces in order to create quieter collaborative areas for students to meet or work.
Pursuing a high standard of environmental responsibility, the project is in the process of certification for LEED Gold.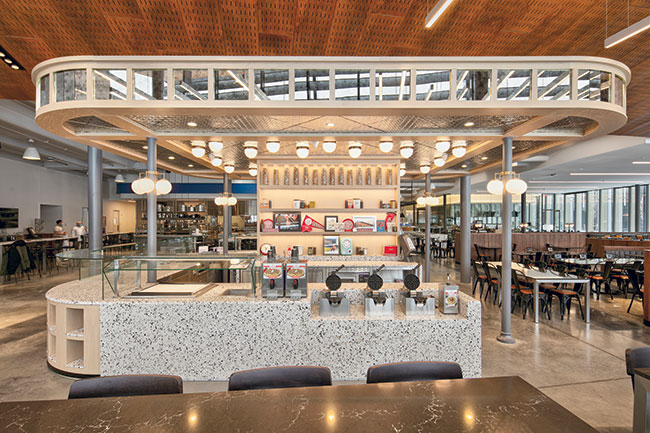 South End Sweets features waffles and crepes in addition to many other menu items.
Challenges
The project spans three different municipalities — City of Ithaca, Town of Ithaca and Village of Cayuga Heights — and is adjacent to the Cornell Heights Historic District. Each had separate zoning regulations and approval processes.
This project was executed during the COVID-19 pandemic, which led to construction being put on hold for one month between March and April 2020. The pandemic impacted supply chains, required additional personal protective equipment and safety and sanitation efforts and procedures. Cornell Dining also experienced labor shortages similar to those faced across the country.
Some challenges specific to the dining portion of the project included workarounds for a steep loading dock grade and placement of the lower-level kitchen areas and coolers due to the building's L shape. Careful queue management was also required because much of the plentiful and integrated seating resides very close to the food platform areas.
Flow of Production
"The flow of product from the loading dock to the plate is a key component of the philosophy behind the design," says David Chislett, executive principal, development, of Ricca Design Studios. "Open-concept production, cooking and serving allows guests to view the culinary process from start to finish."
This takes place through a layering effect, where the culinary team first preps raw ingredients in the back-of-the-house production areas and transports them to the platforms. Morrison Dining culinarians then prepare the menu items on display at platforms with all of the major equipment highly visible. Team members finish, garnish and often customize menu items directly in front of guests.
The production process begins when a dedicated inventory coordinator manages the ordering and receiving of all menu ingredients. Deliveries arrive at a loading dock that contains designated cold decanting rooms where team members receive and break down pallets. They distribute ingredients to three main food banks: one for protein and cheese, one for frozen goods and one for produce. A fourth walk-in cooler is dedicated solely for incoming and outgoing carts of food that are distributed to individual production areas.
"This structure allows for cost savings and efficiency because we are able to switch from ordering cases to larger field totes in many instances," says Paul Muscente, associate director, Cornell Dining. "The cold receiving rooms also support increased safety measures for safe food handling and HACCP controls."
With this structure, Muscente adds, the dining team can utilize a detailed and refined menu and an electronic system that allows for precise reporting and forecasting. "This gives us a road map to move products from, for example, the chop shop [raw vegetable prep room] to the cold holding stations, allowing our culinarians to focus on producing high-quality recipes without spending a large amount of time on prep." This system is in place for the residential dining, cold food processing, commissary and catering operations all under the same roof, ensuring that the inventory of bulk staple items can be shared.
The lower-level hot and cold kitchens support the main-level platforms as well as catering. Some aspects of the flow were dictated by the building design, notably the L-shaped common corridor in the back of the house, which connects the lower-level kitchen areas that house dry storage, walk-in coolers and freezers. A walk-in blast freezer serves as a backup freezer, and staff can program for different menu items. The process is HACCP-friendly. The readout on the machine shows progress of menu items as they are cooled to safe temperatures for holding, which is suitable for HACCP reporting.
Team members prepare cold pantry menu items in a room kept at 50 to 60 degrees F. The cold production kitchen contains a vertical chopper for mass production of produce, two food processors, a grinder, an 80-quart mixer and ingredient bins. The area holds several worktables and sinks, including a wash sink for fruits and vegetables. A vacuum sealer tightly packages menu items for on-demand rethermalization.
Hot food production areas contain five combi ovens, a charbroiler with a convection oven beneath, a French-top range with a convection oven beneath, a fryer battery with an integral filter, a griddle, two 40-gallon tilting skillets, a tilt kettle with mixer and a slicer.
A multipronged approach to the dish rooms contributes to efficiency. One dish room sits on each level of the operation. The lower-level dish room cleans flatware, cups and plates, while the upper-level dish room handles equipment from the stations. A Ferris wheel-style soiled wares accumulator delivers dishes from the upper level to the lower level.
Five food grinders set in a slurry loop system accept any material except bone and plastics and therefore support a campus composting program. "The program includes a recycled water component for enhanced sustainability, and along with providing compost material provides reduction in labor and carting costs while eliminating the potential of cross contamination from the waste stream," Chislett explains. Morrison Dining, along with other Cornell Dining facilities, provides compost to Cornell University Farm Services.
Dining Hall Platforms
The main level divides into four directional quadrants, which are further segregated into separate platforms. North End Pasta and North End Pizza sit back to back. Both contain porcelain-heated countertops. North End Pasta features a pasta extruder and pasta drop for team members to make house-made, create-your-own artisan pasta dishes.
Culinary staff prepare fresh pasta menu items daily.
The pizza area contains two pizza ovens that bake New York-style pies with house-made dough, seasonal ingredients, fresh tomato sauce and whole-milk mozzarella. The team is developing a Neapolitan-style pie to add as a retail option in the near future to customers ordering late-night pizza.
North End Pizza's ovens stand out as visual centerpieces.
East Side Market includes three platforms. Salad Bar features three fully composed salads each day, as well as a variety of grains, greens and legumes. This nut-free space also features fresh tossed salads and a build-your-own salad component. "There are more than 500,000 unique combinations at the salad bar," Cutler says.
East Side Market's flattop grill supports Cornell Dining's first dedicated plant-forward, vegan station, which is also free of major allergens, highlighting customizable portions, with just-in-time cooking occurring in front of guests. A ventless flattop grill supports this platform. A nearby satellite station offers breakfast oats, fruit and yogurt at all meal periods.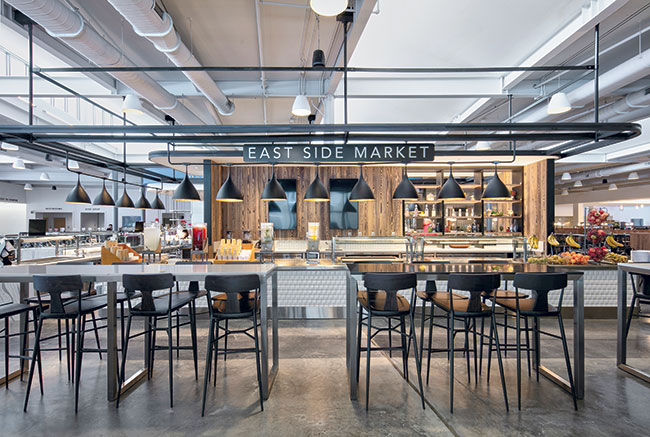 East Side Market features vegan, grilled and fruit/juice/smoothie stations.
The third area, Fruit/Juice/Smoothie features fresh fruit, smoothies, infused waters, lemonade and limeade.
West Side Grill boasts a variety of menu items. The area contains an iron grill and offers globally inspired breakfast and themed bars for lunch and dinner. Adjacent to the iron grill, a high-powered wok with extra rings of fire produces high Btus. Here the culinary team prepares themed menus based on regional cuisines from Asia, and an expansive noodle bar with 15 different vegetable topping options. Team members plate and garnish noodle bar selections and produce custom stir-fry and build-your-own bao buns to order in front of guests. The wok station also contains porcelain-heated countertops.
West Side Grill also contains a range suite with French-top burners with zone-controlled temperature, a wood-fired grill for small plates, comfort food and classic favorites presented at a traditional main hot line with hot- and cold-holding buffet inserts chosen to offset the bright, colorful ingredients. Culinary staff use a circular plancha to cook grilled vegetables and fresh market fish. In addition, rotisserie ovens cook chickens, pork loin, potatoes and cauliflower. The West Side Grill also contains a gyro spit.
The circular plancha is one of the showpieces at West Side Grill.
South End quadrant contains South End Sweets featuring eight rotating flavors of Cornell Dairy ice cream, house-made cookies and vegan soft serve. Guests watch team members use a crepe machine and top them with fillings on weekends or can build their own waffles during any meal period. "This station is student run, and features our house-made waffle batter and a series of creative crepe fillings," Cutler says.
Morrison Dining also contains a kosher-designated platform featuring kosher fleishig (meat) meals produced by 104West!, Cornell Dining's kosher dining facility on campus. Other menu items on the rotation include tofu and red bean jambalaya, create-your-own deli sandwich, hummus and baked pita chips. This station contains induction ranges. A dedicated halal platform features zabiha-certified meats along with menu items such as vindaloo with potato and peas, Bombay curry chicken and steamed vegetables. Both platforms contain hot food wells and a combi oven.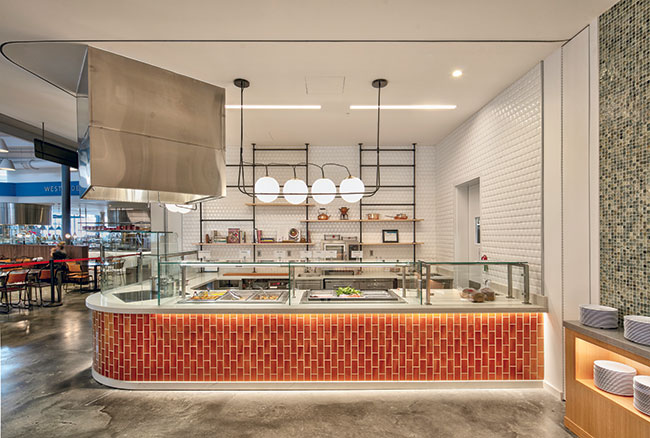 A kosher- dedicated station serves meals produced by Cornell Dining's on-campus kosher dining facility.
Beverage stations also stand out from the ordinary. They offer sugarless fountain beverages, juice and separate water dispensers with carbonated, still and alkaline water. "The healthy beverage options support Cornell's commitment to the Menus of Change initiative," Cutler says.
Discovery Kitchen, Energy and Water Savings
"Our academic partnership with the Division of Nutrition Sciences through the opening of Discovery Kitchen is the culmination of a focus on dining and academic partnership," Cutler says. "While Cornell Dining has engaged in this work continuously, through collaboration with student groups, guest appearances in lectures and discussion sections, the Discovery Kitchen is a physical manifestation of that work, creating a space where academic discovery meets employee engagement and learning. It also provides a venue for alumni, students, community members and staff events that will nourish the future."
The Discovery Kitchen food lab with 24 individual cooking stations sits in the middle of the dining space as a centerpiece for the entire food hall. The learning stations each contain a gas-powered, five-burner range (upscale residential grade), electric convection oven, undercounter refrigerators and sinks and share a load center for electricity distribution. An herb cultivator allows culinary team members to use fresh herbs in myriad menu items.
In addition to the robust water savings and compost program, the facility features Energy Star–rated equipment, where available, and in-house herbs and microgreens grown in a freestanding herb cultivator. Staff craft all menus and recipes using clean ingredients and Menus of Change principles. This facility also supports Cornell Dining's reusable container program for to-go meals. The structure and integration of multiple areas of business in one facility will lead to cross-utilization of product. The hood system is heat controlled for energy savings. Also, fryer oil and carbon dioxide are both centralized within the building.
Discovery Kitchen's cooking suites allow participants to practice their culinary skills in an open environment.
Cafe Concepts
Crossings Café in Toni Morrison Hall lives around the corner from a fitness facility and features breakfast and signature sandwiches, quesadillas and paninis, as well as smoothies and branded coffee drinks. "This is another example of the integrated living/learning environment created by this project," says Cutler.
Novick's Café, named for Barbara Novick, Cornell alumna (Class of 1982) and BlackRock co-founder, will open in August 2022 offering a high-end beverage experience with custom espresso drinks and a quick ordering counter for drip coffee. The menu also includes sandwiches and desserts.
As the Morrison Dining team and guests become accustomed to Cornell's new operation, they're reaping the rewards of the planning team's challenging process to introduce a new dining experience on a campus long recognized for foodservice excellence. And doing this all while managing ongoing COVID-19 uncertainty and restrictions.
Feedback from students and staff has exceeded expectations. They appreciate the menu variety and interaction with the culinary team members preparing menu items to order. Most important, they take advantage of the opportunity to be part of an ever-changing, supportive community.
Crossings offers beverages, sandwiches and snacks in Toni Morrison Hall.
---
About the Project
Opened: Jan. 18, 2022
Scope of Project: The North Campus Residential Expansion project includes two components. Site 1 is a student housing facility with 891 new student beds, a central student lounge, social spaces, a fitness space, Morrison Dining Hall and Crossings Café. Morrison Dining includes a lower-level production operation supporting the dining hall and catering, as well as a main-level food hall with 11 platforms and Discovery Kitchen. Site 2 is an expanded first-year living community, including approximately 1,244 new student beds, Novick's Café and a recreation field.
Size: The total project impacted 25.6 acres of land; total project: 767,400 sq. ft. (Site 1: 366,200 sq. ft.; Site 2: 401,200 sq. ft.).
Morrison Dining: 58,230 sq. ft., including:
Front of the house: 28,000 sq. ft.
Discovery Kitchen: 2,400 sq. ft.
Back of the house (lower and main levels): 23,170 sq. ft.
Catering (main level; includes office): 4,660 sq. ft.
Crossings Café: 2,190 sq. ft.
Novick's Café: 3,555 sq. ft.
Seats: Main dining facility: over 1,000
Cafes
Crossings Café: approximately 40
Novick's Café: approximately 32
Discovery Kitchen community table with 30 seats
Average check: This all-you-care-to-eat facility allows students on meal plans to pay with a meal swipe. Guests pay per meal.
Total annual sales:
Crossings Café: $1.2 million
Morrison Dining (6 months): $4.1 million
Novick's Café: TBD
Daily transactions/covers: Est: 6,200 per day, including 1,200 breakfast, 1,500 lunch, 3,500 dinner
Hours:
Morrison Dining: 7 a.m. until 8:30 p.m, daily
Crossings Café: 7 a.m. until 10 p.m., daily
Discovery Kitchen: varies based on course schedule, training needs or special events
Menu concepts: The space is divided into four directional quadrants and further distinguished by the equipment in each quadrant. North End Pizza/North End Pasta; West Side Grill, which features an iron grill, wok, rotisserie, wood-fired grill and circular plancha; East Side Market, which features a salad bar on one side, a fruit/juice/smoothie station on the other and a ventless griddle for finishing vegan options; South End Sweets; Kosher; and Halal. In addition, retail concepts Crossings Café and Novick's Café are adjacent to the dining hall space.
Staff: Management with a general manager, executive chef and senior dining manager; hourly with 98 front-line associates for dining/catering/commissary operations.
Website: dining.cornell.edu
---
Key Players
Owner: Cornell University and the Division of Student and Campus Life
Assistant vice president for Student and Campus Life Enterprise Services: Pat Wynn
Executive director, Cornell Dining: Dustin Cutler
Associate director, Cornell Dining: Paul Muscente
Executive chef: Ambarish Lulay
Senior chef, Morrison Dining: Josh Holden
Director of culinary innovation: Chef Steven Miller
General manager, Morrison Dining: Amy Vleminckx
Architect: ikon.5 architects, New York City: Arvind Tikku, AIA, managing principal; Shawn Daniels, project manager; J. Daniel Cummings, AIA, project architect
Interior Design: Champalimaud Design, New York City
Design, New York City: Ed Bakos, AIA, IIDA, partner, CEO and design lead for Morrison Dining
Foodservice consultants: Ricca Design Studios, Greenwood Village, Colo.: David Chislett, executive principal, development; Ryan Mikita, principal, New York City; Jim DiTrapani, project manager; Derek Sisson, studio director
Equipment dealer: Singer Ashland, Belcamp, Md.
Construction: Welliver, Ithaca, N.Y.
Ed Bakos, partner and CEO, Champalimaud
Design, New York City. Bakos joined the firm in 2012 as managing director. Other projects include La Dame de Pic, Michelin-starred chef Anne-Sophie Pic's restaurant at Raffles Hotel Singapore, the Dining Room at Troutbeck in the Hudson Valley, and The Alchemy Bar at the Academy Hotel in London.
David Chislett, executive principal, development, Ricca Design Studios. Chislett joined Ricca in 2004. In addition to his undergraduate degree in American cultural history, he holds an associate of arts degree from the Culinary Institute of America.
J. Daniel Cummings, AIA, project architect, ikon.5 architects. Cummings joined the firm in 2004. Projects include Arizona State University's Barrett Honors College and the Embry-Riddle Aeronautical University's Mori Hosseini Student Union in Daytona Beach, Fla.
Dustin Cutler, executive director, Cornell Dining. Cutler began working on the planning and design of Morrison Dining Hall shortly after his arrival to campus in January 2017.
Shawn Daniels, project manager, ikon.5 architects. Daniels joined the firm in 2004. Projects include project coordinator for Cornell University's Breazzano Family Center for Business Education and project manager for the Collegetown
Terrace Apartments in Ithaca, N.Y.
Jim DiTrapani, project manager, Ricca Design Studios. DiTrapani joined this firm in 2008. Previously he worked for BakerGroup.
Josh Holden, senior chef, Morrison Dining. Holden joined Cornell Dining in 2004. He steadily worked his way up through the organization and now oversees the culinary program of Morrison Dining.
Ryan Mikita, principal, Ricca Design Studios. Mikita joined the firm in 2018. Previously he worked at Patina Restaurant Group in New York City.
Steven Miller, director, Culinary Innovation, Cornell Dining. Miller, a chef, was instrumental in the planning and design of this new facility. He served as chapter president of the American Culinary Federation for 15 years before taking this position.
Paul Muscente, associate director, Cornell Dining. Muscente oversees all operations of the dining program, which includes more than 30 individual locations across campus. He came to Cornell Dining in 2011 as operations manager for retail operations and later became senior operations manager and assistant director before his current position.
Derek Sisson, studio director, Ricca Design Studios. Before joining this firm in 2005, Sisson worked for BakerGroup.
Arvind Tikku, AIA, managing principal, ikon.5 architects. Tikku co-founded the firm in 2003. Projects include managing principal for Cornell's Breazzano Center and Georgetown University's new Healey Family Student Center in Washington, D.C.
Amy Vleminckx, general manager, Morrison Dining Hall. Vleminckx oversees the eatery, which includes the 1,000-plus-seat residential dining hall, commissary operation and in-house catering department. She came to Cornell in 2019.