"Transformational" is how Yale University leaders describe the extensively renovated Yale Schwarzman Center. As the university's first center for student life and the arts at the historic heart of campus, the renovated facility provides a shared space that fosters collaboration, wellness and connection among students.
The center replaces the University Commons, built in 1901. Over the years, Yale made improvements to the Commons before eventually closing the facility for the final time in 2017.
Prior to the official closing of the facility, in 2014, three student organizations — the Yale College Council, the Graduate and Professional Student Senate and the Graduate Student Assembly — wrote to president Peter Salovey calling institutional attention to the need to bridge gaps between undergraduate, graduate and professional students at Yale. He then assembled a committee of artists, student leaders, operational leads, heads of departments, and architects to brainstorm what the future of this center could look like.
"The [new] center will build on the strengths of our already vibrant residential colleges and the communities within each of our schools and departments to inspire engagement in ways we can only begin to imagine," Salovey promised at the outset of the project.
Yale Hospitality's dining locations within Schwarzman Center support a cross-section of student life and the arts. The building serves as a central destination for students, as well as faculty and staff, no matter their discipline. "Through our food, service style, team members and equipment, we celebrate our culture and embrace differences, as well as our common interests, to create excitement, engagement and education," says Rafi Taherian, associate vice president, Yale Hospitality. "We took into consideration designing a hospitality operation with flexibility, identity and culturally based engagement, yet also making sure it is resilient to time."
This facility provides undergraduate students a change of scenery from their residential dining halls. Various members of the Yale community, including those living on and off campus, find a home here to build camaraderie around shared meals and deepen their engagement with the campus community. "Being a member of this project is a once in a lifetime experience, truly transformational," says Stacey Hepburn-James, managing director of Schwarzman Center Hospitality. "The hospitality venues at the Schwarzman Center are driven by a genuine desire to strengthen belonging and bridging the many communities on campus."
Photos courtesy of Yale University Taken in July 2021 in accordance with Yale University's COVID-19 guidelines.
Floor Plan Equipment Key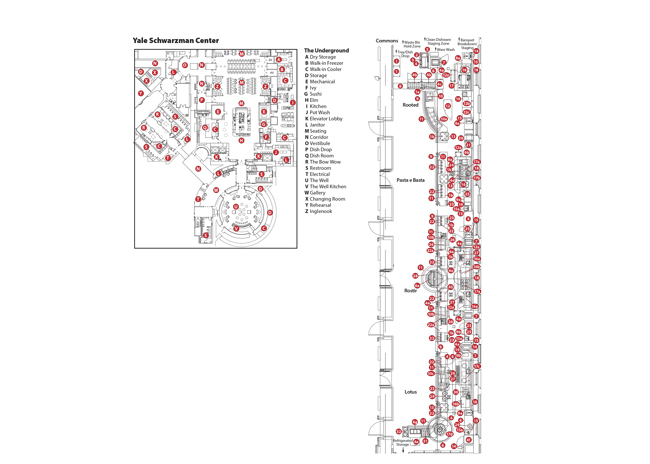 Please click here to download the floor plan and equipment key.
The Renovation
The Schwarzman Center's construction started in February 2018, and the center opened Sept. 1, 2021. "The Schwarzman Center as you see it today should not be thought of as a historic run-of-the-mill renovation, but rather it should be described as a historic and very complex gut renovation," says David Chislett, executive principal, Ricca Design Studios, Greenwood Village, Colo.
In the main production kitchen, a six-burner range, a griddle, fryers and combi ovens support production at all the foodservice platforms and for catering.New construction replaced outdated infrastructure, equipment and venues on three levels. The lower level, now called The Underground, contains a renovated information technology vault, numerous retail foodservice outlets, seating areas and a kitchen. "The previous kitchen on the lower level served as a support kitchen but was outdated and in the wrong location," Chislett says. "We worked with RAMSA [Robert A.M. Stern Architects] and Yale Hospitality to rationally reconfigure the foodservice system from the loading area through to renovated and new culinary zones on all floors."
The lower-level floor was almost entirely removed, with new infrastructure added. Existing mechanical, electrical and plumbing (MEP) services were replaced, a new courtyard and entryway to the lower level were created, and in turn, new student experiences, including culinary, were added. The Underground's foodservice outlets include Elm for coffee, gelato, pastries and sandwiches; Ivy, featuring small plates for sharing, sushi and sliders; The Well, a pub and rotunda bar; and The Bow Wow, a marketplace.
The main level features Commons with dining platforms that include Rooted, a vegetable-centric outlet; Pasta e Basta, featuring house-made pastas and sauces; Rostir, with Yale Hospitality's signature-roasted chicken, fire-roasted proteins and vegetables; and Lotus, featuring wok-fired and steamed Asian menu items. The Commons level had to remain a dedicated student lunch venue but also had to be able to morph into a 1,000- seat banquet hall on demand.
"The servery on the Commons level needed to live in general where it functioned prior to the renovation," Chislett says. "But we successfully argued for more depth for service and circulation. This was joined with the need for more meeting space above the servery and the desire to bring daylight to the upper floors. The result is a long, but efficient — and able to be fully closed-off — servery that now doubles as a plating/service zone during banqueting."
The level above Commons contains the President's Room, a private dining space. The level above that, the Dome Room, was fully restored. The upper floors require staff to bring food for catering via discreet service lifts and service pantries.
Efficiencies and Sustainable Practices
"Hospitality at Schwarzman Center comes together through a robust training and development program, which allows us to recognize the benefits of the best design and
equipment," says Robert Sullivan, senior director of Residential Dining at Yale Hospitality. "Our program was developed to enhance employee performance, boost productivity and maximize the use of the infrastructure."
Specific operating procedures were implemented to further enhance energy-saving goals. "Menus were developed and assessed to minimize equipment run times, and a robust training process was developed to ensure employees fire up and fire down equipment when not in use to reduce unnecessary energy consumption," says Daniel Flynn, director of Asset Renewal and Special Projects.
Since the Schwarzman Center is not a retail-only facility, students and faculty swipe at each station in Commons to purchase a meal and do the same at points of service on the lower level. While cash is not accepted, customers can pay at credit card kiosks, and customers with meal plans can use a meal equivalency option.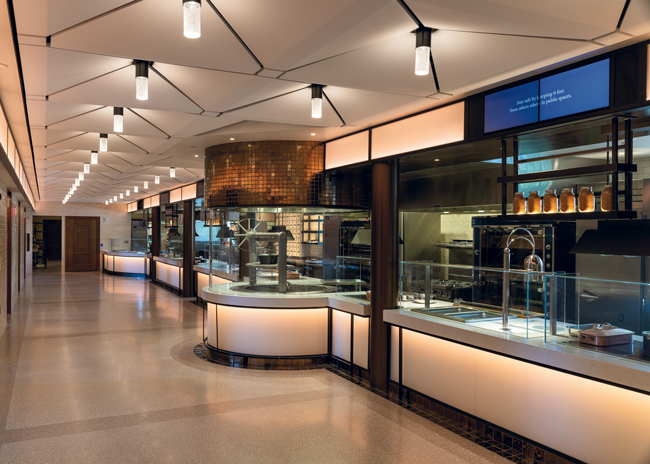 The custom-crafted, hand-cranked, rotating circular grill stands out at Rostir in Commons.Another area of great efficiency comes from strategic planning for warewash areas. Each of four separate warewash areas functions independently and can scale up or down based on demand. Large holding zones allow for greater soiled dish storage. "All of this reduces the need for unproductive labor because we don't have to continually staff and operate the dishmachine," Flynn says.
The spaces can also store enough plate ware, glass and flatware for an entire meal period, so cleaning is not tied to operational needs. In addition, dish accumulators reside in two of the four areas, so each area does not need to be staffed continuously throughout the day.
Food deliveries arrive at the street level. Staff move them down the service elevator to the lower-level walk-in coolers, a walk-in freezer and a dry storage room. In the support kitchen, staff prepare mise en place for Commons, The Underground and catering using a food blender, a food processor, a tabletop mixer and a food slicer. Cooks prepare proteins, potatoes and vegetables in the tilting skillet braising pan, a fryer, a 4-open-burner range, a 36-inch griddle range, two combi ovens and a roast-and-hold oven with a smoker. Before service times, staff transport prepared menu items and prepared ingredients to various food platforms. A dedicated service elevator at the finishing end of the kitchen allows for quick transfer to Commons and catering venues.
The support kitchen provides basic support for menu items to Commons and The Underground outlets. Each concept platform contains its own storage and finishing equipment. Additional ingredient storage and preparation take place in Commons in the mornings as that facility is not open for breakfast.
The Underground Outlets
"Elm draws inspiration from Yale Hospitality's commitment to recognize diversity and incorporate food literacy by highlighting global flavors and celebrating various cultures present on campus in the city of New Haven," says Adam Millman, senior director of Yale Hospitality Auxiliary Operations. Guests smell the aroma of fresh coffee and espresso brewed in a dual-boiler espresso machine. A coffee roaster allows staff to roast a signature coffee blend daily, which is used exclusively within the building. Some drinks celebrate cultures, such as macchiatos (Italy), cortados (Spain) and London Fog tea lattes (United Kingdom). Elm also offers alfajores, guava pastelitos, vegan brownies with ancho chili, and other pastries sourced from local partners including New Haven's Sanctuary Kitchen and Havenly, both operated by female refugees.
The Well, a student pub, sits in a location formerly used as a storage room. Photo courtesy of ©Francis Dzikowski/OTTOFor lunch, customers can purchase signature sandwiches such as pain bagna, banh mi, chicken and aloo dum roti, and media noche, which staff heat in a high-speed panini press; salads such as Israeli couscous; and Greek and specialty soups. Desserts include dark chocolate olive oil cookies and specialty gelato, with house-made gluten-free waffle cones topped with warm melted dark chocolate.
Ivy, a late-night dining platform, offers a selection of shareable small plates and student favorites like freshly rolled sushi, made-to-order sliders and kebabs on the grill, as well as tacos and bao. Guests can take their pick of seating options from single tables, community tables, study lounges and four vibrant inglenooks. "These seating options are symbiotic to the dynamic theater where student-produced artistic performances and creativity will be offered," Millman says.
The Well, a student pub, which reflects an upscale rotunda bar, sits in the location once used as a storage room and foundation of the Schwarzman Center's rotunda entrance. The Well features comfortable seating and a curvilinear bar that supports informal conversations and performances. When it opens in the spring, this will serve as an after-hours recharge location offering charcuterie boards and other shareable menu items heated in a high-speed oven. Staff will also pour seasonal ciders and dispense beer sourced through local and regional breweries from custom 3D-printed copper taps in the shape of the Yale Bulldog mascot. They also dispense wine from a tap system. A tapas kitchen stands behind the curvilinear bar.
The Bow Wow provides a one-stop convenience marketplace and more. Students can access versatile meal options, including a range of globally inspired meals and sushi (freshly made on-site) complemented by a wide variety of trendy, wellness-focused beverages and healthy snacks. Global and local offerings adhere to key values and principles of Yale Hospitality's "Better for You, Better for the Planet" sourcing guidelines. Rear-fill coolers allow staff to restock without getting in the way of service.
"Self-checkout kiosks allow students to seamlessly grab their items, pay conveniently and make it to their next class or meeting without missing a beat," Millman says. "Staff have become hosts able to assist and engage with students versus being tied to a register."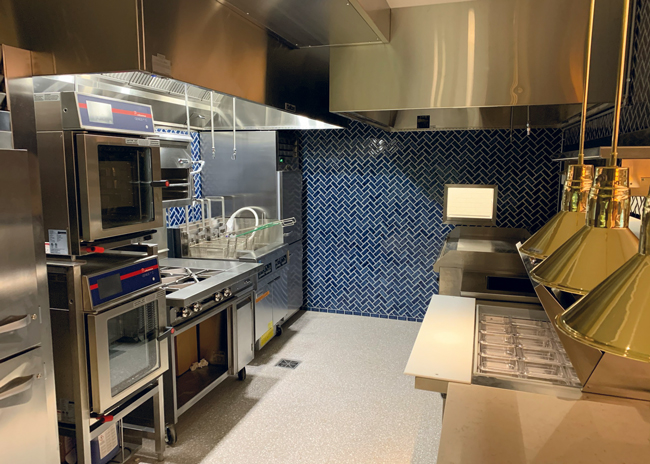 The hot food line at Ivy in The Underground contains ovens, a saute range and fryers.
Commons
"At Yale Hospitality, principles of health, wellness, and environmental impact are always integrated in every aspect of dining," says James Benson, director of Culinary Excellence. "In addition, our plant-centric/forward approach, ingredient sourcing and methods of preparation remain at the foundation of our menu development and food literacy — and Commons is no different."
The servery's design features high-volume, high-quality food prep and service at its core. "Each platform has its panache, but each platform also has a very powerful backup just behind it in strategically located positions for cold and hot support," Chislett says. "Firepower is used where needed, and by-the-inch counter equipment placement was fully vetted by the Yale Hospitality team and their chefs."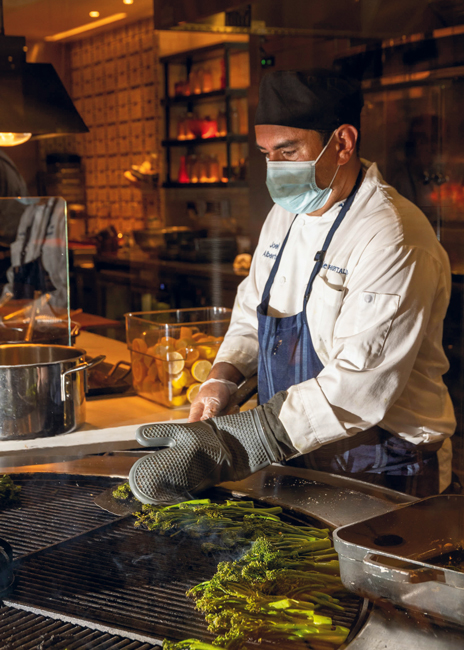 A cook contributes to the culinary action in Commons as he prepares vegetables on the rotating circular grill at Rostir. All stations feature an open kitchen and backlit glass that houses digital signage from hanging shelves.
Commons features four distinct platforms providing varied opportunities for guests to enjoy a diverse food experience centered on high-quality ingredients freshly prepared and made to order. Menu concepts focus on vegetarian entrees, pasta made fresh in-house, rotisserie proteins and vegetables and wok-fired and steamed dishes.
Rooted, the garden-to-bowl concept, highlights the bold flavors of plant-forward entrees. Guests receive menu items developed in collaboration with chef Amanda Cohen of Dirt Candy restaurant in New York City. Staff members prepare menu items such as grilled eggplant steak, crispy cauliflower with chermoula ranch, yuba and carrot salad. The concept also features chef-crafted or made-to-order salads with farm-fresh locally sourced ingredients to complement the entrees. At the platform, guests see a heated shelf and refrigerated and ambient wells that hold ingredients.
"Originally this was going to be a pizza concept," Flynn says. "But we offer pizza in many other locations. With the health initiative emphasis here, we decided to put the spotlight on greens and other vegetables."
Inspired by Pastificio Guerra, a restaurant in Rome, Italy, dating back to 1918, Pasta e Basta, which translates as "pasta and nothing else," features two freshly made pastas accompanied by signature sauces that change seasonally. The concept provides guests with a close-up view of staff sending pasta dough through a high-volume, multifunction extruder that makes dough and forms various pasta shapes. The pasta is then dried and cooked in a pasta cooker. Chef Luca D'Onofrio, previously the head pastaio at New York City's Eataly, developed the artisanal menu with fresh, simple and seasonal ingredients for menu items such as pesto di zucca and classic Bolognese.
Sitting in the center of the room, Rostir offers slowly fire-roasted, gluten-free proteins and vegetables. Staff prepare chicken with a signature rub and roasted jumbo beets in two large-capacity, glass-front, cast iron and porcelain wick vertical rotisseries. Guests also watch staff prepare grilled polenta quinoa cakes, herbed garlic-roasted potatoes and cauliflower macaroni and cheese on a custom-crafted, hand-cranked, rotating circular grill emblazoned with copper tiles. In addition to interchangeable grill grates and plancha plates, the grill also attracts attention with its ship-wheel adjustable shelf and center feature flame. Benson created the rustic menu.
Lotus features Asian menu items developed in collaboration with celebrity chef Ming Tsai, who specializes in East-West fusion of authentic Southeastern and Southwestern Asian flavors. A street market ambience features two high-powered, built-in, oversized Cantonese wok platforms with ingredient rails. The menu includes kung pao chicken or tofu with a blend of white and brown jasmine rice and steamed vegetable dumplings. A custom-designed rotating steam bath and an accent wall of stacked bamboo baskets support staff as they produce dumplings.
The warewash drop alcove in Commons not only receives soiled wares from the dining hall with a student drop, but it has the capacity to take the 1,000 soiled plates from a catering event via a special pass-through roller mechanism within the accumulator system.
Every undergraduate student who attends Yale has a story or many tales to tell about Commons. Taherian doesn't hold back when expressing his appreciation of the center's renovation. "I first set foot on Yale University's campus in November 2007. One of the very first buildings I visited was Commons. From day one it sparked a light in my eyes that has never vanished. For many years, I was respecting the heritage of the Yale University organization by repairing facility-related issues. Unfortunately, like all other massive projects, the cost of any kind of intervention was a huge burden, particularly at the moment the university was recovering from the 2008 market collapse and subsequent reduced endowment. Commons for many years experienced many sacrifices but it continued to carry its own weight, and it performed. It wasn't paid the respect it deserves until now."
About the Project:
Size: 123,388 sq. ft.
First level — Commons:
Servery/kitchen: 6,888 sq. ft.
Dining room: 13,000 sq. ft.
Lower level:
Kitchen: 3,480 sq. ft.
Elm and Ivy: 2,324 sq. ft.
Dining room: 1,861 sq. ft.
The Well: 1,453 sq. ft.
The Bow Wow: 200 sq. ft.
President's Room and warming pantry: 193 sq. ft.
Dome Room and warming pantry: 207 sq. ft.
Seats: Commons, 775 seats; Elm & Ivy, 200 seats; The Well, 40 seats plus standing room; President's Room, 110 seats
Average check:
Commons: $11.20
Elm: $6.15
Ivy: $10.25 projected
The Well: $11 projected
The Bow Wow: $10.67
Daily transactions/covers: 3,500 across all areas
Hours:
Commons: 11 a.m. until 3 p.m.
Elm: 8 a.m. until 8 p.m.
Ivy: 5 p.m. until 10 p.m. (scheduled to open in spring 2022)
The Well: 5 p.m. until midnight (scheduled to open in spring 2022)
The Bow Wow: 10:30 a.m. until 4 p.m.
Menu concepts: Commons' four distinct platforms include Rooted, Pasta e Basta, Rostir and Lotus. The Underground's concepts include Elm, Ivy, The Well and The Bow Wow convenience marketplace
Staff: 420 full-time equivalents and 350 part-time employees
Total project cost: $160 million
Opened: Sept. 1, 2021
Scope of project: An expansion of a historic existing building to transform it into the Yale Schwarzman Center included moving, renovating and expanding such foodservice components as the University Commons servery, the support kitchen and The Underground. The renovations and restorations preserved the historical and architectural integrity while creating efficiencies and a connection of various spaces.
Equipment investment: $3.9 million
Website: hospitality.yale.edu
Key Players
Owner: Yale University
Yale Hospitality:
Associate vice president, Yale Hospitality: Rafi Taherian
Senior director, auxiliary operations, Yale Hospitality: Adam Millman
Director of asset renewal and special projects: Daniel Flynn
Director of culinary inspiration: James Benson
Senior director of residential dining, Yale Hospitality: Robert Sullivan
Managing director, Schwarzman Center Hospitality: Stacey Hepburn-James
Executive chef: David Kuzma
Director of capital program, Yale University Office of Facilities: Keith Fordsman
Associate director of construction, Yale University Office of Facilities: Mike Douyard
Architect: Robert A.M. Stern Architects (RAMSA), New York: Graham S. Wyatt, partner; Melissa DelVecchio, FAIA, LEED AP, partner/architect; Jennifer L. Stone, AIA, partner/manager; Kurt Glauber, associate partner/manager; Ken Frank, senior associate/architect
Interior design: Robert A. M. Stern interiors, New York: Lawrence Chabra; interior design director; Shawn McCormick, interior design project manager
Foodservice consultants: Ricca Design Studios, Englewood, Colo.: David Chislett, executive principal, developments; Derek Sisson, project director (Michigan); Jim DiTrapani, project manager (Michigan)
Equipment dealer: Kittredge Equipment Co., Agawam, Mass.: John Roche, project manager, sales
Structural engineer: Robert Silman Associates: Rebecca Buntrock, PE, associate/manager.
MEP engineer, energy modeling, fire protection, CFD modeling: AKF Group LLC, New York
Civil engineer: Langan, energy modeling, fire protection, CFD modeling: Parsippany, N.J.
Construction manager: Dimeo Construction Co., New Haven, Conn.
David Chislett, executive principal, development. Ricca Design Studios. Chislett joined Ricca in 2004. In addition to his undergraduate degree in American Cultural History, he holds an associate of arts degree from the Culinary Institute of America.
Beer taps in the shape of the Bulldog mascot reside at The Well in The Underground.Melissa DelVecchio, FAIA, LEED AP, partner/architect, Robert A.M. Stern Architects. Since arriving at RAMSA, DelVecchio's projects include Pauli Murray and Benjamin Franklin Residential Colleges at Yale, the first LEED Gold–certified academic building in China, and Wasserstein Hall at the Harvard Law School.
Jim DiTrapani, project manager, Ricca Design Studios. DiTrapani joined this firm in 2008. Previously he worked for BakerGroup.
Daniel Flynn, director of asset renewal and special projects, Yale Hospitality. Flynn plays a key role in design functionality of multiple Yale renovations, including contract management, equipment selection and design functionality. Prior to joining Yale University, he worked for 15 years in the culinary industry as a restaurant owner and chef.
Adam Millman, senior director of Yale Hospitality Auxiliary Operations. Millman's responsibilities include providing concept development and innovation leadership to ensure operational excellence throughout Yale Hospitality's multiude of dining experiences. Prior to joining Yale Hospitality, Millman was regional manager of the Cini•Little
International New York office.
Kurt W. Glauber, AIA, LEED AP, associate partner, Robert A.M. Stern Architects. While working at RAMSA since 1996, projects include Yale's Pauli Murray College and Benjamin Franklin College, and the Northwest Corner at Harvard Law School.
Derek Sisson, studio director, Ricca Design Studios. Before joining this firm in 2005, Sisson worked for BakerGroup.
Robert A.M. Stern, FAIA, senior partner, Robert A.M. Stern Architects. As founder and senior partner, Stern personally directs the design of each of the firm's projects. Among his many previous positions, he served as a dean of the Yale School of Architecture from 1998 to 2016.
Jennifer L. Stone, AIA, partner/manager, Robert A.M. Stern Architects. Stone's many projects include the Pauli Murray and Benjamin Franklin Residential Colleges at Yale and Amos Hall for the Terry College of Business at the University of Georgia.
Rafi Taherian, associate vice president, Yale Hospitality. Taherian oversees a transformational organization with a $55 million annual budget that includes 840 culinary, service, management and clerical personnel serving 15,000 meals per day. His numerous awards and honors include the 2016 IFMA Gold Plate Award.
Graham S. Wyatt, partner, Robert A.M. Stern Architects. During his years at RAMSA, Graham has worked on more than 50 campuses nationwide. He has directed master planning efforts at Georgetown University and Harvard Law School.