Traditional back-of-the-house kitchen spaces may become a distant memory for some foodservice operations as the front of the house continues to merge with the back.
In an effort to be more transparent and make guests feel as if they are part of the action via open kitchens, the line between the back and front of the house continues to blur. Further, as more consumers opt to eat their food off-premises via takeout and delivery, operators continue to deal with food flowing multiple ways through their businesses. All of this means the traditional back-of-the-house kitchen as we know it will continue to undergo a major transformation.
Image courtesy of JZA+D
Along those lines, back-of-the-house kitchens have disappeared altogether in some recent projects, says Joshua Zinder, AIA, LEED AP, managing partner of JZA+D in Princeton, N.J. Or, more accurately, the front of the house is joining forces with the back. "We're seeing a number of places interested in [the entire front of the house] going away and it all being back of house," he says. "The kitchen is front and center in the space, and customers are sitting next to where people are cooking."
Zinder notes this approach is particularly true in the fine-dining space, where he finds restaurateurs are interested in spending less on their front of house and increasing their return on investment through an experience. "It's not so much an open kitchen as sitting in your mom's kitchen," he says.
Guests sit close enough to the chef to have a conversation, Zinder says, which mimics the immersion of a television cooking show. "This is the differentiator, and it's about seeing people cook." Now that consumers realize they can have an excellent dining experience at home via delivery or takeout, he believes restaurants need to go one step further and offer "a singular experience."
Does this transformation mean restaurants need to upgrade materials? Not really, Zinder points out. "People are taking the attitude that this is a kitchen and that's what it is," he says. At the same time, he adds that nicer materials are likely when it comes to walls and flooring—"but not that much nicer; what people are getting is exposed to the experience."
Due to safety issues and the possibility of grease splatters, guests can only get so close to the cooking area. With this in mind, Zinder often integrates video equipment into hoods in spaces with the goal of connecting kitchens and customers. The system projects the cooking process onto screens in the dining sections of the kitchen for guests to get a close-up. He also adds mirrors for the same reason.
Brett Daniel, FCSI, project manager with Camacho Associates, Atlanta, recently worked on a country club that features a chef's table in the kitchen that staff use for teaching or for dining experiences for guests. Cameras above the cooking and prep areas allow guests to watch on TV monitors in the dining area.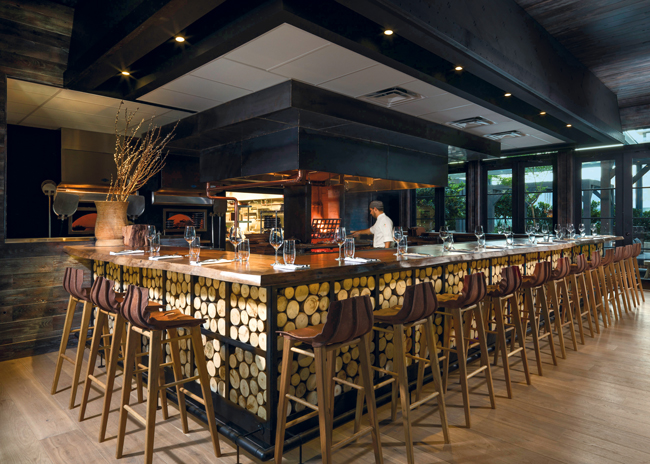 Live cooking, particularly when diners see flames, adds drama to exhibition cooking setups. Photo courtesy of Cini•Little
Equipment Front and Center
Bringing the back of the house to the front often means blending the two. "Overall, owners-operators are wanting to get rid of the strict demarcation line between kitchen and dining," says Rick McCormack, founder of hospitality design firm Studio McCormack in Costa Mesa, Calif.
Operators pick and choose what goes on display, McCormack says, adding that the list of what's moving up front includes everything from wood-fired pizza ovens to chargrills and even prep areas that showcase the freshness of the food. "You're seeing dining counters with stools where people can eat immediately across from where the food's prepared. People like immediate access to chefs, and it creates that interaction between guest and the restaurant and makes it that much stronger," he says. "Eating out is entertainment."
Display kitchens often serve as a visual representation of transparency to customers. Image courtesy of starrdesignAlthough the move to open kitchens predates COVID-19, Steve Starr, AIA, FCSI, president and chief at starrdesign in Charlotte, N.C., thinks the pandemic has only emphasized them more. Pre-COVID-19, most consumers didn't think a lot about food safety and clean kitchens, he says, but now the most important aspect is the perception that a kitchen is clean and sanitary. "The message [with an open kitchen] is 'we care about our food preparation process, and we're being transparent about it.' And now more than ever, people want that transparency."
Any equipment manufacturers worth their salt have been watching this trend of bringing the back of the house to the front, says McCormack. In response, they're allowing operators to personalize equipment with color or trims "to fancy it up," he says.
In one project McCormack worked on, the client's kitchen was completely open, and they opted for smaller equipment, like the meat slicer and the mixer, in red. "It's these unexpected pops of color that grab people's interest, and they can stand on their own or be part of the brand," he says. And, he adds, sometimes something like a red meat slicer can become a signature item. "It's a smart move by an owner to add to their brand and differentiate themselves."
Some operators choose different equipment colors for each station in an open kitchen, including high-end restaurants, adds Lisa Paige-Pretorius, associate and project manager with Cini•Little, a design and management advisory consulting firm in Germantown, Md. She concedes that such choice increases the cost of a project but adds that it "really brands a station." She notes that approach can be found most commonly in college dining venues at the moment. Color can be especially effective in a university stadium, she says, where school colors could appear on a forward-facing cooking suite.
Color can work in traditional restaurants with open kitchens, too, Paige-Pretorius adds. "It would look so sharp for a very high-end restaurant," she says. "Your whole cookline is stainless, but the front of it is black — it's super contemporary." That can also help merge the front of the house with the back of the house, she points out, and allow operators to bring customers' eyes where they want them. "It can also distract from any areas that are less interesting to look at," she adds.
Opting for equipment with a color component can contribute visually to a project, agrees John Barja, principal, Foodesign in Charlotte, N.C. "There's an aesthetic value to that for those who can afford it, and it's worth it," he says. "It can also be nice to incorporate those colors on items like sneeze guards and heat lamps."
Guests receive a bird's-eye view directly into the kitchen at Restaurant Charlie in Las Vegas. Photo courtesy JZA+D, photo by Mick Hales
Basic Equipment, Upgraded
Even workhorse equipment is better-looking than it used to be, says Paige-Pretorius. "Combi ovens have come a long way," she says. "When the patron looks at the back line, there are combi ovens with really sharp looks and really nice cooking suites."
Senior living facilities are also bringing their kitchens front and center. Smaller facilities that serve 30 or fewer people often opt for residential equipment for the range, convection oven and microwave, Barja says. This looks nice, he points out, "and it feels like cooking at home."
It is not just about color, says Daniel. Higher-end restaurants might have a cooking suite with polished edges and towel rails in chrome, he notes, and then they might powder coat the equipment bases so they blend well with the overall aesthetic of the kitchen. A steakhouse he worked on features a mural on the back wall of the open kitchen; it's viewable to guests as they look past the cooking and prep area. "It's a complete showpiece," he says.
McCormack also sees slightly upgraded materials come into play more, with tile on walls instead of FRP (fiberglass reinforced plastic panels). This results in "a less institutional feeling," he says, which in turn creates a "seamless transition with the front of house." And instead of a T-bar ceiling, he says, operators with a display kitchen might drywall the ceiling or at least have it painted. And fluorescent lights certainly won't work. Instead, operators are opting for recessed lighting or pendants over the dining area.
In open kitchens, operators tend to hide lighting better, says Daniel. "It's not such a blinding light that would make it obvious that it's a kitchen," he says. "Instead, they'll do recessed LEDs and spotlights maybe hidden behind soffits, and directional lighting that's not shining into the guest's face."
Because of the heat, grease and bleach, only certain materials work well in kitchens, points out Paige-Pretorius, "but you could upgrade those to a poured epoxy floor in any color, any design, so you could make it a feature with an interesting pattern, or you could make it go away by using a dark color," she says, adding that you could also match the floor to the front of the house to emphasize continuity.
Starr recommends that operators identify their "hero" items of equipment, such as pizza ovens, woks and wood-fired grills, and celebrate them in an open kitchen. Then, the less exciting — yet often very efficient — equipment can hide a bit and not steal the show. "We're curating the view more than we were before," he points out.
Equipment in an open kitchen needs to be carefully placed, says Daniel, with all tall items near the back wall and everything near the customers being below waist height so they can see what's happening in the kitchen. At the same time, it's important to hide cleaning materials, trash cans and other less visually appealing items, he says, "because if you've got something nasty around food, that cleanliness perception goes way down."
Students dining at Cornell University's Morrison Dining watch the culinary staff cook at each food station concept.
Freshness and Theater
Along with celebrating the cooking process, Starr says restaurants continue to celebrate ingredients, with a focus on freshness and quality. So, he's opening up the front of kitchens in more designs and lowering shelves so guests can see into refrigerated wells and appreciate the quality of the food.
Paige-Pretorius also sees an emphasis on ingredients with larger, fresh displays built into restaurant design that showcase ingredients front and center. One approach to accomplish this, she says, is to use smaller vessels instead of full hotel pans, which demonstrates more frequent replacement of product and keeps displays full.
With the move to open kitchens, more tasks are being done in front of the customers, such as slicing ingredients and trimming steak, says Barja. "It promotes the freshness of the experience, and it gives you an activity to observe," he says.
Daniel sees operators putting any item that that doesn't require refrigeration on display. Additional visual-related elements he finds incorporated more today include meat-aging cabinets and indoor gardens.
Fire offers another element of color in addition to the theatrical draw of cooking over a flame. Paige-Pretorius believes the color and movement of the flame, which can come via a chargrill or a wok and might use solid fuel so you see wood and embers, are key. In corporate foodservice facilities, the flame typically comes from gas or radiant grills "to get the same look and visual effect," she says. And the crème de la crème of flames is a flambé station, she points out, which requires a gas burner.
"If you're not going to have any sort of flame in a display kitchen, there's not a whole lot else that's really dramatic," says Daniel, "so you'd probably want to reconsider if you're not doing fire." Flames, he points out, draw the eye and maintain it. "It's a very rudimentary cooking process that people enjoy."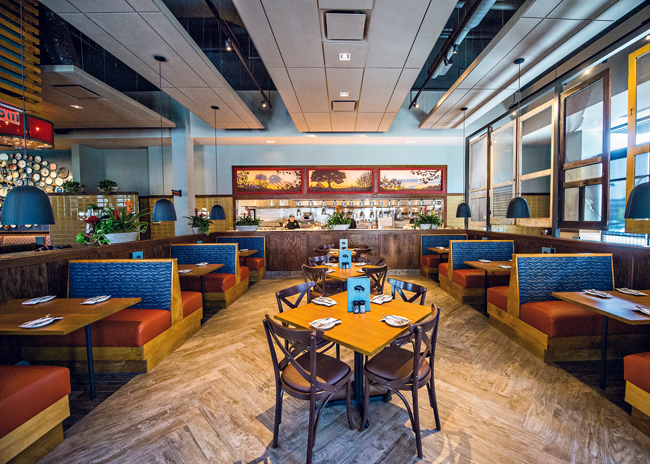 Kitchens can easily become a focal point of dining rooms. Image courtesy of starrdesign
Morrison Dining Update
Cornell University in Ithaca, N.Y., opened its new Morrison Dining on Jan. 18, 2022, and it continues to receive rave reviews from students. (The project was FE&S' Facility Design Project of the Month in June 2022).
Staff handle much of the cooking up front at individual stations, which meets the needs of customers today, says director of dining Paul Muscente. "Whenever they can see the food being made in front of them, it provides that elevated level of experience," he says.
Each station contains some element of display cooking. At the pasta station, for example, cooks toss ingredients, pasta and sauce to order. Also, students can see staff producing pasta from scratch. "The students having breakfast can see that and get excited for lunch," says Muscente. On the other side of this station are two pizza ovens, where guests can watch pies being slid in and out and see the dramatic flames at the back.
The showpiece equipment is very visual, Muscente points out. Being able to watch their food being cooked to order, coupled with being able to see fresh ingredients, from vegetables to chicken breast, in front of them, adds excitement, he says.
The layout of the back-of-the-house kitchens and the dining hall stations was very deliberate, Muscente says, to make it easy to get prepped and cooked food to the stations. Typically, the stations are stocked between the meal period rushes. "The idea was that those stations would be self-sustainable," he points out. "A lot of thought went into product movement through the building, from the loading dock to the plate."