Whether for health, sustainability or ethical reasons, the numbers reveal more Americans are shifting to a meatless diet.
By the Numbers
According to Chicago-based Datassential's "MenuTrends 2021" report, top-growing items called out as being vegetarian include:
elote – found on 1% of vegetarian menus, up 140% over the past four years
tater tots – found on 1% of vegetarian menus, up 140% over the past four years
banh mi (most often a tofu iteration, though jackfruit is also being offered) – found on 0.9% of vegetarian menus, up 105% over the past four years
fritters (can be used to describe falafel or other global options like vada pav and pakora) are on 1.4% of vegetarian menus, up 71% over the past four years
frittatas are found on 0.7% of vegetarian menus, up 71% over the past four years
Concept Close-Up: Melt Revival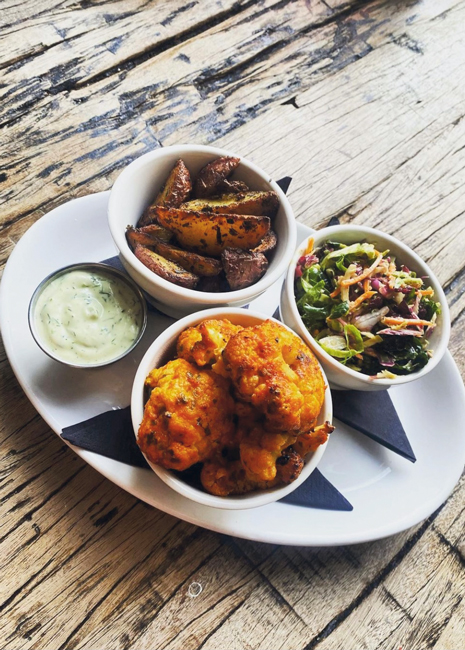 Veggie Trio from Melt RevivalWith an eclectic, fresh menu that has a wide selection of vegetarian options, Melt Revival opened in 2005 in Cincinnati. Shannon Blalack purchased the restaurant in May of 2018 and serves as executive chef. "This food is complex to make from scratch, and it needs someone watching things to make it consistent," she says.
The menu's vegetarian options include vegetarian cheesesteak with house-made seitan, grilled peppers and onions and provolone on a hoagie bun; vegan banh mi with vegan mayo, baked tofu, carrots, mung bean sprouts, fresh herbs, cucumber, jalapeño and a buffalo sauce drizzled on a hoagie; Avocado Bliss combines baked tofu, avocado, shallots, tomatoes, roasted garlic, white cheddar, herbed vinaigrette and mixed greens in a wheat tortilla; and the Pad Thaiwich combines baked tofu with peanut sauce, scallions, cilantro, carrots, mung bean sprouts, cucumber and spinach wrapped in a whole wheat tortilla.
"We make a seitan here in-house, spicing it up with a marinade," Blalack says. "In terms of trends, we're seeing people wanting to eat similar foods to what they ate before becoming vegetarian, like fried chicken. They want it to taste like meat."
Melt Revival's back-of-the-house equipment lineup includes conveyor ovens for made-to-order flatbread, slicers, mixers, ovens, stoves and grills.
"Seitan is like a dough, so we use a mixer to produce it," Blalack says. "Vegetarian fare has evolved immensely in the last 20 years. Many are seeking an alternative diet that is more sustainable and healthier."
Top-growing dishes called out as vegan:
Bolognese either using lentils or plant-based ground meat
BLTs utilizing a variety of plant-based bacon including coconut, mushroom, eggplant and tempeh
Sushi with ingredients like eggplant unagi on smaller chain sushi menus and tomato tuna continue to grow
Pad Thai is also just starting to grow and be flagged as vegan
Source: Datassential "MenuTrends 2021" report
Broader View
Some vegetarian items may not be identified as such on today's menus. Below, an abbreviated list of what's showing up on menus offers insight into fast-growing meatless options.
*Gobi Manchurian is an Indo-Chinese appetizer made with cauliflower, corn flour, soy sauce, vinegar, chili sauce, ginger and garlic.
Yaki Udon is a stir-fried Japanese udon noodle dish made with an assortment of vegetables and protein.
Cacio E Pepe is an Italian dish of spaghetti with Pecorino Romano and black pepper.
Chili Paneer is an Indo-Chinese appetizer for which crisp batter-fried paneer is tossed in slightly sweet, spicy, hot and sour chili sauce
Larb is a Laotian meat salad.
Source: Datassential "MenuTrends 2021" report
Concept Close-Up: Cornbread Café
Veggie cheesesteak with house made seitan. Image courtesy of Melt Revival
Cornbread Café in Eugene, Ore., has been creating vegetarian and vegan comfort foods, including macaroni and cheese and hush puppies, for more than 12 years. According to restaurant manager Jessica Gibbs, among the best-selling items is the Eugenwich — a Southern-fried tofu patty with smoky aioli sauce, cheese, lettuce, tomatoes and fried crispy onions. The menu also includes chicken fried tempeh with gravy, and macaroni and uncheese with a cashew-based cheese. Seitan is barbequed as a steak, sliced deli meat style for sandwiches or fried as an entree.
Although fryers are a key piece of equipment in executing this menu, other items play a critical role in executing Cornbread's fare too. "We use sous vide for cashew-based sauces that are thickened without flour," Gibbs says. "To make anything with cashews, we have to blend these to a water or milk consistency, so equipment like a blender and food processors are paramount."
Other integral equipment at Cornbread are ovens, double boilers, burners and grills. "If taking raw ingredients and forming them into something familiar to all people, it's important to have a basic understanding of raw ingredients and how to process them into familiar foods," Gibbs says.