Outdoor commercial kitchens can be profit centers, although they don't come without numerous hurdles.
Growing up in Atlantic City during the 1960s, John Egnor, owner of JME Hospitality in Columbus, Ohio, recalls that almost all boardwalk food venues were open to the outdoors. "I worked the grill at my dad's sub shop, which had no hood, and we did not have any issues," he says. "People would stop by and watch the sausage and peppers cooking and smell the cheesesteak subs; they almost always came in for a bite."
When it comes to operating an outdoor commercial kitchen today, Egnor admits that, depending on the locale, the regulations can be much more restrictive. "We have completed several open kitchen [projects] in the islands, with most tied to pool and beach areas," he says.
During the past couple of years, foodservice designers have reported U.S. health departments becoming even stricter in enforcing codes that relate to outdoor commercial kitchens. "Health departments are not budging [in terms of regulating outdoor commercial cooking], and some areas are stricter than others. Plus, these kitchens can be difficult to execute, so it's not a common thing," says Linda Callahan, director of Next Step Design, a foodservice consultancy in Annapolis, Md. "For these reasons, these are typically more of an indoor/outdoor setup."
Depending on the jurisdiction, though, some outdoor cooking codes provide variances for events at hotels and resorts, catering operations and sports venues such as golf clubs.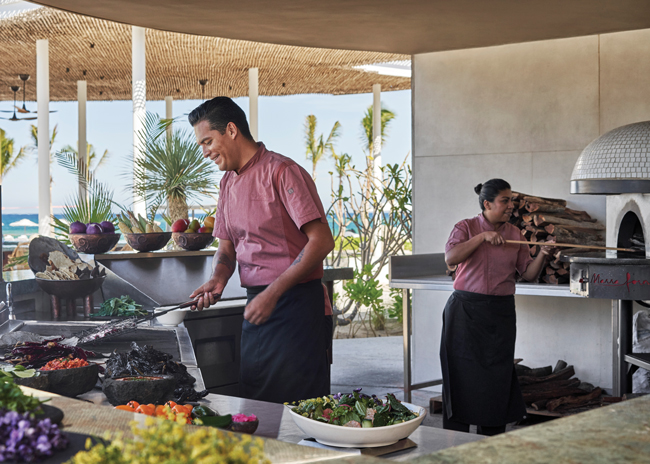 For Mexico's Four Seasons Resort Los Cabos, Next Step Design consultants created an exhibition format, with the cookline facing the dining area.
The Outdoor Advantages
In general, bringing the back of the house outside can offer several benefits. "[Outdoor] kitchens can be a particularly powerful boon to those restaurant operations that are highly seasonal and where the money made for the entire year often occurs in a three- to five-month period," says Karen Malody, founder/president of Culinary Options LLC in Seattle.
The pandemic only served to accelerate what was an emerging trend. "While many [restaurant operators] focused only on outdoor dining [with COVID-19], others took advantage of the opportunity to actually set up outdoor cooking with kitchen build-outs that vary in terms of complexity," Malody says.
Most notable, operators can cook outdoors without the added expense of a ventilation system. "Even then, with so much remarkable ventless equipment in play today, and with greater natural air flow in a more open, outdoor space, a kitchen could be furnished with a higher degree of ventless equipment than might be the case in a smaller, enclosed interior space," Malody says.
Outdoor foodservice equipment can also be built to easily maneuver over multiple terrains. "The beauty of moveable equipment is that guests can be engaged in various locations throughout a property," Malody says. "Customers love to see food being prepared outdoors and then have it delivered to their table. It creates a festive, lively atmosphere and a feel of family gatherings around the campfire."
Outdoor kitchens remain especially popular in locations that include poolside dining and at hotel and club locations that focus on outdoor activities. "It is a true convenience to the customers, as they can order and consume their meals in the outdoors without having to travel and enter the building," Malody says.
In addition to increasing revenue, having a second kitchen space outdoors takes pressure off the indoor back of the house, helping to increase speed of service. It also gives operators the ability to grow sales with the ability to serve more customers, she adds.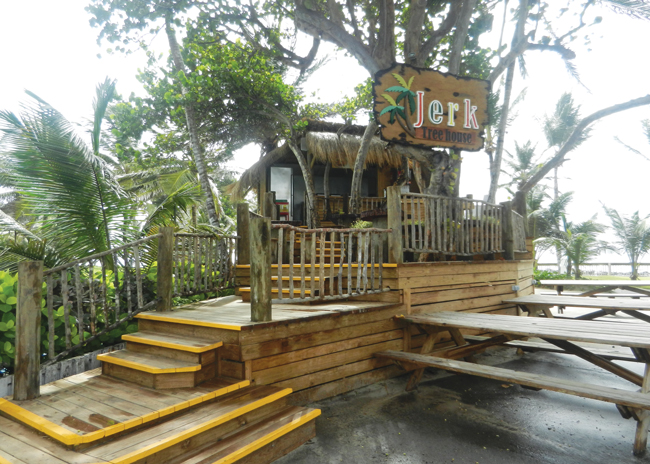 JME Hospitality made the most of limited kitchen space at The JERK Tree House at the Coconut Bay Resort in St. Lucia. The kitchen is partially enclosed to protect from the elements.
Addressing the Challenges
There is no question of outdoor kitchens' appeal, however, the design needs to address a variety of issues, operational and otherwise. In addition to insects and food temperature challenges, common with any type of kitchen, being outside means contending with possible inclement weather, in addition to possibly more stringent local health department regulations.
"We did a 1,000-seat resort in Scottsdale and went round and round with the board of health, as we weren't allowed to store ice outside, even though it would be covered, due to the potential for dust and insects," says Craig Pendleton, president and owner of National Foodservice Consulting Inc. in Surprise, Ariz. "Operators also should take into consideration how many times a year outdoor cooking is viable. It may be worth implementing a hybrid situation with just an outdoor grilling or carving station [if regulations allow it]."
Labor is another consideration, as it can be difficult staffing one kitchen, much less two. "[Labor] includes all of the prework, setup, breakdown, inventory management, online production and service," Malody says. "An operator must carefully assess volume opportunities and ensure that the cost of building any type of outdoor kitchen will provide a return on investment."
Looking at sanitation and environmental control, factors such as bugs, dust, wind, rain, and so on can test food handling best practices and brutalize equipment. "Dust and sand can blow into food and customers' faces, and wind can blow out pilot lights," Malody says.
Obviously, the climate plays a big part in equipment requirements, especially when it comes to temperature control. "For states like Florida and Arizona with high temperatures, refrigeration and ice are a concern," Callahan notes. "In hot climates, there are outdoor versions of refrigeration that need to be specified with the proper gauge of marine-grade stainless and compressor housing."
For that reason, outdoor kitchen refrigeration must be very robust, especially in hot climates, in order to store food at proper temperatures, Malody says. Assess the surroundings not only for customer and staff comfort but also from a food safety perspective.
"Food needs to be covered and not in direct sunlight or under a tree with things falling from it," says Stacy Failing, vice president of special events, at Good Gracious! Events in Los Angeles. The lighting also has to be good, day or night, and the flooring secure and stain resistant. "Outdoor kitchens require a subfloor on grass or turf on cement [for sanitation reasons]," she says.
Because one of the biggest aspects of cooking outdoors is pest control, incorporate air screens when possible, says Callahan.
Equipment Requirements
Kitchen designers agree creating a more focused and limited menu for outdoor cooking remains advisable. "Keeping the menu simple, with the least amount of stress for hot, cold and ambient storage is critical," Malody says. "Making sure there is enough space on which to place completed menu items for service is key. The goal is typically not to attempt the execution of a full indoor menu simultaneously but to offer strategic items that can be optimally handled in an outdoor environment with limited equipment and utilities.
"In other words, the objective is not to create an indoor kitchen outdoors. My experience indicates that outdoor kitchen menus are commonly more casual, almost like those in bars or bistros, with limited items and approachable price points," Malody explains.
Depending on the menu, Malody says the equipment that allows premium versatility outdoors would include robust grills with considerable horizontal cooking space, stainless-steel prep and handwashing sinks, stainless-steel counters, open burners, wood-burning or gas-driven ovens, upright and undercounter refrigeration, deep fryers with adjacent upright or undercounter pull-out freezer drawers and warewashing solutions. Outdoor kitchens can also incorporate ventless equipment. Portable equipment, such as mobile beverage carts, also work well.
"Many operators do not intend to build a permanent outdoor kitchen," Malody says. "It is the same mentality as plug-and-play that is being stressed continuously today in indoor kitchens."
It's important to note that high-tech equipment with preprogramming features is typically not recommended for outdoor use due to the impact of humidity and fluctuating temperatures on electronics.
Again, suitability for the outdoors depends on the equipment's design and durability. "The use of high-speed shuttle ovens are a good item [for outdoor kitchens] as these provide flexibility in the menu and are enclosed cooking units," Egnor says.
Good Gracious! Events opts to reconfigure worktables to what Failing describes as "chef height" versus counter height. Propping up worktables to a 42-inch height rather than the standard counter height of 32 inches allows for better access and ergonomics, Failing says.
Also, as is the case for indoor kitchens, assess the electricity requirements in relation to the equipment. "For example, tabletop convection ovens need only an outlet for standard 110 power," Failing says. "Although these take too long to cook items from scratch, these can be used for heating appetizers or warming."
Failing recommends a six-burner propane stove for larger events, which can heat sauces or soups or warm other items. Consider a 5-gallon propane deep fryer when feeding 50 or more guests.
"Propane grills are often preferred, as these disperse heat equally and can maintain the temperature of multiple items more easily than the charcoal version. Charcoal is best with burgers, hot dogs, steak and fish," Failing says. "A 6-foot griddle is versatile for pancake breakfasts, warming tortillas or grilling sandwiches."
Other components for outdoor kitchens include handwashing stations and a transit box that holds sheet pans to keep food warm and for transporting items. "Refilling and replenishing ingredients from stock inside the restaurant to the outdoor space, and ensuring ingredients are properly covered, don't spill, and look presentable to guests can be challenging while holding food at proper temperatures," Failing adds.
JME Hospitality made the most of limited kitchen space at The JERK Tree House at the Coconut Bay Resort in St. Lucia. The kitchen is partially enclosed to protect from the elements.
Logistics and Limitations
Infrastructure, including power, lighting, plumbing and gas, needs to be in place and accessible or be added to get up and running. "Since most outdoor kitchens are built on a patio, you don't have easy options for adding utilities later," Malody says. "That means you need to think about three things: What utilities will I need now and in the future? Where will these utilities enter my kitchen? Where will these utilities be located under the patio?"
Subtle but important differences emerge when it comes to the utilities for outdoor kitchens compared to their indoor counterparts. Both require sinks and sanitation buckets, but outdoor kitchens often feature fewer drains than inside kitchens, meaning drainage can become an issue.
Other common equipment may present additional utility decisions. "Coffee makers pull a lot of power, so these need to be on separate circuits if brewing on site," Failing says. "This may require additional generators or a spider box to power."
By the same token, the amount of space for necessary stations needs to be abundant as well as appropriate. "Think about how the chef is working for logistics," Failing suggests. "They need the outdoor workstation to be like an indoor commissary kitchen, with a cold station for salads and prep and an area for appetizers that can be easily turned over to servers."
She notes that outdoor layouts typically model indoor kitchens, with sightlines also a factor. "With open tents, hedging can be rented, but sidewalls are generally needed," Failing says. "Depending on fire laws, propane has to be outside, so there should be no sidewall enclosing the oven."
Designate a scullery area for tableware, flatware, glassware and paper goods, and additional power requirements may be necessary for smaller appliances, such as panini makers and waffle irons. "How will you get back to the main building for food replenishment, and what method will be used to remove trash?" Egnor says. "Keep in mind that marketing and sales always outweigh the operational aspect."
For outdoor kitchens with a larger staff, a designated break area with tables, chairs and areas to store belongings may be needed.
Whether or not an outdoor kitchen makes sense is about running the numbers. "Realistically compute anticipated sales against food costs and labor requirements," Malody says. "Figure out the menu and then the equipment that will be needed before a space is chosen."
Once this is accomplished, it's a matter of pricing out the build-out, enlisting the assistance of an outdoor kitchen expert to identify environmental factors influencing location and equipment, and assessing what environmental design surrounds, such as walls and ceilings, might be necessary in order to reduce environmental vulnerabilities.
"Operators shouldn't discount adding an outdoor kitchen," Egnor says. "It could be a home run for those who do their homework and are willing to make the commitment."