From a guest's perspective, creating the perfect bar seems fairly straightforward. Put together the right spirits, staff and ambiance and — presto! — instant bar. But like so many things in life, the magic lies in the details, most of which those grabbing a handcrafted cocktail or their favorite beer have no idea exist. Nor do they understand the work that took place to make that perfection happen.
Those whose job it is to design bars, however, have a much different tale to tell.
"Bars are really interesting in that they have to operate both aesthetically and functionally. The real successful ones have both," says Griz Dwight, principal and founder of Wash., D.C.-based GrizForm Design Architects. "You have to have a great visual and that flame that guests are drawn to. But then behind all of that, you need all that function because if a bartender takes too long to make drinks and can't keep up with the volume, guests won't want to come back."
Or, more simply put: "Form follows function," says James Geier of Chicago-based 555 International, a global design and development firm. "This is a service industry, so it has to work, and that starts from the back of the house forward. You can't just build a pretty place."
And therein lies the rub.
Nature and greenery played an important role in the redesign at Chicago bar and restaurant Tree House, which even incorporates birch tree branches in the backbar.
For Erick Castro, bartender, hospitality consultant and proprietor of San Diego bars Polite Provisions and Raised by Wolves, a big part of that success starts at the very beginning. "The sooner you figure out your concept, the better. That way, you can design your space to make sure you are doing your best to attend to guests' needs," he says. "That is how it's done with the kitchen."
A tiki bar with 50 drinks, for example, is going to have very different requirements than a speakeasy with a limited menu. The former requiring blenders, crushed ice and ample space for fresh juices, syrups and glassware, while the latter would need room for specialty spirits and liqueurs as well as block ice. "Your mission, space and concept all have to be in harmony," says Castro.
To ensure its projects truly reflect its clients both professionally and personally, 555 International goes through a thorough predesign research process. At Andros, the Greek heritage of the owner/chef is reflected in the menu as well as the interior design. That concept isn't lost on Taylor Leage, director of design at hospitality group CH Projects. Known for its unique bars and restaurants located throughout the San Diego area, the company utilizes a multilayered approach to each of its projects that starts with the idea from the owner followed by extensive input and back-and-forth discussions from in-house designers and equipment designers as well as bartending experts such as Castro. "While each concept and layout are different, we are consistent in providing extremely integrated experiences in which our cocktails will always be thought through," says Leage.
For 555 projects, Geier likes to dig deep. "I work with my clients to make sure I know their personal and professional histories and how that relates to their project," he says. At Chicago's Andros, the Greek heritage of the owner/chef inspired the restaurant's interior design, food and beverage program, the latter of which spotlights high-end Greek wines. "If you're selling more expensive wines by the glass, you want to make sure they're kept at the proper chilled temperature," says Geier. In the bar at Andros, he installed refrigerated drawers that can hold 15 to 20 bottles of wine for easy access.
After defining the concept, next comes considering the venue size and how many guests it accommodates, which naturally play a prominent role in choosing the type and size of equipment, number of wells and bar accessories. "Take the time to ask yourself questions like 'Do I really need a 36-inch refrigerator, or could I get by with 24-inch one and potentially shrink the bar and gain more seats?'" says Leage.
When it comes to the layout behind the bar, Castro recommends designing each station like a cockpit. "We want to have everything vertical from top to bottom so that bartenders can make a million drinks without moving their feet," he says. Organization becomes key with everything put in the same place in each station. "You should be able to reach and grab items with your eyes closed," he says, eliminating, say, mixing up mint with basil. Additionally, Castro trains staff to work from left to right as they build drinks, eliminating redundancies. "It doesn't matter if the designers and architects built a perfect bar if the bartenders aren't using it correctly. The more efficient and effective the bartender, the more [sales] they can ring."
For Geier, part of providing bartenders an efficient and seamless operational system means opting to put items under the customer-facing counter so there's nothing sitting on the bar top. He recommends moving the POS system from the backbar area as well. "Now the bartender doesn't have to turn their back toward the guests and can engage as much as possible," he says.
To find that sweet spot behind the bar and in front of it, Dwight and his team spend time testing their designs with mockups at their office, playing both bartender and guest. "I'm not a short guy, so if I have to get on my tiptoes to reach something, that's not a good thing," he says. And that three-legged barstool that looked great on paper? Probably not a good idea, says Dwight, as after two or so glasses of wine, it could become a hazard for tipsy guests.
Lighting represents another aspect that can make or break the ambience of a bar. "We always say we have to feel cute in here," says Leage. If replacing fixtures isn't an option, even just adjusting the lighting level can make a major difference.
At CH Projects' new speakeasy, Young Blood, a cutting-edge design complete with a faux refrigerator door entrance and unique light fixtures adds to its appeal.
High-Stacked Backbars: Yes or No?
Backbars stacked high with spirits, once a given, aren't always the norm these days. In keeping with its old-school soda fountain inspiration, Polite Provisions opted not to include one. "We are not a spirits emporium; we are a cocktail bar," says Castro. "By removing all those bottles people had familiarity with, it would create a conversation. The beauty of that is it ended up predetermining the experience, which is exactly what we wanted to do. The infrastructure defines the experience." With a prime storage area eliminated, Castro opted to feature only spirits they truly love and increase the number of rails to accommodate them.
Breaking with the norm was also part of Raised by Wolves. Located in a San Diego shopping mall, this unique bar doesn't serve food but does have a retail side. To compensate for its lack of windows, the focus was put on lighting, says Leage, with an integrated LED light system that goes through a 12-hour day in an hour above the gazebo and round bar located in the back of the space. "The fact that it works is very telling of the community, the space and what people are interested in," she says.
At Raised by Wolves, like most of CH Projects' venues, custom-designed equipment goes hand-in-hand with its custom-designed venues. One in-house piece that's been refined and tweaked over the last two years is a giant drain pan, which can be used in a variety of ways depending on the needs of the specific space. Sitting on top of the bar and refrigerated from underneath, the stainless-steel brass-coated pan measures roughly
5 feet by 2 feet and is 6 inches deep. It can be used for display as well as hold garnishes or ice. "We have an idea of how it's going to work, but then we adjust as we go," says Leage. "For us, it's about learning what works in one place and perhaps not in another and being able to adapt."
Regardless of whether a project includes custom elements, Dwight recommends including the designer in the final review of equipment selection. "It's really disappointing from a design standpoint if everything at the bar is brass and copper and all the equipment is stainless steel," he says, adding that a number of companies can customize their equipment for little extra cost. For a current project, Dwight worked with a refrigerator manufacturer to powder coat the equipment white to match the bar's aesthetic.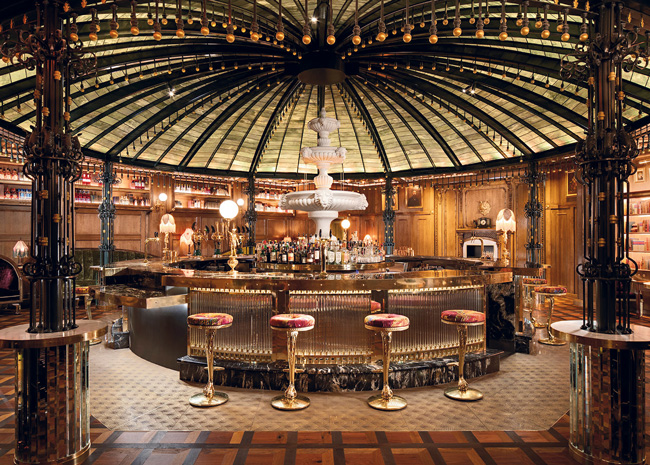 Raised by Wolves, a San Diego bar and retail shop, is located in a mall, but you'd never know it. Inspired by the bars of 19th-century Paris and London, Raised by Wolves is an exercise in extreme attention to detail, from the secret rotating wall entrance and nouveau gazebo bar to the cobblestone-like storefront, all of which allow guests to feel fully immersed in the space. Image courtesy of Zack Benson
Icy Matters
Ice represents one bar staple that has seen major changes over the last 5 to 10 years with craft cocktails and their emphasis on pristine ice serving as a major impetus. At Marvin's Food & Fuel, Geier's Chicago restaurant and bar, an under-the-counter ice machine that produces 1½-inch square ice cubes is undergoing a test run. "It's bigger than most of the cubes we've been able to get in the past from an automated machine," says Geier, who is impressed with the machine's capabilities and that it requires only a small footprint behind the bar.
In Washington, D.C., Dwight has just finished work on a bar that has an ice machine that makes 600-pound blocks of ice. Staff load an individual block of ice onto a cart and wheel it into the bar area, where it sits on the backbar, beautifully illuminated. "Over the course of the evening, the bartender will hack off a chunk of ice for certain drinks with that block of ice slowly melting," says Dwight. "You're seeing things happening, which is a fun and important aspect of bars."
And that entertainment quality isn't limited to ice. "The cocktail experience, at least in what we try to do, has really evolved to an experience and not just going out to get a drink," says Leage, who likens the often-intricate drink-making process to "a performance in your lap."
To ensure that every detail is just so, the team at GrizForm Design Architects creates mockups of their designs at their office and performs test runs with different employees playing bartenders and patrons.
At Polite Provisions, vintage-style lamps on the bar top do double duty, providing additional illumination for the bartenders when lights are turned down as well as functioning as spotlights of sorts. "It looks like it's a stage, and our hands are the actors," says Castro. "It creates a spotlight and shows what we are doing and what we do differently from other bars."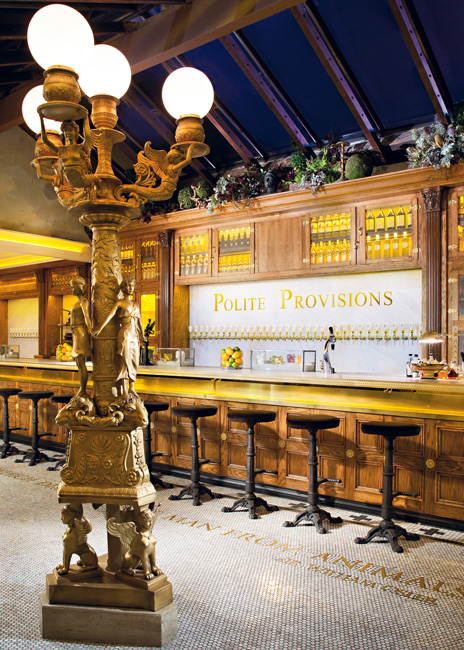 Polite Provisions' proprietor Erick Castro felt fortunate to be able to work with Paul Basile of BASILE Studios from the early stages of development of his San Diego bar. That close relationship allowed Polite Provisions' old- school soda fountain inspiration to permeate every aspect of the space, both functionally and aesthetically. To tap into the entertainment potential at Andros, Geier designed an open space, which includes a large open kitchen with the bar in the center of the room. "The kitchen and the expo have been worked into the bar area, so it's really the hub of activity," says Geier, adding that the layout provides great views for everyone, including the guests, chefs and bartenders. "It's lively, and that's a good thing."
But even if you have a solid idea of what your bar will be and the equipment and design it requires, nothing is set in stone. "You have to also build in a level of adjustability and flexibility," says Leage. For example, if you thought you were only going to be making two-ingredient cocktails and now everyone wants shaken drinks with egg whites, you have to be able to adapt in service to accommodate that.
Pivoting is something Samantha Sanchez, director/manager of operations of the recently opened Tree House, knows well. Formerly Old Crow Smokehouse, the Chicago family-owned and-operated restaurant and bar was in need of a makeover. Distressed wood and rows of whiskey barrels gave way to a nature-inspired space, hence the name, with bright colors, exposed concrete and lush greenery.
That changeover applied to the bar areas as well. At the main bar, the emphasis was on visual impact with LED ceiling lights as well as eight refrigerators with glass doors and well-lit interiors. "It's great exposure when people see all the fresh ingredients and juices," says Sanchez, who designed Tree House. "I always felt that when people see how a cocktail is made and all the prep that goes into that, that ties into the whole experience." The smaller back takes a more artsy approach with liquor bottles displayed on shelves between birch tree-inspired installations, which work to create the feeling of a second venue with a slightly different vibe.
But these days, no matter the design, efficiency of service is more important than ever. "As bars are ramping up to catch up on bills and rebound, it's ever important that every labor dollar counts and that you're having minimum waste of product and selling as much as you can without compromising what you do," says Castro. "Anything you can do to feed the register while putting a smile on someone's face is paramount."
---
Interested in learning more about front-of-house and bar design? Check out these resources on our sister site restaurant development + design magazine.