The hallmarks of a great test kitchen start with the right equipment lineup, flexibility and a space that invites food experiments.
Test kitchens have a long history as an integral part of many restaurant chains and even some manufacturers' rep firms. They've become even more important during this time when businesses have had to reflect, change and grow in order to withstand the pandemic and its harsh impact on the economy. Not to mention, while some operations remain closed or continue to operate at partial capacity, there may be more time for testing.
Some operators use their test kitchens primarily for menu development, points out restaurant business consultant Jay Bandy, FCSI, president of Goliath Consulting Group in Atlanta. Others use it to showcase equipment and enable clients to try out new pieces. Many use it for both. During these challenging times, when it's all about survival of the fittest, "menu development is becoming a bigger part of restaurant operators' daily routine," he says. "Whether the operator has a dedicated kitchen space or rents kitchen space elsewhere, it's much easier to do menu development outside the main restaurant because you can spend all day in there and not get interrupted or interrupt others."
Bargreen Ellingson, a foodservice equipment and supplies dealer and design firm, operates three test kitchens, one in Portland, Ore., another in Seattle and a third in Tacoma, Wash. "Mostly, people just want to get out of their own kitchens because it's easier to concentrate and think more creatively," says Nick Musser, corporate chef for Bargreen Ellingson. "As chefs, we find we're often stuck in our own box."
While not all test kitchens look the same or work the same way, they share some commonalities regardless of whether a chain restaurant, a dealer or a manufacturers' rep owns the facility.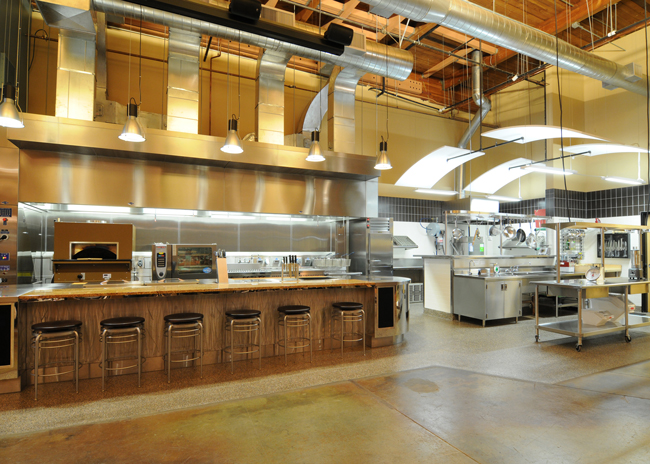 Bargreen Ellingson's test kitchen space in Portland, Ore.
Variety and Versatility
First and foremost, having a solid, versatile lineup of equipment in a test kitchen — space permitting — sets it up for testing multiple types of products and pieces.
"Our clients are mostly interested in testing their food and menu items and equipment at the same time, so it's important for us to have a good range of equipment on hand, especially big-ticket items that we don't have to ship back and forth between our test kitchen sites," says chef David Ash, director of culinary for Zink Foodservice, which has test kitchens in Lisle, Ill., Indianapolis and West Chester Township, Ohio.
Operators today look for more flexible pieces in order to streamline menus and produce larger amounts of food outside of their traditional restaurants, says Ash. "The big buzzword has been 'ghost kitchens' and 'commissaries.' We just had a local taco joint with 18 locations want to expand to be able to offer more delivery and centralize their prep work in one space. They needed to be able to figure out how to go from pickling 10 pounds of red onions for tacos in their stores to doing so using 100-gallon kettle machines and processors that can chop faster in larger batches." Zink's test kitchens are set up such that they can help clients develop both small-batch and large-scale production processes.
The other piece of the versatility puzzle is incorporating as many multiuse pieces of equipment as possible in order to maximize the number of menu items that someone can test within a set space. Pieces like these include everything from combi ovens to wood-burning pizza ovens that can cook foods in addition to pizza, and high-speed ovens, a hot-ticket item these days as kitchens shrink in size.
Combi ovens hold a prominent place at each of Bargreen Ellingson's test kitchens, says Musser. In addition to the combis, Bargreen Ellingson maintains a standard lineup of equipment, including flattops, fryers and ranges with or without ovens below. Musser has also brought in a smoker to experiment with cooking different products — not just meats — for both end-users and consultants. Pre-COVID-19 and even now, as companies look to pivot and grow, the Tacoma location tends to see more operators wanting to test new products. In addition, many local consultants use Bargreen Ellingson's Seattle kitchen to try out and learn about new equipment pieces and to help clients with menu development.
Ventless technology continues to pique customer interest. "We're seeing a lot of smaller operators that are required to cook food in order to sell liquor, so all of a sudden, they want to cook pizzas and appetizers but want to do it on a smaller scale, without the need for an expensive hood system," says Tim Riordan, Zink's regional vice president for Illinois and Wisconsin, who oversees the Lisle test kitchen.
Combi ovens and ventless equipment are two pieces operators often come to test out in PB&J Commercial Agents' test kitchen.
Automating the Process
A growing number of Zink's clients continue to show interest in automation, including robotics and robotic arms that can perform mundane tasks. Zink reports growing interest in a robotic arm that can prepare fresh smoothies and blended beverages — even clean and sanitize itself in between cycles — all at the touch of a button. Part of that, says Riordan, has to do with labor challenges, but also with a desire for enhanced consistency.
One piece of equipment in heavy rotation on the demo circuit is a robotic salad-making unit. "We turned down this line three years ago because we thought it was going to be a hard sell; now, since supermarkets have closed and colleges and universities have closed their salad bars, everyone seems to be interested in it," Riordan says.
Beyond robotics, automation can take many forms. Operators continue to turn to the high-tech interfaces on more common equipment like combi and speed ovens because, after programming these units once, staff members can easily and consistently produce the same food by simply pressing a picture of the food or dish.
"We can even help our clients develop recipes at the test kitchens, and all the files are transferable from our equipment to theirs through a USB drive," says Ash. "In addition to labor, the number-two issue is food costs, so at the end of the day, the operator can use these interfaces to pull a report from the machine to see exactly by the ounce how much product was dispensed and at what price per ounce. A lot of the old-school knobs and buttons are going away and being replicated by interactive touch screens. It's really a complete shift that's happening in our industry right now, and we're seeing it at the test kitchen level."
Plug and Play
Many test kitchen setups include a quick-release utility distribution system with equipment pieces on wheels for easy configuration changes in testing arrangements. "I try to keep my equipment lineup fairly static, but with this system, and thanks to everything being on wheels, I can easily move things around," says Musser. "Some people want a full kitchen setup, while others want to test specific pieces of equipment, so it's a constant moving target in terms of what I need to show, and I often have very little advance notice." Bargreen Ellingson also transfers equipment pieces to and from the different test kitchens, with Tacoma having the largest warehouse space.
In terms of amps, "you need a lot of them," Musser says. "The biggest need in a test kitchen is electrical. More operators are looking to get away from major hood systems and leaning toward electrical instead of gas. Seattle leads the way on this as the city has been trying to limit natural gas use. But that means bigger ovens have bigger amperages. I maintain a pretty wide spectrum in single- and three-phase, so I can try out different configurations."
Ventless Trending
PJ Lamb, principal at PB&J Commercial Agents Inc., which operates a roughly 2,000-square-foot test kitchen out of Hillside, Ill., says most of the recent menu and equipment testing has revolved around ventless pieces. Though the kitchen maintains a 16-foot UDS system for easy plug-and-play, Lamb explains, "we were seeing interest in our certified ventless pieces ramping up last year pre-COVID-19, but now, there's even more interest."
Operators, Lamb notes, key in on these pieces for both cost and space savings, plus the equipment's compact size and flexibility in terms of applications. He does advise clients that not all ventless equipment truly captures all the grease. It's important to look for certified ventless units that meet ventilation code standards, says Lamb.
While many of Lamb's clients express interest in investing in a combi oven to use as a ventless piece, or used in tandem with just a small hood, it's in the test kitchen where he points out that if an operator plans to do heavy cooking with a lot of grease, a small hood over a combi oven won't capture all of it. "I had a situation backfire where a customer was using a combi oven with a small hood to cook steaks and the smoke and grease spilled out into the dining room," he says.
Vacuum Sealing
Another favorite piece of equipment in the test kitchen as of late, according to Lamb, are vacuum sealers. "With everyone concerned about touching food during a pandemic, this helps eliminate exposure to the product in the kitchen. You can also significantly eliminate food waste by chilling food down and storing it for later, so you don't have to throw it away." Vacuum sealing also helps with portion control and storage, especially with sauces and liquids that can be frozen flat and layered.
Most recently, Lamb's customers are trying out vacuum sealing in his test kitchen to find ways to preserve meat and protein supplies. "If and when meat prices go up, or there is a shortage like there was during COVID in the spring, you can buy all the meat you want at a good price, chill it down, seal it, date it, and you're covered. We once did a test for a burger by shock freezing it, sealing and dating it, and we opened it up a year later, cooked it and it was perfect and no one got sick."
Plating and Presentation
Having the right lineup of equipment is important, but so is the smallwares selection and the seating and presentation space. "If you bring in clients, you need to have room to plate and display your food, so that might mean more worktables and seating options," says Bandy. "You also want to have on hand a variety of dishware and a decent amount of china, silverware and tabletop accessories to be able to recreate what dishes might look like in a restaurant setting. Sometimes if we have limited resources, we will do initial testing at a smaller kitchen and then move the secondary test in a facility that more closely matches the client's restaurant."
Bargreen Ellingson, considers both smallwares and the presentation space important. The Tacoma location features a dining room for about 60 people (although the facility is not currently open due to COVID-19 mandates). As an added educational component, the Seattle test kitchen features an amphitheater with full audiovisual capabilities, where Musser and his team can demonstrate plated dishes and offer training on different pieces of equipment. Lately, Musser's team has been conducting remote learning through recordings using the A/V equipment on-site.
"The demand for remote training was already growing even before COVID; with this setup we can reach people as far away as Hawaii and other parts of the country without the need for travel," Musser says.
Don't Forget the Basics
Not to be overlooked, warewashing and sanitation — the latter of which becomes even more imperative in a pandemic — require their own designated space, especially in a test kitchen, when chefs might run through multiple pots, pans and plates by the hour. "For us, the dish station is twofold; we need to wash dishes during testing and events, but we also sell dishwashers," says Musser. "We can bring in customers to show them how various dishwashers work and how to set up a proper warewashing station with a landing table for dishes, prewash and wash racks."
Of course, ample cold and dry storage contribute to the efficiency of any test kitchen design. "We have undercounter refrigeration on the chef lines as well as a small, 27-inch sandwich unit to be able to hold multiple ingredients up front," says Musser. Each test kitchen features a walk-in cooler and freezer. "Refrigeration is key, especially if you have clients using your space for their own use or you're using the space for events and catering."
Equipment dealers and manufacturers' reps set up test kitchens, ultimately, to support the end user. Some operators, however, also have their own dedicated test kitchens, which are generally set up to support menu innovation and training.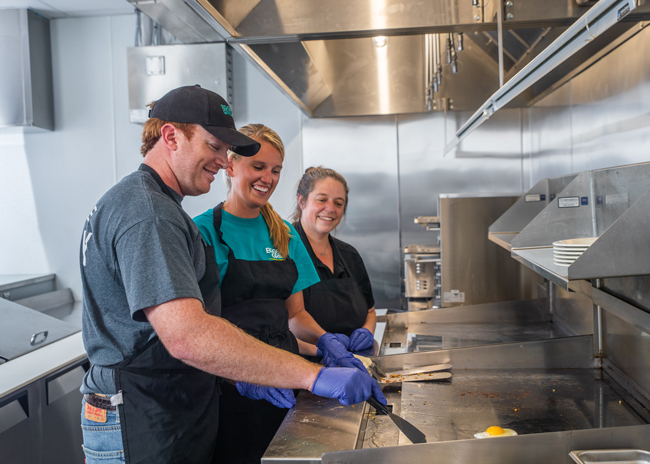 Eggs Up Grill uses its test kitchen as both a product development site and a training facility.
A Look at How Operators Set Up Their Test Kitchens
Eggs Up Grill features a central test kitchen that operates out of a Spartanburg, S.C.-based, company-owned restaurant, which was redesigned last year. The breakfast-brunch-lunch franchise chain has 43 restaurants and set a goal to open up to 20 more locations in 2021.
"From a product development standpoint, [the test kitchen] gives us the resources to work on product development, but we also use it as a training center for new franchisees," says CEO Ricky Richardson. "When outfitting the new kitchen, our main goal was to make sure we had the same standard equipment that existed in our brand in order to replicate a restaurant environment to create new products and document the operational mechanics that go with the execution of those products."
Secondly, Richardson notes, "we wanted to be able to use the kitchen to not only test a particular piece of equipment that might be a replacement item, but to explore additional cooking platforms." And thirdly, "we wanted to be able to teach our new franchisees how to use the equipment and prepare the food, what smallwares go with what dishes and how to replicate basic, executional steps for our menu."
The 600-square-foot test kitchen sits in its own facility space off the company-owned restaurant, connecting to about 2,800 square feet of additional back-of-the-house kitchen space. The equipment package in Eggs Up Grill's test kitchen includes a flattop grill, waffle irons, a four-burner gas setup and convection oven. The test kitchen also features a lunch counter similar to the one in the restaurant locations, but in this instance, it serves as a viewing platform for customers to watch the chef in action and see and taste the final dishes.
Most recently, the company used the test kitchen to explore ways to increase efficiencies in production for third-party delivery and off-premises dining. "We've seen that portion of our business increase almost five times pre-COVID," says Richardson, "but now, our takeout and delivery operation has grown to 20%, at least." Using the test kitchen, "we worked on developing staging stations so that we could facilitate curbside pickup, and we also developed a station for third-party delivery." Eggs Up Grill also used the kitchen to develop execution plans for family meals and bundles and increased storage on the line to make room for four times more paper and packaging goods.
Prior to the pandemic, chain execs used the test kitchen for new menu items set to launch in March. "We have since stopped that and are reworking on a net reduction of menu items and reducing the number of SKUs coming through the back door," says Richardson. That new menu has a target launch for this fall.
In addition to testing new products such as the everyday value biscuit sandwiches, bowls and burgers and mimosas-to-go, the chain has also partnered with a manufacturer to potentially incorporate a designated pickup window for takeout and delivery orders in order to "continue to grow our outside-the-four-walls revenue," says Richardson.
GSR Brands Converts Office Area to Test Kitchen
Five years ago, execs at GSR Brands, operator of the Gold Star Chili and Tom & Chee chains in Cincinnati, converted a portion of its office space into a 400-square-foot test kitchen for testing and developing a new line of burgers. The space has been put to use for other needs since then, including a successful vegetarian chili, according to Dave Mayerik, vice president of operations.
The layout and equipment lineup for GSR's test kitchen reflects that of a traditional location kitchen, albeit on a smaller scale.
GSR used the kitchen to test a new chili-retherming process, incorporating a multiuse, energy-saving tilt skillet with a smaller footprint versus a larger steam-jacketed kettle that was running as much as 12 to 15 hours a day. On-site, staff boil water in the tilt skillet to heat up vacuum-sealed bags of chili prepared at a central commissary. "The tilt kettle is very versatile; we can also use it to brown meat for the chili testing process," Mayerik says. Now, "the majority of our food on the Gold Star side comes off steam tables and a tilt kettle we use to heat up our chili."
In addition, the test kitchen features what Mayerik describes as a "super microwave" that was recently added to replace a steamer that was previously used to warm burger buns. "We have also brought in different ice cream machines for testing and different griddles when testing the burgers," Mayerik says.
Tom & Chee brought new combi ovens into its test kitchen to try a new way to toast sandwich bread, melt cheese and heat the proteins all in one space with less hood requirements, according to Tyler Kraemer, GSR Brands' director of training. The result was a reduction of the cookline by about 10 feet. "This has been a success for us, and we are in the process of rolling out that new equipment right now," he says. "This is revolutionary for our concept because it cuts the cooking time down to almost a minute and 20 seconds. We're also testing another method where we would use pretoasted bread from a convection toaster and then build the sandwich and put that in the combi to cut cooking time even further while maintaining high quality standards. This could be huge for our franchisees from a cost-savings perspective."
Test kitchens have always been an important part of menu development and equipment selection. As labor and food cost challenges abound, compounded by a pandemic and corresponding economic recession that have hit the restaurant and foodservice industry hard, these kitchens will remain workhorses in helping operators figure out smarter, more cost-effective ways to run operations. Now more than ever, that bottom line can mean the difference between staying in business or having to bail out.
Trending Uses for Test Kitchens
Jay BandyJay Bandy, FCSI, president of Goliath Consulting Group, explains how his restaurant clients are using test kitchens during the pandemic.
Functional food: "People are still interested in working with Impossible Burger and other products like that. Consumer surveys are showing that people also want food that's good for you, high in nutrients and immune boosting, especially right now when everyone's trying to stay healthy."
Family meals: "Everyone is scrambling to do family and bigger meals and rethink their catering programs."
Packaging: "Everyone is trying to figure out how to select the right packaging for delivery and takeout as dining rooms remain closed or limited."