Page 4 of 5
Trend 10: Wines take center stage
Alcohol sales drive profitability in a restaurant, so anything to increase those sales remains a smart strategic move. To this end, restaurants with significant wine offerings now place their bottles front and center in wine walls or wine rooms that become a signature statement about the quality of the dining experience. The displays may be in the form of a wall, a room or a divider that separates the bar and dining room areas. They can be functional, with bottles in the display being served to diners, or as a combination of storage and suggestive selling, with wine orders filled from the back of the house. In most cases, the wine displays are glass enclosed, which allows for temperature controls and some kind of security system.
At the other end of the spectrum is the trend toward wines on tap. Wine drawn from a keg for single-glass servings improves speed of service. It also can be less expensive, since it saves vintners the expense of bottles, corks, capsules and labels.
Operational Impact: Wine displays require appropriate racking. Materials can be wood or steel, depending on the look desired by the operator, with glass enclosing the racks. Temperature and humidity controls are necessary to preserve the wine. Weight of the display is a critical factor to consider as well. For wines on tap, stainless steel dispensers and surgical-grade tubing are required. Space for kegs of wine is a consideration too, either displacing or adding to existing kegs of beer on tap.
Trend 11: Craft beer leads the category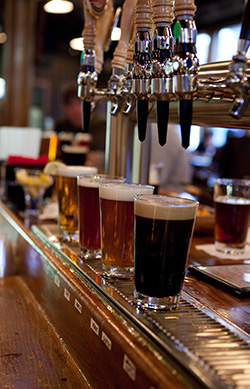 "Regular" beer as a category is flat, but craft beer is having a heyday. The production of craft beer was up by 9.6 percent in 2013, while the overall category dropped 1.4 percent. Craft beer is produced in small, independent microbreweries, and there are more than 3,000 of them in the United States. Innovation is the key, with flavors ranging from jalapeno cilantro to peanut butter cup coffee porter.
Many restaurants are even brewing their own beer on-site. The trend responds to consumer desires for variety and local products and is a favorite of well-heeled Millennials.
Operational Impact: Most craft beer is served on tap and given the range of new flavors steadily coming out, bartenders and servers must be educated about each new label on a regular basis. For in-house brewing, most restaurants reserve a separate room for the process, with steel fermenting tanks and all the necessary equipment visible to customers.
Trend 12: Sustainable decor passes the test of time

Reclaimed wood is a strong trend in restaurants as an interior design element. Designers continue to use wood from old buildings, barns and bowling alleys, not only for flooring and interiors but also for furnishings. Dark wood, particularly, communicates authenticity and tradition and supports the concept of a "farm-fresh menu." The use of reclaimed wood will also help a restaurant earn LEED design points.
Operational Impact: A caveat with reclaimed wood is that it must pass health department regulations. The key for an operator is to source from a reputable company that will provide documentation about the wood's origins.