Page 2 of 5
Trend 4: 250,000 ways to order a burger — and quite a few ways to order a shake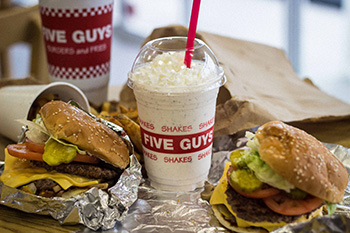 With 15 toppings and several different sizes, Five Guys Burger and Fries claims it offers 250,000 options in its more than 1,200 units. Recently, the fast-casual star expanded the customizable concept to milkshakes, which it is testing at 25 locations all over the East Coast. Starting with a basic vanilla shake, customers can add any of 10 ingredients to personalize their order. A number of other burger-and-shake chains continue to test the customizable concept as well.
Operational Impact: The addition of shakes means an added section to the open prep line. At Five Guys, staff assemble burgers at one end, while another staff member mans the compact shake station. The shake station includes dispensers for cherries, bananas, Oreo cookies, salted caramel, peanut butter, coffee, chocolate, malted milk, strawberries and, yes, bacon. A staff member holds each shake under a blender for a few minutes before covering it with whipped cream, if desired, and serving it. Offering fresh bananas and strawberries as shake options means additional prep in the back of the house. Different toppings for burgers also requires an organized station of options that are easily reached by staff.
Trend 5: Small plates still spinning
Although they have been around for a while, small plates have staying power. Consumers frequently order these tapas-sized menu items instead of an entrée, making the meal three plates instead of one. This satisfies diners' cravings for variety, offering a mix-and-match opportunity for one or more patrons. It also allows chefs to be more creative, coming up with interesting combinations for a greater number of dishes.
Operational Impact: Variety in menu options may mean a need for additional prep and storage areas. Depending on the complexity of the items, additional staff may be necessary too.
Trend 6: Pizza is getting ready for its close-up
Pizza Hut is test marketing a lighter option. Called "Skinny Slice" pies, they have less dough and lighter toppings. The Toledo market is testing a slice that has a choice of 5 toppings and is less than 300 calories. To compare, the West Palm Beach market is testing 6 predetermined pie choices that weigh in at 250 calories or less. With government regulation of menu labeling, the healthier options will help pizza operators with their nutritional story.
Domino's now has a store prototype that runs counter to its traditional delivery model. Called "Pizza Theater," the redesigned space offers guests a chance to sit at a counter and watch the production of their pizzas. This open kitchen design doubles the amount of space formerly dedicated to the front of the house and features a step platform that enables kids to watch too. The theater aspect, showing the made-for-you process, communicates freshness and transparency. Domino's now incorporates a more authentic appearance, using real wood and real brick wherever possible. The new stores also feature big-screen TVs and order-tracking screens. Chalkboard walls allow guests and staff to leave messages or share thoughts. Some units even allow space for in-store dining.
Operational Impact: Changing the prep specs for pizza, à la Pizza Hut, will not necessarily change the design or equipment. It will, however, require training for the production line in terms of workflow and will require new signage. A complete redesign of an existing footprint, as with Domino's, calls for new decor items. Domino's did not incur the expense of relocating ovens and ventilation equipment, but guests can now see all the action thanks to the open production area.