Page 1 of 5
It's a take-share market for most operators these days. To help spur growth, creativity is rapidly becoming the norm. Here we explore 15 trends sure to shape the foodservice industry and their operational impact for the coming year and beyond.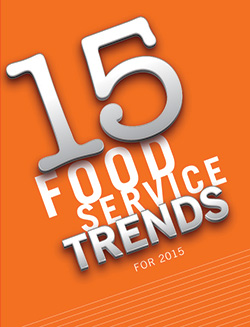 Competition in the foodservice industry continues to heat up. Technomic predicts overall nominal growth will be only 3.1 percent in 2015. Strip out inflation, and this pretty much means a zero increase. As a result, foodservice operators have to take share from their competitors in order to grow. To accomplish this, restaurants and institutions continue to come up with all sorts of ways to differentiate their operations from — and beat — their rivals in this sluggish environment. Creativity will be the new norm.
The main reason for the lack of restaurant industry growth, according to Technomic, is that consumers remain short on disposable income. They are not eating out as much as they were a few years ago. Great industry minds have been at work to counteract this and "get more butts back in seats." As a result, 15 trends have emerged as potential game changers for 2015. Each impacts one or more of three key areas: design, equipment and workflow. Whether a concept reinvents its decor, its menu or its prep, these changes will affect its operation in some way.
Each trend comes with its own requirements for success, ranging from small tweaks to significant shifts. Chefs, trying to elevate the dining experience to new levels, continue to drive many of the trends. Technology drives other trends, enabling operators to take advantage of new apps that make processes more convenient, while consumers drive still more trends, with restaurants responding to changes in demand and tastes.
Whatever the drivers, these changes promise to stir up the industry and make it an exciting year.
Trend 1: Premium fast casual remains hot, hot, hot
It may only account for 15 percent of sales in the $231 billion limited-service category, but, according to Technomic, fast casual is the segment to watch. It grew at a rate of 11 percent in 2013, while overall QSR growth was flat. Fast-casual sales continue to outpace sales at full-service restaurants too. The attraction to fast casual stems from the fresh, made-to-order menu items that provide a step up from the processed food prepared in bulk at QSR chains. The only way the category could get hotter would be to up the ante on its menu offerings — and that is just what is happening, whether it's fresh ingredients or more options.
For instance, Five Guys Burgers and Fries, the number-eight burger chain, markets the fact that its units have no freezers, only coolers. Only fresh beef goes into Five Guys burgers, which customers can order in 250,000 ways, the company claims.
Some fast-casual concepts are hiring corporate chefs to take their menus to the next culinary level. Burger 21 named chef Mike Remes its corporate chef to oversee the offerings in the chain's 14 units. (Burger 21 has another 20 locations in development). For example, the new Bayou Burger is made from homemade andouille sausage and turkey, with a skewer of blackened, grilled shrimp, plus sriracha and remoulade sauce with a ragin' Cajun slaw and a toasted brioche bun. Burger 21 plans to roll out a new series of shakes that recreate diners' experiences as kids, such as a pineapple upside-down milkshake. The chain is testing proprietary homemade ice cream in the shakes. "It's all about our memories," Remes says, referring to the comfort-food aspect of the menu.
Operational Impact: While Five Guys uses coolers instead of freezers, Burger 21's equipment package now includes a soft-serve ice cream machine. A hopper in the top of the machine keeps the ice cream base cold, and it freezes as it passes through a chamber into the container. Burger 21 also added an area to hold ingredients supporting shake preparation.
Trend 2: QSRs fight back by "fast casualizing"
Seeing their market share getting squeezed, QSRs are responding by renovating both their physical operations and their menus. This includes updated decor, using wood and metal touches seen in fast-casual concepts to give a fresher, hipper look.
Taco Bell has introduced several upgraded menu items, working with Miami chef Lorena Garcia to come up with items that will compete with fast-casual rival Chipotle. Its new Cantina Power menu doubles up on protein, offering such items as a grilled chicken bowl and using ingredients like black beans and corn salsa.
Operational Impact: Renovating the physical space requires a collaborative effort between a concept's designers and executives. Renovation of the menu calls for adding the talents of an experienced chef and may or may not mean additional equipment used for prep, as well as new signage in the front of the house.
Trend 3: Full-service restaurants reinvent themselves
Not to be left out of the competitive fray, full-service restaurants are also investing in makeovers. Melting Pot, a 40-year-plus concept, has hired chef Jason Miller, whose experience includes working with Capital Grille and celebrity chef David Burke for more than a decade. As the corporate chef charged with leading culinary development, Miller plans to add a bar-food initiative to the chain's traditional fondue menu. Diners will now enjoy lobster quesadillas, flatbreads and Kobe beef sliders among other treats. The bar-food menu is available in 20 restaurants to date and will appear at additional locations.
Denny's started a project to redesign its decor, using dark wood, copper ceilings and full-wall photographic murals. The ultimate example of this is a new unit in Manhattan's financial district, the first upscale diner in New York. A full craft bar offers prosecco on tap. Diners can pair a Manhattan Cream Soda, made with bourbon, with a bourbon-flavored bacon burger or a Pepino — mescal with cucumber, sea salt and lime — with nachos. As for what goes with the Grand Slam breakfast? A $300 bottle of 2004 Dom Perignon vintage champagne, of course.
Operational Impact: Chef Miller has updated the tableside cooking equipment for fondue, using induction burners rather than electric. He has also added combi ovens in the back of the house for fast, convenient cooking of new menu items. Both combi ovens and induction cooking are trends in kitchens with small footprints and by chefs who like the convenience the equipment offers.