For 81 years, Charlotte Rescue Mission has helped people struggling with addiction to achieve long-term sobriety, find employment and stable housing, and restore and build healthy relationships. The leaders wanted to expand the mission's program to give graduates an opportunity to thrive, rather than just survive, in the community.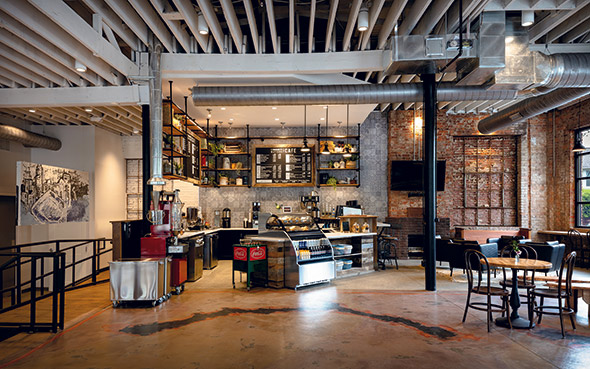 Photo by Robert Mariani
The answer: a total renovation of a 101-year-old spindle factory into a public cafe and coffee shop on the mission's campus. The factory operated during the Industrial Revolution and helped Charlotte, N.C., supply cotton to various users for many years. Built in 1918, the mission has owned the factory since the 1970s.
"People spend four months at the Rescue Mission and four months in the cafe learning life skills in the restaurant and coffee shop as part of their recovery," says Ed Price, director, life skills operations. "We try to give them a sense of being an owner of a business and hopefully they take this with them to their next employer. Also, they are encouraged to talk about their experience with being exposed to addiction if guests ask, so everyone learns from each other." Price and 15 employees train up to 15 students at a time. The students receive a stipend for housing, food education and ServSafe training.
Before becoming involved in this project in April 2017, Price built and ran a catering operation for a nonprofit in Charlotte. He is still involved in the business, though not on a day-to-day basis.
The brand name for the cafe and coffee bar, Community Matters Cafe, is suitably appropriate. "It took a community to put this together with donations of all types, large and small, from 350 donors," Price says.
The renovation of an existing factory resulted in a space with two levels. The front portion, elevated from the back of the building by 36 inches and three steps, functions as a coffee shop. The rear of the building contains a full-service kitchen and dining room.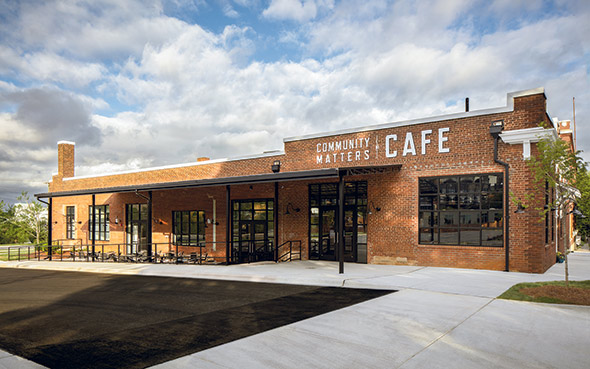 Working at the cafe is an integral part of the four-month Community Matters Cafe Life Skills Program, which teaches people how to thrive when they leave the addiction-recovery center. Photo by Robert Mariani
The interior design was inspired by the Japanese art of kintsugi, which uses gold to repair broken ceramics. Kintsugi teaches that broken objects are not something to hide but to display with pride. "This really fit in with the rescue mission's practice of rehabilitating people as well as the existing building, which was quite dilapidated. We were able to keep much of the existing structure to lend a very eclectic and rustic feel to the space," says foodservice consultant Jennifer Murphy, FCSI, LEED AP, project manager, Camacho in Charlotte, N.C.
Many pieces in the interior design were repurposed or reclaimed. For example, the green barn doors that partition off the private dining were reclaimed. The artwork was created largely by people participating in the rescue mission's program. "These pieces were stored for some time, then used in the restaurant, where they look quite professional," Murphy says.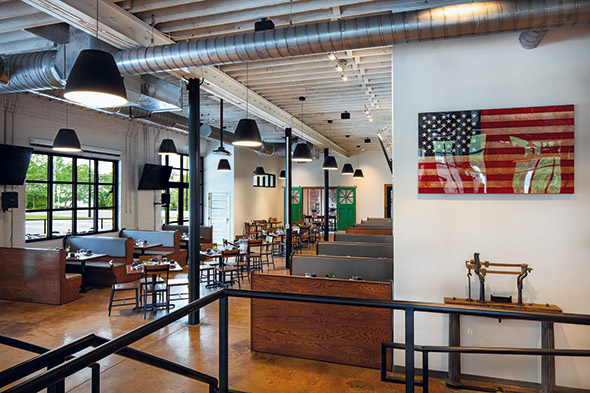 The renovation gave a rustic, eclectic feel to the finished space. Much of the existing structure of the old spindle factory remains. Photo by Robert Mariani
An ill-placed column inside the kitchen presented a challenge. "Luckily, we were able to work with structural engineers to have the column removed and could open up the kitchen more," Murphy says.
Food Delivery and Production
Food arrives at the building's back door. Staff store deliveries in dry storage on the right and ingredients requiring cold storage in a 30-foot walk-in cooler and 5-foot attached freezer located outdoors. "One challenge facing the design team was containing the requested program into the space allotted," Murphy says. "The team had to locate the walk-in cooler/freezer outdoors to better take advantage of the available indoor space for prep and cooking operations." Staff take some ingredients directly to cold prep in the kitchen.
"The layout and amount of storage and cooking equipment is a little bit oversized, but the mission's hope is to further develop the program and perhaps offer dinner," Murphy says.
Cold prep contains reach-in refrigerators, prep tables, a food processor, and 10- and 20-quart mixers for staff to prepare garde manger and salads. Ingredient bins, a 60-quart mixer, a spiral dough mixer, a dough press, plus a bread slicer to support staff preparing bread and pastries are included as well. Staff also pickle lemons, whip butter, make jam and peach preserves, and break down other locally sourced ingredients such as collard greens, eggs and meat.
Cooking takes place on the rear wall of the kitchen. The hot cookline contains two combis, stacked on top of each other. Staff use the combis for proofing bread and making menu items such as roasted sweet potatoes. A convection steamer cooks vegetables. Two double-stacked convection ovens bake bread, cookies and bacon. "Thanks to our executive pastry chef, we're making artisan bread for sandwiches, as well as challah, country wheat, white and sourdough," Price says. The signature sandwich is an egg sandwich that originated with Price's catering business years ago.
Ample equipment on the hot cookline enables staff to prepare everything from artisan bread to roasted sweet potatoes. Photo by Carroll Foster
Staff use one of two 36-inch flattop griddles to cook the eggs for sandwiches and omelets. "We have two grills to separate savory and sweet menu ingredients," Price says. Staff use the other grill to cook proteins such as turkey burgers, pork and fried chicken for sandwiches. The equipment package also includes a salamander, a deep fryer and a six-burner range to make grits and collard greens. Plating and expediting takes place in the center of the kitchen.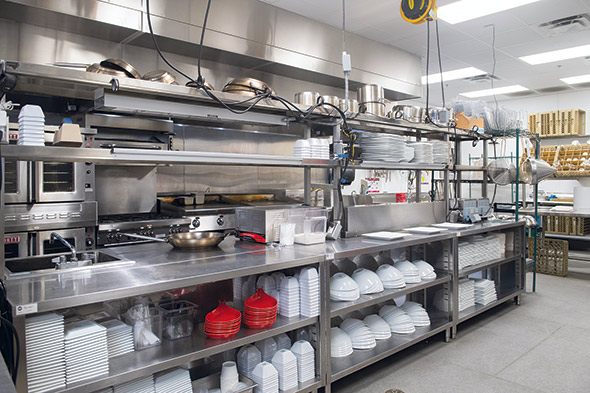 The project team credits donations and deep discounts for making the kitchen setup a reality. Photo by Carroll Foster
Beverages sit in front of the expo line, which creates a good flow for waitstaff moving through the space. "The design team worked to ensure a sensible flow for staff to move through the restaurant easily. For example, the back of the house is set up with a dedicated entrance and exit for waitstaff so there is no cross-traffic. Staff can enter, drop off dirty dishes, pick up food and beverages, and then exit. Order stations sit just off the entrance/ exit to the back of the house to create the most efficient flow possible in this space," Murphy says.
With plenty of kitchen space and storage areas available, the facility director could opt to expand service through dinner in the future. Photo by Carroll Foster
Dishwashing sits in the north portion of the kitchen both to facilitate a good flow for waitstaff and to put the main washing component essentially between the two programmatic elements of the space.
Two Foodservice Components
The two components of the foodservice, a coffee shop (on a level elevated a few feet about the ground level and accessible by three stairs) and the full-service kitchen and dining room on the ground level, required the design team to figure out how to move dishes back and forth between the spaces. "We also put in an undercounter dishmachine at the coffee bar for point-of-use washing in this area," Murphy says. "This way, the coffee bar can act somewhat independently from the kitchen."
A coffee bean roaster was added late in the design process. Staff grind the beans and serve fresh coffee from the coffee shop throughout the day.
Many of the pieces used in the facility, including the exhaust hoods, all cooking equipment and some of the beverage pieces, were donated or steeply discounted by manufacturers and utility providers in the area. "While there's nothing particularly extraordinary about the type of equipment we used here, it is worth noting that there were many very generous donations," Murphy says.
After leaving the cafe, graduates, who range in age from 18 years old to adults in their 70s, seek jobs in Charlotte and elsewhere. Price says they are doing extremely well. "Graduates are three times more likely to remain sober one year after graduation than people going through other rehabilitation programs." For example, one graduate started working as a server's assistant at an upscale restaurant and was soon promoted to server. Price and others at the mission create an alumni relationship with graduates, keep track of their sobriety and employment, and offer guidance as necessary.
Price expects business to continue to increase, especially during football season. The cafe is in the shadows of Bank of America Stadium, home of the National Football League's Carolina Panthers, and Price anticipates a boom in business during the team's eight scheduled home games. "We offer parking for fans attending Panther games and bring in revenue that way, also," he says.
"What stands out for me is that this facility is used to provide people with new life skills — meant to allow them to be functioning and independent members of society," Murphy adds. "As a consultant, it fills my heart with joy to have been part of such a wholesome project."
---
About the Project
Scope of project: A renovation of an existing factory space for a coffee bar and a full-service kitchen and dining room
Size: 5,500 sq. ft.
Seats: 125 in the cafe, 25 in private dining space, 50 in the coffee shop, 50 on the patio
Hours: 7 a.m. to 3 p.m., Mon. to Fri.; 7 a.m. to 1 p.m., Sat.
Menus: Salads, egg and other sandwiches, omelets, sweet potato pancakes, and grits with collard greens and eggs
Staff: 15 full-time equivalents and 15 students
Daily transactions: 150 each for the restaurant and coffee shop
Average check: $28 restaurant; $9 coffee shop
Total annual sales (projected): $1.2 million
Total project cost: $2.1 million with the support of 85 major and 250 minor donors
Equipment investment: $350,000, which includes $175,000 in grants and donations
Opened: April 9, 2019
Website: http://communitymatterscafe.com
Key Players
Owner: Charlotte Rescue Mission Social Enterprise, a not-for-profit business part of Charlotte Rescue Mission
Director, life skills operations: Ed Price
Clinical director of student services: Rita Clyburn
Executive chef: Nick Kepp
Executive pastry chef: Ashley Anna Tuttle
Restaurant manager: Jenny Villapando
Coffee shop manager: Paula Elkins
Architect: LS3P, Charlotte, N.C.: John Kincheloe, AIA, LEED AP, principal and studio leader; Ryan Barkes, associate
Interior design: LS3P: Mari-Ann Williams
Foodservice design and consulting: Camacho, Charlotte, N.C.: Jennifer Murphy, FCSI, LEED AP, project manager
Equipment dealer: Thomas Restaurant Equipment, Charlotte, N.C.: Tracy Thomas
Mechanical, electrical and plumbing (MEP): McCracken & Lopez, Charlotte, N.C.