Page 1 of 3
Non-commercial foodservice projects can take a lot of forms. Here we explore the impetus behind the design of a pair of Chicago-based installations and how their uses shaped equipment selection.
Just off the commercial kitchen at the Ronald McDonald House at Ann & Robert H. Lurie Children's Hospital is a 20-foot-long buffet featuring top-level induction warmers and undercounter, portable warming cabinets for laying out the food and keeping it at food-safe temperatures as the families come through to eat.When it comes to thinking about giving back and philanthropy, some people donate money. Other people give their time.
For Harry Schildkraut, FCSI, founder and co-principal/owner of S20 Consultants with Kristen Sedej, giving back comes in the form of pro bono project work. In some ways, it's a little bit of both types of giving.
"We have a policy at S20 Consultants where we try to do at least one or two pro bono projects a year," Schildkraut says. "We feel it's a good way to give back to our industry, which has been very good to us over the years." S20 will do pro bono work for a variety of projects, including religious organizations such as synagogues and churches; they once worked on a new kitchen for a Barrington, Ill. church that had burned down.
For the Ronald McDonald House Charities (RMHC) and Salvation Army projects, Schildkraut and Sedej were contacted by Antunovich Associates, a Chicago-based architecture firm who asked them to put together a proposal for the work, Schildkraut says. "When we learned these were non-profit organizations, we didn't feel right charging them so we decided to do them pro bono." Both projects took two years to complete and opened in the summer of 2012.
While most of the equipment was donated, Schildkraut offered up his own in-house CAD designer to be subcontracted by Antunovich as a reimbursable expense. But he and Sedej donated their time and services. "When you do a pro bono project, devote whatever amount of time you would for a normal project you're being paid for," Schildkraut says. "To me there is no difference. We treat it just like any other project because I believe it wouldn't be fair to the client otherwise."
For Schildkraut, the donated work is worth it. "I love looking at an operation after it's open and seeing everything running smoothly because of the way it was designed," he says. "I get tremendous satisfaction out of designing something and seeing it work exactly the way the client wants."
Like every project, however, pro bono work can come with some of the same challenges. "But, like most projects we just make sure we stay within budget and ensure that our partner engineers and architects all have the information they need when they need it," Schildkraut says. Pro bono work differs slightly, he says, because "there is a lot of coordination involved with donations and making sure that donated equipment gets delivered at the right time so it can be installed."
Ronald McDonald House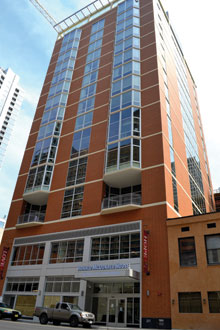 The new Ronald McDonald House in Chicago's Streeterville neighborhood features a commercial kitchen that volunteer groups use to cook meals in for people staying there. It also features a residential kitchen that families staying there can use to make their own meals.With 86 suites in a 14-floor building, the Ronald McDonald House on the campus of the new Ann & Robert H. Lurie Children's Memorial Hospital in downtown Chicago's Streeterville neighborhood, just off the Mag Mile, stands as the largest RMHC of its kind in the country.
Built from the ground up with design by Antunovich Associates, the RMHC opened in June 2012 to provide a comfortable, clean and complimentary place to stay for families of children undergoing treatment at the children's hospital about five blocks away. To qualify to stay at the house, parents or legal guardians with children 21 years or younger being treated at a Chicagoland area hospital must live more than 10 miles from the hospital and get a referral from the child's assigned case manager or social worker. Families are admitted as availability permits and share a variety of common areas, such as the kitchen, living spaces and laundry room with others. Most rooms accommodate three to four people. Funding for the building and maintenance of Ronald McDonald Homes comes entirely from donated dollars.
The challenge for Schildkraut was to build a kitchen with the sophistication of a commercial working space and capacity to feed a large number of people, but with an approachable design and feel to allow non-foodservice professionals to do their own cooking.
Aside from the families staying at RMHC and cooking their own meals, a variety of different volunteer groups come in and out of the kitchen every day to help prepare food for the entire building. "We have volunteer groups twice a day, every day," says Doug Porter, CEO of Ronald McDonald House Charities of Chicagoland & Northwest Indiana. Many of these volunteer groups come in the form of different companies and organizations as well as younger students from area schools looking to team build and cook for the families that live there and don't have the time or energy to cook because they've been spending time at the hospital with their children.