A food hall, an a la carte restaurant, three bars and an entertainment venue flow seamlessly within a behemoth-sized footprint.
Located nearly 33 miles north of Seattle, Quil Ceda Creek Casino offers gaming and entertainment in Tulalip, Wash. Quil Ceda Creek Casino opened in February 2021, replacing the original casino that began operations in 2003 and operated from across the street. Called The Q by locals, Quil Ceda Creek Casino sits on 15 acres of Tulalip tribal land and spans 126,000 square feet, more than double the size of the original casino.
"One of the first goals established by the owner was to build on the familiar, almost family relationship between guests and the staff and give them more to love at the Q," says David Nejelski, creative director and principal at TBE Architects in St. Louis.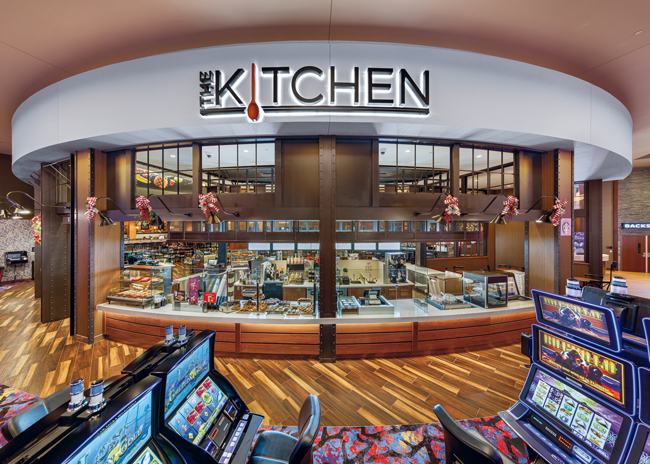 Quil Ceda Creek Casino Tulalip, Wash. Photos by Misha Blikshteyn, MB Commercial Photography
"The design team took advantage of the volume of the space to create a varied experience," Nejelski says. "Even though the venue needed to be very efficient, the space flows and changes. The design of the overall space is unified, but each menu concept offering has a very distinct character. Throughout the design the guest gets glimpses to other areas creating a sense of interest and exploration."
New foodservice options include The Kitchen, a large food hall with multiple cooked-to-order food venues and The Landing, a casual, a la carte restaurant. The Kitchen and The Landing share a two-sided bar, The Craft Bar. The casino also contains two other full-service bars, The Keg Bar and The Stage Bar, as well as The Stage, featuring entertainment including live music, sports viewing on video walls, and other events.
Another project objective was to provide guest services in a "responsible, environmentally friendly way," says Shane Warbus, food and beverage director, Quil Ceda Creek Casino. "We have a green kitchen environment that ensures we are meeting and exceeding industry standards to keep the environment on the forefront of our minds, something that resonates with the Tulalip Tribes of Washington's goals for the local community."
Features of this green environment include using high-speed ovens with heated air directed at the product to speed the cooking process without using microwave emitters. "This maintains the nutrient value of food during the cooking process," Warbus says.
The operation also uses induction wells. This helps lower the operation's overall water consumption. Plus, the operation uses various forms of ventless technology, which also contributes to making it a little more environmentally friendly.
"The ventless technology allows Shane's team to bake, roast, saute and fry without having exhaust hoods," says Steve Carlson, FCSI, president, Rippe Associates. "Out of the 11 cooking areas, only 3 have exhaust hoods. These are located in the prep area, over the charbroilers and over the 12 pizza oven chambers."
Another aspect of the design that helps save both energy and labor, the menu served in The Kitchen and The Landing is similar with variations. Servers can access four of the seven stations in The Kitchen from the back side by servers from The Landing. "This allows these four stations to produce menu items for both venues," Carlson says. "The need for the a la carte cooking area to produce menu items for the other three venues is small."
Training the culinary team to use the new equipment presented a unique challenge. "Most team members were accustomed to using traditional pieces of equipment," Warbus says. "They needed time to learn how to use this new green-focused equipment and be effective with it. Our chef consultant, Andy Revella, assisted with training of our team, prior to and after opening."
Guests can see all stations in The Kitchen. Wood beams and bright lighting unify the interior design.
Food Arrival, Storage and Main Kitchen
Food arrives at a loading dock on the main level. The loading dock is centrally available for the entire property and sits close to the food and beverage operations, allowing the receiving team to effectively check in and deliver refrigerated and frozen food directly.
Staff transport deliveries into storage, which includes a walk-in cooler, a walk-in freezer, dry storage room, beer refrigerator, soda room and liquor storage room. "Beer, soda and liquor systems are located in these storage spaces and distribute to each of the venues throughout the entire casino," says Mike Wrase, senior project manager for Rippe Associates, Minneapolis.
"The adjacent back-of-the-house kitchen, which is the heart of the house, with its team and offerings, is the sole purpose for the venue it serves," says Warbus. "It has a compact operation to allow our team to execute the menu options effectively. In its operation we have various prep areas assigned to prepare our menu components systematically. It has a specific design that utilizes various kitchen locations to service multiple foodservice venues, taking advantage of staffing and keeping high productivity."
Seven outlets serve as prep areas for cold ingredients and hot food. "Food production is simplified, and all necessary items and backups are reviewed by team members the day before and during daily operations," Warbus says.
Team members prepare menu items using a chargrill, high-speed oven and ventless fryer at Burgers, Steaks & Fish.
Prep locations sit near the walk-ins and pantry to minimize team members' travel time during recipe production. "Prepped items are organized by the location they are going to and what each location's menu offers," Warbus says. "Location and design of the operation takes into account future expansion to include hotel operations with in-room dining as well as banquets."
The central location of the prep areas enhance the operation's overall productivity, making ingredients more easily accessible in the back kitchen and in The Kitchen's stations. "Work can be assigned and shift review of productivity can be done quickly, because all prep is done in a compartmental space," Carlson says. "All locations are small but effective to the performance of what is being done in that station." For example, the proofing box and oven sit in close proximity in the baking area. Sauces made in the tilt skillet sit close to a prep table.
"In addition, a rapid cooling process allows us to seal our batch-cooked prep items in plastic bags and then submerge them in an ice bin," Warbus says. "This process cools foods within 30 minutes. Since the food does not cool in an open pan under refrigeration, this limits the dehydration of a recipe and greatly limits how long food is in the temperature-danger zone."
In prep areas, team members clean and cut vegetables and prepare other mise en place, sauces, soups and baked menu items using a food processor, a two-section cook-and-hold oven, a proofer/warmer, an accelerated oven, a double accelerated oven, a meat tenderizer and a slicer. They also use a 40-quart kettle, an induction range, a tilt skillet, spreader and convection oven with steam. "The exhaust hood over these pieces of equipment is the only one in the back-of-the-house kitchen," Wrase says.
The prep area that supports The Landing includes three soup wells, a warming drawer, heat lamp, conveyor toaster, heated dipper well, freezer for novelty items, refrigerated prep table, undercounter freezer, waffle maker, two syrup dispensers and refrigerated bases. Team members here also use a double rapid-cook oven, induction range and ventless fryer to prepare prime rib sliders, salads, sandwiches, burgers, pastas, steaks, seafood, fish and chips and chicken teriyaki.
"Programmability of the equipment used here and in all operations assists with consistent results," Warbus says. "Once a new menu item is identified, the program is often saved, and when staff members are trained, the programmed button helps to realize accurate cook times and temperatures. No microwaves are used in operations for any of the food venues."
Throughout the production process, team members move ingredients and prepared menu items on mobile carts to designated areas in The Kitchen and The Landing.
Rapid-speed ovens, an egg cooker and induction ranges support production at Breakfast 24/7
The Kitchen
Guests at The Kitchen's food hall dining experience at Quil Ceda Creek Casino visit one or multiple stations and choose from a variety of made-to-order menu items. As they visit each station, guests hand a transaction card, named The Passport, to team members who place the card in a point-of-sale terminal to record the menu selections. "Guests can customize a meal to include as much or as little as they wish including beverage options and pay as they leave," Warbus says.
"Each station in The Kitchen contains a unique interior design, creating a variety of guest experiences, while at the same time a sense of excitement," says Nejelski. For example, accelerated ovens, which are used in multiple locations, are painted with colors appropriate to each station.
Breakfast 24/7 contains an electric egg cooker for poaching eggs for corned beef hash and various eggs benedict, including crabcake benedict. This station's rapid-cook ovens bake biscuits, frybread breakfast pizza, chicken fried steak, bacon, sausage and potatoes. Warming drawers keep menu items hot until service. Team members make omelets and eggs for breakfast bowls and hold sauces warm on six induction ranges. They also make waffles, fresh-squeezed juices and oatmeal. A refrigerated prep table, cold pans and undercounter refrigerators keep ingredients close at hand and proper temperature here and at all stations.
Guests visiting Frybread & Soup see team members using ventless electric fryers to cook frybread, frybread chips and the bread for Indian tacos filled with chili held in the induction well topped with fresh condiments from the refrigerated rail. Team members use high-speed ovens to bake grilled sandwiches and quesadillas made with frybread and built with fillings held in the refrigerated rail. Soups including cabbage patch, broccoli cheddar, pacific salmon chowder and vegetarian chili keep warm in ceramic cast iron pots with heavy lids, which sit on induction burners. Upon guests' request, staff serve some soups in freshly baked bread bowls.
Between Bread features sandwiches and salads. Team members prepare hot sandwiches with ingredients kept in a refrigerated, glass-top prep table visible to guests and use accelerated ovens to heat sandwiches such as prime rib, Carolina pastrami and cheese, Lone Star brisket with barbecue sauce, traditional Reuben sandwich and the Quil Ceda club with roasted turkey, black forest ham, hickory bacon, Swiss and cheddar cheeses, Roma tomatoes and romaine lettuce with pesto aioli.
Salads include chef salad with Black Forest ham, turkey, Swiss and cheddar on house greens with tomatoes, hard-boiled eggs and crisp bacon; pineapple chicken salad with fresh pineapple, house-made chicken salad over house greens, toasted almonds, tomatoes, cucumber in a pineapple boat; and create your own salad with all available toppings and greens. Guests can add grilled chicken, buffalo chicken and grilled shrimp to a variety of salads with several dressing choices.
Between Bread and World Flavors are two concepts that attract guests who enjoy sandwiches, salads and Asian-inspired cuisine.
Guests find cuisine with international flavors including south-of-the-border favorites and Asian specialties at World Flavors. Team members use rapid-cook ovens to bake teriyaki chicken, fajitas, tacos and quesadillas. They use the induction wok for sweet-and-sour chicken, kung pao chicken as well as beef and broccoli. They also use the ventless fryer for egg rolls, and induction hot wells to hold sides such as mac and cheese, mashed potatoes, gravies and refried beans.
Team members prepare a variety of steaks and burgers on a chargrill at Burgers, Steaks & Fish. They use a high-speed oven to bake beef kabobs, shrimp skewers, lobster tails, Hawaiian steak and seared salmon. The ventless fryer cooks chicken tenders, fish and chips, shrimp and chips and buffalo chicken sandwiches.
At Pestos, pasta and sauces take center stage as team members use six induction ranges to prepare pasta dishes such as The Italian Fisherman with sweet Spanish red shrimp, coastal clams, Italian sausage, roasted red peppers, charred zucchini and sun-dried tomatoes tossed in a red sauce and served over trottole pasta. Other dishes include clams over pasta, and spaghetti and meatballs. Wells hold pasta sauces hot until just before service. High-speed ovens cook other menu items including salmon, shrimp, chicken parmesan and meatball subs. They also heat pizzas with hand-stretched pizza crust that team members roll out as guests watch. Pizza varieties include Brooklyn steak and cheese, vegginourmous, meat lovers and margherita.
Bake 'N Brew offers a full line of beverage equipment for team members to make espresso and national-branded coffee and tea drinks, fruit smoothies and fresh squeezed orange juice. Guests also come to this station for cinnamon rolls, baked fresh every day in the high-speed ovens, muffins, bagels, pastries, cookies and brownies, as well as breakfast sandwiches and pizza. Display cases allow guests to see what they can order. Gelato machines provide several flavors of the frozen dessert.
The Craft Bar offers guests a venue for ordering beer, wine, craft cocktails and menu items available in The Kitchen.
Guests visiting Frybread & Soup see team members using ventless electric fryers and high-speed ovens to prepare menu items.
The Landing, The Keg Bar and The Stage Bar
The Landing, a full-service restaurant, provides a nod to the Annual Canoe Journey that the Coast Salish tribes observe. The Landing is the usual destination where the various tribes would visit, braving the open waters with traditional canoes, singing family songs, telling stories and visiting while having a meal. In this venue, the casino encourages friends and families to share their stories, while having a meal.
The Keg Bar offers a local focus on Washington craft beers and wines, along with traditional favorites and a shareable food menu (for many or just one), including entrees. The Stage and The Stage Bar feature local/national entertainment as well as sporting events.
No doubt gambling and gaming attract guests to the new Quil Ceda Creek Casino. But the foodservice is an attraction as well, providing guests with food and beverage experiences they've never had in the Washington state area.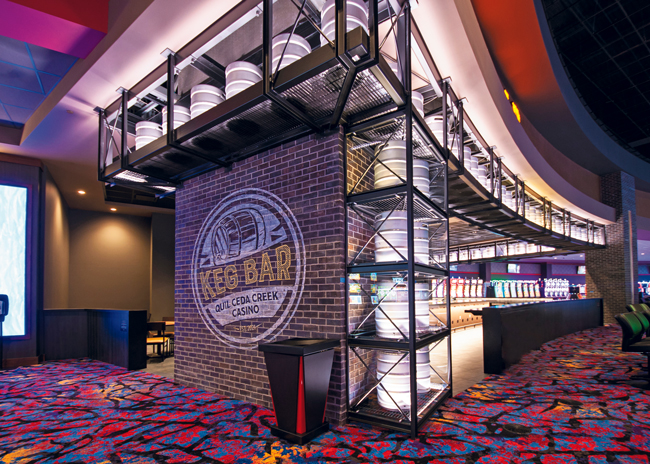 Guests find The Keg Bar off the casino floor. Photo courtesy of Rippe Associates
Floor Plan
Please click here to download the Floor Plan and Equipment Key.
About the Project
Size: 126,000 sq. ft., including 1,500 gaming machines and 16 table games. Situated on 15 acres of Tulalip Tribal land.
Seats: The Kitchen food hall, 212; The Landing a la carte restaurant, 137; The Stage entertainment lounge, 189
The Kitchen food hall concepts and hours:
Breakfast 24/7: 24 hours a day, 7 days a week
Frybread & Soup: 11 a.m. until midnight, Monday through Friday; 10 a.m. until midnight, Saturday and Sunday
Between Bread (sandwiches and salads): 11 a.m. until midnight, Monday through Friday; 10 a.m. until midnight, Saturday and Sunday
Burgers, Steaks & Fish: 11 a.m. until midnight, Monday through Thursday; 11 a.m. until 2 a.m., Friday; 10 a.m. until 2 a.m., Saturday; 10 a.m. until midnight, Sunday
World Flavors (Asian-inspired and south-of-the-border menu): 11 a.m. until midnight, Monday through Friday; 10 a.m. until midnight, Saturday and Sunday
Pestos (pasta and pizza): 11 a.m. until midnight, Monday through Thursday; 11 a.m. until 2 a.m., Friday; 10 a.m. until 2 a.m., Saturday; 10 a.m. until midnight, Sunday
Bake 'N Brew: 24 hours a day, 7 days a week
The Landing: 5 p.m. until midnight, Wednesday through Sunday
Opened: Feb. 3, 2021
Scope: A new casino built across the street from the original casino and twice the size. The new facility includes: The Kitchen, a large food hall with multiple cooked-to-order food venues; The Landing, an a la carte restaurant; The Stage, an entertainment venue for music and other events, which also enables guests to watch sports on video walls; and three full-service bars, including The Keg Bar.
Website: quilcedacreekcasino.com
Induction ranges enable team members at Pestos to prepare pasta dishes. High-speed ovens heat pizzas.
Key Players
Owner: The Tulalip Tribes of Washington
Owner's representative: Eric Guion & Associates LLC; Seattle: Eric Guion, principal
Executive vice president, Quil Ceda Creek Casino: Belinda Hegnes
Executive vice president, Quil Ceda Creek Casino: Teresa Jira (retired)
Food and beverage director, Quil Ceda Creek Casino: Shane Warbus; Linda Siozopoulos (retired)
Consulting chef: Andy Revella, executive vice president, Applied Culinary Technology, and executive chef, Dallas
Architect and interior design: TBE (Thalden Boyd Emery) Architects, St. Louis: David Nejelski, creative director and principal; Nick Schoenfeldt, vice president and principal
Foodservice Consultants: Rippe Associates Inc., Minneapolis: Steve Carlson, FCSI, president; Mike Wrase, senior project manager; Trish Jass, senior operations project manager; and Shelby Wurscher, project manager
Equipment dealer: TriMark, Orange County, Calif.
Design/build contractor: Andersen Construction, Seattle
Steve Carlson, FCSI, president, Rippe Associates. Combining his interest in design and food, Carlson leads Rippe's Hospitality Studio in addition to his role as president. He is also involved with Second Harvest Heartland.
David Nejelski, creative director and principal, TBE Architects. Since joining TBE Architects 27 years ago, Nejelski's hotel and casino projects in the U.S. and Canada focus on implementation of unique theme and entertainment concepts from inception through development.
Andy Revella, executive vice president, Applied Culinary Technology, and executive chef. With more than 55 years of experience in the food and beverage industry, Revella has developed menus for Quil Ceda Creek Casino and restaurants including Bennigan's Steak & Ale, and Rainforest Café. He was also the head of food and beverage at Harrah's Casinos.
Nick Schoenfeldt, vice president and principal, TBE Architects. Since joining TBE Architects in 1999, Schoenfeldt has completed more than 50 casino/hotel projects. In addition, during his
43-year career, his work has also included private clubs, restaurants
and hotels.
Shane Warbus, food and beverage director, Quil Ceda Creek Casino. Warbus joined Tulalip Resort Casino in September 2008. Previous positions include assistant director, food and beverage, for Northern Quest Resort and Casino and operations manager, food and beverage, Tulalip Resort Casino (the sister property to Quil Ceda Creek Casino).
Mike Wrase, senior project manager, Rippe Associates. During Wrase's 28 years in foodservice design and consulting, his work has included projects in the hospitality, corporate, K-12, government, higher education and healthcare segments.