Oklahoma City welcomed a new convention center in January 2021, nine years after design began. The $288 million project was funded by the Metropolitan Area Projects Plan 3 (MAPS 3) capital improvement program in Oklahoma City. MAPS 3 uses a one-cent, limited-term sales tax to pay for debt-free projects.
Photos by Freestyle CreativeThe single largest project in the MAPS 3 program, the Oklahoma City Convention Center (OKCCC) provides flexible usage space and occupies just over 500,000 square feet. The 200,000-square-foot exhibition hall can be divided into four separate spaces: 27 meeting rooms occupying 45,000 square feet; a 30,000-square-foot ballroom with 3 divisions; a 9,726-square-foot junior ballroom; and more than 10,000 square feet of pre-function space. In addition, the new Scissortail Park directly across the street provides an impressive front yard and building entrance as well as a lovely view from the third-floor balcony outside the main ballroom.
"The building has the latest technology and building systems, which was one of the top goals for the project," says Kevin Koch, AIA, LEED AP BD+C, architect/principal at Populous in Kansas City, Mo. "The interior finishes are simple, clean and modern, and the support and service spaces tie the building together from the loading dock to the main kitchen on the top floor. The new convention center, along with the new park, new Omni Hotel and surrounding development will make Oklahoma City a sought-out destination for years to come."
Venue and event management company ASM Global, headquartered in Los Angeles, manages OKCCC. "Oklahoma City's chamber of commerce and the convention bureau wanted this city to be a major destination for conventions," says Al Rojas, general manager, ASM Global/OKCCC. "The main goal is to have a facility that will elevate OKCCC to the next tier of convention destinations."
OKCCC's interior features glass walls, bringing in natural light and offering views of Scissortail Park. The building's two glass atriums each house a sculpture called "Virtual Sky," made of titanium rods and LED lights suspended from the ceiling. The artwork evokes Oklahoma's expansive skies and the state's links to aviation history.
"It was important to create a foodservice program that would serve the increased number of guests that the facility would accommodate through flexibility of design and effective equipment selections," says consultant Richard Eisenbarth, FCSI, president emeritus, Cini•Little, Germantown, Md.
The tasting kitchen offers a space for event customers to watch the chefs and sample menu fare.Savor, a division of ASM Global, manages the foodservice. The foodservice areas feature a main banquet production kitchen adjacent to the main ballroom, including a tasting kitchen; two banquet support areas and a corridor for the ballroom, serving as beverage support and potentially plating areas to the remote areas of the ballroom; meeting rooms with finishing/plating and a beverage support pantry; a pre-function support pantry; a commissary to support concession kiosks throughout the exhibit hall; and a receiving dock, food and beverage receiving, holding and trash.
"Savor brings a sophisticated identity to the foodservice," says Rojas. "The food here is extraordinary. It's an example of how much convention center food has improved over the years. The Savor culinary staff bring talent and ingenuity to menus, which will make dining here a memorable experience."
Due to COVID-19, staff have altered service practices. For example, staff no longer preset banquet meals; rather, they serve each course including salads, bread, entrees and desserts. This adds more service time and labor, but these steps play a necessary role in the center's safety protocol. Staff also follow social-distancing requirements, and as a result, rooms have limited capacities. "In our 30,000-square-foot ballroom, for instance, we can seat 1,200 people," Rojas says. "Now, we can serve 400 with no more than 4 to 5 people at a table. Tables are set 6 feet versus 3 feet away. We're fortunate here to have those standards, and we have a sense of responsibility to operate safely."
For meetings, plated or box meals are available. Buffets are not part of the service options, at least not yet.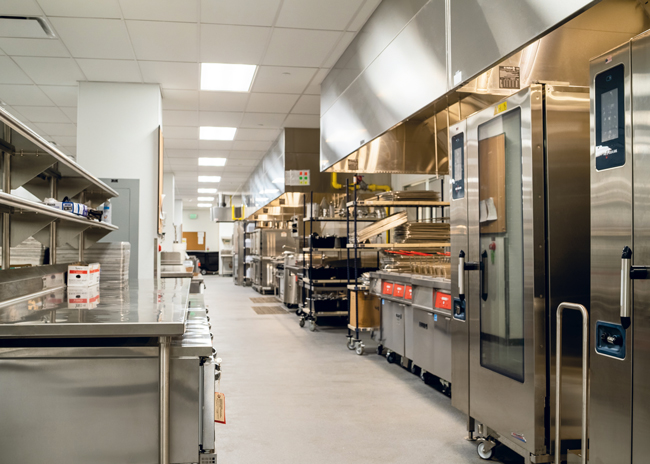 The linear lines of the kitchen allow staff to move easily around the space.
Deliveries, Production and Service
Food deliveries arrive at a receiving dock on the lowest level. After deboxing and cleaning, staff place deliveries in two walk-in coolers, a freezer and dry storage for a short holding time until other staff arrive to bring it up a dedicated elevator to the main kitchen on the fourth level. This lower level also contains an enclosed trash area and laundry room with a commercial-use washer and dryer.
After staff bring deliveries up to the fourth floor, they place them in four walk-in coolers and a beverage walk-in cooler, a walk-in freezer and dry storage.
"The kitchen features a good linear flow," Eisenbarth says. "Product comes in from one side, is moved and processed. Soiled dishes don't mix with prepared food."
Marcel Martinez, executive chef and director of culinary, Savor/ASM Global, agrees. "Everything is positioned along linear lines, which I like because staff can move easily from one place to another and the flow is very clear," he says. Martinez also likes the positioning of the chef's office, which is close to the entrance where deliveries are brought in and near the garde manger and tasting kitchen.
The dish room contains a flight-type dishmachine and designated spaces for dirty and clean dishware to avoid cross-contamination.Staff prepare garde manger with the support of a food processor and a reach-in undercounter refrigerator. For garde manger and baked items such as cookies, rolls and desserts such as cardamom rice pudding, dulce de leche cheesecake, three-layer carrot cake and three chocolate mousse cake, they use a countertop floor mixer, ingredient bins, a roll-in proofer and a roll-in convection oven.
The tasting kitchen allows chefs to cook for potential catering clients and discuss menu options. The kitchen contains small-sized commercial equipment, including regular counters and an ADA-height counter, a reach-in refrigerator, a heated cabinet, a 72-inch charbroiler, an exhaust hood, an undermount sink and a fire-suppression system. Clients sit at a table as they watch chefs prepare ingredients. A glass window offers views of the production kitchen.
"An ice production area is strategically located to accommodate high demand," Eisenbarth says. "Also, the kitchen provides strategically located refrigerated and heated cabinet support for food and beverage storage during peak times."
The cookline contains two double-stacked convection ovens for heating Alaskan salmon after it is seared in the tilt skillet, as well as chicken breast with a roasted-garlic glaze, brown-sugar-and-thyme-rubbed king salmon and orange-and-coriander-crusted mahi-mahi. Staff use two tilt skillets for cooking rice, pasta and scrambled eggs and blanching vegetables; a 60-gallon tilting kettle for soups and stocks; a 48-inch range with 8 open burners to blanch asparagus that is charred in the salamander broiler and to prepare house-made steak sauce; a charbroiler for grilled flank steak that is finished in the convection oven and and used to place grill marks on soy-and-herb-marinated beef tenderloin that is finished in the convection oven. Undercounter refrigerated units sit beneath the equipment.
The other line includes a hot holding cabinet, a three-battery fryer, three combi ovens and an exhaust hood. Staff use the combi ovens for cooking brisket, pork shoulders, poultry, beef and vegetables. They also use the combis to smoke the beef and chicken for the four concession areas.
Floor and countertop mixers, ingredient bins and a high-speed food processor that chops nuts, herbs and garlic support staff as they make dough for baked goods.For preplated functions, staff cook the starch and vegetables the day before the event. "We place menu items into the blast chiller to bring them down to proper cold holding temperature," Martinez says. Staff then place the starch and vegetables on plates and put them on special oven plate racks that are moved into a walk-in cooler. On the day of the event, staff cook the protein to proper temperature and hold it in warming cabinets. Next, they retherm the starch and vegetables in convection ovens. They then place the protein on the plate with the starch and vegetables, pour on sauce and place into a hot holding box on wheels that is taken to the event site.
For large events, a plating and staging area with a mobile plating conveyor gives staff plenty of space to prepare menu items for transport to banquets and catered events. The kitchen has the capacity to prepare up to 11,000 meals for sit-down service. The operation also has enough carts to deliver food to various rooms simultaneously when necessary.
At the ballrooms, staff use the service corridor to stage hot boxes and service carts to expedite meal service times.
Staff take soiled plates and other service items to the long corridor for sorting and placement into soiled-dish transport cabinets. Staff next transfer the soiled items to the dish room for cleaning in a flight-type dishmachine. Clean dishes are then stored in the designated clean-dish storage room.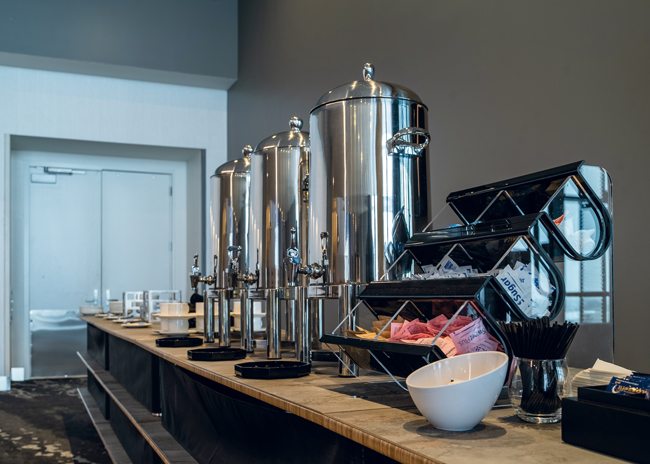 Breath shields separate customers from servers to establish a safer serving experience in what has become the new norm in serving spaces.
Branded Concessions
Named after Oklahoma City districts, concessions sit in the exhibit hall. A coffee concept concession operates on the ground floor. "We're trying to attract attendees who like the normal concessions like hot dogs and chicken tenders, but we also offer much higher-end menu items that are healthy and meet dietary needs such as gluten free, meat free and allergen free," Rojas says.
El Charro Tex-Mex Grill offers build-your-own bowls or burritos, with cumin-lime rice, mojo chicken, chili-marinated grilled steak, pork carnitas, pinto beans, shredded lettuce, cheese, fresh tomato salsa, guacamole, sour cream and sauteed vegetables. Also available are tacos, nachos and tamales. Desserts include raspberry cheesecake chimichanga with dulce de leche sauce. Large reach-in coolers hold grab-and-go menu items.
Bricktown Deli features sandwiches such as tomato, mozzarella, portobello and pesto mayonnaise, as well as Caesar salad and other salads, sides such as a crudité cup with za'atar turmeric hummus, and desserts such as carrot cake and strawberry cheesecake.
The Café on the main floor offers branded coffee drinks and other beverages, as well as snacks. Big City BBQ features brisket, pork and chicken plates and sandwiches, portobello sandwiches, and sides such as smoky molasses baked beans, jumbo scallion smoked cheddar corn muffins and smoked bacon-wrapped jumbo hot dogs with caramelized onions. Dessert options include banana cream pie and key lime pie. Large reach-in coolers hold grab-and-go menu items.
Fire Bros. Pizza Kitchen offers pies with pepperoni and another with cheese and seasonal vegetables, a gigantic meatball with arugula, asiago and balsamic-infused tomato sauce, chicken parmesan and other sandwiches, hoagies, mozzarella sticks with basil tomato relish and olive pesto, vegetarian soup, and desserts like tiramisu and panna cotta.
The Café, featuring La Colombe roasted coffee, offers coffee and other beverages as well as baked goods such as bagels with lots of toppings, assorted coffee cake, assorted Danishes, croissants, scones and muffins.
Grab-and-go menu items presented in display cases include wraps with meats and cheeses, salads, soups, a seasonal berry parfait with granola, and crudité cups with hummus.
"Concession operations have changed during COVID-19 to include tap-and-go ordering and paying," Rojas says. "These items help to reduce concession costs and create a streamlined operation. Transparency is most important, and customers need to know about our safe food handling practices, which they can see and watch. Our job is to build consumer confidence. This is the situation for concessions, banquets, meetings and everything we serve."
The convention center overlooks a large park area accessible to visitors. Photo by Oklahoma City Convention & Visitors Bureau
About the Project
Opened: January 2021
Scope of project: A new convention center with foodservice components that include a main banquet production kitchen, a tasting kitchen and exhibit hall concession commissaries
Total project cost: $288 million
Equipment investment: $2 million for major equipment; $1.82 million for minor equipment to support catering and concessions
Website: okcconventioncenter.com
Facts of Note
Opened: January 2021
Scope of project: A new convention center with foodservice components that include a main banquet production kitchen, a tasting kitchen and exhibit hall concession commissaries
Main kitchen: 8,000 sq. ft.
Banquet seating: 1,200 in main ballroom
Average check for catered event: box lunch, $14; buffet, $22
Average check for concessions: $5
Total annual sales (projected): $1.2 million
Daily transactions/covers: Up to 11,000 meals at a sit-down event
Event menu: global-themed menu items using fresh, local and seasonal ingredients
Concessions concepts: El Charro Tex-Mex Grill, Big City BBQ, Bricktown Deli, Fire Bros. Pizza Kitchen and The Café, featuring La Colombe roasted coffee
Banquet staff: Ideally, 60 to 150 overall for a 1,200-person banquet and another 15 in the back of the house
Concessions staff: 40
Key Players
Owner: City of Oklahoma City
Manager of OKCCC: ASM Global
Culinary division of ASM Global: Savor
General manager, ASM Global/OKCCC: Al Rojas
Assistant general manager/director of sales, OKCCC, ASM Global: Barbara Beaton
Regional general manager of food and beverage, Savor/ASM Global: Kaarthik Iyer
Director of culinary, Savor/ASM Global: Marcel Martinez
Executive sous chef, Savor/ASM Global: Joshua Moore
Banquet manager, Savor/ASM Global: Christopher Andrews
Concessions manager, Savor/ASM Global: Toby Fischer
Project architect: Populous, Kansas City, Mo.: Kevin Koch, AIA, LEED AP BD+C, architect/principal
Local architect: GSB Inc., Oklahoma City
Interior design: Populous
Foodservice consultant: Cini•Little, Germantown, Md.: Richard Eisenbarth, FCSI, president emeritus; Mike Perigard, director of BIM/CAD; Steve Waltz, senior project manager, deceased; Jennifer Fitzgerald-Matias, associate and project manager, until February 2021
Equipment dealer: Oswalt Restaurant Supply, Oklahoma City
General contractor: Flintco, LLC
Construction Company: Oklahoma City
Richard Eisenbarth, FCSI, president emeritus, Cini•Little. Eisenbarth joined this firm in 1977, holding several leadership positions including president, chief operating officer and CEO. He semiretired in 2020. Other notable projects include Universal Beijing Resort and New Orleans Culinary & Hospitality Institute.
Marcel Martinez, director of culinary, Savor/ASM Global. Chef Martinez joined Savor in 2013 at the Broward County Convention Center in Fort Lauderdale, Fla., after holding culinary positions at The Ritz-Carlton of Key Biscayne, Fla.; the Westin Diplomat in Hollywood, Fla.; and the JW Marriott Marquis in Miami. He came to the OKCCC as director of culinary in March 2020 and will return to Florida in March 2022 to open the Broward County Convention Center in Fort Lauderdale.
Mike Perigard, director of BIM/CAD, Cini•Little. Perigard joined the firm in 1992. Projects include Broward County Convention Center, Fort Lauderdale, Fla.; Universal Beijing Resort; and Four Seasons Hotels worldwide.
Al Rojas, general manager, ASM Global/OKCCC. Rojas joined OKCCC in 2020. He previously held various senior-level positions at American Airlines Center, Kay Bailey Hutchison Convention Center Dallas and the Jackson Convention Complex.
Steve Waltz, FCSI, senior project manager, Cini•Little, deceased in 2020. Waltz brought 50 years of experience in design. He joined the firm in 2006. Projects include Universal Beijing Resort and New Orleans Culinary & Hospitality Institute.
Kevin Koch, AIA, LEED AP BD+C, architect/principal, Populous. Joining Populous in January 2013, Koch previously designed commercial retail and mixed-use projects for CallisonRTKL in Dallas. Convention center projects include the Henry B. Gonzalez Convention Center in San Antonio; Orange County Convention Center in Orlando, Fla.; and George R. Brown Convention Center in Houston.
Floorplan Equipment Key
1. Shelving unit
1a. Mobile shelving unit
1b. Overshelf
1c. Wall shelf
1d. Double-sided glass rack shelf
2. Dunnage rack
2a. Pan rack
2b. Can rack
2c. Glass rack
3. Walk-in complex
3a. Evaporator coil
3b. Blast chiller
3c. Walk-in cooler
3d. Reach-in undercounter refrigerator
3e. Reach-in undercounter freezer
3f. Reach-in refrigerator
4. Mop sink
4a. Hand sink
4b. Undermount sink with soap and paper towel dispenser
4c. Soak sink
5. Drop-down cords
6. Heated banquet cart
6a. Dish cart
7. Mobile ice bin/ice caddy
7a. Ice bin
8. Ice maker, half-sized cube
8a. Ice maker, nugget
9. Water filtration system
10. Floor grate and pan
11. Heated cabinet
11a. Holding station cabinet
12. Tray makeup conveyor
13. Trash container
13a. Waste collector
14. Security unit
15. Worktable
15a. Worktable with hand sink
15b. Prep table with sink
15c. Wall-mounted worktable
15d. Soiled-dish table with trough
16. Ingredient bin
17. Partition, 8 inches high, 3-sided
17a. Partition, 8 inches high
18. Roll-in proofer
19. Roll-in oven
19a. Convection oven
19b. Combi oven
20. Fire-suppression system
21. Countertop mixer
21a. Floor mixer
22. Food processor
23. Ventilation exhaust hood
23a. Control panel for hood
24. Stainless-steel sheathing
25. Tilting skillet
26. Tilting kettle, 60-gal.
27. Salamander broiler
27a. Charbroiler
28. Range, 48 inches, 8 open burners
29. Three-battery fryer
30. Kitchen counter
30a. Bar-height counter
30b. ADA-height counter
31. Hose reel
32. Vent duct
33. Dishwasher, flight-type