Village View Dining Hall at Auburn University
Auburn University's Village View Dining Hall had become dated since its opening in 2010. The facility sits near the eight residence halls that make up The Village Community and is also near the basketball arena and football stadium. One side of the building contains chain concepts including Chick-fil-A and Toro Sushi, as well as War Eagle Supply Co., one of several convenience stores the university operates. The other side contains a residential dining operation, Tiger Zone. Students and other customers didn't feel they were getting the proper value for the menu items offered in the residential dining area. They also wanted a place to study, hang out and socialize with friends, in addition to having a meal.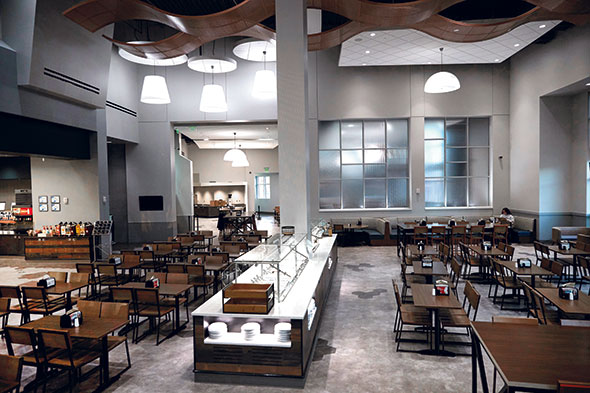 Photos courtesy of The Vollrath Company
"A two-phase renovation project transformed Tiger Zone, the existing residential dining space named after the university's mascot, into an entirely different, contemporary dining operation. This now serves as a destination where our students can find community in this part of campus," says Glenn Loughridge, director of campus dining and concessions. "Customers want a total experience. It's not enough to just have great food. They want to be part of the culinary action and interact with the staff as they prepare customers' food. They also want the space itself to be welcoming, up to date and comfortable."
The first phase of the renovation began at the conclusion of the spring semester in May 2019 and ended at the start of the fall semester in mid-August 2019. The original plan called for a renovation of the building in the summer of 2020. The timeline was bumped up, though, when it became clear that the large back-of-the-house production kitchen that supports the front-of-the-house dining operation needed a new floor earlier than expected.
"Since we had to shut down the kitchen for the summer of 2019 to replace the flooring and would have had to shut down again in 2020 to do the front-of-the-house renovation, we moved up the timeline so we could do both the kitchen floor and the front-of-the-house area in the summer of 2019," says Loughridge. "That way, we only had to shut down operations for one summer."
Campus visitors over the summer ate at another dining operation on campus. The university holds regularly scheduled summer events, camps and conferences.
Phase one of the renovation included eight concepts: Abroad (international cuisine), MadeforU (an action station), Southern (home cooking), Deli, Salad Bar, Char (grill), Crust (pizza) and Treats. Phase two renovated a space that had been a training table for athletes. The former training table area became phase two and opened Jan. 8, 2020. It now contains a Mediterranean concept featuring vegan, vegetarian, allergen-free and health-forward concepts as well as a bakery. The training table operation moved to an area closer to a practice field and a residence hall for athletes.
Design Challenges
Before the renovation, the existing building was divided into three different spaces. When entering the front doors, the view of the expanse of the building was cut short by a large dividing wall between the chains and the residential dining spaces. The architects removed this wall, creating a view from the front entrance of the building all the way to the back of the seating areas.
"This created its own challenge though, because we now had this large, long and very tall space to create interest and special alcoves within," says Sarah Rakestraw, NCIDQ, Well AP, interior designer, Office of the University Architect. "Through the use of accent paints, large menu monitor graphics, interesting ceiling materials, and a combination of high and low tables and seating, we created interesting points along the space. This allows spaces for the patron's eyes to rest as they move throughout the space."
Accommodating an existing glass wall between the private dining room and the general seating dining space presented another challenge. Groups from all over campus can use the private dining room for lunch or dinner meetings. To create interest and privacy, the architects incorporated the large existing wall that separates the private dining room and general seating areas into the overall design concept.
A wall with stained glass separates the private dining area from the main dining area.
They created a very bold color statement for the wall using film, similar to a stained-glass window. This is one of Rakestraw's favorite features. "The inspiration for this was a leaded glass window, like something one would see in a vintage restaurant," she says. "The large panes allowed us to incorporate really bold color and the light coming through these windowpanes engulfs the entire space. It is exciting to see how it changes throughout the day."
The overall concept of the entire dining hall was to create a venue that was "graciously large but still felt cozy and comfortable," Rakestraw says. To accomplish this, the designers created a spin on a vintage diner, with a combination of cool surface tones and warm wood tones. The hexagon luxury vinyl tile, a six-sided connector of space, in shades of gray along the floor, leads customers throughout the facility and toward the different food stations.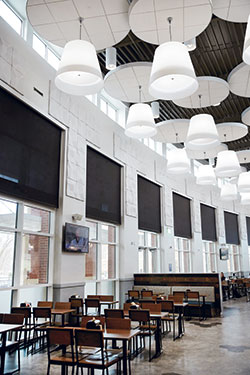 A wall with stained glass separates the private dining area from the main dining area. Designers used a play on the university's orange and blue colors — teals and coppers throughout the entire public dining space — in lighting, wall accents and upholsteries. "Large ceiling accents were painted a copper tone to add interest to the highest point in the space and make the space above feel less like a tall void," Rakestraw says.
Seating includes a combination of high-top and low tables, all with wooden seats. Touchdown spaces —a term routinely applied to nonpermanent office workspaces — contain electrical outlets to enable people to plug in and work in the space. Custom-length community tables line the main pathway through the space. "This has created an interesting dynamic because the students will all use these tables, regardless of if they are in a group setting or individual or a combination at one table. These large tables really helped to create a sense of true community and includes everyone."
In addition, the design includes large round banquettes, which encourage groups to dine, collaborate and socialize together. Lounge furniture with soft seating also encourages customers to sit, have a snack and work on their laptops, all the while getting comfy and staying for a time.
Within the dining service space, the vintage restaurant vibe continues courtesy of the finishes on service counters and accents. A warm wood plank laminate covers counters, and the tops evoke the vintage aesthetic with a soft marble and contrasting honed soapstone appearance. The use of quartz materials makes cleaning easier.
Hanging above the service counters, drop pendant lights feature a copper metal finish. "The architect's office had a great idea to incorporate a slat drop wood ceiling in the service space," Rakestraw says. "This brings the scale of the space down to a user-friendly height, while also concealing the electrical and HVAC routing through the ceiling zone."
Back-of-the-House Food Production
When the coating began to crack and peel, the need to replace the floor in the back of the house became crucial. "While the new floor was being installed, the equipment was moved into the space where the phase two renovation would occur," Loughridge says. "The staff also used the time to do a deep clean and service the flight dishwasher."
After food arrives at a loading dock, staff place it in two walk-in coolers, a walk-in freezer and dry storage. They transport ingredients to the main kitchen, which contains six walk-in coolers and a freezer. Additional storage includes a walk-in cooler and a walk-in freezer in the bakery area.
The cold prep area contains handheld mixers, 20-quart and 30-quart mixers for staff to prepare mise en place, a blast chiller and ice machines. The hot prep area contains a wok, two combi ovens, a convection oven, a tilt skillet, two steam jacketed kettles, a charbroiler and bank of fryers.
The kitchen also contains a bakery with an 80-quart mixer and a roll-in bakery oven. Bakery staff prepare pastries for the entire campus from this space.
The kitchen also includes space for the retail operators to prep ingredients for their operations.
Front-of-the-House Food Production and Service
Customers enter near the cashier's station. They see an enormous wall with 12 interlinked televisions that show menu items available at each station. Tablets at each station make it easy for students to access the nutritional profile for menu items. An on-campus dietitian works with students who have allergies and special dietary needs.
A massive salad bar sits in the center of the main dining space.
"We also wanted to be sure the names of stations were catchy, trendy and fun, so they would think about food flavors and ingredients," Walker says. He and Loughridge worked with Aramark and an equipment manufacturer on the front-of-the-house renovation.
Walking to the right of the cashier station, customers find Deli, which offers made-to-order sandwiches, wraps and soups served from an induction soup well.
Customers next find Crust, the pizza concept. Staff roll out dough, dress it with tomato sauce and other ingredients and bake it in a conveyor pizza oven. The oven also bakes Italian-inspired menu items such as Stromboli and calzones.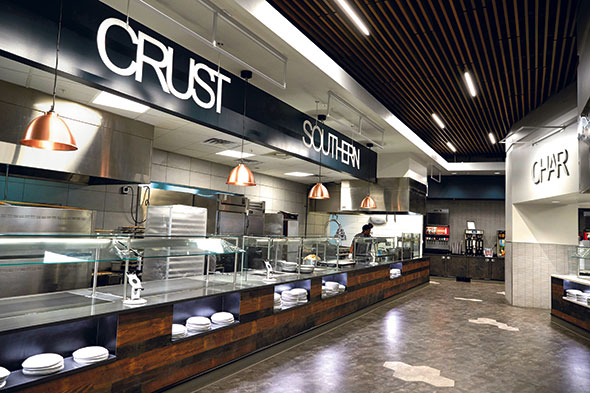 Customers can watch staff members at Crust roll out pizza dough and bake pizzas in the conveyor oven.Southern station offers home-style entrees and sides presented in hot and cold wells and hot plates.
Across from Southern, Char contains a charbroiler and fryer. Customers order menu items ranging from made-to-order grilled chicken, burgers and sandwiches of the day. A condiment station with drop-in cold wells sits at the end of the station for customers to add lettuce, tomatoes and toppings.
At the international station, Abroad, culinary staff cook different styles of cuisine to order. Each week this station offers a different themed cuisine, such as Indian or Asian. "Students pick proteins and other ingredients for bowls or burritos or whatever we're building that day," Walker says.
Treats, seen here on the left, includes a toppings bar for ice cream. A door near the Abroad station opens to the back of the house.
As customers turn to the left, they find a large beverage station featuring coffee, tea, milk and soft drinks.
Across an aisle, customers find Treats, featuring soft-serve ice cream and a toppings bar. A large open-air cabinet and other merchandisers display pastries and cereal, which many students put on top of ice cream.
The MadeforU station contains induction burners where culinary staff prepare menu items featuring pasta, fried rice, stir-fries and omelets.
"In the main dining area, we also needed a salad bar, so we built a massive one with multiple toppings and choices," Walker says. A double-door cooler holds mise en place so staff can replenish ingredients without walking to the back of the house during serving hours.
Located several feet from the main area, Mediterranean serves menu items that promote wellness. The area contains a roll-in cooler and roll-in freezer as well as a six-burner range, countertop rack oven, flattop griddle and a fryer to prepare cooked-to-order Mediterranean-style, vegan, vegetarian and allergen-free menu items. Menu items display in hot and cold wells and hot plates. "This is a vegetable-forward station, so we have a designated storage place for vegetables in order to eliminate cross-contamination with other foods," Walker says.
This area also contains a bakery. Customers watch as staff use mixers and a dough divider to prepare pizza dough for Tiger Zone and foodservice operations throughout campus. Staff also prepare fresh breads served here and at some delis on campus. Customers see the proofing box and watch bread baking in a rotating oven with a glass front.
Staff display baked goods on a large open countertop area.
A large beverage station contains a variety of bottled waters, four infused waters, fresh juice, coffee and tea. "No sugar drinks are served here in order to promote this station as a health and wellness area," Walker says.
Throughout the design process, Walker says, the project team placed an emphasis on efficiency. "I think of how people will flow in and out of a space and how to reduce the time people stand in lines," Walker says. "We wanted stations to appeal to the entire student body and give them freedom to walk around and take food from any station."
Walker says the design also promotes employee productivity and efficiency. "We didn't want people running back and forth to the kitchen," he says.
Sustainability and the Future
"We built in a provision of 20% local sourcing into the contract with Aramark," Loughridge says. "As a land-grant university, we want to support farmers within the state, so we define local as being within 200 miles of campus or within the state of Alabama."
Campus Dining partnered with multiple departments within the College of Agriculture (horticulture, fisheries, biosystems engineering and food science) to create an aquaponic system that farms tilapia in a tank and uses the water to grow lettuce, tomatoes, cucumbers and peppers. "The system is a research platform for the different departments and a great source of local produce and fish for Tiger Zone," Loughridge says. "We tell our customers where menu items are grown and produced."
The vision to create a sense of community continues to work well. "For instance, a physics professor conducts office hours in a dining room here," Loughridge says. "In the past he may have had two or three people for office hours and now he may have up to 50 students. They love coming here to interact with him."
Loughridge and Walker remain confident that when students arrive on campus after the long absence due to the early closure as a result of the COVID-19 pandemic, they'll be happy to return to a dining operation that offers them fresh food and a sense of community.
---
About the Project
Auburn University: 30,000 students
Renovation time frame: Phase one opened August 2019; phase two opened Jan. 8, 2020
Scope of project: A two-phase renovation of Village View Dining Hall with minor c-store renovations
Size: 40,000 sq. ft.
Seats: 500
Hours: 7 a.m. to 9 p.m.; c-store open until midnight
Menu concepts: Abroad; MadeforU; Southern; Deli; Salad Bar; Char; Crust; Treats; bakery; and mediterrean.
Staff: 35 employees per shift
Total project cost: $3.3 million
Furniture cost: $300,000
Equipment cost: $1 million
Website: auburn.campusdish.com
---
Key Players
Director of campus dining and concessions: Glenn Loughridge
Assistant director, campus dining: William Walker
Assistant director, property management: James Smith
Construction project manager, construction management: Paula De Simone
Design project manager, Office of the University Architect: Amy Bingham
Interior designer, Office of the University Architect: Sarah Rakestraw, NCIDQ, Well AP
Campus contractor, Aramark: Michelle Crowe, regional district manager
Architect of record: Stacy Norman Architects LLC, Auburn, Ala.: Stacy Norman, principal; Kendra Mayton, project manager
Construction: J.A. Lett Construction Co. Inc., Auburn, Ala.: Josh Kirkland, construction manager
Engineering: Pursuit Engineering, Auburn, Ala.: Chase Payne, principal mechanical engineer; Chris Gray, project development manager/electrical designer
Equipment dealer: Birmingham Restaurant Supply Inc. (Bresco), Birmingham, Ala.: Bob Schoeneck, commercial kitchen specialist
Glenn Loughridge, director of campus dining and concessions. A graduate of Auburn, Loughridge came to the university eight years ago. He previously owned a seafood business in Crystal River, Fla., and was part owner of a restaurant management recruiting firm.
Sarah Rakestraw, NCIDQ, Well AP, interior designer, Office of the University Architect. Rakestraw assumed her current position in 2017. She was previously employed as an architect/designer sales rep for hard surface flooring and building materials with Acme Brick Co.
William Walker, assistant director, campus dining. Walker joined the Auburn University dining team in Spring 2015 as the wellness kitchen manager for the athletic training table. Two years ago, he became the assistant director of campus dining and now oversees 51 foodservice locations. Walker is a classically trained chef with more than 30 years of service in the hospitality industry with both front-of-the-house and back-of-the-house experience.
---

Floorplan Equipment Key
1. Cashier counter
1a. Deli/soup counter
1b. MadeforU counter
1c. Treats counter
1d. Center workstation
1e. Char counter
1f. Condiment counter
1g. Crust counter
1h. Abroad counter
1i. Abroad station back counter
1j. Storage counter
1k. Beverage counter
1l. Counter
w/hand sink
1m. Salad bar
1n. Bakery counter
1o. Mediterranean counter
2. POS
3. Bread display case
4. Dish dolly
5. Food shield
6. Refrigerated sandwich prep table, 2-sec.
6a. Cutting table
6b. Refrigerated pizza prep table
6c. Laminate dish return base
6d. Maple top work table
6e. Work table w/sink
7. Undercounter heated cabinet, 1 sec.
7a. Roll-in heated cabinet, 1 sec.
7b. Proofer cabinet
8. Induction soup well
9. 3-well forced air cold pan
9a. 2-well drop-in hot pan
9b. 4-well forced air cold pan
9c. 4-well drop in hot pan
10. Step-up induction burner
10a. 6-burner range
11. Undercounter
refrigerator, 2 sec.
11a. Refrigerated
equipment stand
11b. Worktop freezer, 1 sec.
11c. Roll-in refrigerator, 1 sec.
11d. Roll-in refrigerator, 2 sec.
12. Condiment
dispenser
12a. Soft-serve
dispenser
12b. Automatic soap dispenser
12c. Paper towel
dispenser
12d. Auto fill for bain maries
12e. Soda dispenser
12f. Cup & lid dispenser
12g. Milk dispenser
12h. Juice dispenser
12i. Tea dispenser
12j. Air pot
12k. Vitamin water dispenser
13. Utility cart
14. Exhaust hood
15. Fire suppression system
16. Microwave/
convection oven
16a. Conveyor pizza oven
16b. Equipment stand
16c. Countertop rack oven
16d. Equipment stand w/tray slides
17. Work sink
17a. Gooseneck faucet
17b. Hand-sink partition
17c. Hand sink
17d. Wall-mount faucet
18. Waste disposal
18a. Twist waste
19. Heated shelf
19a. Countertop heated shelf
20. Charbroiler
21. Fryer
22. Griddle
23. Ice cuber
24. Water filter
25. Tea brewer
25a. Coffee brewer
26. Waste receptacle
26a. Trash chute
27. 80-qt. mixer
28. Ingredient bin
29. Dough divider/rounder
30. Rack
31. Flip-up door