Harrimans Virginia Piedmont Grill, Gold Cup Wine Bar, the Cooking Studio, a culinary garden and a full-service kitchen supporting restaurants, banquets and room service offer guests a unique experience when they visit this luxury resort and spa set on 340 acres in this historic village.
Set in the historic village of Middleburg on 340 rolling countryside acres in the heart of Virginia's idyllic horse and wine country, Salamander Resort & Spa attracts visitors looking for a unique spa, culinary, winery, natural and historic experience.
A table awaits guests who will dine in the resort's 2-acre culinary garden. Photograph by Justin KrielThe LEED-certified resort and spa contains 168 luxurious rooms and 17 suites. A full-service equestrian center offers riding instruction and clinics, and miles of trails sit near the property's 22-stall stable, ThorTurf riding ring and 9 paddocks. The resort also features two family pools, tennis courts, a Jack Nicklaus Signature golf course at the nearby Creighton Farms Estates, and the Tree Top Zip Tour.
As visitors enter the property, they travel along a tree-lined driveway and see the brick façade with a steeple on top, slate walkways and oversize porte cochère.
Dining, one of the resort's key attractions for guests and local residents, includes Harrimans Virginia Piedmont Grill, Gold Cup Wine Bar and the Cooking Studio, which hosts cooking classes. A two-acre culinary garden provides herbs and ingredients for the menu items and serves as a destination dining venue. Dining also caters meetings, weddings and other gatherings in the resort's 12,000 square feet of indoor and outdoor meeting and event space. A main kitchen supports restaurants, banquets and room service.
"This resort and spa derives from the vision of Sheila Johnson," says Hayato Nogaki, corporate director of food and beverage. Inside, guest rooms feature seasonal themes on a floor-by-floor basis. For example, the top-floor rooms feature a fall theme and offer the best view of the foliage. Johnson took many of the horse scene photos and landscapes that decorate the walls. The 17 suites are named after Johnson's favorite horses, and the owner's suite contains items from her personal art and furniture collection.
Salamander Resort & Spa's design resembles a Virginia mansion. The building's height is only four stories maximum, so the building fits in with a residential ambiance and doesn't obstruct views or feel like a big city corporate structure. Photograph by Justin Kriel"For dining and all of the foodservices here, we wanted to keep the true authentic nature of the Piedmont area, make sure we showcased what is beautiful about this environment and highlight the equine world in this area," Nogaki says. "We have enormous opportunity to showcase local ingredients. We use produce from the owner's nearby farm and from our own culinary garden. And Virginia has become a strong presence in the wine world, so we wanted to showcase the many wineries in our community and use the resort as a platform from which to introduce Virginia wines to travelers who come here." In addition, resort staff encourage guests to tour private vineyards and bring along picnic baskets filled with the resort's farm-to-table cuisine.
In order to keep the Piedmont area culture at the forefront of the guests' culinary experience and infuse dining services with continual inspiration, Nogaki and the resort owners hired Chris Edwards as chef de cuisine. Edwards lives in the area and has developed relationships with other culinarians and farmers. "My biggest challenge is to develop menus to please the wide variety of international and local clientele we have," Edwards says. "We've been open to menu evolution and have added items such as sushi to please some of the customers. Menus are locally sourced, and we want to introduce people to the Piedmont culture, so we develop unique menu items that appeal to luxury travelers from around the world and guests who want to have fun."
Nestled near the Blue Ridge Mountains, Salamander Resort & Spa spans 340 acres. Photograph by Jim Hanna"The resort's goal is to offer an experience unlike any other in the United States," says the project's foodservice designer and consultant Pamela A. Eaton, FCSI, LEED AP BD+C, senior associate, Cini-Little International Inc. "Providing unique culinary opportunities was an integral part of the plan."
The resort and spa's design and development started in 2005 with a planned opening in 2010. Due to the economic downturn, construction was halted for 20 months. "Most of the foodservice equipment had been purchased and was being received, so storage had to be arranged," Eaton says.
When the project restarted in 2011, the concept for the main restaurant was reviewed and revised from a traditional American-style restaurant to a steak house. "The equipment lineup was changed slightly, but with the hoods installed, all equipment changes had to be fully coordinated and in line with what the hood and fan systems could accommodate," Eaton says.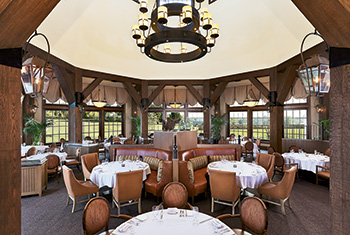 Guests sitting in any of the seats in Harrimans' dining room can see the resort grounds. The octagonal-shaped layout contributes to efficient and unobtrusive service. Stable-like ironwork sits atop the banquettes. The 220-degree view on the property includes the 10,000-square-foot Grand Lawn and the stable. Photograph by Justin Kriel Each dining operation contains unique features. For example, the restaurant is octagonal in design. "This is a popular shape in the equestrian world and also a shape found in numerous places on the property," Nogaki says. "We wanted to pay homage to the area and its history, so Harrimans is named for the family who once owned the estate, Ambassadors Averell and Pamela Harriman, and Gold Cup Wine Bar is named for the famous horse race in the area."
"The design of Harrimans restaurant is intended to evoke the equestrian theme of the resort through the use of exposed rough-sawn timber, black iron connection detailing and custom lighting that is reminiscent of vintage candle lanterns," says Clint Brackman, AIA, LEED AP, NCARB, principal of Architecture Inc. "The layout of the space is circular in nature, promoting excellent views of the resort grounds from virtually any seat in the dining room, while also yielding a beneficial layout for efficient and unobtrusive service. The private dining room is similarly appointed and includes a showcase displaying some equestrian artifacts and accomplishments of the resort's matriarch."
In the Gold Cup Wine Bar, which features small plates and local and global wine varieties, area winemakers frequently offer tastings. The brick floor is strategically chipped to resemble an old floor. The bar contains metal plates engraved with the partner wineries' logos.
Main Kitchen Production
Designed to look like a winery tasting room, the Gold Cup Wine Bar features small plates and local and global wine varieties. Area winemakers frequently offer tastings at the resort. The brick floor is strategically chipped to resemble an old floor. The bar contains metal plates engraved with the partner wineries' logos. Photograph by Justin KrielThe compact 3,500-square-foot kitchen serves multiple outlets and functions. All three major components of the resort foodservice — restaurant, banquet and room service — come from this kitchen. This kitchen also provides support for the bar and multiple spa and pool outlets. Multiple cooking lines handle different requirements for the major components. "A well-integrated exhaust system handles a large amount of cooking equipment in a very tight space," Eaton says.
"We are not a huge hotel, so we wanted to keep the culinary area centralized as much as possible," Edwards says. "We've had to be creative with strategic menu planning and design to make it work and supply food to the restaurants, wine bar, event spaces, spa and pools."
Deliveries arrive at the loading dock on the lower level. Staff check in food and place it in nearby walk-in coolers, a freezer and dry storage areas. "We use a requisition process and computer program to place orders, which the purchasing team working on the lower level receives," Edwards says. A team member brings the food upstairs in an elevator that opens up to the main kitchen and distributes the food to this level's point-of-use storage areas, including a walk-in cooler. Staff can also walk up and down stairs to deliver food to the proper locations.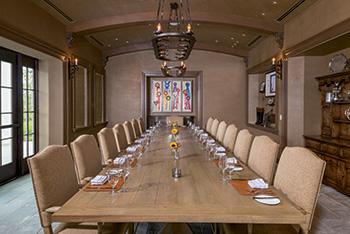 Upperville Private Dining is a favorite event space. Photograph courtesy of Justin Kriel"For banquets, team members place requisitions, food goes upstairs and directly into production," Edwards says. "Once the food is prepared, it is stored on speed racks, which are taken downstairs and stored in the walk-in cooler until needed for the events."
"The kitchen needed to have as versatile an equipment lineup as possible," Eaton says. "With food venue options ranging from the high-end restaurant, to lighter bar menu, to cheese selections, as well as light spa menu items and family pool selections, the menu needs were almost endless." Menu options range from grilled sirloin to cheese platters to cold salmon salad to hot dogs and pizza. The suite lineup gives the chefs a wide variety of cooking equipment in close reach of each other and near prep spaces.
A garde manger area includes worktop spaces, a food processor and ample, easy-to-access refrigeration for the preparation and assembly of an array of cold dishes. A toaster and rapid-speed microwave convection oven allow for quick preparation of hot items. "Using this equipment takes the pressure off the hot-line cook," Edwards says. The area also contains cold and hot holding areas to ensure the food holds proper temperature until the waitstaff delivers it to the guests. Staff also prepare both hot and cold desserts in this area.
The 5,000-square-foot Middleburg Ballroom hosts meetings, events and weddings. Photograph byJustin KrielThe kitchen's hot production area consists of four spaces that can function independently or together. "There's a lot of crossover of cooking for various dining areas," Edwards says.
The main cooking line includes a suite-style layout with sight lines across the cooking battery. The suite offers similar equipment on both sides so multiple cooks have access to the items they need. "Everything is within an arm's reach, which is a huge advantage for productivity and efficiency," Edwards says. "There is a lot of cross-utilization, and we're all helping each other. No one is isolated, and everyone sees the production big picture."
The equipment package includes duplicate griddles, ranges and fryers and a single charbroiler. Staff use the griddles for making pancakes, French toast and searing fish; the ranges for sauces and sautéing, and fryers for crispy sesame cauliflower at Harrimans and risotto fritters at Gold Cup. "We also use the fryers for puffing up rice like Rice Krispies that we dehydrate in convection ovens at very low temperatures," says Edwards.
The cooking suites allow staff to prepare menu items for all types of functions when necessary. Photograph by Matt OwenThe expediter station/waitstaff pickup is adjacent to and wraps around the suite.
On the adjacent battery, the banquet line includes large production equipment such as a combi oven, 40-gallon kettle, ranges and convection ovens for roasting meats and bones. "We also use the convection ovens to dehydrate rice and also tomatoes that are added to spice blends," Edwards says.
One of Edwards' favorite pieces of equipment is the tilt skillet, which he and the culinary team use to braise meats and cook large batches of sauces. "It's simple to use and efficient, and for that reason most hotels have at least one," Edwards says.
The broiler does double duty for Harrimans and for banquet items. "A traditional steak broiler was not accommodated closer to the restaurant line with the restart because of the hood configuration and capabilities," Eaton says.
Double-stacked shelving allows staff to be efficient and organized. Pendant heating lamps on cords give maximum flexibility to warm foods as necessary. Photograph by Pamela EatonThe cooking suite also has its own line, also available to the restaurant or banquets during peak meal periods. It includes a griddle and a range on the back line and four induction burners on the front line as well as easy access to an additional range to the left.
Edwards prefers using a sous vide process with thermo-circulators and vacuum-packaged bags for chicken and lamb racks and chops. "Using sous vide for some items is so much faster, cleaner and convenient," he says.
Also in the kitchen, staff work at a production line dedicated for room service and Gold Cup. A section with a range, grill, griddle and fryer acts as an endcap for the restaurant suite, allowing staff to use them during peak restaurant times when needed and available.
Staff assemble plates on either side of the cooking suite and place the ready-to-eat products on plates or on trays for room service delivery. One expediter works room service and Gold Cup, and another stands on the opposite side of the suite at the pass and oversees the orders. A mobile table is available adjacent to the expediters for use in plating, holding or any assembly function required. "These full sight lines are crucial to our production," Edwards says. "Communication is as much about eye contact as verbal exchange." At the entry to the kitchen, waitstaff use the service station to place restaurant orders and pick up bread selections, table accoutrements and soft beverages. A service bar with alcoholic beverages sits opposite the wait station.
A chef prepares plates for a banquet in the back corridor off the kitchen with direct access to the banquet rooms. The corridor also houses the beverage production station with coffee and tea brewers. Photograph by Pamela EatonAfter preparing meals for banquets, staff move the food items down to the plating tables for assembly and loading into carts or onto trays for delivery to the different meeting and event rooms. Additional space and utilities for plating and hot and cold holding sit within a back corridor off the kitchen. This corridor provides direct access to the banquet rooms and also houses the beverage production station with coffee and tea brewers.
In the office, tucked out of the way behind the elevators on the lower level, staff take room service orders. Assembly begins when staff place beverages on the trays near the office. They next move trays up in carts to the kitchen area where staff add cold and hot items just prior to placing trays on room service carts into the elevator for delivery to guest rooms. The room service menu features everything from starters and appetizers such as house-made salumi, a cheese board and whiskey-brined chicken wings, entrées such as molasses jerk quail, filet mignon, herb-marinated chicken and grilled salmon as well as sandwiches, sides and desserts. Doggie dining items include local lamb and organic chicken.
When servicing the spa and multiple pools, staff deliver prepared food on carts via the back-of-the-house tunnel. "We've developed a healthy menu emphasizing wellness, which is emphasized as part of the spa culture," Edwards says. The family pool also has a larger pantry that allows staff to cook some food items on location.
The Pastry Kitchen includes mixers, combi ovens and deck ovens for making baked goods and pastries for the entire resort and spa. Photograph by Pamela EatonOn the level below the main kitchen, staff work in a separate auxiliary area to produce baked goods and pastries for the entire resort and spa. Pastry staff, under the direction of pastry chef Jason Reaves, use a full array of equipment, including combi ovens to bake breads and pastries, as well as refrigeration and dry storage. "Jason is well known locally for his wedding cakes," Edwards says. This area also serves as a holding area for a large selection of cheeses offered at the restaurant and wine bar.
Also on the lower level, a dedicated and cooled 250-square-foot wine cellar holds hundreds of bottles containing some of the best available wines, including many from Virginia.
The Cooking Studio, Culinary Garden and Dishroom
The culinary staff also provide entertainment and a series of cooking classes to guests in the cooking studio. When guests assemble in the studio, a panel rises vertically to expose a dedicated cookline in the kitchen with its two induction burners, flattop grill and four burners, which chefs use to demonstrate cooking techniques. "Chefs face those assembled and provide instruction on the lesson of the day," Eaton says. All lessons are broadcast using the studio's camera and widescreen televisions. For quieter classes, the partition can be closed and the studio used for wine tastings, food pairing discussions and other topics.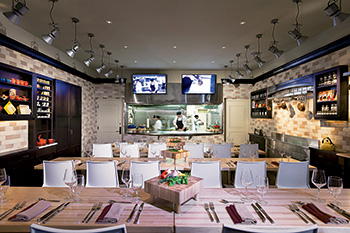 The resort's Cooking Studio offers an interactive experience for participants and looks into a working kitchen. Another preferred spot for dining entertainment and education is the culinary garden. "Because we built this from scratch, chefs visit the garden daily to select what they want for dishes," Nogaki says. "It is also a place where guests walk, have coffee and dinners." Another popular feature is the external rotisserie grill decorated with sea shells where chefs prepare food for special events.
"Throughout the kitchen, with such a large array of outlets being served out of the single, compact space, cross traffic was a major planning topic and concern," Eaton says. "Flow from the different cooking lines to their final points of service generally fell into place based on door locations and service locations. The big planning issue was how to locate the dishroom so that waitstaff traffic to and from three major access points plus the elevators would neither cross paths too often nor impede on the preparation and delivery of the food."
The dishroom placement allows dirty ware to come from the bar, spa and pool pantries, room service and banquets but keeps it out of the main restaurant travel paths and prep area. "The pot and pan wash area is located remotely from the main dishwashing area and adjacent to the cooking lines to allow easier, more direct access to drop-off spots for the chefs," Eaton says. Mobile tables and mobile banquet equipment can be relocated during non-banquet times to allow very direct access from the cooking lines and prep areas.
Sustainable Features
The resort's two-acre culinary garden provides a natural setting for private dining events. Chefs cater to hotel guests as well as local residents. Photographs by Justin KrielSalamander Resort & Spa formed a partnership in 2015 with local beekeeper Britt Thomas, owner of Britt's Bees, to develop the Salamander Honeybee program. Salamander produces its own honey from 50,000 bees in each of 20 hives. "Our goal is to have 20 or more colonies located around the property over the next few years," Edwards says. "We are proud to make a positive impact in favor of honeybees and to continue to produce seasonal ingredients." The honeybees benefit the resort's culinary garden where staff grow many of the vegetables and herbs featured on the restaurant menus. The Honey Dinner Series allows guests to taste a multicourse dinner with drink pairings focused on honey in addition to demonstrations by the culinary team.
In order to achieve LEED certification, Salamander Resort & Spa took on several sustainable initiatives, including placing nearly 200 of the property's 340 acres into a conservation easement, planting 2,000 trees and constructing cutting-edge water and wastewater facilities for the town of Middleburg. The resort also runs a green housekeeping program and features an innovative on-site culinary garden, which provides fresh herbs, fruits and vegetables for the property's menus.
Since its inception, Salamander Resort & Spa has been a destination location for guests to get away and experience the Northern Virginia culture. Dining is very much a part of the experience that brings together local and international ingredients and wines.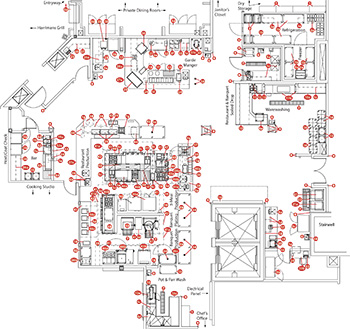 Equipment Key
1. Storage shelving
1a. High-density shelving system
1b. Mobile shelving
1c. Wall shelf
1d. Wall-mounted shelf
1e. Pass-thru shelf
1f. Overshelf
1g. Double overshelf
1h. Shelf w/tray dryers
2. Roll-in rack
2a. Dunnage racks
3. Walk-in cooler complex
3a. Evaporator coil
3b. Reach-in refrigerator
3c. Reach-in refrigerator/freezer
3d. Wine refrigerator
3e. Refrigerated base
3f. Ice cream freezer
3g. Salad top refrigerator
4. Meat chopper
5. Mobile utility table
5a. Worktable
5b. Mobile worktable
5c. S/s worktop
5d. Worktable
6. Handsink w/soap, towels, trash
6a. Mobile serviceware soak sink
6b. Soap and towel dispensers
6c. Three-compartment sink
6d. Handsink unit, workboard
7. Floor trough and grate
7a. Drainboard, bar-type
8. Food slicer
9. Corner guard
10. Soiled dishtable
10a. Clean dishtable
10b. Table and chair
10c. Clean dishtable
11. Prerinse unit
12. Disposer
12a. Disposal system
13. Dishwasher vent duct, entrance
13a. Dishwasher vent duct, exit
13b. Dishwasher, conveyor-type
14. Dish cart
15. Rack dolly
16. Control panel
17. Toaster, pop-up
18. Water filter
19. Waste container
19a. Waste cabinet, wet and dry
20. Coffee brewer
21. Ice maker, cube-style
21a. Ice maker, flake-style
22. Ice bin, divided
23. Computer
24. Printer
25. POS system
26. Cabinet
26a. Wall cabinet
26b. Ice cream cabinet
26c. Heated cabinet
27. Counter
27a. Chef counter w/sink
28. Bread warmer/drawer
28a. Food warmer
29. Frost top
30. Fast-cooking oven w/microwave technology
31. Food processor
32. Ice cream/sorbet maker
33. Cutting board
34. Drop cord
35. Dipperwell
36. Hot food well
37. Mixer
37a. Mixer stand
38. Heat lamp
39. S/s partition
40. Iced garnish pan
40a. Refrigerated garnish pan
41. Exhaust hood
41a. Exhaust hood supply air plenum
41b. Exhaust hood filler strip
42. Fire extinguishing system
43. Pass-thru cheesemelter
43a. Overhead broiler
43b. Double-deck broiler
44. Microwave oven
44a. Stacked convection ovens
45. Braising pan
46. Split-top range w/convection oven
46a. Split-top range
46b. Two-burner range
46c. Induction countertop range
47. Fryer
48. Griddle
48a. Griddle w/convection oven
48b. Combi oven
49. Charbroiler
50. Double steamer
51. 40-gal. kettle
52. Blender
52a. Blender station
53. Security gate
54. Liquor display
55. Ice/cocktail station
FACTS of Note
Opened: August 2013
Scope of Project: This luxurious resort hotel and spa, set on 340 acres in the historic village of Middleburg, includes: 168 luxurious rooms and 17 suites; a full-service equestrian center; 2 family pools; tennis courts; a Jack Nicklaus Signature golf course at the nearby Creighton Farms Estates; Tree Top Zip Tour; 23,000-sq.-ft. spa; indoor conference and event space; Harrimans Virginia Piedmont Grill; Gold Cup Wine Bar with an adjacent billiards room and library; cooking studio with cooking classes; a culinary garden; a main kitchen supporting restaurants, banquets and room service; a market; and foodservice at the pools and spa.
Size of Foodservice Areas: Harrimans Virginia Piedmont Grill, 2,600 sq. ft.; Gold Cup Wine Bar, 4,000 sq. ft. for bar serving the wine room and library; Cooking Studio, 500 sq. ft.; main kitchen, 3,500 sq. ft.; support kitchen and pastry area, 700 sq. ft.; 1,075 sq. ft. for remote storage, banquet support area, pool pantry, spa pantry and employee foodservice area; grand ballroom, 5,000 sq. ft.; junior ballroom, 1,800 sq. ft.; hospitality suite/meeting room, 1,000 sq. ft.; 12,000 sq. ft. of outdoor function space including the Stallion Barn, Pavilion at the Pond, Grand Lawn, poolside settings and herb garden
Seats: Harrimans, 110 and 32-seat outdoor dining terrace; Gold Cup Wine Bar, 84, including seats in the bar and billiards room; cooking studio, 24
Average Check: Harrimans, $42; Gold Cup Wine Bar, $22
Harrimans Hours: Breakfast, 6:30 a.m. to 11 a.m., Monday through Saturday; Sunday brunch, 8 a.m. to 1 p.m.; dinner, 5 p.m. to 10 p.m., Wednesday through Sunday
Gold Cup Wine Bar Hours: 11 a.m. to 12 a.m. daily
In-Room Dining Hours: 24 hours daily
Menu Specialties: Harrimans, steak and seafood and hay-smoked sweet potatoes; Gold Cup Wine Bar, Chesapeake crab cakes, sandwiches, salads and casual fare
Staff: Harrimans, 24; Gold Cup Wine Bar, 33
Total Project Cost: $30 million
Website: www.salamanderresort.com
KEY PLAYERS
Ownership: Salamander Hotels & Resorts
Owner, Founder & CEO, Salamander Hotels & Resorts: Sheila C. Johnson
President: Prem Devadas
Vice President of Operations: Vijay Singh
Corporate Director of Food & Beverage: Hayato Nogaki
Resort General Manager: Reggie Cooper
Chef de Cuisine: Chris Edwards
Gold Cup Wine Bar Chef: JJ Kern
Pastry Chef: Jason Reaves
Architect of Record: Architecture Inc., Reston, Va.; Clint Brackman, AIA, LEED AP, NCARB, principal
Design Architect: WATG, Irvine, Calif.
Interior Design: Kent Interior Design, Atlanta, Karen Kent and Thomas Pheasant Inc., Washington, D.C.
Project Management: MGAC, Washington, D.C.
Foodservice Design and Consultants: Cini-Little International Inc., Germantown, Md.; Pamela A. Eaton, FCSI, LEED AP BD+C, and William Eaton, FFCSI
Equipment Dealer: TriMark Gill, Crofton, Md.
Construction: Turner Construction Company, Washington, D.C.; Steve Davis, LEED AP
facility design
project of the month
Meet The Players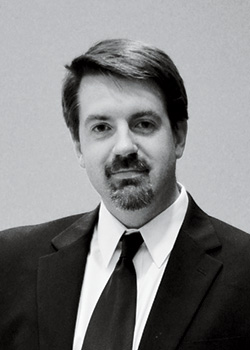 Clint Brackman, AIA, LEED AP, NCARB, principal at Architecture Inc., gives attention to detail, careful consideration of the project's objectives and design that exceeds expectations. He provides clients with extensive experience in the development of unique design.
Reggie Cooper, general manager at Salamander Resort & Spa, came to this property after spending a decade managing Canyon Ranch in Lenox, Mass., and nine years at Topnotch Resort and Spa in Stowe, Vt. He volunteers at organizations in communities where he lives.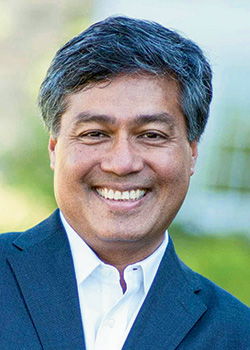 Prem Devadas, president of Salamander Hotels & Resorts, has been with the company for over a decade. He was the driving force behind the design and development of Salamander Resort & Spa. Previously, he managed the lodging portfolio for CCA Industries, whose holdings include The Jefferson Hotel in Richmond, Va., The Hermitage Hotel in Nashville, Tenn., and Kiawah Island Golf Resort near Charleston, S.C.
Pamela Eaton, FCSI, LEED AP BD+C, senior associate, joined Cini-Little International in 1996, bringing with her 10 years of experience in hospitality and foodservice management. With combined operational and consulting experience, she recognizes the diverse needs of a hospitality facility as well as the role commercial foodservice facilities play in environmental impact.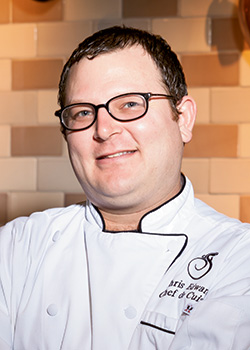 Chris Edwards, chef de cuisine at Salamander Resort & Spa, oversees 10 menus including those of the restaurants, spa, pools and banquets. Prior to joining this property, he trained in the U.S. and Spain, worked with Italian chefs in the U.S. and ran the kitchen at The Restaurant at Patowmack Farm in Lovettsville, Va.
Sheila Johnson is the owner, founder and CEO of Salamander Hotels & Resorts. She envisioned Salamander Resort & Spa. Her photographs, antiques and other art are seen throughout the property.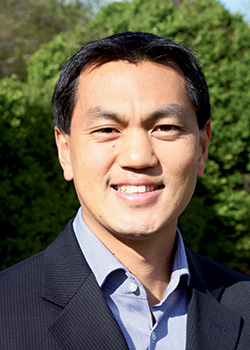 Hayato Nogaki, corporate director of food and beverage for Salamander Hotels & Resorts, oversees a growing collection of restaurants, bars and food and beverage outlets. He has served as food and beverage director at The Sanctuary at Kiawah Island in South Carolina and Carmel Valley Ranch Resort in California, and has worked for the Ritz-Carlton, Kapalua in Hawaii and was resort manager at Innisbrook, Salamander's Tampa Bay-area golf resort.
Jason Reaves, pastry chef at Salamander Resort & Spa, has won two Food Network Challenges. He is renowned for his cakes and pastry creations and often teaches classes in the Cooking Studio. A native of Middleburg, he was worked for the Salamander organization for more than a decade.