Page 1 of 4
Self-sustaining, mini-restaurant platforms, a community market and a support kitchen transform this college's dining landscape with stunning designs and a creative approach to culinary experiences.
The entrance to the building sits on the south side. The new awning and patio are part of the extensive landscape project. Photo by Hewitt/Garrison Architectural PhotographySince it opened in September 2014, 64 Degrees has brought a new residential dining experience to the University of California, San Diego (UCSD). Located in UCSD's Revelle College, 64 Degrees came to fruition as part of a complete renovation of the Revelle Dining Commons' Plaza Café, which was built in 1966 and served for many years as the only campus dining option. "The restaurant's name, 64 Degrees, draws on the long history of Revelle College and its namesake Roger Revelle, a reference to the average temperature in La Jolla, the founding year of Revelle College and the height of Roger Revelle," says Steven D. Casad, UCSD's associate director of Dining, Retail and Catering Services, a division of Housing Dining Hospitality (HDH).
The project includes 64 Degrees' mini-restaurant platforms, dining areas and a kitchen that supports residential dining and two food trucks: Incredi-Bowls and the newly added Flavors of the World. The project also includes Roger's Market, a venue offering espresso and coffee beverages as well as a full market selection of groceries, fresh pastries and desserts, in addition to the dining's commissary-produced yogurts, sandwiches, sushi and salads.
"The UC San Diego's department of HDH set goals to provide a dining experience that was interactive and put the act of cooking and the natural beauty of food on display," says Maxine Ward, LEED AP, project architect at Studio E Architects. "The team recognized that to signify to the student population that a complete transformation of the facility had occurred, a design with a major wow factor was needed. A cool vibe gives students a place to dine, socialize and/or study. In collaboration with Webb Foodservice Design, we took an extremely dated cafeteria-style facility and transformed it into a vibrant hub for dining, congregating and socializing like no other on this campus or any other."
The east building's bold, oversized exterior signage features a 56-foot-wide, 22-foot-high illuminated graphic of a surfer catching a wave. Photography by Hewitt/ Garrison Architectural In order to complete the extensive renovation, which moved from the traditional cafeteria style to the action platforms that allow for more flexibility and variety, the freestanding building was closed during its transformation. "With the exception of abatement, this project was completed within a six-month construction window, which required tremendous contractor, architect and owner coordination," Casad says. "We also opened a temporary market in a conference room in a different Revelle College building and used the Incredi-Bowls food truck to offer breakfast, lunch and dinner."
Despite the ambitious nature of the project, the team turned the building over right on schedule for fall move-in, leaving the operators nine days to start up and prepare for full operation.
A Daunting Challenge
Creating a seamless transition between the newly renovated exterior courtyards and interior spaces as well as converting disparate spaces into one dining experience provided architects, interior designers, foodservice consultants and engineers with significant challenges.
"The design team sought to put people where they most desire to be, near natural light and near the action," Ward says. "The former dining room, known as the 'big box,' had light and volume with its 20-foot-tall ceiling, but always felt empty. The solution was to fill the large volume with activity and with appropriately scaled design elements that inspired the wow factor and both filled and organized the space."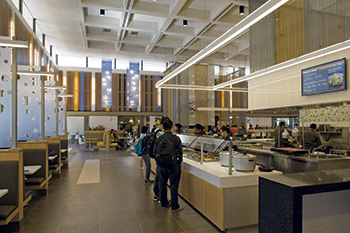 Take a Wok features hoods encapsulated in the soffit. The mesh screens above the menu board hide the stainless steel ducts that lead to the roof. Light tubes are supported from the ceiling. Photography by Hewitt/ Garrison Architectural PhotographyTo create a flow and sense of openness between the former big box area and the lower portions of the building, dividing walls were removed, and skylights were inserted to bring in natural light. "The lower space has its own version of wow with a ceiling plane that accents unique floating light fixtures and a focal point in the demonstration kitchen, where chefs can display their skills and interact with the guests," Ward says.
"Design elements were arranged in combination with seating elements and furniture to create intimate neighborhoods within the larger space, where students would feel comfortable both eating and hanging out to socialize and study," says Linda Midden, design director for Webb's Interior Design Studio.
A variety of seating styles include large, reclaimed-wood community tables, booths for six, banquette seating and counter seating at various locations such as at the north and south windows where individuals can dine with others or alone while enjoying the renovated courtyards. Customers can also eat at food platforms and watch the cooking experience up close. "We don't have any typical four-top table seating so we can give diners a different type of experience than they find at other restaurants," Casad says. For small group meetings or studying, two media rooms with AV screens provide a more intimate setting.
Addressing the desire of Casad and his team to put the theater of cooking front and center, the design team positioned a large food station containing a deli, salad bar and wok station as a focal point within the former "big box" area. Designers also relocated the main entry into this space, creating a memorable first impression for customers.
Mesh curtain draperies define the lounge areas around the fireplace and create dividers between booths and banquette seating throughout the spaces to form dining neighborhoods and more intimate dining spaces. The big box sits at left. Photography by Hewitt/ Garrison Architectural Photography"Our program is à la carte in nature — we have a declining-balance payment system — so our goals were to provide separate platform dining experiences at 64 Degrees in order to offer our customers tremendous choices and variety all under a single roof," Casad says. "We harnessed the latest trends in à la minute, small-batch cooking and display cooking. Platforms all have adequate storage and equipment to be self-sustaining. We even went a step further to build our very own demonstration kitchen equipped with state-of-the-art audiovisual equipment to show off our skilled culinarians, including our five ACF-certified chefs."
Back- and Front-of-House Food Preparation
On the west side of the building on the main level, dual receiving doors permit staff to easily take in large, palletized orders through the four-foot-wide storeroom doors to keep deliveries out of the hallways. Dry storage for 64 Degrees and market overflow storage sit immediately inside of the receiving doors. In addition, an alcove immediately inside the receiving doors assists with check-in, thus not inhibiting the flow of the kitchen or access to storage areas.
After food arrives, staff place it in two walk-in coolers, a walk-in freezer or dry storage on the main level. "Most refrigeration is on the glycol system, and the challenge was to configure the refrigeration system so the glycol can circulate from the basement to platform areas," says Michael Dyekman, MBA, CFSP, FCSI, senior project manager at Webb Foodservice Design. "In order to move the glycol to the big box, the system runs from the basement to the ceiling, up to the roof and across to the big box area."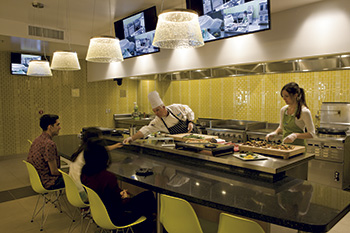 Chef Vaughn Vargus (left) and registered dietitian Elizabeth Shaw demonstrate cooking techniques at Demonstration Station.Adding to the refrigeration challenge was finding equipment that contains glycol evaporators. "Not all manufacturers' products are made with the size and type of evaporators required for the display cases and walk-in and roll-in refrigerators," Dyekman continues.
"Cold storage is accessible without inhibiting the work of the kitchen but is close enough that cold and hot production staff can readily access product," Casad says.
In the production areas, staff produce bulk sauces, soups, house-made ketchup and par-cooked proteins to support all stations. For this production, they use a 60-quart floor mixer, 40-gallon tilting kettle, 40-gallon tilting skillet, convection steamer, a pair of double convection ovens, a 5-foot griddle and a 6-open-burner range.
The absence of a combi oven anywhere in this operation is notable. "I love combis, and we use them in other operations," says UCSD's dining services' executive chef Vaughn Vargus, CEC, CCA, ACE. "At 64 Degrees the more fundamental double-stacked convection ovens and steamers are a better investment. We want the cooking emphasis to be at the platforms and focus on the individuals cooking, which is the heart and soul of what we're proud of here." In the near future, the operation will move into full bakery production.
Roger's Market offers coffee drinks and grocery items. Photography by Hewitt/ Garrison Architectural PhotographyStaff in the production space also produce food for a pair of food trucks: Incredi-Bowls and Flavors of the World, which began service in January 2015. Incredi-Bowls provided food to students while 64 Degrees was under construction. Today, the two trucks travel across campus to serve other residential campus communities. Food trucks will also provide food for customers who reserve it for special functions. For example, trucks will help the athletic department supply food for baseball games and would be used in emergencies or natural disasters as well.
"The design of Flavors of the World is similar to Incredi-Bowls, but we tweaked it a bit," Casad says. "We lowered the service windows so it's easier for customers to receive products. Employees must bend over a little more, however. The relationship of freezers and to cooking equipment is slightly different."
"We upgraded the equipment a bit to be a little more kitchenesque, with a flattop grill, range with burners, hot wells, defined storage and finishing prep areas, a music system and exterior speakers," Vargus says. This truck also features a built-in canopy that rolls out to block customers from the sun and inclement weather. Other new features include a skylight roof that allows in more natural lighting; an upgraded generator and new exhaust routing that lowers the general decibel level; and a three-tank switchover system for propane on the back of the truck allowing for more than 27 hours of burn time for all foodservice equipment.
Accessible via the kitchen, the warewash area features a direct line of return from the dining room. Staff clean mats in the power-wash room, which is lined with porcelain tiles. Staff use the warewashing area exclusively to clean items used in food preparation. All plates, cups and serviceware are recyclable. "We chose to not offer china and glass as you typically have in a dining hall and chose to use recyclable ware used in a typical food court. The UCOP [office of the president] request to reduce water use was an opportunity for us to assist in this request," Casad says.
Front-of-the-House Restaurants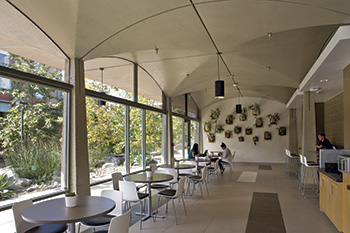 At Roger's Market seating along the south window offers natural light and a view of the courtyard. Photoghaphy by Hewitt/ Garrison Architectural PhotographyStaff transport food to the five front-of-the-house mini-restaurant platforms — The Burger Lounge, Revelle Cuisine 64, Market 64, Vertically Crafted and Take a Wok — and the Demonstration Station. Notably missing are pizza and sushi. "We're offering a different, higher-quality menu here that isn't found at other venues on campus," Vargus says. "Customers who want those foods can certainly find it elsewhere, including at Roger's Market in this building.
"Each mini-restaurant is unique, and there is very little crossover among the concepts," Vargus continues. "Each concept could be found on the street and could thrive on its own."
For 64 Degrees, the move away from the 50-year-old cafeteria process and into the action station concept required a design that physically separates the concepts from one another and allows opening and closing as needed based on weekdays, weekends, holidays and time of day. The operation realizes notable labor and inventory savings. "Transitioning cold prep from the back of the house to the front of the house allows us to better manage labor cost during slow periods because the full-time employee can multitask and prep and manage the guests' requests," Casad says. "The concept style allows us to reduce inventory dollars and stock keeping units [SKUs]. Many of our inventory items are used in all five concepts and prepared in front of guests in small batches. This helps to reduce and manage waste, increase the ease of crafting by unskilled staff and still create a quality restaurant product."
"These platforms are all well equipped with refrigeration and work counters," Vargus adds.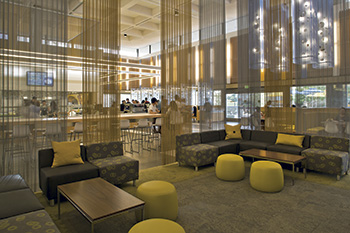 Viewed from the fireplace, looking toward Take a Wok, neighborhood seating in this area is created by mesh curtains that provide intimate dining spaces. Photography by Hewitt/ Garrison Architectural PhotographyIn the front of the house, says Midden, "each platform is designed for the natural progression of the patron and the dish being served." Customers queue by display spaces with all of the ingredient choices available for selection or as a tease in anticipation of ordering. Digital signage is also visible by queued customers and passersby. Depending on the platform customers select, they move along a line and tell a service attendant which menu items they desire, or they place an order with a service attendant who captures their orders via a POS system that transmits wireless tickets to the production line.
The Burger Lounge contains a fryer bank and island where staff make fresh fries using a wall-mounted super ergonomic fry cutter and fryers, staging a show while preparing this popular menu item. Countertop and standing gas broilers, a four-foot countertop griddle and a carving board and station support staff as they prepare build-your-own grill specials with an assortment of toppers and scratch-made add-ons. The menu offers a rotation of 100 percent beef burgers on brioche and whole-wheat buns supplied by local bakeries.
"Flavor profiles are layered with various ingredients such as marinated onions, sautéed mushrooms and seasoned shredded green leaf lettuce," Vargus says. The menu also features Oozers, which Vargus describes as "grilled cheese sandwiches on steroids." These daily features are accompanied by made-to-order fresh-cut fries, hand-crafted shakes and floats. "This was one of the first concepts we wanted to do in light of all the boutique burger restaurants popping up around the country," Vargus says. "Here, as well as at all the platforms, the placement of food, including everything from the [tilt]of the bun — 64 degrees — and the bamboo stick with our own brined pickles, is crucial because it conveys a message of thoughtfulness that goes into the presentation. The stories of what's on the menu all connect to the theme."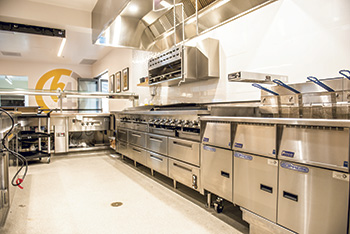 At The Burger Lounge, a fryer bank, a wall-mounted super ergonomic fry cutter, countertop and standing gas broilers, a four-foot countertop griddle and a carving board and station support production. Photos courtesy of UCSDFor service, customers place orders at a counter and receive a preprinted number held by a tabletop stand so the server can find them and deliver their orders when completed. Customers can walk to any seating area, selecting comfortable couches or communal tables and chairs next to a double-sided, roaring fireplace. Within seven minutes or less, the Burger Lounge's food runners deliver plated orders to customers. Staff at all other 64 Degrees concepts craft orders in front of customers prior to purchase. On a very efficient day, these transactions take less than one minute.
A short stroll away, Revelle Cuisine 64 features home-style comfort food. A rotisserie becomes the focal point of the cooking show as it continuously cooks from 9 a.m. to 9 p.m. The rotisserie produces flavored chickens, whole suckling pigs, salmon, pork ribs and brisket, as well as kale grain salads, brussels sprouts with bacon, coconut faro, roasted butternut squash puree, eggplant capanota, black rice and Napa cabbage. "We have enormous firepower here," Vargus says.
Customers also see staff working at a center action table butchering and fabricating meat, cutting vegetables and preparing service mise en place. "We do a lot of staging such as marinating and par-cooking in the early production phases, then finish off à la minute on the broiler in 6 to 12 portions," Vargus says. "For example, we added pork belly to the menu, which is certainly out of the ordinary at a college restaurant. The fact that customers can see the butchering, portioning and finishing of this and other menu items adds to the entertainment and intrigue."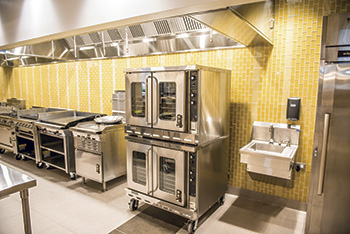 The Demonstration Station provides education and demonstration on a double convection oven, wok range, six-open-burner range, griddle and radiant gas broiler. The platform's equipment lineup also includes convection ovens with a smoker that braises and slow roasts pork belly entrées, roasted chicken, and Korean-style ribs; a six-open-burner range that heats sauces; and a countertop radiant broiler that allows production of à la minute strip loins, pork chops and seafood.
"The plate presentation is an integral part of the service," Vargus says. "Customers don't receive a plate that looks like a banquet meal from 1972. Rather, the plate contains four equal parts of a completed dish — a protein, a vegetable, a grain and garnish — and plates are composed to look stylish and show a sense of skilled finesse with every item, including the mac and cheese, charred brussels sprouts, fennel with raisins and the root vegetable garnish that adds color and dimension."
Positioned in between The Burger Lounge and Revelle Cuisine 64, the Demonstration Station features menu items Vargus, his culinary team and Elizabeth Shaw, RD, MS, create. "We demonstrate cooking techniques while utilizing healthy foods and introducing healthy habits," Vargus says. Staff teach using a full lineup of equipment, including a double convection oven, worktables, wok range, six-open-burner range, griddle and radiant gas broiler. A chef's table seats 12 and allows culinary staff to interact with guests. Audio equipment allows wide-angle captures and close-up zooms that can show knife skills and plate display details. The video projects into the dining area. "As far as we know, this is a first-of-its kind system and creates a place for students and other customers to learn and grow," Vargus adds.
Big Box Platforms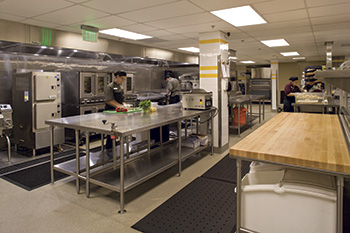 The production kitchen supports all the platforms and the food trucks. Photography by Hewitt/Garrison Architectural PhotographyIn the big box, Market 64 offers build-your-own salads featuring 17 daily toppers including artichoke hearts, olives, radishes and beets. Customers may also select one of three farm-to-table, designer signature salads including grains such as forbidden red or black rice and couscous; fruit and vegetable combinations; or full-size leaf salads with proteins prepared on the rotisserie at Revelle Cuisine 64. Staff make salad dressings in the production kitchen. One soup is prepared in the production kitchen, and the other is purchased from a vendor.
Adjacent to Market 64, Vertically Crafted presents build-your-own sandwiches piled high with thinly sliced proteins, sliced tomatoes, artisanal breads and a variety of cheese and toppers. "We want customers to feel they can get a well-crafted sandwich that is six feet tall," Vargus says. "We want to provide classics, but with an unexpected touch such as in-house-made crab mix, a tuna mix and a rotisserie chicken salad. These are garnished with house-cured pickles and sweet potato waffle fries. Staff produce the menu items with the support of a double proof-and-bake oven and a four-foot countertop griddle.
Desserts at Market 64 and Revelle Cuisine 64 feature products purchased from local bakeries and displayed in bakery display cases. Eventually, staff will ramp up for full bakery production of cobblers, cookies and compotes.
One of the most popular stations, Take a Wok, invites customers to build their own Asian dishes. "This platform allows for a variety of combinations of flavors and toppings," Vargus says. Customers select ingredients that staff sauté in the woks to make everything from dragon shrimp to crispy beef and crispy chicken, each with its house-made sauce. "The wok platform allows us to separate proteins from vegetables," Vargus says.
Take a Wok's equipment package allows staff to produce an Asian menu in full view of customers. Photos courtesy of UCSDAlso popular here is hibachi-style chicken that staff cut on a butcher-block table and broil on a radiant broiler. A fryer cooks crispy beef and orange chicken. In addition to noodles wok-fried with soy, pepper and sesame oil to give layers of flavor, customers can also order fresh steamed white and brown rice.
"When customers put together an entrée, each bowl is finished with garnishes such as a crispy wonton strip that's topped with an herb mixture of mint, basil and cilantro," Vargus says.
At Roger's Market, which existed prior to the renovation, the reoriented space better supports the residential community. Staff prepare espresso and coffee drinks using a full array of beverage equipment. "The market offers a full selection of groceries, fresh pastries, desserts and UCSD's commissary-produced, prepackaged yogurts, sandwiches, sushi and salads," says Lisa Joy, area manager for markets.
The project team members are well aware that they've raised the bar of excellence in college dining. While customers and staff become accustomed to 64 Degrees, Casad and Vargus keep looking to the future and the redevelopment of what was the old market into a sit-down bistro where faculty, staff and students can gather. They are well aware that in this competitive environment, where customers are ever more sophisticated, there's little time to rest on one's laurels before creating another exciting experience.