Page 3 of 4
Meet The Players
Steven D. Casad is UCSD's associate director of dining, retail and catering, a position he has held since 2007. He has a background in business management with a degree from San Diego State University. Prior to UC San Diego, Steve worked with Delaware North in the successful opening of Petco Park and the revitalization of Old Town San Diego. Steve oversees 19 foodservice operations with more than 20 sites across campus.
Mike Dyekman, MBA, CFSP, FCSI, is senior project manager at Webb Foodservice Design. He brings more than 30 years' experience developing and designing quality to projects in all foodservice industry segments. Projects include Alcon Laboratories in Lake Forest, Calif., Buena Park Community Center, the Four Seasons (The Lodge at Hemet), Norman P. Murray Senior Center in Mission Viejo, Calif., The Truck Company in Camp Pendleton, Calif., and the University of California, Irvine.
Linda Midden is the design director of the Interior Design Studio at Webb Foodservice Design. She has more than 25 years of diverse global experience in designing retail spaces in the U.S. and abroad. Projects include California State University's Fullerton and Chico campuses; Western Washington University; Gonzaga University in Spokane, Wash., the University of California, Santa Barbara, and William Jessup University in Rocklin, Calif. She is affiliated with the U.S. Green Building Council.
Vaughn Vargus, CEC, CCA, ACE, is executive chef of UCSD dining services. He has held positions as chef de cuisine, sous chef, executive chef and operations manager for dozens of in-house restaurants in Southern California, and has run multiple unit and catering venues. Career highlights include attending Napa Valley's CIA and representing American Cuisine in Southeast Asia as a guest chef.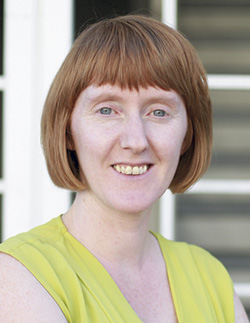 Maxine Ward, LEED AP, is an architect and associate at Studio E Architects, San Diego, Calif. Her 15 years of experience in the U.K. and California have led her into all phases of project types, including affordable housing, university campus buildings, schools and libraries. California projects include West Village Square at the University of California, Davis, Albert Einstein Academy Charter Middle School in San Diego and high-tech high schools in San Marcos and Chula Vista, Calif.
Efficient and Sustainable Features and the Future
At 64 Degrees staff implement many efficient and sustainable practices, such as:
Using back-of-the-house scraps in preconsumer composting
Providing separate waste containers for guests for post consumption recycling and compost, which is harder to do in a declining balance meal plan because staff can't control the waste
Maintaining flexibility of menu and shared recipe ingredients (For example, Take a Wok and the food trucks utilize the same proteins and bases, and deconstructed Revelle Cuisine 64 chicken leftovers become Market 64 salad proteins.)
Offering unsold Revelle Cuisine 64 entrees (prepared on the rotisserie) in packaged containers at Roger's Market or repurposing them at Market 64 for salad options and/or soup ingredients
Designing three platforms to share real estate so that staff may move to support the platform with current need and thus scheduling separate staff for rush periods is not required
Including as many energy-saving efficiencies as possible in all of 64 Degrees' mechanical equipment, control systems and lighting, including LED lighting systems
The facility is applying for LEED Gold certification.

Features and the Future
The facility is applying for LEED Gold certification.