From testing totally new concepts to rethinking training facilities and the back of the house, today's chain prototypes offer a testament to the changes reshaping the restaurant industry. Here's a closer look at some of the most recent chain prototypes in the market.
Business Model Fluctuations
The intensity around off-premises dining puts greater emphasis on chains with a hyperfocus on drive-thru, takeout and delivery. Any kind of retrofit that supports off-premises dining gains an extra look today as many chains advance that service model.
Burger King
Touchless features as well as mobile order and curbside pickup innovations are the prevailing themes in Burger King's COVID-19-friendly restaurant design, which the chain intends to build in 2021 in Miami and two international locales: Latin America and the Caribbean. Created by the Restaurant Brands International's in-house design group, the plans include a drive-in area where guests can park under solar-powered canopies, place their orders through the BK App by scanning a QR code at their parking spot and have food delivered to their cars. It will also have dedicated parking for curbside delivery, pickup lockers where food is delivered from the kitchen for pickup by customers, a double or triple drive-thru and an external walkup window for takeout. The kitchen and dining area will be suspended above the drive-thru lanes to minimize the building's footprint for urban areas.
Dunkin' Dash
Scheduled to open this fall for a 16-week period on the Miramar Marine Corp. base in San Diego, Calif., the Dunkin' Dash store will offer a frictionless shopping experience. The chain describes it as a self-serve expression of the brand. Customers will be tracked as unique guests using computer vision technology, with the items they select automatically appearing on the checkout kiosk after customers complete their orders. At press time, Dunkin' only has plans for one store but notes it will monitor its performance and use the store as a barometer for future decisions. The chain previously unveiled its NextGen restaurant design in January 2018, which focuses on faster, contactless service. One of the features of the NextGen iteration is an On-the-Go drive-thru lane that allows DD Perks members who order ahead on its mobile app to bypass the ordering lane and receive orders at a dedicated pickup window.
Taco Bell Go Mobile
Taco Bell's Go Mobile concept, set to open in the first quarter of 2021, centers on a frictionless offering where customers order ahead through the chain's mobile app. The smaller footprint will total 1,325 square feet compared to 2,500 square feet for an average Taco Bell. It will include two drive-thru lanes, one of which will support a priority pickup lane for those ordering via the app. Additional customer options will include curbside pickup and in-person ordering, which a staff member will handle via a tablet. Existing Taco Bell stores have already integrated some of the new approaches to technology.
Rethinking the Makeline & Cookline
For some chains, the new normal serves as a departure from the ubiquitous open kitchens of the past. With less of a focus on showing every back-of-the-house element, some chains now minimize the view of cookline components. Other chains continue with front-of-the-house prep strategies. While strategies differ, the desire to increase efficiencies is a shared theme.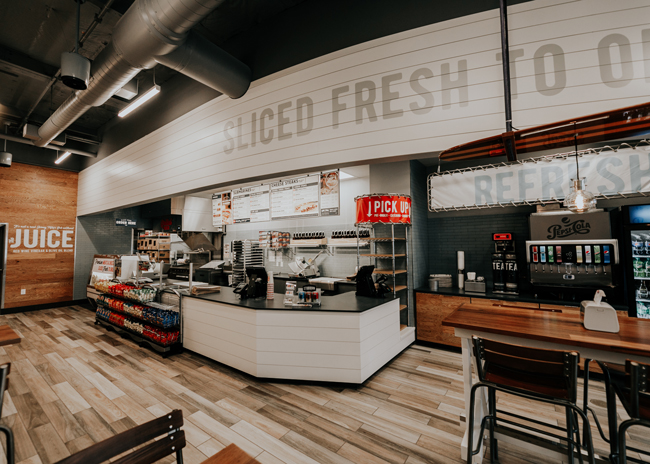 Jersey Mike's
System-wide retrofit
Jersey Mike's continues to retrofit all 1,700 of its stores. In addition to creating a refreshed, contemporary appearance with new tables, chairs, backline tile, counters, floors and wall graphics, the new design incorporates operational efficiencies, most notably adding a second makeline to handle digital and catering orders. The lines are close enough that staff can efficiently pivot from one to the other, depending on demand. Instead of preparing digital and catering orders in the back, everything now happens in the front of the house. The second makeline is a mirror of the front line but slightly consolidated. Some of the second makelines will be larger, and some will be smaller, depending on the space constraints. Jersey Mike's expects the entire retrofit to be complete systemwide by summer 2021.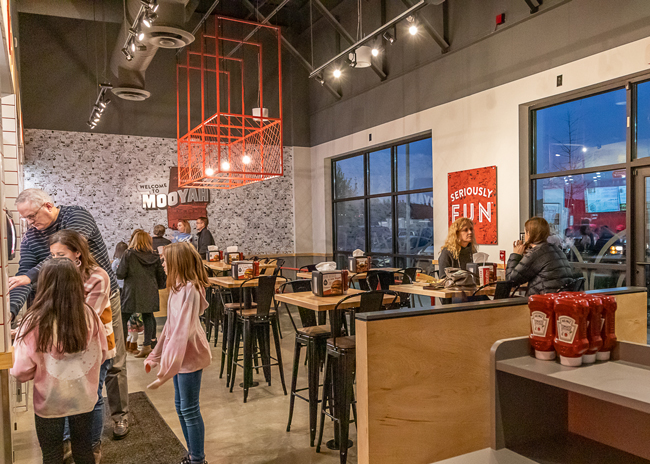 MOOYAH Burgers, Fries & Shakes
Prototype location: Hoover, Ala.
The MOOYAH Burgers, Fries & Shakes prototype has a dining room with multiple seating zones to accommodate community dining, dedicated third-party delivery and pickup shelving, digital menu boards and an overall more modern vibe. With a closed kitchen, this model is a departure from MOOYAH's original concept, which had an exposed cookline. The redesign, which includes a refreshed logo, was created in collaboration with Madrid-based design company Livit. This is the chain's first redesign in its 10-year history.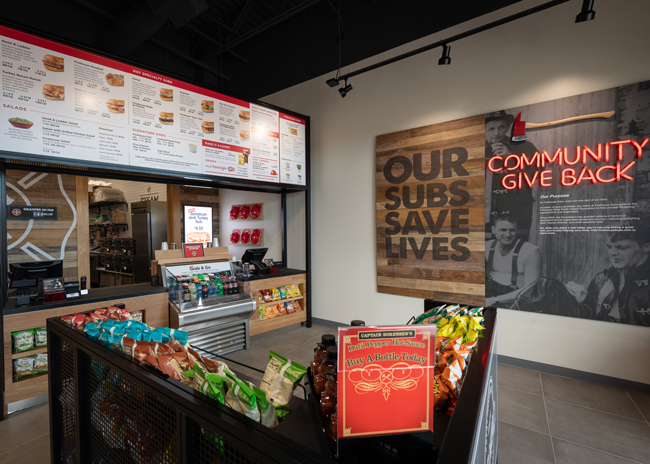 Firehouse Subs
Prototype location: Jacksonville, Fla.
The latest Firehouse Subs prototype, which the chain refers to as the Restaurant of the Future or ROTF, opened last year with 25% less back-of-the-house space and about half as many seats. With the kitchen now in the back, the design includes a repositioned ordering area and a designated space for pickup orders. A more efficient production area incorporates a sandwich steamer with a drawer taking the place of a clamshell top, which has reduced heating times. In addition to the layout, the chain updated furnishings, fixtures, finishes and graphics. This marks the chain's first fundamental redesign after 25 years in business. Its second ROTF prototype opened in Palatka, Fla., in August 2020.
Dual-Purpose Design
Prototype stores can provide the best location for chains to test new menu items, introduce potential franchisees to the concept and also train staff. The multifaceted approach means even more eyes on the new model.
Juice It Up!
Prototype location: Costa Mesa, Calif.
Juice It Up! launched a newly designed flagship site that doubles as a research and development space. This corporate location will serve as an innovation kitchen as well as a training and test site for franchisees systemwide. The new approach emphasizes transparency by enabling guests to see their orders being made. The revitalized store design incorporates the brand's new logo, signage and color palette. The chain plans to implement the prototype in all new locations. An updated menu design simplifies navigation, and the dedicated pickup counter accommodates orders from the chain's mobile app and third-party delivery partners.
A&W
Prototype location: Richmond, Ky.
A&W's first Gen19 prototype measures 2,600 square feet with 56 seats. Design features include modern seating, pop art murals and retro neon signage. Product quality–related changes include an updated grill station layout for the chain's Grill-to-Bun program designed to better melt cheese and the addition of heated platforms in the assembly station to provide a hotter burger. The revamped hot dog station replaced the bun drawer with a bun steamer for additional efficiency. The location also houses A&W University, an educational resource center for new franchisees and team members that incorporates a classroom along with hands-on experience in the adjoining restaurant.
Mini-Me Concepts
Smaller footprints continue to make the case for doing more with less. The emphasis on these sites often centers around the transaction, although certainly operators still want that overall experience to impress, even if the concept driver is off-premises consumption.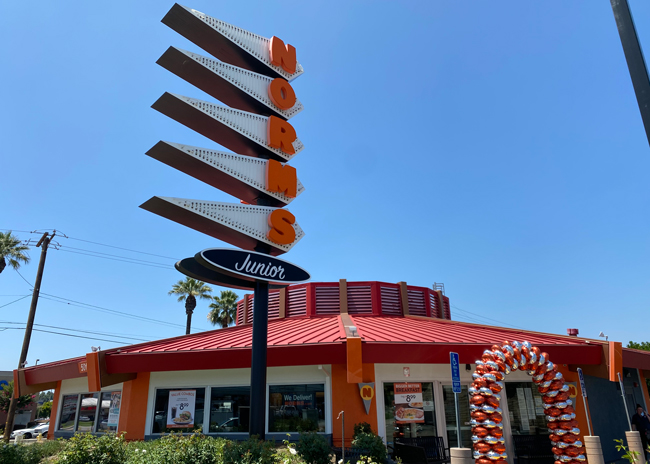 NORMS Junior
Prototype location: West Covina, Calif.
With the goal of becoming more convenient to consumers and providing quicker service times, NORMS Junior represents an alternative service version of the NORMS family diner. The new format store in West Covina, Calif., serves both on- and off-premises customers, plus catering orders. NORMS Junior allows the chain to expand into smaller footprints with facility, design and equipment adaptations. The chain plans to use handheld tablets and touchless ordering and payment systems to facilitate curbside service. Interior point-of-purchase signage guides guests through the new service protocol. New equipment, such as refrigerators and freezers, hold grab-and-go options. Touchless restroom equipment, partitions at registers and pickup areas, new placement of delivery and pickup shelving, and exterior patio barriers, partitions, flex-seating, lighting and remote service stations also were added.
Famous Dave's
Prototype location: Minneapolis
Famous Dave's first smaller-footprint prototype restaurant is 3,000 square feet, less than half the size of its 6,500- to 7,000-square-foot sites, and features a bar-centric environment, a compact dining area and community tables. Its new technological components include tabletop ordering and digital kiosks. The location can service off-premises occasions, such as delivery and
catering, with shareable finger foods, grab-and-go options, sandwiches and beverages. Famous Dave's parent holding company, BBQ Holdings Inc., hopes to open 5 to 10 of these smaller-footprint restaurants by the end of 2020 as well as add drive-thrus to existing sites.