In the eyes of a foodservice consultant, the National Restaurant Association Show represents one of the most important and fun events of the year.
Photos were taken at the 2023 National Restaurant Show. Images courtesy of Juan Pablo Lopez.Not only do we get to visit Chicago's restaurants, which are some of the bests in the country, and attend amazing events hosted by industry leaders, but we get to see all the innovation from all the different manufacturers. And sometimes we get to see those innovations even before they hit the market. This year's trip to Chicago was even more special for the Labor Guru – Profitality family as our very own Juan Martinez was honored by Foodservice Equipment & Supplies with its 2023 top Achiever-Consultant Award.
Pushing sentimentality aside and returning to the NRA Show, this exhibition is a conglomerate of manufacturers and innovators that gives us foodservice consultants the opportunity to learn where the industry is heading and an advantage in that we can advise our clients accordingly. Having the opportunity to talk to the manufacturers and question their ability to adjust, modify, and even customize in some cases based on different scenarios is extremely valuable to us and to our clients.
No doubt, 2023 has been the year for automation, and I don't mean just robots. No doubt, robotics is very cool, but any application needs to have an appropriate return on investment to make it viable for a foodservice operation. And when it comes to chains, that ROI plays a key role in determining whether a solution is scalable. For those reasons, the acceptance of robotics will likely continue at a slower pace compared to other forms of automation.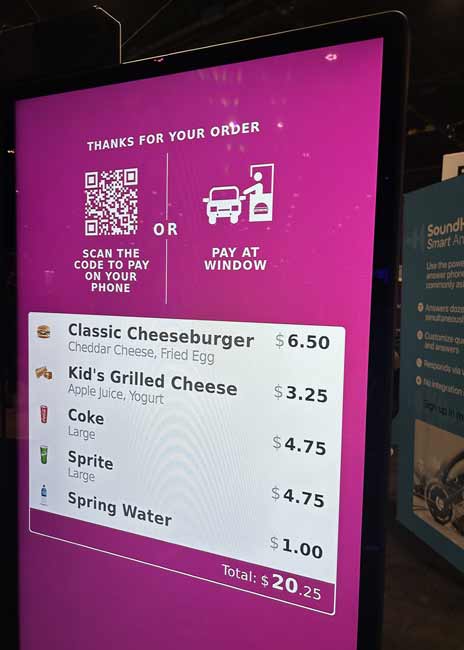 And in the case of the 2023 NRA Show, automation applications driven mostly by labor shortages were one of the strongest themes. There was an automated cocktail dispenser that can sync to an operation's point-of-sale system and dispenses the right portions into a mixer and queues it up for the bartender to mix and serve. For many, the best part of sitting in a bar buzz of activity that comes with watching the bartender build drinks. But what about the drinks for the 30-plus tables in the restaurant with no visibility to the bar? The biggest delay to get drinks to a table is usually the reaction time for the bartender to start the drink, having the drinks queued up for the bartender can significantly improve the efficiency of the bar as well as the speed of service. The math here is pretty simple: the faster the drinks get made means more drinks are sold. With that in mind, products like this one could be perfect for service bars and other high-volume applications.
Clamshell grills are great pieces of equipment and have been around for a while. The benefits of these pieces of equipment include significantly decreasing cook times, increased capacity and greater product consistency. When it comes to the impact this equipment has on labor, though, the savings become more difficult to calculate. Let's start by taking a closer look at the labor content that goes into cooking a burger patty using a traditional grill:
Load the grill (potentially a batch of four)
Flip the Patties
Unload grill
Scrape grill surface
Transfer to station
Having a clamshell may eliminate the need to flip the burger patties but staff will still need to execute all of the other steps. Further, staff will need to squeegee or scrape the top of the clamshell grill after each batch. The patties may be ready in half the time, but it takes just as much labor. At this year's show, though, I saw a clamshell grill that automates the unloading, scraping and squeegee portion of the process. Now we are talking my language: labor savings along with speed of service!
There was a device in the Kitchen Innovations Pavilion that gets hooked up to the soft serve machines and improves the quality of the product while at the same time reducing the need to take apart the machine for cleaning from daily to twice a month. That is straight labor savings and simplified operations.
As you can tell from my enthusiasm, there is nothing like experiencing some of these solutions in person.
Paper holds anything but when you find yourself ordering a "double cheeseburger, with extra cheese, no pickles, and no onions" from an artificial intelligence-operated system and it understands, enters, and thanks you for the order, you get a different perception of how powerful this technology can be. AI voice recognition has been around for many years, it's in our phones (Siri), our homes (Alexa), our cars, and now it's making its way to our restaurants. Not only is it great for labor savings, but it sets up a series of opportunities to control the experience a customer gets when visiting a restaurant. On a system that is always learning from the inputs it receives, the possibilities are endless. Can it remember what you ordered last by recognizing your face/car when you show up? I know I always order the same thing when I visit my favorite concept. That can take ordering from 1 to 1.5 minutes down to 10 seconds.
Thanks to the time spent at the NRA Show we are much better equipped with solutions and ideas to help our clients. Some may have been too far out, some need tweaks, and some are perfect for application. But the reality is that exposure to so many ideas opens our eyes and enables our creativity for solutions. Looking forward to next year!