Outdoor kitchens generally use a mobile platform and can include almost any type of foodservice equipment. Outdoor grills remain a popular equipment choice due to their versatility.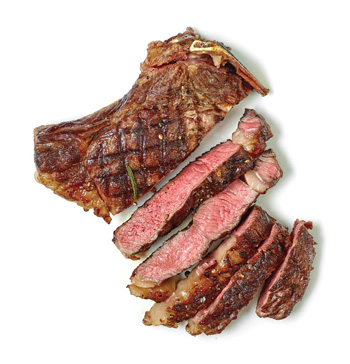 Many portable outdoor grills include removable legs for easier storage as well as sliding grates that adjust to different heights for a variety of cooking needs.
Unlike these grills, operators mainly use rotisseries indoors. In addition to roasting skewered meats and poultry, most often whole chickens, these units can prepare fish, potatoes and other vegetables as well as barbecue ribs, pork and beef brisket. There are also accessories that can convert outdoor grills to act as rotisseries.
Rotisserie equipment uses a small electric motor that rotates product on a spit as moist, hot air circulates around foods and throughout the unit's cavity. This rotation helps facilitate self-basting, while the equipment's cooking process and temperature create caramelization.
Purchasing Considerations
Outdoor grills come in built-in models that fit into countertops, portable units that have casters for easier mobility and a towable grill geared for high-volume applications.
Grills designed for outdoor use are typically constructed of 304 stainless on heavy 16-gauge metal. This not only enhances the durability but also resists rust. Units used in catering and mobile kitchen applications move often, so big wheels become paramount in transport and positioning. Locking casters are standard for added stability.
The majority of commercial outdoor grills run on natural gas or liquid propane but charcoal and/or wood types are also available. Heavy-duty models provide 15,000 BTU burners every 6 inches on the grill's surface for consistent heating. This also allows for easier heat changes, quick preheating and the ability to change menu items quickly. With pilot systems, caterers don't need to turn burners on and off constantly.
Outdoor grills come in a variety of sizes, including 30, 36, 48, 60 and 72 inches wide. Standard features include water tray slides, which sit under the grills. These not only collect grease to help prevent flareup fires but also distribute moisture in the unit.
Accessories can help outdoor grills adapt to various environmental factors. These include roll domes, griddle tops and wind guards or wings that protect the surface from blowing wind. In some models, roll domes can convert to act as a rotisserie. Side burners are another option and provide range cooking capabilities alongside the grill surface. Some natural gas outdoor grills can convert to function as charcoal grills. Smoker boxes are available as an accessory as well. Steamer trays allow grills to serve as warming units. Fish and vegetable grill tops prevent these food items from falling through the grates during cooking.
When purchasing an outdoor grill, consider the events, menu items and flexibility necessary. Identify whether natural gas or propane is preferable, and be aware that gas pressure and regulators differ. For those cooking in one location, natural gas is recommended. A special kit will be needed when switching out propane to natural gas and vice versa.
In terms of rotisseries, operators can choose from countertop, see-thru and pass-thru models. To accommodate smaller footprints, some units are stackable, while others offer wall-mounting capabilities. Commercial rotisserie models offer batch- or continuous-cooking units for operations serving high volumes of customers during specific time frames. Continuous-cooking rotisseries are suitable for operations that hold food items throughout the day.
Catering operators can choose rotisseries sized from 15 inches high by 35 inches deep by 37 inches wide for a countertop unit to 78 inches high by 37 inches deep by 42 inches wide for high-volume batch machines. Unit capacities range from 150 to 2,000 pounds, with most full-size units accommodating between 35 and 80 whole chickens.
For catering operations with varying volume requirements, rotisseries that have more than one cavity or that are stacked can better accommodate both small and large events.
Door types range from single, front-pivoting designs to double closures with either glass fronts or windows. Models with a curved glass design enhance customer viewing in front-of-house settings.
When buying a rotisserie, taking electrical power into account is important. Most electric units will run on 208 volts and 30 to 40 amps, but many can run on 240 and 480 as well. Electric models that provide a combination of convection and ceramic radiant heat are available. Some rotisseries include standard rear fireplace burners with ceramic logs to simulate an open hearth. Heat emanates from infrared sources or the circulation of warmed air.
Gas rotisseries tend to be larger and have longer spits than electric units. Although these types will have a larger capacity, operators need to consider these units are heavier to load and may be more difficult to clean. Gas models that use a combination of wood in conjunction with infrared gas burners/generators are offered. The design of some units allows them to generate heat from above, while others heat from below.
A number of rotisserie accessories and options are available, including heavy-duty spits and baskets to hold fish or vegetables. Ovens with horizontal spits allow the comingling of various menu items. Rotisseries also may include warming cabinets to hold finished products. Some doors are designed to stay cool for added safety.
Other available options include touch-screen operation, automatic cleaning programs, USB capabilities for HACCP data collection, adjustable legs, electric timers, mirrored door glass, and coated angled or piercing spits.
Those purchasing a rotisserie can choose from a number of energy-efficient features. Units with multiple burners offer the ability to utilize only those the cooking application or volume requires, cutting down on gas use. Batch units with forced air burners create a higher velocity of oxygen and gas.
Newer spit designs include gas heat that cooks food from the inside out. This not only helps kill bacteria but can also increase yield and shorten cooking times. On some units, a self-cleaning feature will help keep convection fans clean, which can decrease cooking times and provide energy savings.
Venting is an important consideration when specifying rotisseries. Gas models have the most stringent ventilation hood requirements. Electric models must also be vented properly. Some models offer ventless hoods that install directly on top of electric rotisseries. Utilize direct vent units for ovens installed flush with interior kitchen walls.
Cleaning and Maintenance
Cleanability is important when choosing an outdoor grill, which has a service life ranging from 3 to 20 years, depending on use. The average number of years an outdoor grill is typically in service is about 10.
Over time, the burners and orifices wear out and need changing. How often this is necessary depends on usage.
When it comes to cleaning outdoor grills, empty, clean and refill the water pan after every use. Clean the water pan in the dishwasher or by wiping it down with soap and water. Pressure wash the entire unit at least once a year. Operators also can spray down the grates with oven cleaner, let it sit for a bit and then pressure wash it. The radiant above the grill burners should also be kept clean.
Outdoor grills stored over the winter need to be thoroughly cleaned prior to use.
Units will need replacing if they're falling apart or in a condition where they can't be moved. If burners continually need changing out or the grill doesn't operate at proper temperatures, a new unit will be needed. This is also the case if the wheels wear out or the size no longer works for the operation.
As with outdoor grills, rotisserie cleaning is paramount as these units generate a sizable amount of grease and grime daily.
After each cook cycle, operators should clean the glass door with warm soapy water and a glass cleaner approved by the manufacturer. Do not use abrasives or razor blades as these will mar or scratch the surface and may cause the unit to break without notice.
For proper cleaning, catering operators should remove spits, baskets and rotating components and soak them in a cleaning solution based on what the manufacturer recommends. Some of these parts may be dishwasher safe. Dry thoroughly before reinstalling them in the oven.