Advertisement
May 11, 2022
---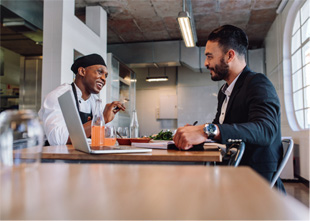 May Rep Roundup
BSE, The Hansen Group and Preferred Marketing Group add to their personnel rosters, while Greenwald Sales and Marketing bolsters its line card.
Redberry Adds VP of Operations
Scott Lewis was named to the newly created role of vice president of operations for Redberry Burger King, a Canadian franchisee of the quick-service burger chain.
Subway Names new VP
Taylor Bennett was named vice president of non-traditional brands for Subway.
Tech24 Acquires Eighth Service Agent
Tech24 has purchased Indianapolis-based Facilities Management. This marks the eighth acquisition for Tech24, which is owned by private equity firm HCI.
Cura Appoints VP of Operations
Cura Hospitality named Gary Stitzel its new vice president of operations.
Subscribe to more e-newsletters!
You received this e-mail as a subscriber to Foodservice Equipment & Supplies or one of its e-newsletters.

View past editions of Flash News in our online archive.

Please direct advertising questions to:


This email address is being protected from spambots. You need JavaScript enabled to view it.

, Vice President.

Please direct editorial questions to:


This email address is being protected from spambots. You need JavaScript enabled to view it.

, Editorial Director.

Subscription Support:
630-739-0900 (ext. 53) or e-mail

This email address is being protected from spambots. You need JavaScript enabled to view it.