Advertisement
July 8, 2020
---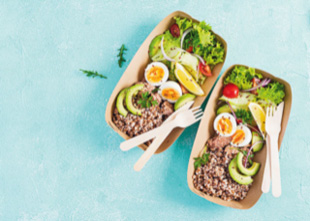 COVID-19 Triggers Tabletop Refresh
While much has changed in restaurants and foodservice operations thanks to steps aimed at slowing the spread of COVID-19, the role of the tabletop has not. It just looks a lot different for the time being.
Advertisement
Restaurant Recovery Drags
Surging numbers of positive cases continue to stall the restaurant industry's recovery from the closures aimed at slowing the spread of COVID-19.
This Week in Foodservice
An independent restaurant group calls for federal aid to support smaller operators. Restaurants and bars added almost 1.5 million workers in June. Bankrupt chains find they have buyers waiting for them. Here's what you need to know.
July's Rep Roundup
Culinary Express Group, Wyllie Marketing and Zink Foodservice add to their line cards. MarkeTeam adds to its personnel roster. And the Wallin Group prepares to go to market under a new name.
Mundial Names National Sales Manager
Mundial Inc. promoted Anita Yost to national sales manager of its foodservice division.
What's Now? What's Next?
With COVID-19 upending everything and fall semester fast approaching, questions about what's next loom large for most of the nation's college and university dining programs.
Hoshizaki Updates Marketing Team
Hoshizaki America promoted Sally Ray to director of marketing. She replaces Barbara Harrison, who retired after more than 30 years with Hoshizaki.
Farmer Boys Promotes VP Role
Farmer Boys' John Lucas was promoted to vice president of brand consistency from director of franchise operations for the fast-casual restaurant chain.
You received this e-mail as a subscriber to Foodservice Equipment & Supplies or one of its e-newsletters.

View past editions of Flash News in our online archive.

Please direct advertising questions to:


This email address is being protected from spambots. You need JavaScript enabled to view it.

, Vice President.

Please direct editorial questions to:


This email address is being protected from spambots. You need JavaScript enabled to view it.

, Editorial Director.

Subscription Support:
630-739-0900 (ext. 53) or e-mail

This email address is being protected from spambots. You need JavaScript enabled to view it.