Refrigerated Specialists Inc. (RSI) has been a part of Katie Green's life for almost as long as she can remember. Her father is a former service technician with the Dallas-area company. As a child in the 1990s, she would spend some weekends with her dad on service calls — "before there were a lot of strict OSHA rules," Green says.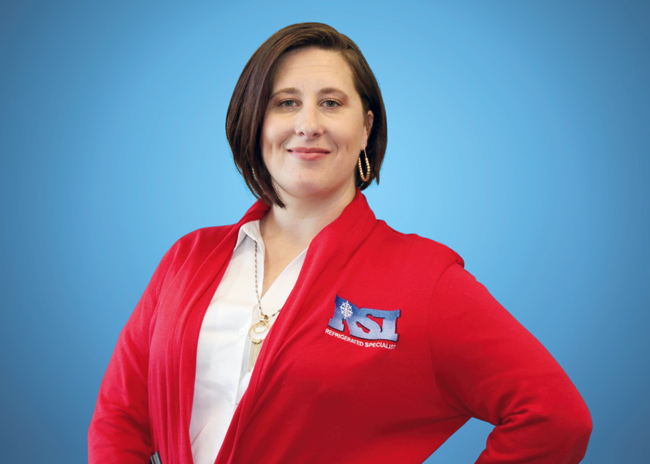 That connection led to a high school job and a career with RSI and its sister company Cooking Equipment Specialist (CES). Green's work with RSI began in 2001 when she was just 16. She'd handle simple tasks like filing invoices and sorting mail.
It was supposed to be a basic summer job, but the fit was right. Within a few years, Green moved into a dispatcher role, one of only two at the company. As RSI and CES grew, so did Green's responsibilities. By her mid 20s she was essentially the firm's head dispatcher and a go-to person when it came to solving problems and remembering processes.
"It was not the plan to stay there originally, but I like the people. I like the challenge," Green says. "The days are not the same. Every manufacturer is different. Every dealer is different. Every job is different."
After proving her value to the company, Green was named RSI's operations director about 10 years ago by president Scott Hester, who calls her "the firm's special secret."
Today Green spends a good portion of her time solving the bigger problems that are almost bound to come up. Whether the issue involves customer scheduling, a manufacturer's warranty or a dealer partnership, she takes the lead. This is a good fit for her strengths, she says.
"I'm not one who's going to get out there and kill it on stage, but if you give me a task, I'm going to complete it. If you give me a problem, I'm going to try and find a solution," Green says. "I'm a worker. I don't mind doing the hard work. I don't mind the challenge. I think that's got me pretty far in my career."
Green's job isn't just putting out fires, though. In her time with RSI, the company's headcount has gone from just a few dozen to roughly 100. As operations director, she's worked to manage that growth. This includes shifting duties among different groups and streamlining processes involving everything from billing to warranty claims, dispatching and scheduling.
A related effort spearheaded by Green, and one of her biggest undertakings of the past few years, was simply getting the company's processes and institutional knowledge on paper. "When we were a smaller company, a lot of the information about how to do certain things was just in people's heads," she says. "We had to get everything written out and documented. That is never ending. That was the biggest hurdle, but we are there. We got pretty much all of it written out, and we are maintaining it. We have a system now. It's a whole lot better than trying to remember who knows what."
This transition to a larger company hasn't radically altered RSI's culture, though. One of the accomplishments Green is most proud of is helping the firm stay family friendly and maintain a family atmosphere. Its employee roster includes brothers, cousins, and uncles and nephews. In fact, Green's father still works with RSI as a member of the estimating team.
"As you grow, it is easy to get lost in that growth where everybody is just a number and people feel like you don't care. We try really hard to make sure that's not the case. I think we've done a pretty good job of it. I think that's what I'm most proud of," she says.
Drawing Others In
While Green has done standout work within RSI, she's also making a name for herself in the industry as a whole. At Hester's urging, she got involved with the Commercial Food Equipment Service Association (CFESA), initially starting as a member of its Young Professionals Committee. Then, in 2019, she ran for and won a spot on the organization's board of directors. Her priorities in this role are recruiting more talent to the service sector and encouraging cooperation among industry segments.
On the recruiting front, she is working with other CFESA leaders to get more young people interested in food equipment service. This involves working with trade schools, high schools and even junior high schools to get the word out about this career path.
"A lot of people know about the trades, but commercial refrigeration and commercial kitchen equipment is not at the top of the list when you think trades. That's one of the things we are trying to push," Green says.
For the wider foodservice equipment and supplies community, similarly longstanding challenges are cooperation and coordination among service agents, dealers, reps, consultants and manufacturers. To that end, she helped put together a young professionals mixer at an industry gathering held pre-pandemic. Now, she's part of a team that's organizing a workshop that will bring together representatives from each group to address specific industry issues.
The workshop is penciled in for later this year, either in person or virtually. While the topic hasn't been set, this sort of gathering can help people build bridges from one group to another. "If you know this industry at all, you know everybody kind of operates in their own silos. That's not a secret. Everybody knows that, we all talk about it," Green says. "There are so many things we can work on … I know we are not going to fix all the problems in our industry, but if we can fix maybe a couple of the big ones, that's progress."
Advice and Inspiration
Q: What was the first job that meant something to you (and why)?
A: RSI, because it's the only job I've ever had.
Q: Where do you find inspiration?
A: In my children. They inspire me. Watching my girls grow and especially my oldest turning into a young woman, it's inspiring.
Q: What advice would you give your younger self?
A: "Be more confident in yourself." I'm kind of introverted. In my early years, I think that probably limited me, not being super-confident in my abilities, not just in work but in life. "Take some risks."
Q: What is a lesson you learned from a project or while working with a client?
A: Try to communicate clearly with clients so that everybody is on the same page. With customers or clients, that's the biggest thing. "Hey what are your expectations for our company? Here are our expectations for this partnership." That's been a big lesson, getting on the same page at the beginning so that there are no questions down the road.
---
Please click here to see the complete list of 2021 Top Achievers