Page 2 of 5
Club/Resorts
First Place: Castle Hot Springs, Castle Hot Springs, Ariz.
Specifying Team
Items
China: Steelite, Jars USA, Korin, The Wheel
Flatware: Steelite
Glassware: Libbey, Steelite
Accessories: American Metalcraft, Cocktail Kingdom, Hollowick, Libbey, Mauviel, Steelite
Why it Won
This tabletop is really reflective of this historic club property. The tabletop's use of some natural materials, including wood and stone, connect this installation with the natural surroundings of this club. The installation showcases the food in a very upscale yet approachable manner. Photos courtesy of Nicky Hedayatzadeh
---
Specifying Team
Operator: Kevin Baker, executive chef; Mike Gilmour, food and beverage manager; Kristen Riehl, pastry chef; Drew Schneider, assistant general manager; Keith Schneider, general manager; Michael Simpson, assistant food and beverage manager; Travis Teague, chef de cuisine; Lisa Walker, dining room manager
Dealer: Denise Oesterle, DSR, United Restaurant Supply
Manufacturers' Reps: Nick Dolan, outside sales, Desert Peak Marketing; Jesse Levine, account executive, TRC Marketing; Kimberly Wehrly, Western regional manager, Bauscher Hepp
Items
China: Bauscher Hepp, Bon Chef
Flatware: WMF
Glassware: Luigi Bormioli
Accessories: FOH, Olde Thompson, WMF
Why it Won
This tabletop conveys the sense of a very upscale and high-end foodservice operation, which is characteristic of clubs like this. Classy. Beautiful. This installation is very clean, elegant. Some thoughtful design elements include the hummingbird image in the silverware. The charger plate is eye-catching, too. All in all, this tabletop is perfect for a high-end club setting like this.
Photos courtesy of Matthew Oesterle, Blue Bear Creative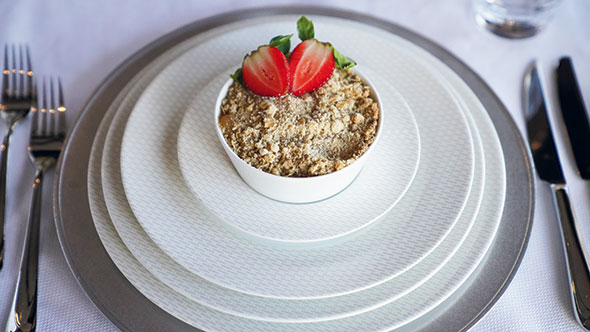 ---
Specifying Team
Operator: Ralph Feraco, executive chef
Dealer: James Carelly, sales representative, Edward Don & Company
Manufacturers' Reps: Kechia and Randy Hignight, co-owners, Tabletop Dogz
Items
China: Steelite
Flatware: Steelite
Glassware: Luigi Bormioli Rocco, Rona
Accessories: Revol, Steelite
Worth Mentioning
The goal of this installation was to help create a more casual environment for club members by moving away from the more traditional white-on-white pattern. The use of various colors, shapes and embossment really accomplish this goal. Despite the more casual approach, the installation maintains its elegance to provide a true club-like experience.