Future Foodservice Leaders: Joe Ferri Jr., Pecinka Ferri Associates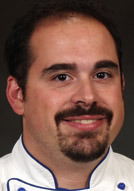 Name:
Joe Ferri Jr.
Company Name: Pecinka Ferri Associates
Title: Sales Associate
Age: 28
Industry Involvement: MAFSI, SFM, HFAA, ACF, HFAA
Years in Foodservice: 12 years
Educational Background: Two associates degrees – one in culinary and one in CAD
What has been your proudest accomplishment? Going to work for my dad is pretty great for me knowing I have made a career for myself on my own in this industry.
What's the best career advice you have been given? Get as much experience as possible and stick with it.
What's the most important lesson you have learned? Persistence. You have to get up in the morning and get going right away. You can't slack off in this business. You have to call on people all the time and get the answers they need no matter what. It has to be nose to the grindstone all day and it is the same way for a cook, waitress or even a consultant. If you are not constantly moving you are not doing a good job.
What excites you most about the foodservice industry? I really like doing actual cooking demonstrations, showing people how to use the equipment. I am a big foodie, too, so I try all sorts of restaurants to see how they are.
If you could improve one thing about the industry, what would it be? List prices. Why do we have them? Does anybody pay list price for anything?
What attracted you to the industry? As a chef I have a passion for food and always have found restaurants to be like a second home. My mom did not want me to be in this industry, given all the long hours she saw my dad work. But my family has always been in the foodservice industry — my grandfather, my uncles and my cousins — in various capacities. It is just in my blood and there was no escaping it.
Describe the biggest challenge you have overcome. Having a father that is well-known in the business and trying to make a name for myself. So I did not go straight to work for my father. Instead, I worked for a couple dealers and as a consultant to make my own way in the industry. I wanted to learn from my dad but it was important for me to make a name for myself and earn my own way before working with him.
What makes you want to stay in the industry? Everyone has to eat and as a result people are always looking for foodservice equipment.
---