Golf and country club foodservice now caters to a wider demographic.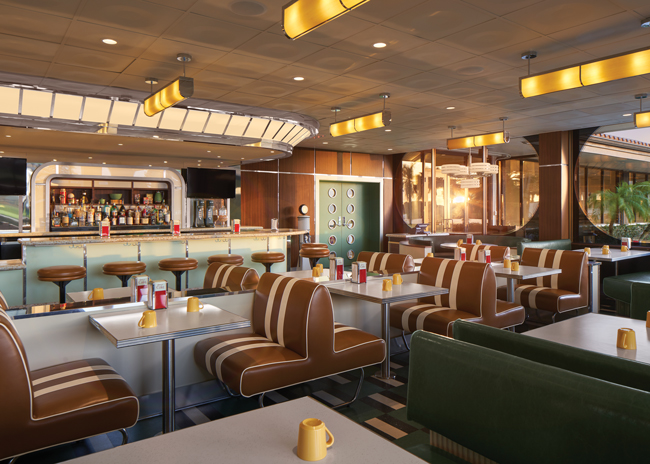 The design of the dining venues at the PGA National Resort's The Butcher's Club are intentionally open to create a more inviting atmosphere. Photo by Will PryceGolf and country clubs have invested more resources into retaining existing members and attracting new ones. It is a $26.2 billion industry, according to Los Angeles-based IBISWorld's June 2022 "Golf Courses & Country Clubs in the U.S." report, with food and beverages accounting for 21.3% of profits.
IBISWorld forecasts that golf and country club industry revenue will increase at an annualized rate of 1.4% to $28.1 billion between now and 2027. Despite consistent revenue gains moving forward, the industry's long-term success is expected to largely depend on its ability to appeal to younger consumers.
The desire to broaden menus in these venues comes as golf and country club guest and membership demographics have skewed younger — think Millennials and Gen Zers in addition to the more traditional Baby Boomers.
The membership waitlist has been high at Monroe Golf Club in Pittsford, N.Y., since the start of the pandemic. "COVID sparked a big interest in clubs, especially for the younger generation of 20- and 30-year-olds," says Frank Mirabile, executive chef/director of food and beverage. "They're joining not just for golf but also the social perspective with dining, golf, tennis, pools. The amenities are as serious as the golf course, so accommodating all of this in innovative ways is at the top of everyone's list of importance."
A similar scenario is playing out at the private Sugar Mill Country Club in New Smyrna Beach, Fla. In fact, since 2019, the club has been on a mission to "age ourselves down," according to Samira Mirzai-Smith, director of marketing and membership. "We want to make it more of a family club, so we're looking to the future and the success of the club in the long run," she says.
Sugar Mill has added on 225 new memberships since 2019 and has an 82% membership approval rating. The club is moving forward with a $6.5 million golf course restoration on 18 of its 27 holes, along with a refresh of the main dining room. "We're doing a soft remodel of the clubhouse's main dining room, with significant painting and new furniture added," says Mirzai-Smith. The formal main dining room seats 50. Additional foodservice options on the property include the Sunset Lounge sports bar, with 65 seats inside and another 20 seats outside, and the Sunrise Grill, which also seats 65 members.
The influx of new members leads some clubs to experience more of a cultural divide and change in culture. "There is a huge demographic divide with Millennials and Boomers," Mirzai-Smith says. "Now we have to figure out how to make everyone happy, and it will be about being creative and unique with F&B."
Located off an inlet sound, Sugar Mill Country Club relies on local fish purveyors, along with area suppliers, to support its farm-to-table menu. "[With the current supply chain challenges], having local resources is vital these days," Mirzai-Smith says.
Rather than just traditional, basic country club fare like burgers, Sugar Mill has woven in more unique menu items and added healthy alternatives on the children's menu. "Our chef is adding unique features like avocado to meals rather than bacon, incorporating smoothies, breakfast sandwiches and quiche," Mirzai-Smith says. "From a marketing and membership perspective, I try to capture as much info from clientele as possible since the more we can understand them and their needs, the more we can bring that to the table for a value-added proposition."
Based on this feedback, Sugar Mill now offers themed buffets and hosts a happy hour for young executives featuring heavy hors d'oeuvres. It also has installed communal tables that seat 12 and encourage socializing.
"We're holding more standing events for our younger members who don't necessarily want a sit-down meal," Mirzai-Smith says. "We're incorporating more foods conducive to this, like from action stations, as we adapt better to the wider age demographic."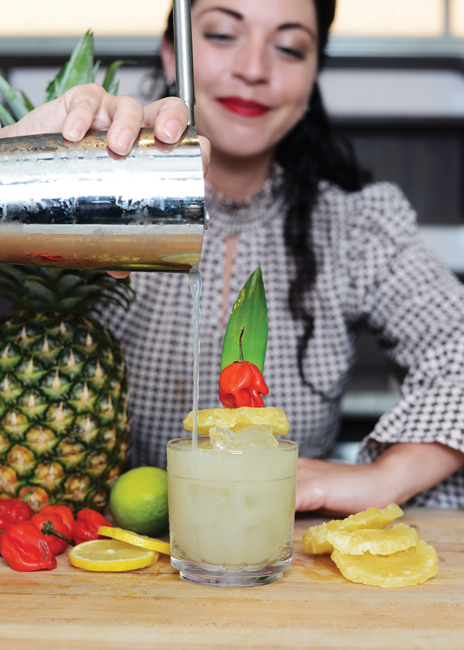 For The Butcher's Club at PGA National Resort it's important to cultivate a strong food and beverage program to promote a social atmosphere for guestsThe 100-year-old, 550-member Monroe Golf Club's food and beverage offerings range from fine dining to country-club casual, and it also runs a large banquet operation. "We have four à la carte dining outlets, including a pool snack bar, a grab-and-go area, a grill with full bar and a banquet room that seats up to 300 people," Mirabile says.
Foodservice draws support from one central kitchen and a separate pastry kitchen, while the pool snack bar, open Memorial Day to Labor Day, has its own small concession kitchen. Clubhouse dining's main menu combines fine- and casual-dining dishes. "We're seeing a trend in more casual dining," Mirabile says. "This doesn't pertain to food selections but rather is more laid-back with the dining experience overall. People want beautifully prepared and presented food in a more relaxed environment."
Hence, traditional, stuffier club dining rooms are making way for an updated aesthetic and ambiance reflecting today's restaurants.
Wente Vineyards in Livermore, Calif., reflects a more modern take on a traditional golf club with the inclusion of an on-site winery. "The winery sets us apart, although it is in a separate building that's on the same property as the golf club and restaurant," says Sarah Espino, grill manager.
Wente's more than 200 golf club members can grab a hot dog or quick bite from the course's Snack Shack or roaming beverage cart or have a meal in the grill's main dining area overlooking the 18th hole. The winery offers tastings and small bites.
For The Butcher's Club at PGA National Resort in Palm Beach Gardens, Fla., it's important to cultivate the social atmosphere of the club. "It is essential to offer a menu and atmosphere that will attract your usual golfers who are typically looking for quality food, a round of drinks and quick service after a game," says Miguel Santiago, director of culinary. "Unlike a typical restaurant where you'd tend to keep to your group, a golf club restaurant can also be a very social atmosphere, so we kept that in mind when thinking through the design. We made sure it felt open and inviting when it came to the location near the course as well as the seating arrangements within the restaurant." The restaurant remains open year-round and can seat 105.
Santiago has made it a point to keep up to date with restaurant trends, such as including QR codes for guests to access the menu and driving off-premises business.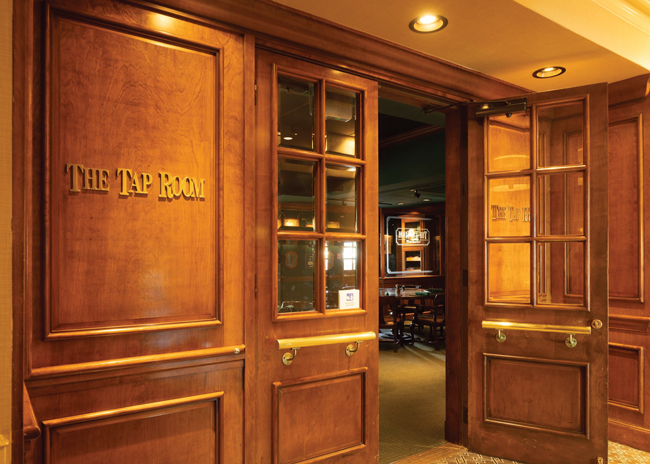 The hotel located at Pebble Beach Golf Links, known as The Lodge at Pebble Beach, features The Tap Room. Situated on the 19th hole, this venue seats 85 and an additional 8 at the bar.
Menus and Equipment
One of the challenges for the culinary team at Wente is the facility's small back of house. "Our main kitchen is not big, probably about 150 square feet, with three cooks on the line," Espino says. "We have approximately 40 seats inside and 80 on the patio that are all umbrella-covered."
While the back-of-the-house space is small, it's efficient. "We have a prep cook in the back and two to three cooks on the line who get our food out fast," Espino says. The equipment package supporting the menu includes a flattop and charbroiler as well as undercounter refrigeration on the cookline, an outdoor walk-in cooler, and a glass door undercounter refrigerator at the bar that displays wine and beer. "Our expediting area is at the bar."
Wente's bestselling appetizers are artichoke spinach dip, chicken wings, and chips and salsa, along with crabcakes. The 1883 Burger is sought out by many members and features a house-blended patty, truffle aioli and a fried egg on top.
The PGA National Resort includes three distinctive eateries. The Butcher's Club is described as midcentury Americana, with signature dishes including Truffle Ricotta Gnudi, which combines garden mushrooms, butter greens and pine nut crumble; Green Circle Truffle Chicken with potato puree, Brussels sprouts, baby turnips and natural au jus; and pan-roasted local fish topped with kale-pistachio puree and served with summer
vegetables and kombu citrus broth.
PGA National's Honeybelle restaurant features celebrity chef Lindsay Autry's take on comfort foods, including wood-fired pizza and fried chicken, along with trendy favorites like tuna poke bowls. And its Birdie's Diner leans into the retro look and feel of the club with dinner served on the first hole. The kitchen's double fryer, grill, plancha grills, combi oven and reach-in cooler support the menu and its bestselling dishes such as boozy shakes and Birdie's all-American wagyu cheeseburger.
"Nostalgic and upbeat, Birdie's current menu celebrates quintessential American cuisine with a South Florida spin, including Piña Colada Pancakes and a Cuban panini," Santiago says. "The diner is designed to be effortlessly expressive with an elevated take on classic diner booth seating in neutral beiges and brown hues throughout."
At Sugar Mill, the main dining room and Sunset Lounge run off the same kitchen, even though there are slight differences in the offerings. While the main dining room offers traditional club dishes such as salads, burgers and sandwiches, the lounge has steak, Italian dishes and grilled fish. The menus received an overhaul by new executive chef Bill Brown, while the overall foodservice program is run by new general manager Michael O'Brien.
"We put out a new menu for both the main dining room and lounge that includes a 4-ounce meatball that sits atop ricotta and a fried Brussels sprouts appetizer," Mirzai-Smith says. "Our seafood dishes are the most popular."
While covered, this outdoor space at The Butcher's Club features bright colors and views of the property. Photo by Will Pryce
Sugar Mill chefs work in the massive upstairs main kitchen to handle the main dining room, lounge and banquets. The main kitchen has a separate room for salad and dessert preparation, while there are two cooklines with prep areas. Culinary staff working in the first-floor grill focus solely on their own daily specials.
There is cross-utilization of the back-of-house spaces at Sugar Mill. For example, more complex dishes, like lobster salad, are prepped in the upstairs kitchen, with a dumbwaiter used to send items from kitchen
to kitchen.
"We just added four new food warmers for banquet use," Mirzai-Smith says. "Also, the downstairs grill's full kitchen centers around a hibachi-style grill with a hood."
Monroe Golf Club features seasonal menus that change often. Popular menu items include Sicilian calamari and fried chicken, the latter of which is only offered quarterly as it takes three days to make. The chicken goes through an overnight brining, then an overnight marinating process. The third overnight process is a dry seasoning/dredging to prepare for frying the final day. "It's a daunting task, but the fried chicken is a signature and big seller," Mirabile says.
Fine-dining dishes include steak and chops, along with seafood that is flown in two to three times a week from Maine and the Pacific Northwest. "It's about having enough comfort foods on the menu as well as fine-dining offerings for members who bring in clients and want to show the club off," Mirabile says.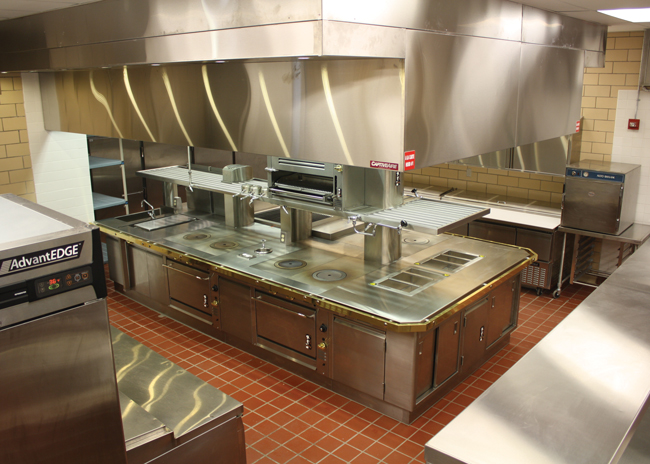 Monroe Golf Club's kitchen includes heat lamps, and drawers that have plate warmers to keep food at proper temperatures.The central piece of Monroe Golf Club's back of the house is an island cooking suite that was added when the kitchen was redesigned 10 years ago. "Because of our speed constraints, we had to put in a suite to get more bang for the buck," Mirabile says. "If we went with a traditional straight lineup, I couldn't get equipment in to be as productive as we needed it to be."
The island includes traditional cooking equipment that has a smaller footprint, including a French flattop for sauteing that can accommodate more pans than gas burners. The line also includes a 36-inch grill, two infrared broilers, a built-in sous vide well and waterless wells. Mirabile adds that the most crucial pieces of equipment are combi ovens and sous vide cookers for batch cooking.
"Everything is done à la minute so we don't have many holding wells," Mirabile explains. "Our tabletops are designed with heat lamps, and drawers have plate warmers to keep food at proper temperatures."
The challenge for Monroe Golf Club and others is accommodating golfers, swimmers and large events by preparing multiple types of food simultaneously. "We'll be handling a wedding for 200 people at the same time as serving 60 to 80 people à la carte; while some seek fine dining, others are just looking for a quick burger," Mirabile says. "Finding equipment conducive to all of that was a challenge when redesigning our kitchen. It has to flow well and be conducive to the staff and speed of service."
A host of custom-designed equipment is geared to handle the diverse operations. The club's banquet tables are double-sided to accommodate up to eight cooks at a time.
Storage and refrigeration space can be an issue with clubs that have diverse dining options. In addition to a banquet walk-in upstairs that holds vegetables and prepared prepped ingredients used in stocks and sauces, Monroe Golf Club has a larger basement storage area with a protein/dairy cooler, a produce cooler and a small freezer. "We can use more refrigeration like anyone else, but I built into the design a lot of roll-in refrigeration units for line chefs to put items on and store in walk-ins," Mirabile says.
Del Monte Forrest, Calif.-based Pebble Beach Co. encompasses three hotels, a Forbes five-star spa, and three championship courses, including Pebble Beach Golf Links, rated the number one public course in the country. The hotel, located at Pebble Beach Golf Links, is The Lodge at Pebble Beach, which is where The Tap Room is located. Situated on the 19th hole, it seats 85 and an additional 8 at the bar.
Its chophouse offers grade gold and black American Kobe wagyu cuts as well as wine, signature cocktails and draft beer. Open year round, Pebble Beach's bestselling dishes are Short Rib Potato Skins, Tap Room Prime Rib Chili, 22-ounce Prime Delmonico Rib Eye, Tap Room Burger, Southern Style Coconut Cake and Bourbon Pecan Bread Pudding.
Its small kitchen centers around the steak broiler that runs at 900 degrees F.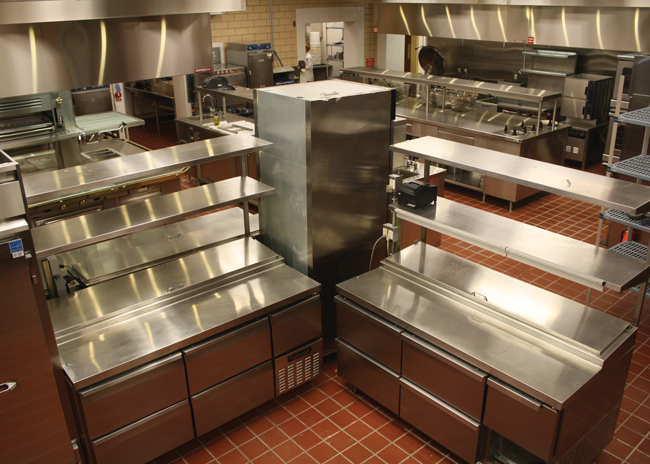 An island cooking suite is the centerpiece of the Monroe Golf Club's kitchen.
Looking Ahead
Wente Vineyards is focusing on its technology as it recently upgraded its roaming beverage cart with a tablet for orders. "Integrating that type of software has helped us keep things moving throughout the day," Espino says.
Santiago sees opportunities with online ordering, specifically through The Butcher's Club app. "We want to ensure that to-go orders are done as seamlessly and conveniently as possible while also delivering a superior and elevated experience," he says. "We are also exploring ways that we can enhance the experience using QR codes while dining at the restaurant, from our digital menu display to beyond just accessing the menu."
In addition to getting more creative in the use of foodservice equipment, Monroe Golf Club is looking to incorporate grab-and-go items for golfers to address its staffing challenges. "The demand for clubs is high and not going away," Mirabile says.