The emergence of new concepts and expansion of others keep this Hawaiian fare prominent.
Island-style fusion with a California twist is how the owner of Tropicali describes the menu. Pictured here, the Sunset Tahiti Bowl made with wild-caught sashimi grade ahi tuna. In recent years, poke has given sushi a run for its money as more poke concepts continue to emerge across the country. A Hawaiian term that describes raw fish being cut crosswise into pieces, poke's rise in the U.S. began in the 1970s. Although bowls most often feature raw ahi tuna, poke may substitute octopus, tofu, shrimp, salmon or scallops.
Poke appears on 4.4% of menus, up 39% over the past 4 years, according to Chicago-based Datassential. Among those consumers who have tried poke, 29% love it and an additional 36% like it. Those demographics showing the strongest poke predilection include women, people residing on the West Coast and health-focused consumers. The top ingredients are tuna, avocado, sesame (oil, seeds and vinaigrette), cucumber and rice. Although still a fringe trend, usage of cauliflower rice is a fast-growing pairing. Other grains beyond white rice that continue to grow in popularity on poke menus include quinoa, farro and brown rice.
"As broader ranges of restaurants begin to offer this dish, poke-specific shops need to offer something unique or have the perfect location to succeed," says Claire Conaghan, Datassential's associate director.
Unique Challenges
Sweetfin opened in Santa Monica, Calif., in April 2015, as a stand-alone poke concept in the fast-casual space where customers could build their own poke bowl. Now, the West Hollywood-based concept has 16 corporate-owned locations, with 4 more opening by the end of 2022. The concept offers both poke and plant-based bowls. "We're a premium poke experience in that we only use sustainable proteins, make everything in-house daily and are a 100% gluten-free concept," says Sweetfin president Seth Cohen.
Photo courtesy Sam Choy Poke to the MaxSweetfin's bowls have a Japanese influence, meaning its menu items offer a twist on the Hawaiian version. Cohen describes it as taking familiar sushi flavors and creating a bowl instead of a roll. "The biggest challenge is dealing with a lot of fresh product," Cohen explains. "Proteins come in fresh and have a very short shelf life, so we not only have to carefully care for these products, but also forecast demand."
Sweetfin brings in 30 different types of produce for its bowls, such as mangos, avocados, pineapples, jicamas and three types of poblano peppers. Because its locations have small footprints — most measure less than 1,000 square feet — refrigeration space is at a premium.
"This is a concept that is simple yet challenging to execute," Cohen says. "The food itself is simple but requires trained kitchen team members who understand how to treat and properly cut fish." It's also necessary to conduct a full visual analysis of ingredients as they come in to ensure everything is up to par, he adds.
Not only have there been issues sourcing skilled labor, but there have also been supply challenges that have resulted in ingredient substitutions. "From a supply chain standpoint, we deal with issues from time to time," Cohen says. "For example, bamboo rice was not coming in from China and albacore was not coming in from Fiji due to limited flights, so we've had to work around these issues [sourcing from other locales]."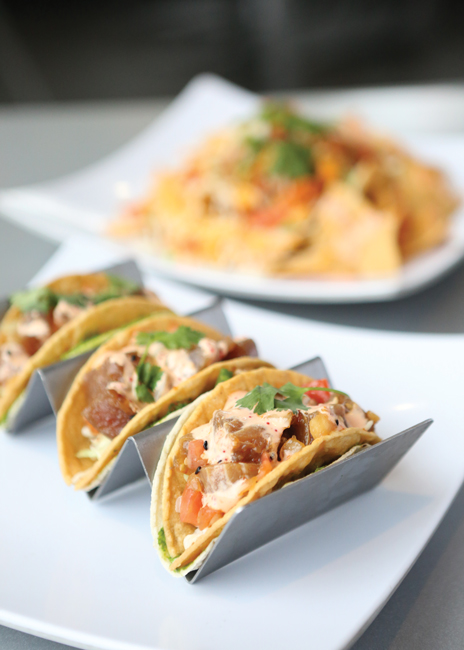 Sam Choy Poke to the Max has diversified its menu to offer poke in various formats, including in tacos.Seattle's Sam Choy Poke to the Max also must contend with supply issues as well as higher food costs. The chain closed two of its six locations (Kirkland, Wash., and San Francisco) during the pandemic but anticipates opening two new sites by the end of 2022.
"Poke is primarily yellowfin or ahi tuna, and that is not in everyone's backyard," says owner Max Heigh. "The cost of seafood is inflated so much, and it is perishable and can't be refrozen — once it's expired, it's done." Shortages have resulted in workarounds and utilizing many channels to source products, including local supermarkets.
Sam Choy Poke to the Max began as a food truck business in 2013. Poke remains the star of the menu, but the chain also offers other Hawaiian dishes. "It was a slow start, but we ramped up to opening a second truck and were rated on par with high-end seafood restaurants," Heigh says. "We then expanded to four trucks in 2017, when the poke trend started kicking into gear."
It was around this time that Heigh opened his first brick-and-mortar restaurant. Eight months later, he opened a second site. Food trucks are still a part of the operation. Sam Choy Poke to the Max is in expansion mode and will open a location at San Francisco's airport in 2024. Franchising may also be in the cards moving forward, as long as the brand's integrity can stay intact, Heigh notes.
Supply has not been an issue for Tropicali in Big Bear Lake, Calif. This independent restaurant focuses on sustainability with its poke offerings, which co-owner Michael Sterling Eaton says represents an ongoing challenge. "It's about staying true to the roots, culture and belief system by not overfishing," says Eaton, who owns the restaurant with his wife, Sanoe Lake Eaton, a professional surfer.
"When we sell out, that's it. We only make a certain amount of fish daily," says Michael Sterling Eaton. "We're very conscious of making sure our oceans are not overfished." Only fish freshly caught by fishermen rather than by mass fishing are used at Tropicali. "Keeping up with demand is tough but staying true to who we are and how we run our business is key," he says.
Due to cross-training efforts with staff, this fast-casual concept reports it has not been largely impacted by labor shortages. "We run a small ship, and everyone is connected through family," Michael Sterling Eaton says. "We're also all a part of the process of creating cuisine, and we've developed relationships with our purveyors, so we are taken care of."
Michael Sterling Eaton describes Tropicali's offerings as the South Pacific crashing into the Sea of Cortez and bleeding into the Caribbean. "My wife is born and raised on Kauai, and I'm born and raised in San Diego, so we wanted to incorporate our backgrounds and culture into the menu items," he says. "We're island-style fusion with a California twist," he says. "Though poke is a huge component for us, we also have smoked meats, Hawaiian pulled pork, and teriyaki and jerk chicken. We import jerk seasonings from a farm in northern Jamaica."
Poke wraps are part of the varied menu at Sam Choy Poke to the Max.
Menu Innovations
As the poke segment expanded, different interpretations of traditional Hawaiian poke have made their way into the market. At Sweetfin, "all bowls have a choice of base: bamboo rice, cauliflower rice, black rice, citrus kale salad or kelp noodle slaw," Cohen says. "Plant-based alternative proteins are big now. We have sweet potato poke with ponzu lime sauce, miso eggplant and mushroom, and shiitake chili tofu poke." One of Sweetfin's bestselling items is a customizable bowl with spicy yellowfin tuna and homemade aioli sauce.
At Sam Choy Poke to the Max, tuna and salmon bowls are top sellers. "The classic is tuna, and that's the easiest seller all day and what we recommend for those new to the segment," Heigh says. "We try to highlight different cultures with our menu items since Hawaii is such a diverse place." The concept spotlights a flavor of the month to coincide with various occasions. For example, October was Filipino Heritage Month, so that cuisine and its ingredients were highlighted. "We don't just make bowls and salad; we also offer poke in tacos, nachos, burritos and come up with other creations," Heigh adds.
At Tropicali, the Pelé Bowl, named after the famous soccer player, represents the most popular seller. It includes spicy wild-caught sashimi-grade ahi tuna served on a bed of rice, topped with sweet onions and cucumbers, then drizzled with the restaurant's signature Lava Boss sauce. Another favorite, the Kracken bowl includes wild-caught sashimi-grade ahi tuna served on a bed of rice, topped with sweet onions, panko crumbs and wonton chips, then drizzled with Unagi Boss sauce. "We've had the same menu since we opened and won't add random ingredients that shouldn't be in there," Eaton says. "We do a couple California-style twists but are traditionalists."
Authentic poke relies on manual labor as it is all about the knife skills. Most poke concepts require little in the way of kitchen equipment, "which is why these concepts can scale quickly," Cohen says. "Refrigeration is 90% of our equipment. For what little cooking we do, we have a range and induction burner for sauteing vegetables like asparagus, mushrooms and eggplant for vegan and plant-based bowls."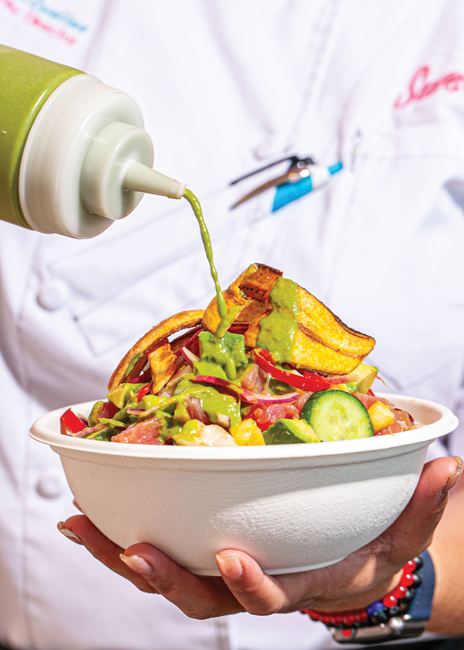 Sweetfin's Cilantro Jalapeno Bowl (a limited time menu item this spring) fused flavors from Guatemala and Mexico, including pickled Fresno chilis, cucumber, avocado, shaved red onion and pineapple. It was served over cilantro bamboo rice and garnished with market radish and crushed plantain chips.Sweetfin relies on double-door refrigeration, basic sandwich prep tables and good knives. "We use a deli slicer for our taro chips, but 95% of our prep is done with a traditional knife," Cohen says. "Because our concept is about doing everything in-house from scratch daily, it involves breaking down proteins and produce. Nothing is precut, so it is very labor-intensive."
Although its concept does not currently include front-of-the-house prep where customers choose ingredients, newer Sweetfin locations are pivoting. "We are incorporating custom stainless-steel refrigeration equipment that is eye level to the guests where they can choose ingredients for staff to build their bowl," Cohen says.
Sam Choy Poke to the Max locations have five stand-up double-door refrigerators for storing fish, green onions and sauce for poke. Knives and knife sharpeners are essential elements, says Heigh, who notes the staff do not use any electronic or mechanical equipment for breaking down whole fish. Sandwich prep tables on the front-of-the-house line enable customers to see and then choose their ingredients.
"One piece of equipment we got turned on to is an automatic green onion cutter," Heigh says. "This is a neat piece of equipment we started using a month ago and is an amazing tool that makes it easier to train employees handling food prep."
Opportunities Abound
Despite a steady flow of new concepts entering the market, many feel poke's positioned for growth. "People want to eat fresh and healthy foods, and poke targets this," Cohen says. "Its growth has not abated, and these dishes continue to become more popular as consumers look for interesting international and exotic flavors."
Although these are fairly simple operations, poke concepts require well-trained employees and proper execution. Still, from an equipment standpoint, the investment is negligible, with refrigeration taking up the bulk of the budget. "Much like sushi that emerged in the '80s and is now a part of our culture, we expect the same with poke going forward," Heigh says. "Although we've seen certain brands go away in the last two years, there are still poke concepts taking hold and expanding."