"Grilled" is the top prep method called out on menus, according to Chicago-based Datassential's "2021 MenuTrends" report. Grilled food not only appears on 78.5% of menus, but grilling also represents the most common prep method for limited-time offers at major chains.
The Specifics
Photo by Evan SungSeveral live-fire method callouts are among the top-growing prep methods, including wood fired (on 1.2% of menus, up 23% over the past 4 years) and wood grilled (on 1.2% of menus, up 5% over the past 4 years).
Smoked items are prominent, found on 46.9% of all menus.
The top callouts featuring smoked are smoked bacon (hot or cold smoked), smoked salmon (almost always cold smoked), smoked turkey, smoked ham and smoked chicken.
Callouts relating to live-fire cooking have the highest average purchase intent in Datassential's SCORES database, which tested new items and limited-time offers with consumers from June 2014 through December 2021. The top five purchase intent prep methods are rotisserie, charbroiled, slow smoked, open flame and Southern fried.
Source: Datassential's "2021 MenuTrends" report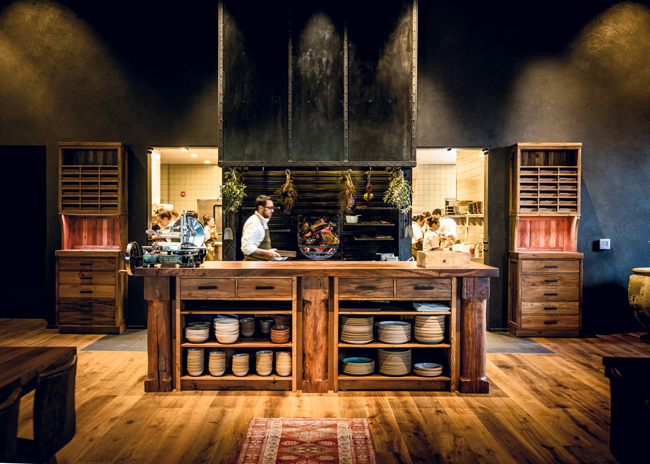 The Charter Oak. Image courtesy of Kelly Puleio
Live-Fire Equipment and Supplies
Perforated cast-iron skillets
Wok-style skillet
Cast-iron griddle
Cast-iron pot
Baskets
Racks and shelves
Tongs
Spatulas
Pokers
Gloves
Wood and/or charcoal
Fire extinguisher
Unique Approach to the Grill at The Ox Restaurant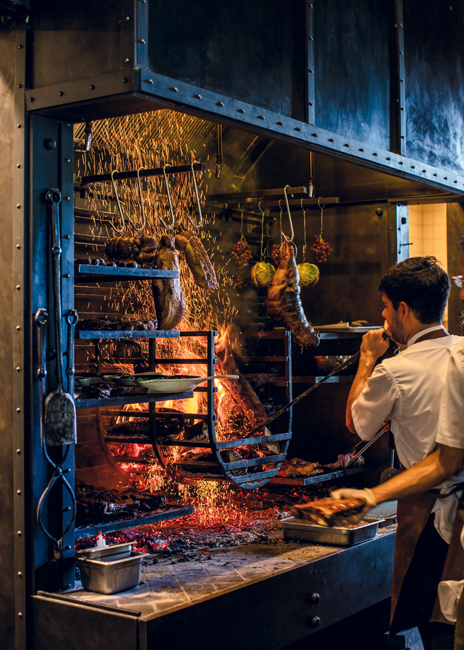 The Charter Oak. Image courtesy of Kelly PuleioArgentine-style The Ox Restaurant in Portland, Ore., features Northwest ingredients. "We pull from my Italian, French and Spanish background and my wife's Ecuadorian roots," says co-owner/chef Greg Denton, who runs the restaurant with wife Gabrielle Quiñónez Denton, also a chef and co-owner. "Most of our meat items are asado Argentine and cooked over our live-fire grill." This includes up to 60 pieces of meat at a time, such as short ribs, house-made chorizo, lamb chops, blood sausage, sweetbreads, rib-eye steak, grass-fed filet mignon and skirt steak. Onions are buried in the grill, then served with blue cheese; bread is grilled ahead of time.
"Very few utilize the grill the way we do, which is to load it up with oakwood, light it up really hot and create a fire basket that releases coals that are placed under the grill grate," Denton says. "We're grilling with really hot heat, over 900 degrees in the center." He has seen cooks' glasses and gold chains burn their skin. "The challenges are tough, but the rewards are putting out delicious food that's unique; it's grilled and caramelized but not over smoking."
Instead of bars on the grates, The Ox's grill uses V channels that are at a slight angle, enabling the meat's fat to drip into pans. This not only prevents flare-ups but also creates a marinade. "We collect all of the different meat flavors in the pan, then mix in lemon, garlic, herbs and onions and re-baste meats with our own umami," Denton says. He recommends checking with city and state officials to clarify solid fuel cooking regulations. "It can cost hundreds of thousands of dollars if the municipality requires a special filter," he says. "Also, filters need to be cleaned every single day and hood systems thoroughly cleaned every three weeks as fire mitigation is a daily concern."
Live Fire Takes Center Stage at The Charter Oak
The Charter Oak in St. Helena, Calif., grows seasonal crops on its 31/2-acre culinary garden. The emphasis is on experimentation with new crops and varieties, growing and cultivation methods, and the utilization of all edible portions of the plant through its life cycle.
The Charter Oak. Image courtesy of Kelly Puleio"We have our own farm, so we include whatever we're harvesting to create a true farm-to-table experience," says Eddie Lee, chef at The Charter Oak.
The large live-fire hearth in the center of the restaurant lets the menu's ingredients "speak for themselves," Lee says. The culinary team cooks more than a half dozen proteins on the hearth, including pork chops, whole chickens, duck and local king salmon, along with vegetables like artichokes, asparagus and mushrooms.
The biggest benefit of live-fire cooking, Lee adds, is that this method more than any other brings out food's flavor: "It showcases ingredients, so we don't have to do much to it. The flavor gets intensified, and smoking makes it so much better."
Lee admits it's not always easy to manage a live fire. "Creating even heat is very challenging compared to cooking off a burner, and the temperature is constantly changing, even in the same spots." This means the results can be different, depending on where the fire is. "But it's a fun way to cook, is flexible and we can test different items in a variety of ways," he says. "We can cook a lot of food simultaneously, and if it's managed correctly, food is pushed out faster."
An Outdoor Approach at Ciudad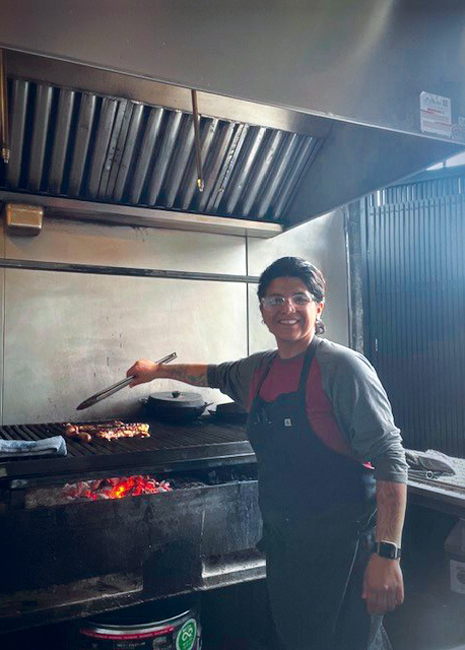 Ciudad. Image courtesy of Brenda RodriguezThe menu at Seattle's Ciudad focuses on meats and vegetables with flavors influenced from Spain, Portugal, Morocco, Greece and the entire Mediterranean region.
The grill-focused culinary team cooks over live fire outdoors. "It's the first thing people see when they come here," says chef Brenda Rodriguez. The 5-foot-long grill prepares hanger steak with South African spice marinade, curry-marinated chicken thighs, lamb ribs and seasonal vegetables. "The biggest challenge is getting the temperature to 100% where we want it and having enough cooking space, but the flavor is worth it," she says.
In addition to having charcoal, wood and gloves on hand, a fire extinguisher is a necessary accessory for added safety. "[With live-fire cooking,] you really need to know what you're doing," Rodriguez says.