Menus expand with fusion mash-ups, plant-forward elements build, and operators seek equipment efficiencies now more than ever.
The Asian foodservice segment has fared well in the last couple of years, due not only to menu innovation but also to its propensity for off-premises dining.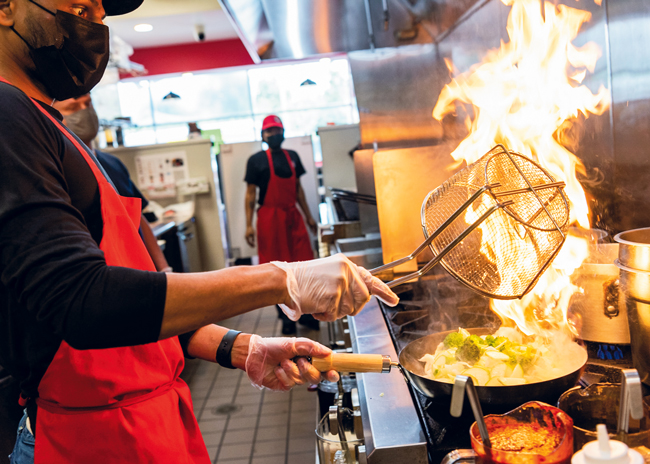 Image courtesy of Teriyaki Madness
Technomic estimates that there are more than 61,000 Asian restaurants in the U.S., with total annual menu category sales at $25 billion. Two leaders in the segment include limited-service chain Panda Express and full-service chain P.F. Chang's. In addition, high-end restaurants, such as the Michelin-starred Café China and Tuome in New York City and Bistro Na's in California, have driven greater interest in Asian fine dining, according to market research firm IBISWorld. The diversity of menus and fusion of dishes and ingredients from different regions have also led to growth.
Panda Express has seen more customers placing orders online as well as taking food to go, says Evelyn Wah, Panda Express' executive director of brand innovation. "We've revamped our digital ordering capabilities and focused on the take-home experience," she says. "We are testing 'ASAP ordering' through our mobile app to streamline the online ordering and in-person pickup process, so guests do not have to wait in line."
Segment Evolution
There have been a number of new developments with Asian fare, including an increased focus on environmentally friendly ingredients. More Asian concept operators have shifted toward a model for sustainable sushi, eschewing bluefin tuna for example, in response to a dwindling fish population, reports IBISWorld.
As its customers' preferences have evolved to include more sustainable plant-based items, Panda Express has added these offerings to its menu. "Following the successful regional launch of Beyond the Original Orange Chicken, we began testing Mapo Tofu with Beyond Beef and Beyond String Beans at our Innovation Kitchen in January 2022," Wah says. The Panda Express Innovation Kitchen, open since 2014 and located in Pasadena, Calif., serves as a live test kitchen for the chain and is open to the public.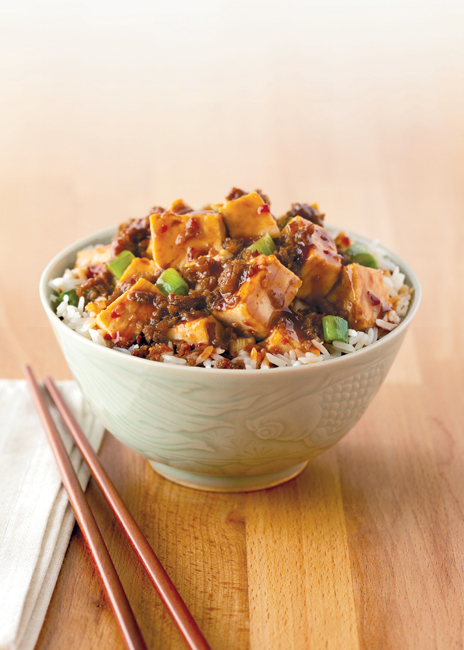 Panda Express now offers meat-free options such as its Mapo Tofu bowl made with plant-based beef. Growth in this segment also has been further supported by the expanding palates of U.S. consumers, who increasingly seek diverse ethnic cuisines, according to IBISWorld. This has had a big impact on the institutional side. As the country's demographics have evolved, residents have requested access to more robust food choices, including Asian food, says Chris Greve, corporate executive chef, Cura Hospitality, a Canonsburg, Pa.-based provider of dining services for assisted living and acute care facilities.
This is also the case on the QSR side. "We see an opportunity for cultural and flavor exploration when it comes to consumers' willingness and awareness to try different profiles of Chinese cuisine through the diverse regions of the U.S.," Wah says. "Common perceptions of American Chinese food is comfort food or sweet and sour, but there's a whole side to Chinese cuisine that has lighter and healthier dishes with a ton of flavor."
In response to the changing trends in the Asian segment, Panda Express has adapted its menu to include fresh vegetables, lighter preparations and different flavor profiles. The chain also is looking at offering more snacks, shareables and handheld meals. Handheld items that Panda Express is exploring include its Orange Chicken Sandwich, which was created at its Innovation Kitchen last fall.
Mai Pham is on the cusp of the Vietnamese/Thai menu trend with Star Ginger, a Southeast Asian concept she founded, along with Lemon Grass restaurant, both in Sacramento, Calif. Star Ginger's 30 locations mainly operate on college campuses, with a handful at government offices in Washington, D.C., and one at Delta Airlines' Atlanta headquarters.
Over the past two years, Pham, also a chef, has focused on plant-forward menus due to customers' greater interest in these dishes. "This cuisine is always evolving," she says. "We are finding customers are much more welcoming of different flavors."
Similar to other segments, online ordering, takeout and delivery continue to shape the Asian foodservice segment. Denver's Teriyaki Madness, which has expanded to more than 100 locations nationwide, offers third-party delivery via its app or website. "In the last two years, there's been an explosion of carryout and delivery orders," says David Biederman, Teriyaki Madness' chief development officer. "Asian food travels well."
And just like in any other segment, technology is a driver when it comes to off-premises service. "Independents and QSRs are going heavy on mobile apps," says Rick Sevieri, president and principal, RJS + Associates, a foodservice design and consulting firm based in Lyme, Conn. "These operators are offering promotions and discounts, but third-party delivery services can take a bite out of profits."
Challenges and Opportunities
Because Panda Express often sources its Chinese ingredients from Asia, it has had to make menu adaptations since the pandemic. Labor has also been more difficult to address.
"Wok cooking requires training and skills," Wah says. "While wok cooking in small batches preserves the quality of our food offerings and is what differentiates us as a brand, it also makes it more difficult to hire and staff operationally."
Star Ginger's back of the house setup includes a dim sum chef's counter.With the diverse foods of Asia come a unique set of challenges. As most Americans are less familiar with these dishes, there may be some aversions that need to be overcome. "When there is a strong flavor profile that someone doesn't like, they may not experiment with other items," Greve notes.
Pham adds that part of the difficulty lies with the level of spice, specifically with Thai dishes. "Thai can be hot," she says. "And another issue is fish sauce aversions."
But Asian fare fits right into a big trend currently: the emergence of Thai street food. "It's an authentic concept that is so trendy right now," Greve says. "This is because dishes like Asian tacos tie into comfort food that people understand. [Highlighting fusion dishes] is a good way to get people to try items for the first time."
Along with comfort-food connections Barry believes there is a big opportunity for sustainable plant-based solutions. He notes that many Asian cuisines utilize vegetables effectively, adding that operators might build on this "perhaps by focusing on more unique preparations of vegetables that are still true to the culture but prepared with more focus can make plant-based solutions the center of the show."
Pham has made incorporating plant-based dishes a priority on Star Ginger's menus, as she's found more students seek these dishes. "In campus dining, we've found that 40% to 50% of students want to eat less meat, which signals an opportunity for our inherently plant-based cuisine," she says.
Fish dishes, too, are predominant. Originating from Japan but now considered a Hawaiian dish, poke was on the upswing prior to COVID-19 and remains popular in some areas of the country.
Sevieri recently designed a poke concept for a Connecticut food court, and says it is particularly appealing to younger consumers. Menus and ingredients are not the only areas of innovation. "What will be interesting is how robotic chefs will transform the segment, as Asian concepts are a good place to start," Sevieri says. "This technology is used in China, with robots acting as servers, bussers and chefs."
Pham says there is an opportunity for equipment innovations that can expedite rice and noodle production. Because Asian noodles are more delicate and there is a greater variety of types, pasta cookers are typically not utilized.
"Currently, there's no equipment allowing us to produce these items," Pham says. "In Asia, they use a round 30-inch or bigger pot that has dividers in the middle to hold three broths, plus one chamber for dumping the broth out and putting toppings on. It's a specialized unit like a tandoori oven. However, we are seeing more prepared items, like canned pho broth, for speed scratch cooking."
Menu Innovations and Staples
Although Asian fare relies on traditional dishes and American favorites like egg foo young and Mongolian beef, there are a number of more recent menu trends that have helped propel this segment.
Laksa is the top-growing dish on Asian cuisine restaurant menus, according to an August 2021 report from Chicago-based Datassential. This spicy Southeast Asian noodle dish appears on 1.5% of Asian cuisine menus, up 231% over the past four years, according to Datassential. Takoyaki, fried balls containing octopus, tempura scraps, pickled ginger and green onion, is also growing; it can be found on 4.1% of Asian menus, up 114% over the past four years.
As fusion Asian cuisine is on the rise, so are dishes that combine Asian flavors with Mexican fare. Datassential reports that nachos are another top-growing dish at restaurants serving Asian cuisine, with 2.8% offering a nacho option, up 110% in the last four years. Other interpretations range from ahi tuna with wonton chips to the use of Korean barbecue in place of salsa on tortilla chips.
At Teriyaki Madness, chicken is grilled on a broiler, rather than fried or baked, with marinades accenting a dish's flavor. "Teriyaki and spicy chicken are our top sellers," says David Biederman, Teriyaki Madness' chief development officer. "Although our menu is set, we do innovate when it makes sense. But people are mainly seeking a good value."
Chris Greve, corporate executive chef at Cura Hospitality, says that as more operators seek to reduce the use of costly and difficult-to-procure animal proteins, it pays to look at reducing menu offerings while highlighting popular dishes. "It's about identifying items commonly available that are not seasonal and ingredients that are less costly due to inflation," he says. "Also, in regard to labor issues, operators are looking at cross-utilizing techniques and skill sets to deliver on international cuisines like Asian fare. It's about getting folks to understand that searing and roasting doesn't change based on the ingredients."
Equipment Implications
From an equipment standpoint, with Asian fare it's more about techniques than technology, according to Greve. This includes high-temp cooking in woks, wet cooking methods such as braising and steaming, and dry roasting.
"[Due to labor issues], we look at utilizing quality control production, such as sous vide, that provides a simple finishing technique that ensures consistency," Greve says.
"The need for improved efficiencies has driven companies to invest in technologies that can replace the human workforce," Barry says. "And new restaurants in this segment are starting to use kettles more in place of heavy stockpots."
The workhorse for Asian cuisine continues to be the wok. Panda Express is rolling out automated woks to help staff more easily and consistently prepare heavier and larger-volume items like Chow Mein. "Furthermore, we've started utilizing clamshell grills, which cut cooking time in half," Wah explains. "The goal is to maintain the flavor and quality of Chinese cooking techniques while reducing the physical strain involved in food preparation to better protect cooks' physical well-being."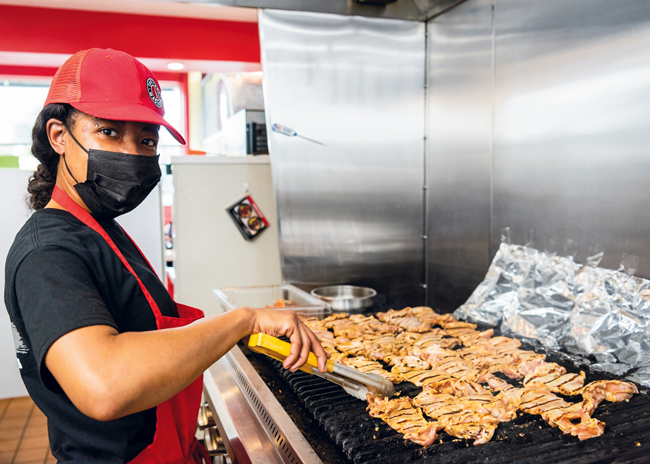 Staff at Teriyaki Madness cook all chicken on a broiler. Teriyaki Madness has a traditional equipment package, with the bulk of its entrees and ingredients coming off the grill or out of a wok. "We are marinating and grilling in-house, but it's not about technology or the next best thing," Biederman says. "Traditional restaurant equipment, like grills and woks, gives us a great amount of flexibility and menu additions."
Star Ginger relies on versatile equipment, such as small combi ovens that can steam and roast, plus convection ovens that can simulate frying. "In the past, we had to modify our stoves, because they only provided 25,000 or 28,000 Btus, and we require at least 32,000 Btus for our wok dishes," Pham says. "And we can only do so much with induction cooking [due to the heat output]."
Over the last year, Star Ginger rolled out a reach-in unit that functions as a hydroponic unit. It provides light, humidity and a water hookup to grow herbs and microgreens on-site.
In terms of technological innovations in equipment, although a blast chiller may be thrown into the mix to increase shelf life, Sevieri says the biggest advancements have been in the front of house. "With the growing trend in cloud kitchens and online delivery services, we're seeing more takeout lockers being implemented," he says.
The future looks bright for the Asian segment. Over the next five years to 2026, sushi restaurant revenue is expected to grow at an annualized rate of 7.7% to $32.2 billion, according to IBISWorld.
The shift toward fine dining Asian concepts is expected to lift Chinese restaurant industry revenue to expand at an annualized rate of 2.9% to $17.7 billion over the five years to 2025, reports IBISWorld.
"As we think about future restaurant and back-of-house design, we are continuing to bring in more equipment that provides opportunities for different preparations," Wah says. "We're testing roasting, steaming and air frying equipment. This allows us to create different versions of current dishes and new items."