When the pandemic hit, self-serve foodservice options, including buffets, received unprecedented scrutiny.
People were concerned about surface transmission of COVID-19 by sharing utensils and infecting one another by swapping too much of the same air due to standing next to each other for too long. As a result, operators across all segments sought to modify or even close their buffets entirely. Now, many are considering whether the time is right for buffets to make a comeback. The answer in many cases is yes, but the design and operation of self-service options will need to heed the lessons learned from the past two years.
"There are two key concerns for the immediate future of buffets: safety and the labor shortage," says Mike Kostyo, trendologist at Datassential, a Chicago-based food-focused research and insights firm. A Datassential survey reveals that 73% of consumers say they will avoid shared food or self-service options like buffets specifically because of the rise of the Omicron variant.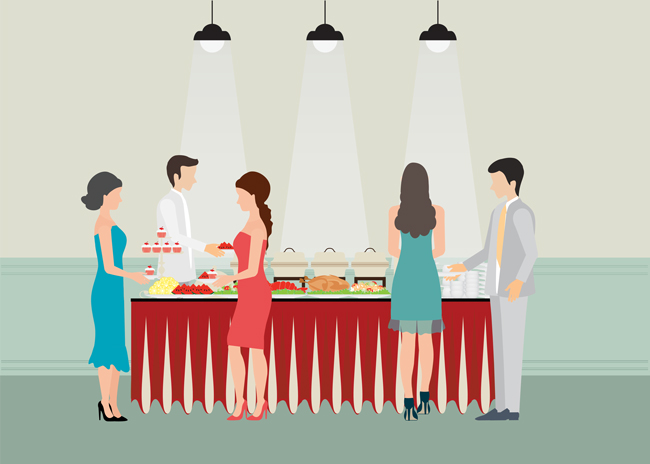 Guide to Functionality and New Protocols
So, what steps are buffet operators taking to address sanitation and cleanliness? They are doubling down when it comes to food safety procedures, says Georgie Shockey, principal at Ruck-Shockey Associates, a Texas-based foodservice and hospitality consulting firm.
By their very nature, buffets have characteristics that make it easy to understand consumers' reluctance to use them during the era of COVID-19, such as shared serving utensils and the need to stand in line close to other diners. Among the operators that faced pandemic-related closures was Golden Corral, a dominant buffet chain with 490 units prior to COVID-19. The chain temporarily shuttered nearly half its locations in the midst of the pandemic, but since then, 340 units have reopened, and more are scheduled to return to service.
As buffet service comes back online, designers are wise to key in on both new consumer concerns and consistent elements that always support buffet success. Factors to consider when designing a self-service layout include efficiency, customer flow and placement of all stations, Shockey says. "We look at whether a circular design or a straight line, which takes more room, would work best. Some buffets are double-sided; some have only one side available to consumers."
Buffets typically use one or a combination of three basic forms of access: customers filling the plates, staff replenishing items and staff serving the food items. Along those lines, additional questions to ask: Can guests access the individual menu items, or will a server be necessary? Do portions need to be monitored because they are a high cost per serving?
The design needs to take these issues and more into the planning process.
Adding Excitement to Functionality
John Egnor, president of JME Hospitality, started his career designing large casino buffets. He was consultant and kitchen designer of a Harrah's location in Atlantic City, N.J., that featured a buffet area measuring 7,900 square feet in an 18,100-square-foot dining area.
The menu included a variety of global foods, from Asian to Italian to Brazilian-Portuguese. Staff prepared food in front of diners at five action stations.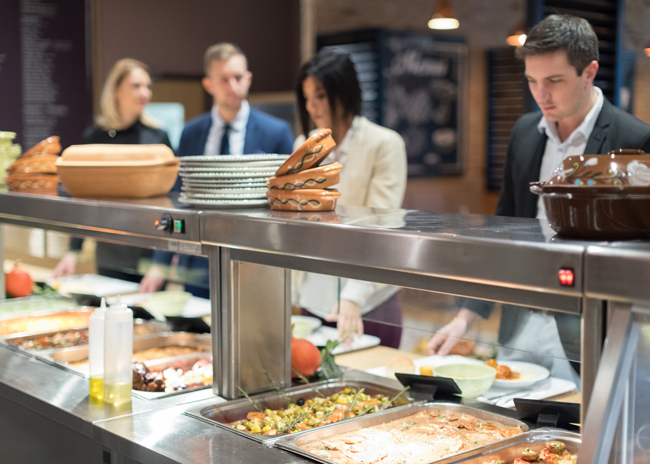 One common question around buffet design today is: Will the setup include a server?In a buffet with immense scale, Egnor says, ease of access for diners as well as ample space for staff to prepare food and serve patrons becomes essential. "A best-in-class layout matches customers' expectations and supports the ease of function and positive economic outcome for the operation," he says. Whether it's a very large casino buffet or a small salad bar, he says the standards used to evaluate a buffet are the same.
Egnor works from the following list of elements during the buffet design process: develop a fresh appearance; understand the impact the buffet will have on the dining room and other elements of the operation; ensure ease of access to the buffet for all customers; adhere to food-safe practices when prepping, storing, transporting and displaying food; showcase the signature menu items such as a vertical rotisserie and a revolving dessert display; design action stations for efficient operation; and specify lighting on food surfaces that highlights the menu items and ensure ease of replenishment.
Kostyo lays out Datassential's forecast on the future of buffets. "There will be lingering concerns about food safety for years, not to mention the fact that 67% of consumers think there will be another pandemic of the same scale or larger in the future," he says. As a result, he adds, "You really can't overdo it when it comes to designing a buffet that feels clean and sanitary. There should be ample information about antibacterial and pathogen-resistant surfaces, how often foods are switched out, conspicuous placement of hand sanitizers, etc. Buffets should also be designed for flexibility so they can hold prepackaged foods or be staffed by servers, depending on changing needs."
Labor will remain a critical issue in the near term, too. "The impact on labor savings is still key for the foreseeable future, as many of the labor shortages caused by early retirements or workers shifting from hospitality to another industry are permanent," Kostyo says.
Still, there's some reason for optimism. "We recently spoke to a number of K-12 operators who were excited that things felt safe enough that they could open up their salad bars again, which was a big help at a time when labor was at a premium. But now things are up in the air again because of Omicron," Kostyo adds. Many industry experts see buffet operators moving from self-service to service and back again in the future. While there may be a new format, the old design rules will still apply. Whether buffets end up being designed to offer service or self-service, functionality will still be the key to their success.
Smooth Operator
John Egnor, president of JME Hospitality, notes that the following elements are important in buffet setups to keep the operation running smoothly and ensure customer ease of use:
Accessible plates (heated, chilled)
Access to food
Timely replacement of food
Room for customers to circulate around the buffet
Bussing plan to clear tables quickly