Reading about trends always ushers in a sense of excitement and anticipation about potential change, growth and innovation on the horizon. Changes in how chefs, culinarians, restaurateurs and foodservice operators develop their menus can have a significant impact on the equipment choices and design details needed to support them.
Of course, service trends continue to impact equipment, supply items and operational designs. Specifically, consumer demand for convenience and customization continues to drive things like online ordering, contactless payment, curbside and cubby pickup, delivery and more. In some ways, this has had a reverse effect on menu design; some foods simply don't travel as well as others, leading menu makers to adapt their takeout menus.
Here, we look at five key menu trends and their impact on design and equipment specifications.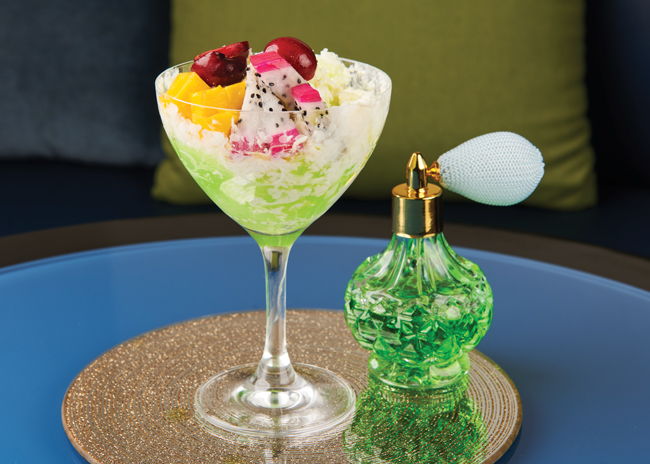 Photos courtesy of Andrew Freeman & Co. and The Culinary Edge
Plant-Based
You may be as tired of hearing the two-word "plant-based" phrase as much as the word "pivot" by now. Sorry, but it's time to get used to it. As consumers — especially younger consumers — grow increasingly concerned, not only about their own health but also the health of animals, farmers and the environment, they continue to incorporate more fruits, vegetables, legumes, beans and other plant-based foods in their diets.
Additionally, third-party research firm Datassential reports "while plant-based meat replacements have gotten a lot of attention in recent years, it has also driven some consumers to embrace and celebrate simple fruits or vegetables on their own merits." According to the firm's research from early January, 60% of consumers say they prefer "plant-based foods that showcase the fruit or vegetable instead of mimicking another food," compared to 40% who prefer plant-based options that replace traditional foods like beef or milk. While both can coexist, even in the same meal, expect to see more options that proudly celebrate their use of natural, whole fruits and vegetables in the year ahead. Even hearts of palm are making a comeback as a plant-based seafood replacement in a range of Latin-inspired dishes, Datassential's 2022 "Future Food" report notes.
Menus with more plant-based options "are becoming the norm for all of our projects for a few reasons," says Tarah Schroeder, FCSI, LEED AP, executive principal, Ricca Design Studios. In short, she says, they're less expensive, healthier and add to the more sustainable, balanced diet that many consumers now seek. Again, supply chain issues have played a role in this menu shift, with diminished supplies and rising costs for certain meat products making plant-based items a trendy alternative to combating such issues.
While operators can prepare most plant-based dishes on a traditional cookline, Schroeder says there's room for enhanced use of lower-heat cooking in the form of sous vide machines, pressure cookers, combi ovens and cook-and-hold pieces as well as more options for ventless and electric or induction cooking.
"This is where two trends are meeting in the middle to target high-level goals, such as reduced carbon footprint or all-electric kitchens," says Schroeder, who notes that colleges and universities, along with corporate campuses, embrace this trend the most. That is especially true in California and the Northeast, she says, where some jurisdictions seek to limit the use of gas in new buildings.
Eric Fernandez, research and development chef with The Culinary Edge, a restaurant and hospitality consultancy based in San Francisco, has noticed a rise in plant-based menu items in his projects, too. "I don't see everyone immediately removing charbroilers from the kitchen, but I do see the opportunity for having a separate fryer for plant-based foods," he says.
Fernandez also sees operators using combis or other cooking vessels with multiple cooking zones to enable them to cook vegetables and plant-based foods side-by-side with meat products.
How deep are the roots for consumers' appetites for all things plant-based? Well, it's led to the development of more restaurants and foodservice concepts devoted to vegetarian and vegan menus, reports Leif Billings, vice president, Northeast Division for Next Step Design. And the plant-based movement continues to bloom among established restaurants and culinarians who made their chops with more traditional menus, too.
For example, Billings points out the legendary fine-dining institution Eleven Madison Park in New York City went all plant-based when the restaurant reopened after pandemic-induced closures. Celebrity chef Jean-Georges Vongerichten intends to open more outposts of his all-vegetarian concept, abcV. There will also be a plant-based eatery known as Seeds & Weeds in his new dining complex in NYC's Seaport District's Tin Building this spring.
On the West Coast, Billings worked on a project with plant-based chef Matthew Kenney. "That line got scaled down when [chef Kenney] said he needed fire power but didn't need every inch of the custom cooking suite to be a cooking device," he says. What that means is that, overall, the cooklines in a plant-based kitchen can be less robust, Billings says, but notes that many chefs still use live-fire cooking to bring out more flavors in vegetables, just like they use them for cooking meat. "I've seen more chefs request woks, which work well with a vegetarian concept," he says. Others are working in "binchotan [Japanese] grills that impart a charcoal or wood aroma into the food."
Immunity-Boosting and Functional
The focus on immunity-boosting and functional ingredients appears to be deepening. Kevin Banas, a project manager with Cini•Little International Inc., has seen an increased focus on the use of fermenting and live culture
in foods, not only to add flavor but also to add good bacteria for gut health. "I'm seeing more restaurants and other business establishments brewing their own beer or kombucha, making kimchi and sauerkraut, making their own cheeses and using natural starters for sourdough," he says.
Once considered a hot-button issue for many health departments, the production of fermented foods and beverages is becoming more acceptable in commercial kitchens, as long as there is a documented HAACP plan for what the health department calls a "modified atmosphere system." Fermenting can be achieved with just the use of mason jars or buckets and time, but "at scale it does help to have to have sous vide immersion cooking, a modified atmosphere vacuum packager or slow-cooking cabinets to control humidity and temperature," Banas says. "Some heated cabinets specialize in precise temperature and humidity control without the need to hold under water as in sous vide cooking." Slow or pressure cookers can be used to make yogurt, creme fraiche and cheese.
Likewise, Billings has seen more chefs pickling and preserving their own produce. One of his projects featured a library-like bookshelf holding jars of pickled vegetables. For another project, his team designed a kimchi prep room with a large soak tank outfitted with a lid on a piston for easy lifting up and down as well as a counter that could be used for prepping vegetables directly over the soak tank.
Global and Local
Hospitality consultancy Andrew Freeman & Co. points to Southeast Asian (Filipino, Singaporean, Vietnamese), South American (Argentine, Brazilian, Chilean) and Caribbean (Puerto Rican, Cuban, Dominican) as the top three cuisines to watch this year, while noting that Indian food is also on the rise.
Billings says he's seen some recent activity among chefs showcasing modern and regional Indian cuisine. He points out chef Hari Nyack of Sona in New York City with whom he worked to develop a custom piece of equipment with a manufacturer that could operate much like a wood-fired oven. The custom piece uses smoking drawers that can be loaded with ceramic briquettes and fully enclosed to negate the need for a separate exhaust system. Billings has installed similar pieces in two other restaurants, including a Portuguese concept.
In addition to global cuisines trending, Schroeder also sees a return to hyperlocal sourcing and the influence of regional authenticity. "I'm seeing chefs creating signature dishes that reflect local culture
but using products found in their backyards," she says.
Today it's all about finding ways to cook global cuisine without necessarily investing in specific equipment that can only do one thing. For that reason, Schroeder says chefs continue to experiment with pressurized tilt skillets that also have a griddle function to cook these dishes.
Tasting menus and individual-sized portions continue to make a comeback as a way to showcase globally (and locally inspired) dishes versus shared plates for obvious pandemic-related reasons, Schroeder says. This has an impact on smallwares and plateware — as well as the need for some extra dishwashing capability.
Image courtesy of Starbird Chicken
Comfort
Globally inspired comfort food is an up-and-coming mashup. One example of this that Fernandez sees more operators adding are items like tater tots loaded with Korean beef bulgogi, taco pizza and sushi burritos to their menus. "We're seeing familiar dishes with more global flavor profiles," he says. There also seems to be an ongoing mashup of healthy and indulgent. "We call this 'permissible indulgence." Consumers are OK with having a salad that maybe has fried chicken and some global flavors all-in-one or eating plant-based mostly during the week and then deciding to have a chicken katsu sandwich with pickled ginger and fun vegetables.
Billings says he's seeing an explosion in higher-end pizza and pizza outposts, many started by full-service/chef-driven restaurants looking for alternative restaurant streams when indoor dining remained closed or during slowdowns.
"One of our clients had planned to open an Italian-based restaurant but did so well with pizza during the pandemic that they decided to just open a pizza restaurant," Billings says. "Pizza is still pandemic proof, and they can fill smaller locations with more options for takeout."
Operators are leaning toward traditional gas-powered or even electric ovens that can cook pizzas in just 90 seconds, according to Billings. "The pizza cooks so fast in these ovens that they don't necessarily have time to pick up all the wood-fired aroma like slow-roasting meat does anyway," he says. "We're working with some amazing electric deck ovens that cook super consistently and very evenly with great temperature recovery."
Streamlined
While streamlined doesn't necessarily represent an obvious food-related trend, it's a common denominator among most restaurants and foodservice operations right now. Study after study shows labor shortages continue to plague staffing, recruitment and retention across all operator segments, and this has forced chefs and menu developers to significantly pare down their menus to allow for high level execution with less support.
"Labor shortages are perhaps having the biggest impact on menu development right now," says Schroeder. To combat the labor issue, at least in the noncommercial space, Schroeder will design mirrored stations with multiuse, highly flexible equipment. This approach also accommodates rapidly changing menus and foodservice production levels, allowing operators to scale up or down depending on staffing issues, daypart, demand and more. "There might be one cookline supporting multiple platforms, so you need the right equipment to manage that volume, but also the flexibility to offer varied menus later on," she says.
Here's also where automation comes into play. "Nowadays, we have more cloud-connected equipment on the market that's easier to use and a chef can dial into the equipment remotely to monitor pieces across multiple kitchens or campuses," Schroeder says. She also points to the growth of technology used for front-of-the-house areas, such as salad- and coffee-making robots or enhanced vending as ways automation can help offset labor challenges.
While Schroeder believes that while robotic arms have yet to become ubiquitous in back-of-the-house kitchens, that does not mean the industry completely lacks automation. It's already present in the form of combi ovens and fryers that can produce preprogrammed recipes with just a press of a button.
And this might actually be the pivotal year for those robotic arms and similar solutions, adds Fernandez. "We're starting to see this technology be operationalized and deliver real value," he says, pointing out large chains openly testing this technology. "The ROI is there if you can remove a shift and a half per day in a kitchen."
Robotic fryers, for example, can be really helpful for producing a core menu item where team members then only have to finish the dish with sauces and serve. There's also a growing, direct connection between equipment manufacturers and operators when it comes to automation. Fernandez points to the Jamba Juice kiosk at a California Walmart as one operator/manufacturer partnership in a nontraditional foodservice space.
Some equipment solutions can help operators economize space and maximize production cycles of seasonal ingredients. "Several companies now offer smaller or more affordable blast chillers that also proof, hold and rethermalize," says Banas. "A high-quality blast chiller freezes food so quickly, preventing ice crystals from forming that would otherwise destroy the shelf life of food. This allows operators to purchase berries in season or other ingredients that are less expensive and preserve them in a blast chiller for when prices go up or supply goes down without sacrificing quality."
Trends come and go. The five covered here, however, have proven to have staying power during the past two years. And as chefs and menu makers continue their exploration of and intersections between health, comfort, efficiency, taste and authenticity, operators will turn to foodservice equipment and supply items to support their culinary visions.
Emerging Food Trends
This fun list of emerging food trends was culled together from annual trends reports from Andrew Freeman & Co., Baum+Whiteman's, both restaurant hospitality consultancies, plus Datassential's 2022 Trends report, "Future Food."
Sikil pak, a Mayan pumpkin seed dip
Upscale potato chips and globally spiced fries
CBD-infused snacks, desserts and drinks
Gochujang, tajin, harissa and chili crunch
Fried Korean hot dogs on a stick
Korean egg drop sandwiches
Singaporean laksa (noodle bowls)
Shaved ice
South American empanadas
Dry-aged fish
Tea service and finger foods
Taiwanese breakfast sandwiches and sticky rice rolls with pork and veggie "floss"
Yuba noodles made from tofu skin
Indian chaat, a spiced street snack and crunch topper
Central Asian shashlik (meat kebabs)
Indian pizza
Point of View: Equipment Trends
Here, Tarah Schroeder, FCSI, executive principal at Ricca Design Studios, shares her picks for trending equipment items:
Sous vide equipment
Pressurized tilt skillets
Ventless equipment
Induction ranges, griddles and woks
Cloud-connected equipment
Smaller-scale blast chillers