Three years ago, no one would have been able to tell you what a virtual foodservice brand was or what it was for. Today, many people still do not know. And yet, virtual brands continue to pop up all over the industry — so much so that they can be considered their own market segment.
Virtual brands are not to be confused with ghost kitchens. Ghost kitchens, which are stand-alone, off-site facilities, can produce virtual brands, but many virtual products are created within brick-and-mortar restaurant kitchens.
A simple definition of a virtual brand is "a trademarked business created for online ordering and delivery." Virtual brands are an operator's profitable addition to or creation of a takeout business. The products cannot be purchased in the brick-and-mortar restaurant; they are only available online.
The segment is attractive because it has low barriers to entry and does not require a large investment in new space or new equipment. The concept has saved a lot of restaurants that were forced to be closed during the pandemic by using existing labor and facilities. Here are the benefits:
Low up-front costs, primarily marketing and technology
No long-term commitment because the concept can be discontinued at any time
Existing labor and existing equipment can be used
Existing ingredients can be cross-utilized
The concept can be up and running in four to six weeks
Sales are immediate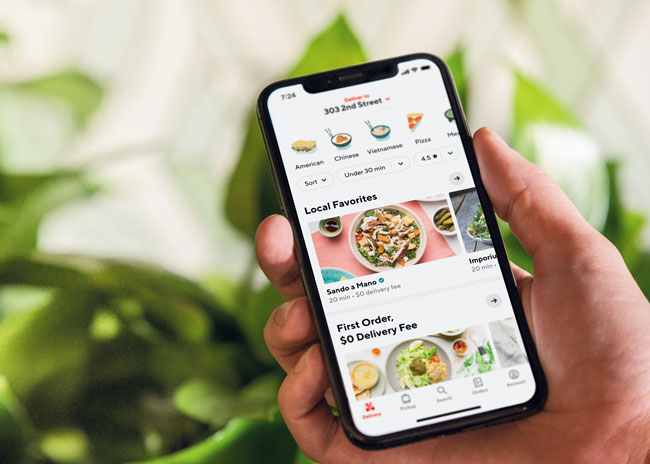 DoorDash now works with operators on creating virtual brands.
Difficult to Track
The virtual brands segment remains slippery to define because it is so new and growing. It is also still lumped in with ghost kitchens. Mike Kostyo, trendologist at Datassential, says, "We've seen phenomenal growth in ghost restaurants and virtual brands. As of November, we are tracking 17,445 ghost restaurants across the U.S. through our Firefly database. By its very nature, it is a difficult segment to track.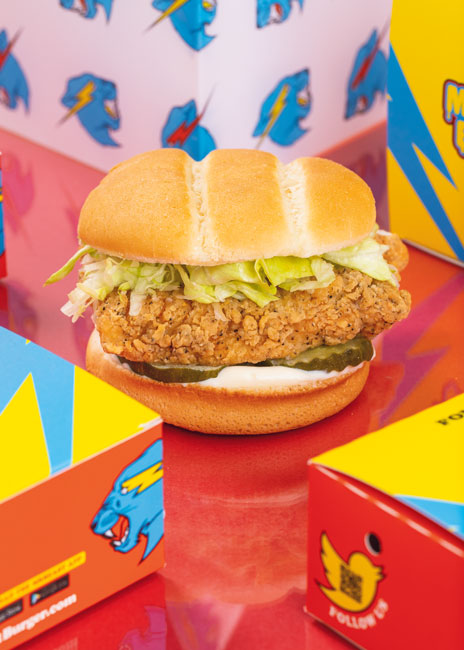 Digital content creator MrBeast created his own virtual brand, MrBeastBurger, with the help of Virtual Dining Concepts."The difficulty in tracking ghost kitchens is also why many consumers are still unaware they have ordered from a ghost kitchen," Kostyo continues. "According to our data, only 9% of consumers say they have knowingly ordered from a ghost kitchen or virtual brand. That number jumps to 16% for Millennials."
The question is, do consumers want to know who made their food and where it was made? Kostyo says yes. "Eight out of ten consumers say that it is at least somewhat important that they know the restaurant or brand behind a ghost kitchen," he says. By extension, the same would be true of a virtual brand that they don't yet recognize.
Of course, consumers often don't realize they are eating food from a virtual brand. They are familiar with the products, but they simply haven't yet heard of the brands. Frankie DiCarlantonio, director of the Scaffidi Restaurant Group based in Steubenville, Ohio, discovered this problem right away. The flagship restaurant, Scaffidi's Restaurant & Tavern, sells homemade pasta and other Italian food to consumers in the Ohio Valley.
After offering takeout for items, DiCarlantonio decided to offer a delivery-only chicken wing option. Nothing happened. He immediately realized he was not getting the "bounce back" he expected. There were more questions than orders on the Facebook page, he says. "Are you frying these in the back of your truck?" "Are you making them on your kitchen counter?"
To counter the confusion, DiCarlantonio published a statement explaining that the products were being made by the Scaffidi staff in the Scaffidi kitchen and that they were available for delivery only. The next day, two local media outlets picked up the story and gave it coverage. Orders started coming in right away.
DiCarlantonio says that the company's strong relationship with DoorDash has been a real boon. Their relationship goes beyond the delivery service. "They're great at marketing. They are good partners," he says.
Consumers Want Transparency
A Datassential study in January 2021 revealed that 55% of consumers think it's deceptive for a restaurant to sell the same food under different names. Chuck E. Cheese found this out the hard way.
Chuck E. Cheese, known for its kid-friendly atmosphere, like many chains was forced to shut down the dining rooms and arcades during the pandemic. Management wanted a way to keep their staff working, so they launched Pasqually's Pizza & Wings, a virtual concept. It was named for the parent company's popular animatronic chef, Pasqually. In addition to pizza, the delivery menu offered appetizers, new Meatball Mania items and other specialty dishes.
Almost immediately, people realized that the Pasqually menu was being produced in and delivered from the Chuck E. Cheese kitchens. The response was brutal. Comments said the company was "underhanded" and pulling off a "ruse" by "disguising itself as Pasqually's."
One comment said the company was "creating its own competition."
This would suggest that the idea of educating the public is probably a good one.
Pasqually's weathered the storm. A company spokesperson says, "Nearly 18 months in, we continue to innovate the Pasqually's brand, rolling out all-new menu items like a new Meatball Mania lineup that has been a huge hit. We're confident we'll see the same reaction to our three new holiday bundles and the new Brookie dessert that is a combination of a fudgy brownie and chocolate chip cookie." Now more than 400 Chuck E. Cheese locations sell the virtual brand's menu.
Two Business Models
Some service companies now focus on working with operators to create turnkey virtual brand concepts. Some of these services for the brand concepts are extensions of the companies that formed to provide ghost kitchens for off-site production. They include Kitchen United, CloudKitchens, Reef Technology and Virtual Dining Concepts. The alternative is to create a concept in-house.
Virtual Dining Concepts (VDC) provides a turnkey business to operators wanting to add virtual brands to their existing portfolio. "We do all the work," says Kelly Grogan, vice president of sales for VDC. "There are many things to consider when designing your own virtual brand — things like recipes, descriptions, photos, training, third-party management, branding, etc. There are lots of different approaches. Our specific approach is to help those with existing spaces maximize them."
VDC has a suite of virtual brands it has created for operators to use in their own delivery businesses. These include concepts such as MrBeast Burger, Mariah's Cookies (in a deal with Mariah Carey), Wing Squad and P.ZA Kitchen.
VDC works with operators to cross-utilize ingredients they already have in-house and design the menu to use existing equipment as well. "We partner with their culinary team to review what they have and what they would need to bring in," Grogan explains.
In the VDC model, operators make 30% of sales as profit; 30% goes for food and marketing costs; and 40% of sales goes to VDC.
Another service company, the third-party delivery firm DoorDash, has gone vertical, offering consulting beyond just delivering orders. They now offer advice on go-to-market planning or support with marketing.
Ashlee Tran, director of merchant strategy and operations at DoorDash, says the delivery company works with operators to reach new customers and grow revenues through their virtual brand business.
Bad-Ass Breakfast Burritos are part of the virtual lineup of brands created by The Absolute Group.
Going it Alone: the In-house Model
The Absolute Group has created its virtual business privately and in-house. The brick-and-mortar operation, Dog Haus, offers chef-crafted hot dogs and sausages as well as burgers. Hagop Giragossian, Dog Haus partner, reports that the company recently added seven virtual brands to its core business.
The virtual brand menu includes items such as The Absolute Würst, Bad-Ass Breakfast Burritos and Plant B, which are plant-based burgers and sausage.
Giragossian has been in the process of getting older restaurants up to speed to produce the virtual products. "Our restaurants range from 11 years old up to ones we are opening now. Sometimes their footprints are smaller, or their refrigeration or storage is smaller. We make adjustments, maybe by removing a piece of equipment or stacking some things," he says. The company is not doing any major remodeling.
The Absolute Group is on a growth curve. In addition to having a number of new units on the drawing board, the virtual business is booming. "We're solving for a volume issue, which is a good problem to have," Giragossian says.
Red Robin, the casual-dining burger brand, is sticking its toe in the water by launching three virtual brands for delivery only. Chicken Sammy's, Fresh Set and The Wing Dept. will operate as virtual brands to support Red Robin's already strong off-premises channel.
The company reports it continues to enhance and modify its existing buildings to increase space for off-premises orders and to improve efficiency and accuracy.
On the "go big" side, the multitalented DJ Khaled has co-founded a number of ghost kitchens. He has partnered with Reef Technology, a ghost kitchen operator, and together they plan to open more than 150 ghost kitchens in 5 countries: the U.S., the U.K., Canada, France and the United Arab Emirates.
These virtual brands will produce versions of Khaled's favorite foods, including dishes from jerk chicken to a Middle Eastern lamb dish, as well as eight flavors of wings. He's not stopping at land delivery, either. A plan for jet skis for boat-side delivery is in the works.
Khaled is quoted as saying, "It's the first restaurant concept to ever launch on three continents at the same time with over 150 locations and growing."
A sample of other companies that have made the news by offering virtual brands:
Chili's introduced It's Just Wings last year.
Starbird Chicken recently received an infusion of $12 million to fund its next phase of growth. This will include adding restaurants and ghost kitchens. They operate a suite of virtual brands, including Starbird Wings, Starbird Salads, Starbird Bowls and a plant-based option called Garden Bird. The company reports that its virtual brand business is "trending at double digits of company-wide sales in Q3 2021."
Keys to Success
Dog Haus's Giragossian says, "While it is not easy to start a virtual brands concept, it is effortless." And there are lessons that must be heeded.
Success factors are in the planning: using existing space, cross-utilizing ingredients and equipment, using excess capacity in the kitchen and training the staff to prepare orders successfully for delivery.
It's also key to maintain strong relationships with third-party delivery companies. They are critical to customer satisfaction with virtual product. Orders need to arrive in good condition, at the right temperature and in a timely fashion.
Another success factor is the right selection of virtual brands offered. VDC's Grogan says restaurants can be "most successful by taking two to three brands that complement each other."
Two big things necessary for success — marketing and technology — are also the biggest challenges.
Consumers are aware of core brands that are available in brick-and-mortar restaurants. Virtual brands, since they are for delivery only, present a different kind of challenge: reaching real customers.
One solution is to rely on the delivery company apps. They operate like a search engine for food products. This lets consumers know what's available. Then, social media can educate them more about the individual products. It's important to have great food shots showing the items looking their best.
Technology, like good delivery, is one of the top priorities for a smooth-running business, Giragossian says. He uses a third-party aggregator. "Now all the orders come in, and we can manipulate prep times for all the different orders." He adds that technology solves delivery issues.
The Future of the Segment
Datassential's Kostyo expects pain points to occur as the segment continues to grow. "There will be some shakeout in the category as weaker brands are shuttered. There is the potential for oversaturation, customer confusion and brands overextending themselves and their already-stressed workforce," he says.
Kostyo is bullish on the segment as a whole, however. "The future path to growth is strong for ghost kitchens and virtual brands," he says. "When you consider the rise in delivery ordering, it is a permanent shift.
"Creating virtual brands is incredibly easy," Kostyo continues. "They allow operators to test new concepts, stay on top of trends, cross-utilize ingredients, and both reach and micro-target new demographics."