Burgers serve as a staple on many restaurant menus but have received an overhaul by way of more premium meat blends and upscale toppings. Using high-end meat, such as wagyu, is one of the most favored megatrends among consumers, with more than 40% expressing interest, according to Chicago-based Datassential.
Concept Close-Up: BurgerFi
BurgerFi opened its first location in 2011 based around beef raised without antibiotics or steroids. The Ft. Lauderdale, Fla.-based chain has since grown to 125-plus sites and continues to offer high-end burgers. Here, Paul Griffin, BurgerFi's chief culinary officer, discusses current burger trends and the BurgerFi approach.
Q: How does BurgerFi connect with the upscaling trend of burgers?
A: We've always offered trendy, high-end burgers, but the ideation has changed over the years. Five years ago, we began offering the CEO, a wagyu blend that is one of our most popular. Because the supply chain is so damaged, we have to do more with less. For example, Korean barbecue sauces were big, but restaurants are having to be cool and innovative with ingredients they already have in-house. For this reason, cross-utilization of food items is hot right now.
Q: What is the confusion over wagyu beef?
A: People know this beef is high quality, but there's confusion that it's Japanese. Our burgers are an American blend of heritage wagyu beef that we buy from a farm in Idaho. They have been our partners since day one.
Q: Talk about your proprietary burger equipment.
A: We offer a smashed burger, which is thinner and eats soft and tender compared to a thick patty, which has more of a meatloaf-style texture. In 2014, we started working with an equipment manufacturer to create a weighted platen grill designed to smash the burger patty to the desired thickness. When it's weighted down while cooking, the meat spreads out and sticks to the grill without shrinking. This method also produces air pockets on the inside of the patty [which lend to its lighter texture]. Now, many burger concepts use the weighted platen grill, although we were a pioneer.
We also brand our buns. Originally, we marked each bun using a traditional branding iron the size of a curling iron that plugged into the wall. This was very labor intensive. About four years ago, we started an initiative to work with an equipment company to create an automated branding system. Now our buns are branded using automated robotic arms and 24 branding heads. It took us seven years at a cost of $1 million, but the system accommodates high volume.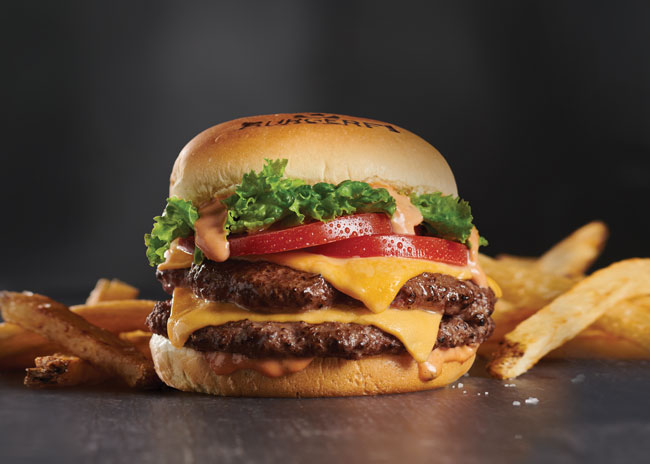 Image courtesy of BurgerFi
Breaking Burger Insights
Here are five key trends that are showing growth on burger menus according to Datassential's World of Burgers report in September 2021:
Garlic and chipotle aioli spreads are growing quickly on burger menus.
Pickled red onion is showing growth as a burger topping.
Wagyu is growing as a burger meat type.
Thicker condiments are now being added as a topping to burgers, such as tzatziki, queso, peanut butter and hummus — items previously reserved for stand-alone appetizers or the main element of a sandwich.
Burgers have broken through to the breakfast daypart, with patties being topped with eggs, bacon and potatoes.
Burger Menu Trends
Common callouts on menus when it comes to premium burgers include beef sourcing, halal certification, seasonal ingredient toppings, humanely raised product and "free-from" attributes.
Demand for vegetarian, vegan and plant-based options is driving product development in the burger category in all parts of the world.
Operators returned to touting locally sourced products in the immediate wake of quarantine periods and have since amplified that messaging with new offerings that also call out locally sourced burger toppings and ingredients.
Operators are adding food and beverage options intended to whisk consumers away to places they can't currently visit, with burgers a common platform upon which to showcase globally inspired ingredients, flavors and preparations.
Source: Technomic 2021 Burger Global Menu Category Report