Green initiatives continue to generate notice among consumers.
Today's Climate
Plant Cafe Organic's catering menu includes all organic items packaged in either compostable or recyclable containers.The drive for environmentally responsible operations is on the rise. The Green Restaurant Association reports that operators show a greater interest in a variety of green-related subjects, including disposables. Operators are "looking for greener products," says Michael Oshman, CEO and founder of the Boston-based GRA.
One emerging trend in this area, per Oshman, is customers taking food containers home on a deposit, then bringing the containers back so operators can reuse these items. Customers either get another container to use for their next order or their deposit returned.
Making incremental changes is the best way to make a restaurant more sustainable, says Oshman. "There is a misconception that you have to be vegan and go solar, but it's not an all-or-nothing gain," he says. "Even the greenest vegan restaurant that is fully solar can do 50 to 100 other things — it's the nature of it. Up to 98% of restaurants could be saving money by becoming more sustainable; many are leaving opportunity on the table by not going green."
More than anything, transparency remains of the utmost importance to consumers. "Customers want to know that a restaurant is taking specific environmental steps," Oshman says. But they also seek validation that the operation's steps are legit, and that's where the GRA and other organizations can lend support to these efforts. "Otherwise, they don't know what's real and what isn't."
Green Efforts Resonate
At least two-thirds of consumers say a restaurant operator or food manufacturer's approach to sustainability will attract them to a brand, according to a report by Chicago-based Datassential. This includes an effort to move toward more sustainable packaging and discounts for consumers who use reusable containers. But other efforts — ranging from in-restaurant compost stations to a reduction in the number of plastic containers or utensils included with a meal — also resonate with consumers.
6 Sustainability Starters
The more items on this list in place at a foodservice operation, the greener the facility.
Recycle: Designate separate bins for waste that the operation can recycle. Also, use recyclable items whenever possible, such as menus, cups and utensils.
Energy-efficient equipment: Although it can cost about 10% more up front, purchasing more energy-efficient equipment, including
Energy Star-rated items, can reduce utility costs by 10% to 50% in the long run.
Lower water usage: Incorporating equipment that minimizes water use, notably warewashers, is an effective step toward becoming more sustainable.
Waste reduction: Multiple steps can help reduce waste, including recycling, composting or right-sizing food production. Also consider using permanent ware instead of disposables.
LED lighting: LED lighting can utilize as much as 75% less energy and last up to 25% longer compared with fluorescent lights, according to the U.S. Department of Energy.
Buying local and seasonal: Purchasing food from area suppliers and produce that is in season helps lower the carbon footprint while supporting farms in the region.
Source: Green Restaurant Association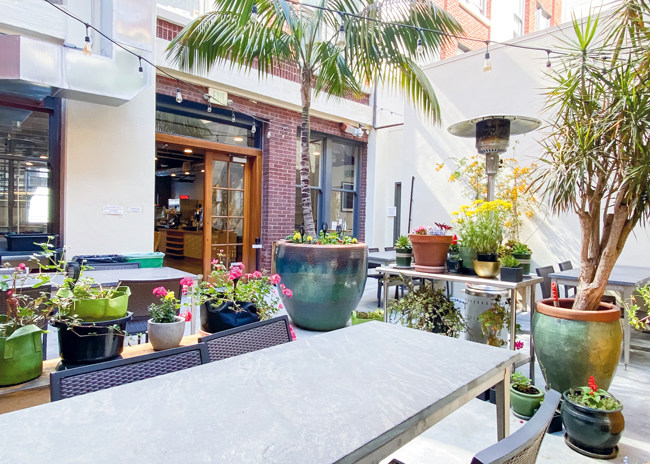 Dogpatch cafe functions as a testing ground for The Plant Cafe Organic at the concept's bakery and catering kitchen facility.
Concept Close-Up: The Plant Cafe Organic, San Francisco
Open since 2006, The Plant Cafe Organic was founded by Matthew Guelke and Mark Lewis, who formerly worked in the virtual reality space. Their goal has always been to bring eating cleaner, healthier foods to the mainstream. The Plant Cafe Organic was voted San Francisco's most sustainable restaurant by The Nature Conservancy, which works to grow conservation funding and establish environmentally conscious practices. Here, Guelke answers questions about his company's take on sustainability.
Q: Describe your sustainable initiatives.
A: Our produce is purchased from organic farms and is sustainably grown, and our seafood is sustainably sourced. Our dishes are nutrient dense with more vegetables and all local ingredients. We also have a very low carbon footprint and don't serve beef or lamb [due to the greenhouse gas emissions]. All of our packaging is either compostable or recyclable. We only purchase from ethical companies. Only nontoxic materials are used in our restaurant design. Our LED lighting is energy efficient as well as our water heaters.
Q: How does your focus on sustainability extend to your equipment?
A: We have a high-volume catering kitchen, and we've implemented top-of-the-line equipment that we don't have to replace as often. One of our sites also has a dishwasher that uses ionized water to clean instead of detergents. For composting and recycling, we use blue and green bins so we can separate everything thoroughly. We go energy efficient where we can in the design and sourcing of our equipment. Balancing that as one of our main purposes of the equipment we use, we cross-reference energy efficiency with what we need [functionally] in terms of ovens and juicing machines. We use recycled dishware, tiles and reclaimed wood. Customers can refill their containers from home with our filtered water, which is available from a self-service spigot.
Q: What advice would you give other restaurants that are seeking to operate more sustainably?
A: Sourcing is key because it has a ripple effect in helping the environment. If you source ingredients from ethical, sustainable farms, you're making an impact.
By the Numbers
72% of consumers say they've tried to cut food waste, mostly through not ordering more than they need or focusing more on portion sizes.
36% of consumers say that restaurants should do more to reduce single-use plastics, while the same percentage believe that it is both a business and personal responsibility.
29% of consumers say they'd be willing to pay more for sustainable disposable products, while 39% say they'd be willing to use them but not pay more.
Source: Datassential