The catering environment has transitioned from self-serve buffets and family style servings to manned serving stations and individual portions. Dishes are more likely to be preplated to minimize contact.
Market Size:
Catering revenues will reach approximately $12 billion in 2021, according to forecasting data from New York-based Statista. This market segment totaled $11.35 billion in 2020 — a decline from $12.97 billion in 2019.
Smallwares for Single-Portion Catering:
Cloches
Bamboo boats
Mini charcuterie boards
Single-serve skillets
Canape spoons
Cocktail forks
Skewers
Food cones
Small plates and bowls
Tongs
Serving spoons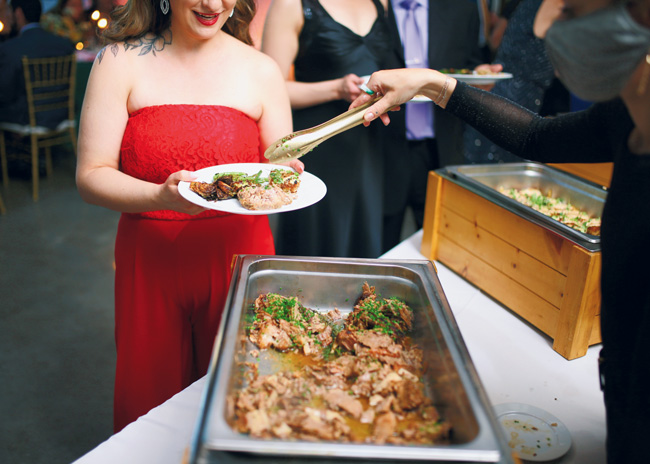 Images courtesy of My House Events
Three Pros Note What's Current in Catering
"In addition to shortened timelines and events being held in private homes or outdoors, we've seen a proliferation in individually plated food. Our request for covered food is on the rise, so we're utilizing glass cloches [covers] or domes. This sometimes creates a smoke effect, which is theatric. For manned food stations, we've incorporated screens that are either sleek metallic or rustic wood, depending on the decor. Instead of large tapas and charcuterie buffets, we're creating little tablets or individual cheese and charcuterie boards that serve one or two people. Also, when we saw trends shifting from large communal displays to individual servings, we had to watch the waste we were creating. If we're using disposables, we try to incorporate compostable servingware and containers. For example, we utilize food cones made out of shaved wood that is paper thin with visible grain for aesthetics. People are looking for Instagrammable beverages. By using champagne glasses rather than flutes we can include a garnish or foam on top that is more visually appealing."
­— Shaneil Sibblies, president, Style Catering, Miami
My House Events notes individual boat-type serving vessels are among the top catering trends today."New trends in plating include a big shift in dessert bars. We're seeing mini pies served in small tins instead of full-size versions. Rather than traditional cakes, clients will have a smaller cake for show and serve individual slices [from another cake that is not on display]. Carving stations have made a comeback, and there has been a big shift to full-serve food stations where individual portions are served. Boat-type serving vessels are huge, as are plate covers for meals and appetizers. With more staff on-site for full service, we've seen an uptick in tongs, big spoons and a variety of servingware of all sizes. The mismatched look is big right now as well as rustic chic. Individual cocktails that are prebatched and lidded have become more commonplace. The smaller sizes provide more branding opportunities. For example, we created tequila glassware with a bride and groom's homemade logo and have served mini tacos on branded napkins. Clients also are requesting mini charcuterie boards with one slice of cheese, one meat and bread. Mini cast irons are big, with individual skillets for fried shrimp or grits."
— Barrie Schwartz, founder, My House Events, New Orleans and Los Angeles
"Although home events are more likely to have a standard buffet with chafing dishes, corporations are focusing on making sure event attendees feel safe. We may put out a platter of food, but these trays are small and include containers with single portions. We've been utilizing small plastic bowls or bamboo boats that provide separation so we're not serving multiple guests out of the same container. The trend is toward more casual servingware. We began using disposable plastic cups. The older crowd was resistant to this at one time but not anymore. We still use porcelain plates, but we've catered several events using disposable tableware."
— Gavin Jobe, chef, Meribo Pizza, Covington, La.