By incorporating a variety of textures, colors and items, restaurants can create tabletops that not only showcase their menus but also convey a sense of community and safety.
Blueberry and raspberry aren't just fruits that diners can choose to consume in their salads or smoothies as part of their diet. They are also great colors for operators to use when looking to inject a little brightness and vibrancy into their tabletops.
One factor influencing today's tabletops that continues to intrigue foodservice professionals is the popularity of eclectic combinations. "There are so many ways to use tabletop items to tell the story of your menu and your restaurant and, by doing so, enhance that all-important guest experience," says Nancy Johnson, group sales manager, Southwest, The Wasserstrom Company, an Ohio-based foodservice equipment and supplies dealer. Johnson is based in Phoenix.
Nancy Johnson points to wood boards, cast iron casserole pans, tagines, ceramic drink glasses, and china in offbeat colors such as raspberry and blueberry as items that fuel the move toward eclecticism. "It's easy and affordable to update your tabletop with just one new piece," she says. "Maybe a pop of color by putting in a new bread-and-butter plate or introducing a patterned cocktail or water glass. Tabletop design is something to have fun with, and we can all use some fun these days!"
These transitions in tabletop design also speak to the creativity of chefs and menu trends. "There's a reconnection to nature and a push for health and wellness that translates to soft, calming designs; muted colors; balance; and stripping away anything too bold or edgy for kind of a minimalistic approach," says Jeff Johnson, vice president and partner, Avant Sales & Marketing, an Akron, Ohio-based manufacturers' rep firm. "It's about community, feeling secure, comfort food — and any designs that support that important message.
"Create a soft but celebratory feel," Jeff Johnson adds. "Is the table putting a smile on your face? Do we have the feeling again that we've made it, we are breaking bread together and having the joy of being together again?"
The culinary vision of chef Stephan VanHeulen paired with the creativity of the supply chain help Grand Rapids' MDRD restaurant curate a tabletop that elevates the overall dining experience for guests. Photo courtesy of Avant Sales & Marketing and MDRD
An important way of sustaining that customer joy is by creating a restaurant atmosphere that promotes innovation, according to Julie Pandl, business development manager/tabletop specialist, Boelter, a foodservice equipment and supplies dealer based in Glendale, Wis. "You can keep it fresh without breaking the bank every year," she says. "Most operators will start with a solid foundation. This is our flatware, our glassware and our china, but there's no reason you can't mix in a really interesting, eye-appealing piece for a specialty menu item. Whether it has color or texture or is an interesting shape, at the end of the day, a well-curated tabletop comes from someone who is thinking about it all the time."
In the foodservice equipment world, there's been a trend toward items that can perform multiple functions. Pandl sees a similar pattern emerging in the tabletop arena, too. "I'm still a fan of what has been trending for the last few years, and that's interesting colors and shapes," she says. "But what's really fun is people using things for multiple applications.
"You can use a shot glass as a shot glass — or as an appetizer glass or a dessert cup," Pandl says. "This is a great option for a buffet because all the appetizers are in a shot glass and not everyone is touching the same thing. People find multiple uses for things on their tabletop. To me, that's kind of fun, and it's a nice pocketbook benefit for operators. Trends like texture and color that were popular in 2019 are still in play."
Regardless of whether they are first-timers or loyal customers, a well-curated tabletop can really impact guests' experiences. "Perception equals value — good health, wellness and the experience that you are currently not getting at home," Jeff Johnson says. "People eat with their eyes, and social media is everywhere. People take pictures of absolutely everything in the restaurant from food to menus. Are we ready?"
Nancy Johnson certainly is. "When I go out, I want to feel good, and it's nice to have people serve you, have a nice meal and have all the plates and glassware be exciting," she says. "This is not something that you have at home. It's something different. We want to bring that excitement back to the table, and that makes the guests have a great experience."
And in this post-COVID-19 era, tabletops are getting back to normal, with various items reappearing one at a time. "Glassware is the last item to reappear for some reason, and now that is coming back completely. It sure makes dining rooms look a lot better when you see crystal and everything," Nancy Johnson says. "I recently went with friends to a steak and seafood restaurant. They had cut crystal glasses and oysters in a really nice copper serving piece. The whole experience was just this big wow factor, and we really enjoyed that."
Morgan Tucker is the vice president of marketing, Singer Equipment, an Elverson, Pa.-based foodservice equipment and supplies dealer. In her opinion, one factor stands above others when it comes to the role tabletop plays in creating a restaurant's ambience. "The key to developing a well-curated tabletop is to tell a story," she says. "If the sourcing of your food is integral to the ethos of your operation, so should your wares. With the history and practices of every company at your digital fingertips, there's no excuse to partner with vendors who do not share the mission of your operation.
"Another key is to remember that your wares are a canvas and not the star," Tucker adds. "Be sure to bring your choices into the dining space before making a final purchasing decision. This will ensure the selections complement the environment without vying for attention. Make sure to not only find complementary tones, but textures that play well together, too. I recommend that buyers take advantage of the opportunity for collaboration. There has never been a better time for an operator, a chef and a restaurateur to have a hands-on experience in designing and curating their setting."
And with that collaboration comes the opportunity for the well-curated tabletop to have a more prominent role in the customer's dining experience. "People are more mindful of the impact of a well-curated tabletop," says Greg Blasgen, sales associate for the Woodridge, Ill.-based Edward Don & Company. "More operators understand the importance of the tabletop as before it was an afterthought.
"You start with the original design of the restaurant, and it becomes a more intricate part of the operation," Blasgen adds. "The tabletop is why people are there to eat and drink. It's a lot more impactful to the concept as a whole. Tabletops should not be viewed as a pure cost but as a revenue generator that showcases their product. Tabletops should speak to the total package."
---
Atlanta
Although a casual-dining concept, Botica really serves as a sophisticated bodega offering highly specialized cuisine inspired by the flavors of Mexico and Spain. The fun and lively atmosphere is reflected in its bold and colorful tabletop design. Trendy stacking trays and enamel-inspired side dishes to accent the whimsical antique decoration of the blue, teal and ginger plates. Vintage flatware and simple minimalist glassware round out the
tabletop experience.
Photos courtesy of Edward Don & Company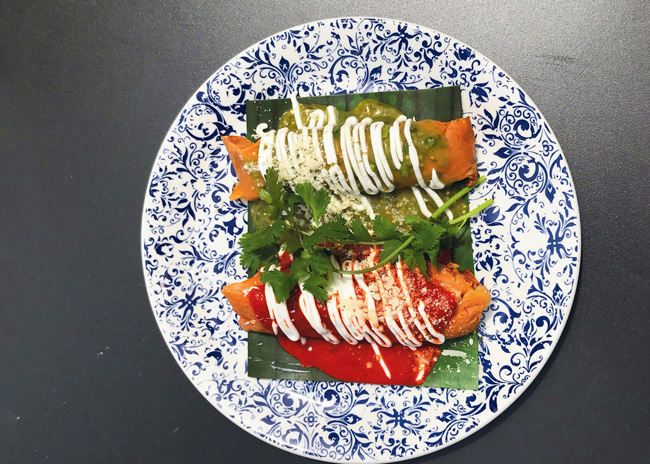 ---
Scottsdale, Ariz.
At the Fat Ox, chef Matt Carter's simple, straightforward preparation allows the ingredients to shine. Playing a critical supporting role in this production is the tabletop. Just like the menu, which features a variety of flavors and textures, the tabletop uses a collection of different materials. The cool and textured table contrasts nicely with the various colors and finishes that adorn the plates, serving vessels and glassware to create an
intriguing dining dynamic.
Photo courtesy of The Wasserstrom Company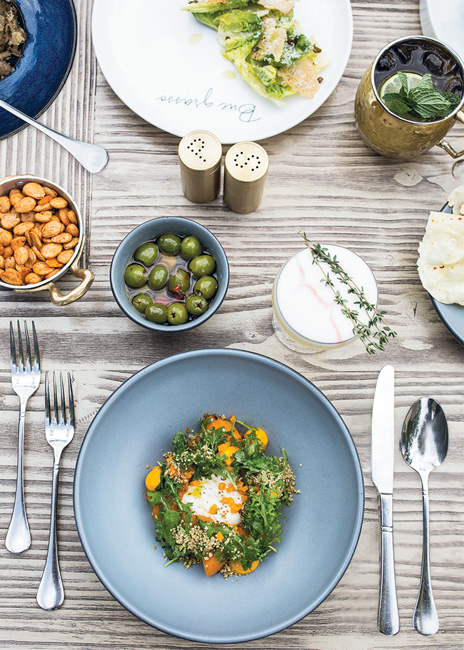 ---
in the Thompson Hotel
San Antonio
Located in the Thompson Hotel in San Antonio, Landrace features seasonal menus that celebrate regional Texas ingredients and heritage growers close to home. The tabletop selections speak directly to this message by including products from factories with integrity and regenerative production processes. "Landrace has found a way to walk the line between chic and comfort," says Morgan Tucker of Singer Equipment. "Chef Steve McHugh deserves recognition for his steadfast commitment to supporting sustainable processes in all areas of his projects."
Photo courtesy of Singer Equipment Company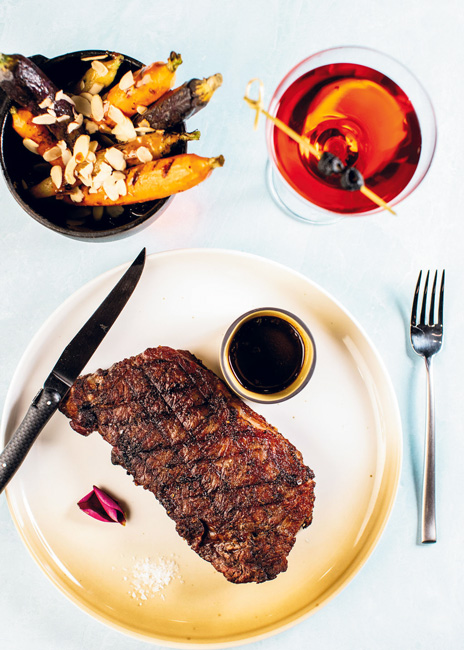 ---
in the Amway Grand Plaza Hotel
Grand Rapids, Mich.
Overlooking the Amway Grand Plaza, MDRD offers elevated Spanish fare. The tabletop combines a variety of items, colors and textures to create an upscale yet warm dining experience. The cool white and gray on the actual tabletop allow the various plates, serving vessels and glassware to pop, thus showcasing the restaurant's culinary creativity.
Photos courtesy of Avant Sales & Marketing and MDRD