Among national and regional restaurant chains today, those not making plays in the virtual brand and ghost kitchen arenas are quickly becoming exceptions. But small, independent operators and entrepreneurs continue to find a home in ghost kitchens too, shifting their focus from that most fundamental barometer of success — butts in seats — to clicks on apps. Here's how 2 Korean Girls is tapping in and what they've learned by crossing over into the virtual sphere.
2 Korean Girls
Coconut Grove, Fla.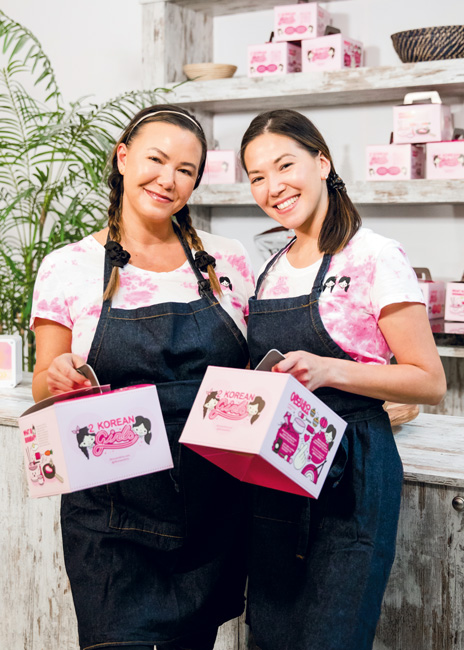 From the the inception of virtual restaurant 2 Korean Girls, Sisters Jennifer and Michele Kaminski (from left) focused intensely on packaging, branding and social media as a differentiator. Photo courtesy of Amanda JulcaThe pandemic-induced surge in demand for takeout and delivery convinced sisters Jennifer and Michele Kaminski that the time was right to bring their long-simmering idea for a restaurant to market. Collaborating with their mother, Chom "Sunny" Kaminski, a chef and restaurateur in Indiana who also sells a line of Korean sauces and seasonings, and Miami celebrity chef Allen Susser, the sisters envisioned a takeout- and delivery-only brand built around bibimbap, the Korean staple of rice with meat and/or vegetables and egg, and other beloved dishes from their childhood. The concept hit the market late last year as 2 Korean Girls, a virtual restaurant brand.
"Jennifer came up with the idea around three years ago, and we'd been tinkering with it ever since," Michele says. "At that time, I was working in marketing in Chicago, and she was here in Miami, where she owns a digital marketing and social media agency. When the pandemic happened, we saw this as our calling card and decided it was time to make it happen. Dine-in appeared to have changed forever, but delivery and takeout were thriving and seemed much more stable. And not just fast and easy food, but delicious, quality food from all kinds of restaurants. Doing it as a ghost kitchen brand helped put it within reach. We started serious development in August of 2020, and our opening day was December 1."
Susser consulted with the sisters on operations and business management, while Sunny provided culinary expertise and family recipes. Susser also helped find kitchen space for lease in an underutilized catering/event facility. "At first, it was just us and the catering folks. We used the kitchen mostly at night, as we deliver from 5 p.m. to 10 p.m., and they used it mostly during the day," Jennifer notes. "Since then, given how the industry has pivoted, the owners have transitioned the entire space into a virtual food hall called Munch with around 10 local brands. Ours was already up and running there, so it was a great fit."
While the sisters were confident their fresh and modern take on authentic Korean comfort food would be well received, they knew that, without a physical presence in which to engage customers and create awareness, brand-building would be challenging. Their professional backgrounds helped set them up for success in this regard.
"We've both worked with clients marketing e-commerce products, which is absolutely how we think of our brand," Jennifer says. "While the barriers to entry may have been somewhat lower than a regular restaurant, the onus was on us to create something that's memorable, fun, fresh and make fans want to come back again and again. That's where our branding, packaging and social media strategies come into play."
The sisters worked with a Chicago-based creative team to develop custom pink and white, K-pop-inspired branding and signature "happy meal" boxes. "We made the unboxing of our experience like you might have with a nice gift product," Jennifer notes. "We want you to feel like you've gotten a present from us, to smile and be excited. We immediately saw the benefits of that, with people posting and sharing pictures and talking about those boxes. We're now updating the graphics and messaging every six months to keep them fresh."
View this post on Instagram
Social media is critical as well, and the team focuses hard on nurturing and interacting with the brand's growing fan base. "We really prioritize community management," Jennifer adds. "We engage with every person who comments on our posts, who tags us or DMs us. We highlight our fans and make them feel like they're part of our brand story. That's how we connect as a virtual brand."