Among national and regional restaurant chains today, those not making plays in the virtual brand and ghost kitchen arenas are quickly becoming exceptions. But small, independent operators and entrepreneurs continue to find a home in ghost kitchens too, shifting their focus from that most fundamental barometer of success — butts in seats — to clicks on apps. Here's how Garrett Hospitality Group is tapping in and sharing what they've learned by crossing over into the virtual sphere.
Garrett Hospitality Group
Fort Lauderdale, Fla.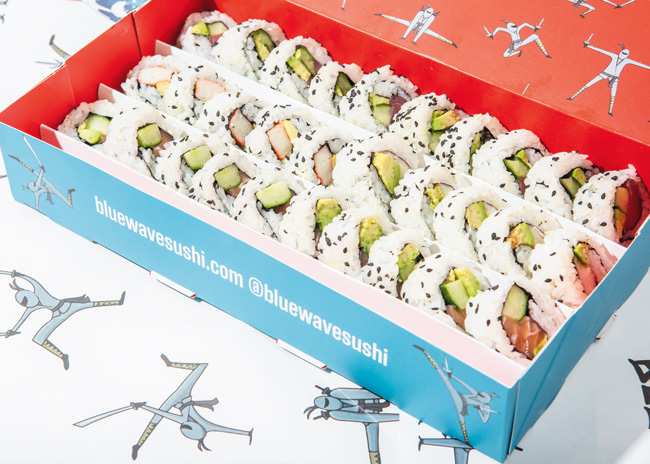 Garrett Hospitality Group launched Blue Wave Sushi to add a revenue stream to an existing kitchen space. Photo by Shelby CooperThe market shifts of the past several years, which accelerated during the pandemic, led Memphis Garrett, CEO of Garrett Hospitality Group, to rethink his five-year-old fast-casual restaurant, Poke House. Garrett, who spent more than a decade opening nightclubs for global hospitality firm sbe and who appeared on the TV series "Big Brother" before launching his company, stepped outside the box last year to find new ways to generate revenue from his 1,700-square-foot operation.
His solution: Shutter Poke House but keep the menu alive as a virtual, delivery/takeout-only brand. Convert the space into No Man's Land, an intimate, high-end cocktail lounge. And introduce a second virtual brand, Blue Wave Sushi, to squeeze more revenue out of the same kitchen.
"The third-party delivery providers have completely changed the restaurant game," Garrett notes. "People aren't dining out as much as they used to, but they're really not cooking either. Delivery has grown so quickly, and it's causing a lot of restaurateurs to rethink their businesses. Why pay per square foot on a 3,000-square-foot building when only 1,000 square feet of that is actually being used because more and more sales go off-premises? It doesn't make sense, especially when the delivery service providers take 20% to 30% of that revenue. That's why this whole idea of virtual brands and multibrand ghost kitchens is gaining traction. For me, having three concepts running out of one venue in a great location with a great lease makes that space much more valuable."
Garrett's 600-square-foot kitchen supplies No Man's Land, which is set to open this summer a 50-person-capacity cocktail bar focused on great service, craft cocktails and a small menu of sharable plates served from 5 p.m. to midnight. From 11 a.m. to 9 p.m., the kitchen now fulfills delivery and takeout orders for Blue Wave Sushi and Poke House. Both of those virtual brands, he adds, have been built for expansion.
Already, two additional corporate ghost kitchen operations offering both brands are set to launch, one in West Palm Beach and the other in Plantation, Fla. Franchising is in the cards as well.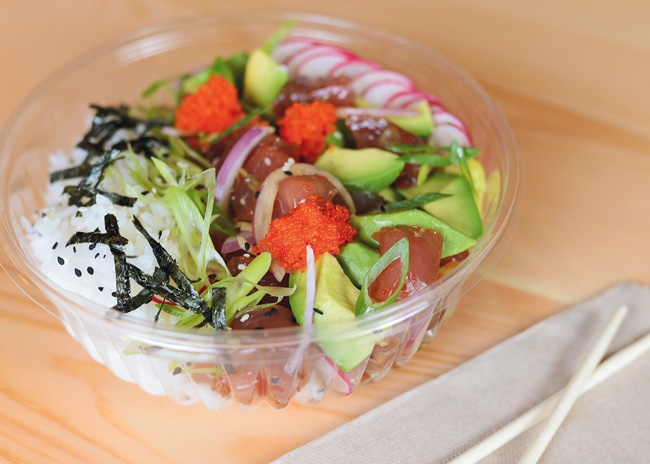 Poke House now exists only as a virtual brand after its brick-and-mortar space was converted into a cocktail lounge. Poke House and Blue Wave Sushi both function as virtual brands from the same kitchen space. Photo by Alyssa Dragun"Our goal is to go nationwide with this model," Garrett says. "It's both a way for us to expand our brands and to help other operators add revenue streams, giving people who have maybe 600 square feet and no hood in their existing restaurant or blank retail space virtual concepts that are fully developed, that make money, are well-branded and fun. I'm also looking at taking them into venues like stadiums, airports and other nontraditional locations."
Branding and marketing for the virtual space, he adds, has been the biggest new challenge. Poke House had the benefit of having had a previous physical presence and brand awareness, but Blue Wave Sushi is completely new and all virtual.
"There was a lot of discussion about how to roll out a brand that's just virtual. Where are the ad dollars spent? What's the marketing strategy? The customer experience is basically their own house, so you're not wowing them with the space or the staff interaction. It's a different thought process," Garrett says. "Our approach is to do great packaging and graphics, a lot of social media and work with local influencers. We'll figure out what works, but it's not like opening a new restaurant when you get some good buzz and a nice pop as the cool new place to go. With ghost kitchen concepts, it will take longer to achieve the same types of numbers, but with significantly lower buy-in and labor costs, we feel the model works really well."