Page 1 of 3
The pandemic proved a tipping point, laying bare the inefficiencies and limitations of traditional brick-and-mortar operations while driving consumers en masse toward contactless, off-premises meal solutions.
---
It's almost scary the speed with which ghost kitchens, virtual brands and related phenomena are becoming very real and transformative presences in foodservice. The stage, of course, had long been set for a collective shape-shift toward digitally driven, off-premises-only business models — changing consumer habits, accessible technology and the rise of third-party delivery all began seeing to that years ago. But the pandemic proved a tipping point, laying bare the inefficiencies and limitations of traditional brick-and-mortar operations while driving consumers en masse toward contactless, off-premises meal solutions.
Solutions, which by their very nature emerged largely behind the scenes to help operators reduce costs, optimize delivery and simply survive, keep multiplying and evolving at warp speed. Over the past two years, ghost kitchens, cloud kitchens, digital restaurants, dark kitchens, host kitchens, virtual restaurants, virtual brands — there's a whole new lexicon around the to-go-only movement — stepped out of the shadows and into the limelight, with private equity fueling much of the action.
Source: Datassential Virtual Brands & Ghost Kitchens Report, January 2021Investors have pumped more than $1 billion into the ghost kitchen segment since 2019. A small handful of early entrants drew the lion's share of those dollars, but the field of competitors for private equity continues to grow as more players seek to leverage the appeal of delivery-only operations.
Research firm Euromonitor International predicted in a November 2019 strategy briefing, well before COVID-19 emptied dining rooms, that, "as freshly prepared meals and snacks become a larger part of our lives, more production will move 'into the cloud' with a growing separation between production sites, points of sale, and consumer interaction." Euromonitor estimates that ghost kitchens producing food only for delivery could create a $1 trillion global opportunity by 2030, taking share from many corners of the industry. With delivery getting faster, cheaper and more reliable, and with consumers becoming ever-more comfortable with ordering in, the firm sees ghost kitchens potentially capturing 50% of drive-thru service, 50% of takeout, 35% of ready-to-eat meals, 30% of packaged cooking ingredients, 25%
of dine-in foodservice and 15% of packaged snacks.
Euromonitor data further showed the number of ghost kitchens in the United States as of last July to be around 1,500, well behind China (7,500) and India (3,500). It's reasonable to assume the number has since increased significantly. Major players in the space have gained momentum, drawn new investments, and announced ambitious expansion plans. They're taking their models into new markets across the country and entering new territory as well, setting up shop in retail centers, parking lots, housing developments, hotel kitchens, on college and business campuses, and in other nontraditional and underutilized locales. Many expand to optimize consumer access in suburbs as well as densely populated urban areas, adding consumer-facing elements and exponentially growing the number of brands and concepts being offered from a single kitchen. And all continue to scramble to secure capital, restaurant and delivery partners, and consumer attention.
By mid-summer 2021, Kitchen United (KU), which bills itself as "the nation's first multirestaurant ordering to-go experience," had opened six ghost kitchens operating on its Kitchen United MIX technology platform. Optimized for delivery and takeout, each location features 10 to 15 mini kitchens leased to individual brands. Its facilities now include lobbies fitted with kiosks on which consumers can place orders for takeout, and comfortable waiting areas for delivery drivers and customers. The Pasadena, Calif.-based firm, which opened its first ghost kitchen there in 2018, has secured $50 million in funding so far and plans to more than double its footprint this year, taking it into New York and Florida while expanding in its existing markets of California, Arizona, Texas and Illinois.
While notable, KU's numbers are small potatoes compared to those of a couple of its high-profile competitors.
Take Los Angeles-based CloudKitchens, founded in 2016 by Travis Kalanick, co-founder and former CEO of Uber Technologies Inc.. The billionaire entrepreneur invested $300 million of his own money, according to the Wall Street Journal, to begin purchasing and redeveloping distressed urban real estate assets for use as ghost kitchens. In January 2019, the Journal reported that CloudKitchens scored $400 million from Saudi Arabia's Public Investment Fund, money it is reportedly using, in part, to purchase more than 40 properties domestically and internationally for redevelopment into CloudKitchens.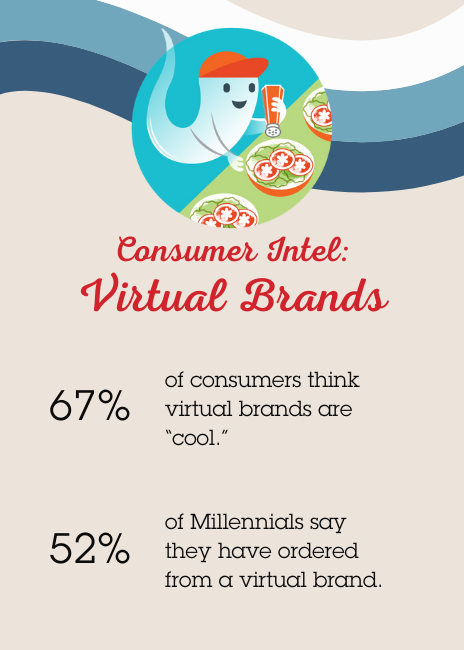 Source: Datassential Virtual Brands & Ghost Kitchens Report, January 2021Miami-based REEF Technology, meanwhile, raised $700 million in 2020 on top of the $900 million it secured in a 2018 venture capital round. Founded in 2013 as a parking app startup, the company offers a different model than KU and CloudKitchens. It sets up mobile, multibrand ghost kitchens in underutilized urban parking lots to create what it calls Neighborhood Kitchens. REEF handles all operations, with national and local brands signing on as licensees. As of early summer, the company had placed 100 kitchens in 20 markets nationwide, with plenty of runway for growth. It owns a network of 4,500 parking lots around the country and reports it is using invested funds to expand, acquire more real estate and enhance its technology assets. To that end, in March, REEF launched delivery via self-driving electric robots to consumers within three quarters of a mile of select ghost kitchen locations, tackling last-mile issues of labor, traffic congestion, safety and pollution.
Last July, New York City-based Zuul secured $9 million in funding to expand its ghost kitchen operations throughout the city. Named for the creature in Dana Barrett's refrigerator in the movie "Ghostbusters", Zuul launched in 2018 as a pure-play ghost kitchen and, through acquisition, moved into the technology space as well. Driven by the boom in delivery-only virtual restaurant brands, its operating system helps operators manage multibrand restaurant and ghost kitchen operations.
And then there's newly public DoorDash, which controls more than half of the food delivery market, according to Bloomberg Second Measure. Back in late 2019, it became the first food delivery platform in the U.S. to go vertical by creating its own ghost kitchen. Located in Redwood City, Calif., DoorDash Kitchens leases delivery-only kitchens to five restaurant brands, and more locations are planned.
And … Ghost Kitchen Brands, C3, All Day Kitchens, Kitopi, JustKitchen, Combo Kitchen, The Local Culinary, Franklin Junction, Virtual Dining Concepts and a head-spinning array of others are adding their own twists to the mix. Nobody, of course, knows for sure if consumer behavior will change significantly in the post-COVID-19 world. But, given pre-pandemic trends already in play, the companies behind ghost kitchens and virtual brands are banking on the fact that demand for delivery isn't going away and, indeed, will grow as access, variety, quality and efficiency improve.
Restaurants are making the same bet, with the smallest of entrepreneurial operators to the largest of global brands embracing ghost kitchens and jumping into the world of virtual brands via third-party partners as well as on their own networks. There will certainly be shakeouts, strategic shifts and missteps, but there's no denying that the genie is out of the bottle.